This is a Sponsored post written by me on behalf of Walmart for SocialSpark. All opinions are 100% mine.
I can still remember my husband coming home from a trip to the pet store telling me about a cat that absolutely needed to be rescued. Similarly, I am sure he can still remember me adopting Sebastian, Cocoa, Paprika, Josie, Little Kitty and rescuing Napoleon from a parking lot. Our house has never been empty from the love of fur children and since college we have been sharing our bed, food, furniture and sanity with our cats and now dog. This year while the holidays are gearing up and you are remember to spend time with your family and friends, do not forget to spend a little time thanking your local community as well. Whether that is with volunteer work like we occasionally do with the animal shelter on the weekends, or serving your local homeless shelter, there are plenty of ways to give.
Right now is also the time where larger companies run grants and programs to help non-profit organizations and one thing you can do from your charity right now is to nominate a program within your own community. Walmart is giving out 1.5 million dollars in grants this holiday season through the 12 Days of Giving and you can be at the forefront of making it happen for one of your favorites.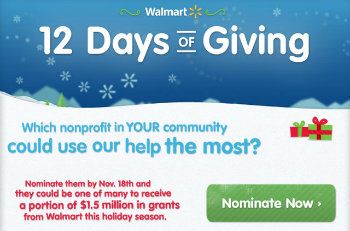 Keeping true to the animal rights activist in me, I am nominating a local non-profit called ARF in Mobile (Animal Rescue Foundation).
Animal Rescue Foundation is a non-profit organization founded in December 1995 and dedicated to promoting the welfare and humane treatment of animals, through rescue, fostering and placement. Adoptable cats and dogs awaiting a permanent, loving family are placed in our foster center, hence its name, the ARFanage. We practice non-lethal population control, including early-age spay/neuter. ARF advocates on behalf of all individual animals about the humanity of sterilization, not euthanasia, as an effective solution to reproduction and unnecessary breeding. Over time, their numbers can be effectively reduced and their lives improved. We care for all animals, regardless of age, breed, illness or disability, and believe these precious souls are to be given the respect of any other God-created life. Please join us in our mission to provide an animal-loving community, where pets are at home, not home-less!
To nominate your own non-profit for a Walmart grant, you will need:
a) Nonprofit name
b) Nonprofit contact info
c) Nonprofit website
d) Photo (optional)
The form is really easy to fill out and includes a block to share in 200 words why you believe this foundation needs help. Here is mine:
While there are many non-profits and all of them deserving, one often forgotten area, specifically around the season, are animals. When people are tight on cash and their jobs and wages are suffering, one of the first commodities they get rid of are pets. ARF is helping animals in our community find homes, get health care, and keep our shelters from as much euthanasia of these pets. ARF has a wish list that I would love to see filled, that include office supplies, pet maintenance, toys, towels and more! I would love to see them get a grant to alleviate some of the hardship non-profits like this receive in holiday months as cash is conserved. Additionally, as a volunteer in my local community, I can tell you that working with animals is an unappreciated and often thankless job. The animals suffer needless deaths and life on the street based on no more than irresponsibility of their human companions. Thank you for considering mans best friend where the money can directly impact us all.
I know that the grants say "help your community" and they have awarded most grants for basic human needs in the past, but I am hoping this time they will consider basic pet needs as well.
Now it's your turn! As of this posting, you have 10 days left to nominate a deserving non-profit in your community and let the gifts keep on giving for those around you. Let me know who you nominate!
~Trisha