This camouflage slime is absolutely so fun and my daughter and son both love the idea of mixing up slime colors to make all sorts of creative things. We have been really itching to test out how to make a camo slime like this so today, when the kids got the day off school, we buckled down. I quite love the results of our efforts! It looks as cool in person as it does on film. The only downside of using a color like brown is eventually, after some play, it all becomes brown (picture near bottom). Regardless, put camo slime on your agenda, it's super fun.
Here is how we did it.
---
No Borax Slime 
Purex Sta-Flo Liquid Starch, 64 Ounce
PRO TIP: Many people do not like to deal with borax and water when making slime- I know I don't. You can make slime by using LIQUID STARCH
and glue
. It's a ton easier.
That being said, it can be pretty hard to find liquid starch, so pick this one up here (it's the one I use) as well as a huge thing of glue so you can make tons of slime for all occasions. Buying this way is a lot more cost effective and once you start making slime, you will def want to have glue on hand!
When it comes to the gallon size glue, if this one is out, go to the "Available by these sellers". Due to the popularity of many of MomDots recipes, stock seems to come and go on this item. If you see one, grab it! Its IMPOSSIBLE to find gallon glue in the stores!
&
Purex Sta-Flo Liquid Starch, 64 Ounce
Elmer's School Glue, Washable, 1 Gallon
---
SLIME INGREDIENTS
Like I said above, I use liquid starch in nearly all of my slimes. While NO SLIME should go in your mouth, I believe that starch is safer than borax for play (says GREAT FOR CRAFTS on the bottle) and has results you can trust. Borax is so hard that often slime is hard as a rock. Starch is easier to predict results with.
GLUE!  I highly recommend just buying a gallon of glue from Amazon so you don't have to be stingy. Plus if you make a mistake, you have extra to counter balance or create more. There is nothing worse than wanting to start over and you don't have the glue on hand. A 4oz bottle of glue won't net you much more than about 2/3rds a cup (I believe)To make a double batch of slime that includes multiple colors will need a lot slime.
COLORS! To get bright beautiful colors you can use Wilton's Color Right Performance Color. To make brown we had to mix a variety of colors until we were happy. It was kinda a purple brown but we still loved it. We also tested this out with blue instead of green, either way it was pretty awesome.
Creating Slime
Here are some tips on creating a good slime to play with.
---
I made this super short video to show you how to make slime and see some of the stages! Check it out~
---
Normally the ratio to a good slime is about 1/2 cup white glue and 1/3 cup starch. You simply mix the two together and start kneading it back and forth until its no longer sticky.
NOTE: The more starch you add, the thicker and more low flow your slime will get. If you add too much starch, it can become hard as a rock. While 1/3 cup starch works for us, I recommend putting a bit less (try 1/4th) and check out that consistency and see if its what you want before adding a little more. Its so much easier to ADD a little than take some away.
One thing that works for us is to do about 1/4th starch and mix and then let the slime sit in the bowl for a few minutes. It allows the glue and starch to work together. The real issue with slime fails is that most people do not knead it long enough. Treat it bread dough- it takes a little bit of time.
Camo Slime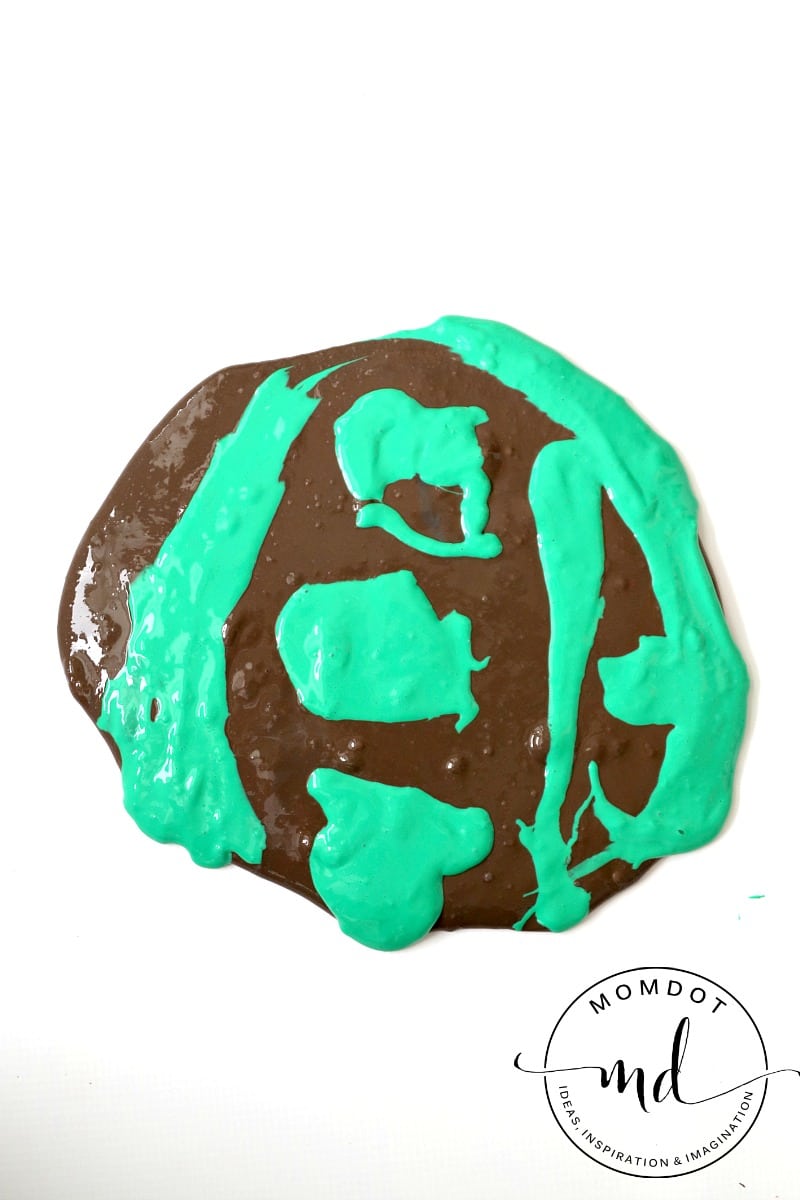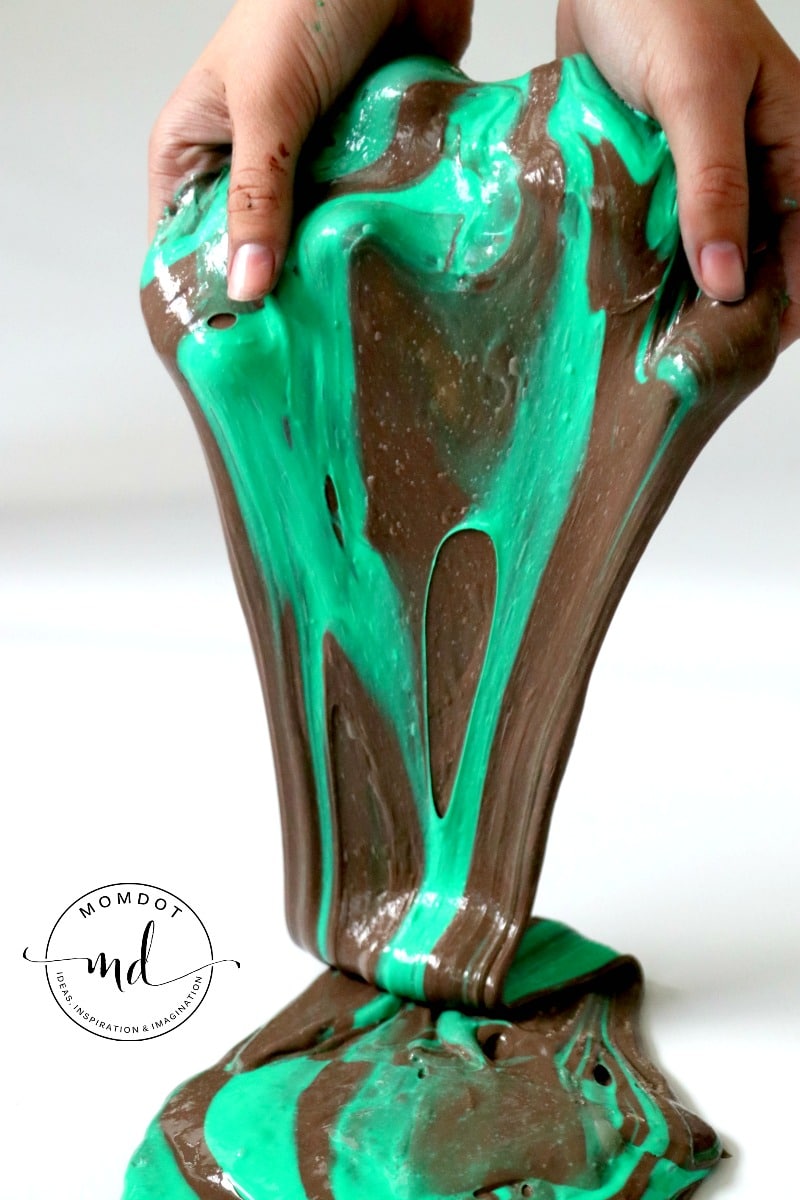 After creation, lay down your brown slime and sporadically add your green all over it. Then using both hands, pick up each side of the slime and let the colors start to run together. You can experiment with some lighter greens and yellows if you want to get super creative.
After Play
Multi-colored slime will all eventually blend to one color, so if you want to play more than once, only use half of what you create at a time.
Stages of Slime
So many people message me and ask me how I get slime so perfect…..well, it goes through stages and some people quit before they get to the slimy stage! I did a video showing you what you can expect when you create your slime. It's a lot easier than you think. Yes, there are two ads in this video near the beginning, which help pay for all this slime recipes and ideas that are provided here and we appreciate your support in keeping those costs down. I think you will like this video and it will help get you less frustrated in creating slime and figuring out the direction you are going. Please note this video is specifically about using WHITE glue. Clear glues and glitter glues are a different consistency.
Do not forget your supplies for this fun slime idea!
Purex Sta-Flo Liquid Starch, 64 Ounce
Elmer's Liquid School Glue, Washable, 1 Gallon,
Wilton Color Right Performance Color System, 601-6200