When you are redecorating your home, especially when it's a bedroom, there is nothing more important than deciding what color you are going to go with. I know when I did Phoenyx's nursery just last year, I had to find that exact wall blue that spoke to me before I could move any direction. I was in and out of the stores just about every day, picking up color samples, pasting them around the house..I even let the names of the paints influence my thoughts.
I wanted something perfect….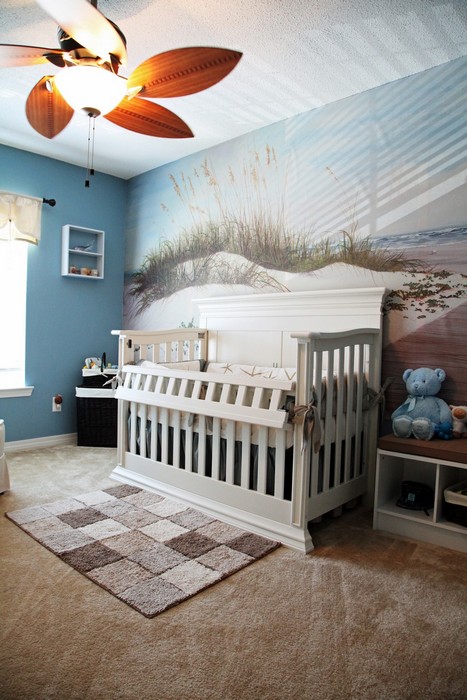 Perfect, right?
And trust me, now it's not nearly as clean as when I took that picture.
You can mentally scatter diapers, clothes, and toys into that beautiful room. Le Sigh.
But once I had that right color, I was able to start mixing and matching pieces that helped me transfer the room in my head to the room in my house, and that was the most important thing.
Discover Inspiration
Planning for the arrival of your little one? Find the nursery paint you and your baby will love with Baby Room Colors from Glidden Paint, as seen in What to Expect When You're Expecting (only in theaters). For now, you can use the interactive widget the have created to help you find the match for your home based on the questions you answer.
The nursery widget is part of My Colortopia – a destination where people who are easily overwhelmed by interior design decisions and painting can get guidance, advice and inspiration around home décor, design and style
Even though my nursery is done, I took the Glidden Nursery Quiz to see what colors it told me….the first question asked me about music. While I am more of a pop diva in my head, I actually sing nursery lullabies to P …so I hit that one.
And look what came up!
Almost an exact match of what I have in his room, so I would say they are spot on. Of course if you dont like that idea, you can scroll through more questions for more suggestions.
You can try the widget here:
Additionally the Glidden Colortopia Team of bloggers can provide you with inspiration on their perfect room to get your creative juices flowing.
Check out some of their fantastic nursery designs:
Win your dream nursery!
To help you get the perfect nursery, Glidden is hosting a contest to win a $2500 Gift card to Walmart to help you decorate from top to bottom and wall to painted wall.
Information provided by Glidden: The giveaway will be hosted on Circle of Moms where users will be able to view three nursery mood boards. Additional information on the products featured on the mood boards can be found on My Colortopia where users can also click through to the contest on Circle of Moms (link will be provided). Once logged into Circle of Moms, users can comment on the post for their chance to win. The giveaway will run from 5/17 – 6/7 and the winner will be announced on MyColotopia.com.
Now tell me, are you expecting or redoing a baby room right now?
What design and colors do you like the best for your little one?
~Trisha
*i have been sponsored by the Glidden Brand paint to write this post but the thoughts and opinions expressed are my own