Today Phoenyx was kinda being a pain. Everything was whine this and whine that and honestly, it was so expected from a kid that woke up at 6:30am. And while today is very nice outside, its overcast and the rain is heading our way slowly but surely. So I have been trying to do creative indoor things to keep P happy and wanted to share a little idea I had and where it went. A few weeks back I bought a pack of black paper. We used it on our Toddler Salt Experiment day here.
Since then its been sitting in a container mocking me. Its not like you can color or paint on it well and then it struck me….chalk!
We have loads of that. So today we made an
Create an Indoor Sidewalk
You will need
Tape down black sheets of paper in an area that is easy to clean up, like the kitchen or dining room. Why? Because chalk is…chalky. I laid mine down in groups of 3, but depending on the age or size of your children you may want to make your sidewalk bigger or longer. When I text this to a friend this morning she said "you could probably get roll paper too" and she is right.
Chalk it up! Indoor sidewalk and all the fun goodness of drawing, even on a crappy cloudy (or wintery) day!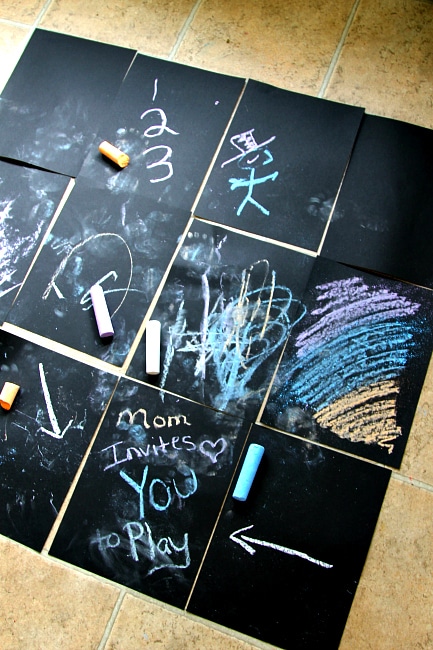 Also I want to take time to thank our sponsors whom without we would have a far less interesting site.
 Please check one of them out here!
~Trisha
Free Printables Monthly!
Get FOUR FREE Child Friendly Printables, perfect for home decor, nursery, or childs bedroom. Just print and frame for instant art- FREE! When you join my mailing list, you will be updated any time I have a new printable so you can be first to download!