If you are here for this newest mason jar craft…welcome! Chances are you love mason jars as much as I do so this new Halloween Drip Painted Mason Jar should be right up your alley. Its one of my very favorite techniques and I keep itching for a new holiday so I can get new colors to decorate. Before we get launched into this fun craft, I want to make sure you don't miss any of the past super fun mason jar crafts I have on MomDot.
Drip Painted Mason Jars (4th of July!) This also includes a video of this technique so if you want to see where this is headed, that page will help
Now that you are all caught up around here, let's get started. First, you will need a few things!
Halloween Drip Painted Mason Jars DIY
Milk paint This is the paint I use in these crafts. I find that the colors ring true and they dry pretty quickly. They are also easy to control when you pour. They do kinda stink though- not gonna lie.
mason jars – note that while so many love Ball Mason Jars, after doing this project I would prefer to find mason jars with no decor on them. You can typically pick them up at a Dollar Tree ( I get mine at Hobby Lobby).  I think when you do paint on the outside it can chip too easily with the extra designs. If you do prefer to use Ball Mason jars or mason jars with extras on them, you may want to seal your paint from chipping. You can see a Ball Mason jar and a non decorate jar below in the two projects.
Instructions:
There are two techniques I use.
First, let's start with the new one. I had originally wanted to see if I could get the milk paint to wrap around the jar, looking like fingers grabbing it on the other side. While I have not perfected that, I did instead, discover a pretty tie dye type effect. Simply lay your jar down and pour a line till you get your drips. Then start adding lines on each side so it drips around. Once you have the colors you want, stand your jar up so the paint starts to naturally gravitate down. Once it's dropped the way you want, lay the jar back down to dry and the patterns will stay.
See below.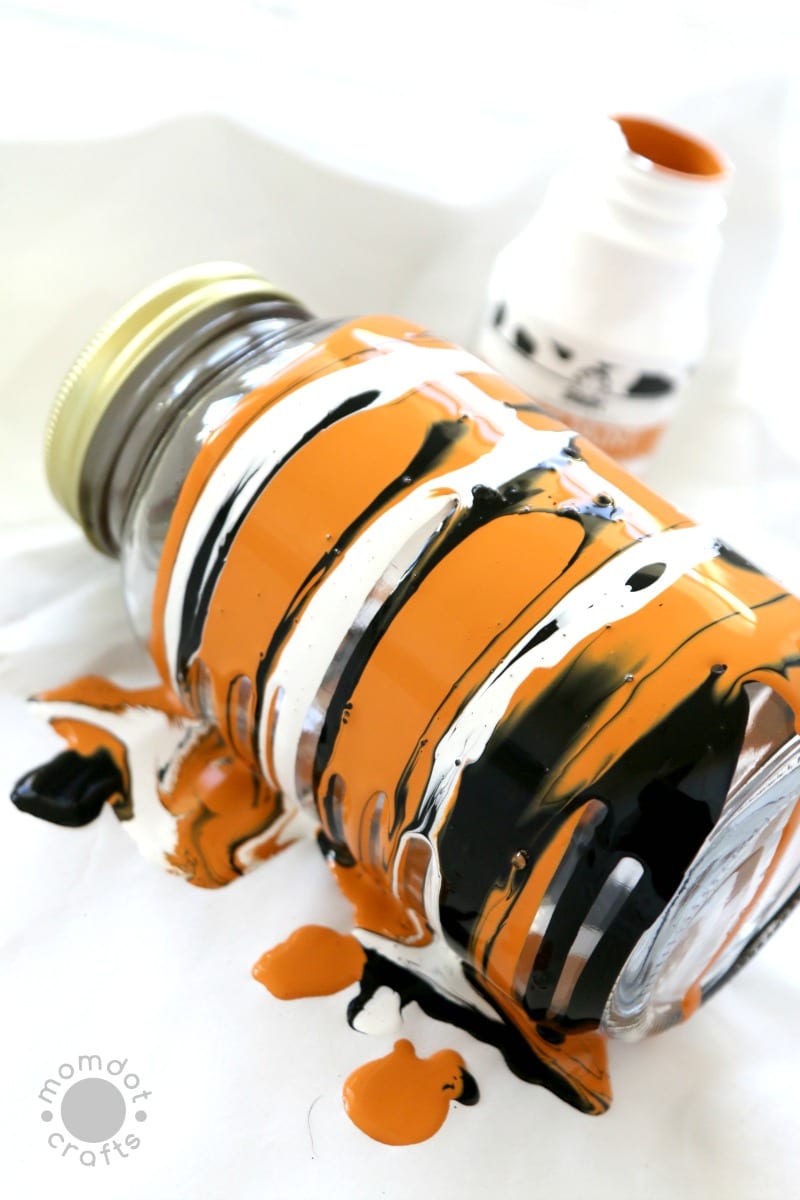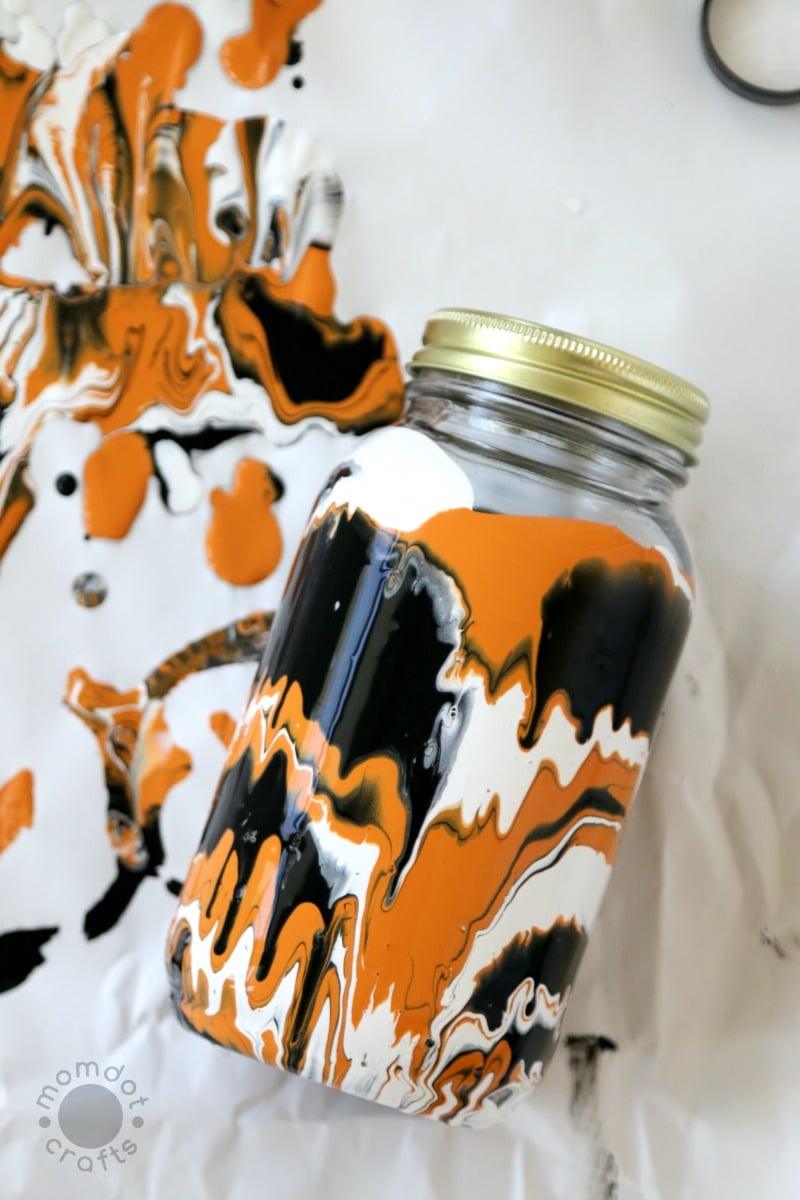 The other way you can do it is the same way I did my Drip Painting Mason Jars from July 4th. You turn your jar upside down and drip down the sides. Make sure you have your paint on scrap paper and its best to do this project outside so it dries super quickly. The bottom, which is your pour spot, will fill up with paint. You can let dry, which will take about 24 hours, or you can simply wipe off once your drip pattern is set.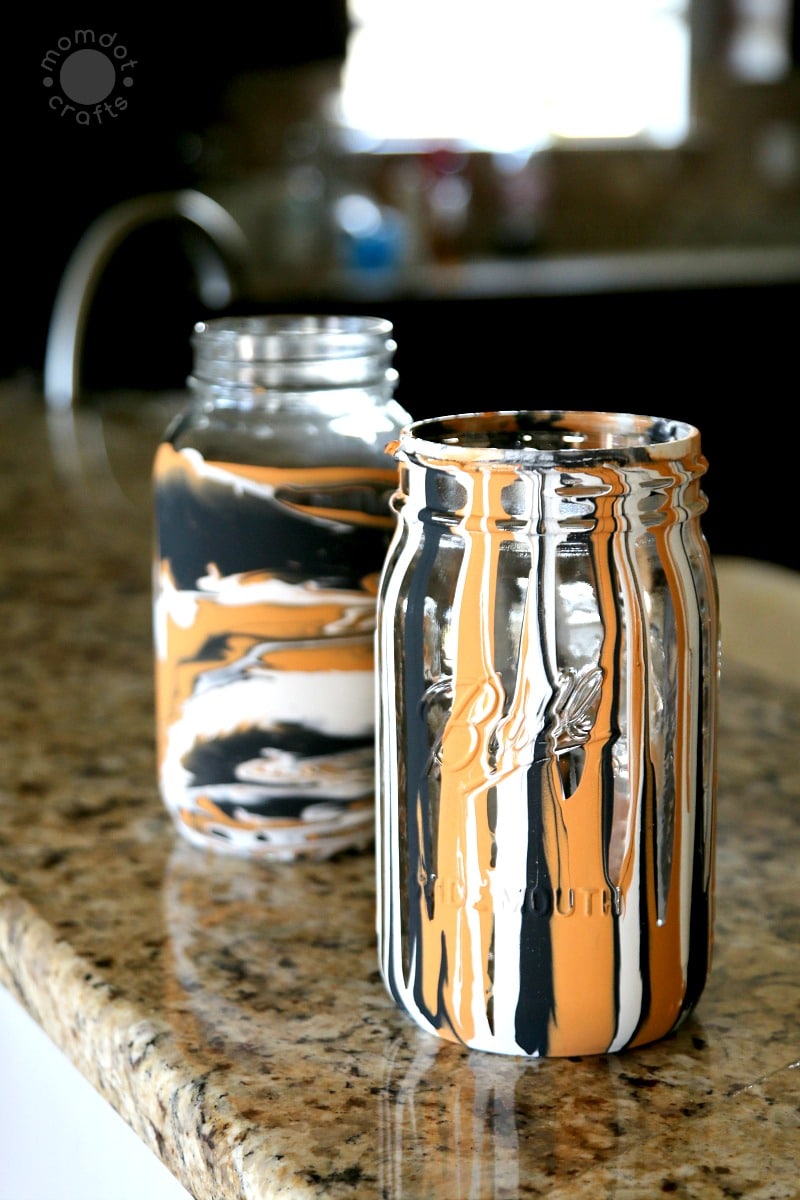 Either way, this is one of my most very favorite projects. Please pin here and I hope you try this one!
Want more Halloween favorites? Click on one of the projects below for some fun DIY instructions: