8.8K Amazing Shares
8.8K Amazing Shares
×
In my never ending quest to use up all the tulle in my house without making another no sew tutu, I decided to make some hanging decor.
Namely…a tutu chandelier.
I am not saying this craft turned out perfect. I think I have a long way to go in figuring out exactly all the details of how I want to perfect this, but for a first try, I thought it was cute. More importantly, my daughter loved it.
I will warn you that I put it all together and then realized I should probably add the tutu. Then I had to rip it all apart, so in some spots you may see some torn lace or extra glue. Those are my "moronic crafter" pains.
What you will need to make your own tutu chandelier:
A solid ring (I got mine for $2.30 at Hobby Lobby)
6 inch spool of tulle
lace or decor ribbon for the outside of the ring
8 flowers you can pop the heads off of
spool of beads for the droop
hanging bead string for the middle
ribbon to hang the chandelier
1) First lay out four ribbons on the four sides of your ring. I first hot glued the ribbons together near the bottom and then set on each side and hot glued to the ring itself. This is what you will use to hang your tutu chandelier, so make sure they are as long or short as you need them from the destination, leaving a little room for trimming and error of course.
2) Cut all your tulle pieces out evenly. I used the entire spool at about 12 inches per length. Then add to the ring in a standard no sew tutu knot. If you do not know how to do them, please refer to my How to make a Tutu Post.
It's easy peasy.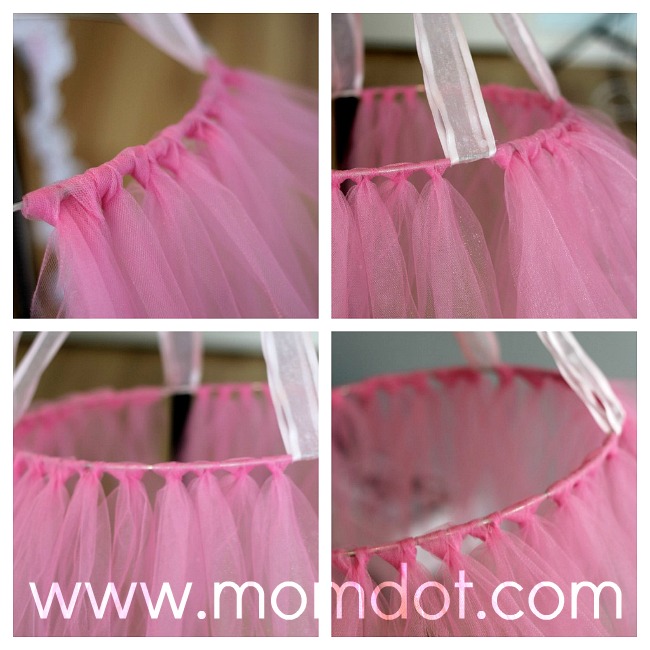 3) Then I decided to go around and knot every other piece of tulle to its neighbor. This gave it a little something extra. Of course this is competly up to you. Leaving it hanging straight is also quite pretty. If you really want to get creative, do two layers and leave one hanging and one knotted!
4) From the inside, add a piece of your beads from the spool. I cut about 8 inches and drooped. The easiest way to keep this even is to count your tulle knots. I knew that every 8th knot I needed to glue down the other side. If you start your beads on the outside, it wont lay as flat for your decorating ribbon or lace. Once your beads are evenly around your chandelier (like a lamp) take hot glue and glue your decorating ribbon right onto the top of your tulle and all the way around.
5)  All you have to do now is tie your ribbon up and hang some middle beads. If you care to, add flowers around. I used 8 flowers, putting one at each starting point of the ribbon and alternating colors in the middle.
 I think the point of any crafting is to be inspired and make it your own! I hope you love this craft and find a great way to incorporate the idea in your princesses room.
All done!
Your tutu chandelier!
And don't forget to check out how to make a tutu here (Don't worry, it so easy!)
~Trisha
If you would like to share my craft on your website or blog, you are welcome to use (1) picture and a link back to this article. Thank you so much!
8.8K Amazing Shares
8.8K Amazing Shares
×