The past few months I have had the pleasure of sharing with you some awesome recipes from Kraft and how Philadelphia Cooking Creme fits right into my family's busy dinner schedule. If you missed them, here is the Summer Potato Salad and the Creamy Chicken Florentine Recipes. Sadly this is my last recipe share with you working with Philadelphia cooking cremes but it's a great one and I am so happy I was able to test it out in my home!
I bet when you think of "cooking creme" you think of chicken or pasta…and while that can most certainly be true and is a great way to enjoy all the different types of cremes, the original flavor can be added to fruit to make a summer treat or a tasty side dish. The is why for the Recipe of the month here in July I am sharing
Luscious Grape Salad

Combining two types of grapes, original cooking cream, and some brown sugar, your mild grapes become a wild dessert that reminds me of cheesecake….with fruit. Because I make my cheesecake with Kraft Philadelphia Cream Cheese (who doesn't!), when I added the sugar it was like a spoonful of the good stuff with only half the guilt.
Original Ingredients:
1 tub ………….(10 oz.) PHILADELPHIA Original Cooking Creme
1/4 cup ……..packed brown sugar
4 cups ……….

each

seedless green and red grapes, halved
2 cups ……….fresh pineapple chunks
1/2 cup ……..PLANTERS Slivered Almonds, toasted
I personally changed the almonds to walnuts as I am more of a fan of almonds and left out the pineapple because no one in my house likes it. I think it attests to how EASY and transferable this recipe is to just about any way you want to make it.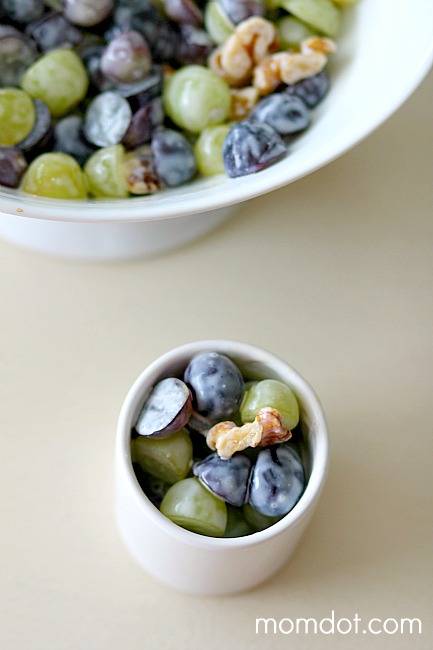 Instructions
1) mix up your cooking creme and sugar
2) lightly mix with everything else
3) eat!
Now just because my sharing of these amazing recipes is over, doesn't mean you cant still keep up. Make sure you bookmark Kraft Recipes for dinner ideas and daily food picks. You can also learn more about  Philadelphia Cooking Creme on Facebook  and Twitter.
If you try this or have something more to add to this recipe, I would love to hear your feedback!
~trisha
*sponsored post, opinions are my own