This past week we have spent creating 24 beautiful slime recipes and slime crafts that so you will be able to get excited about your slime creation. Its not just about a gooey green slime, but more about the science, the creativity and the excitement of a perfect and beautiful slime. One of those projects I wanted to share with you that has been waiting in the wings is this Rainbow Slime. This multicolored homemade slime has stolen our hearts here with its bright gorgeous colors and perfect stretchy feel.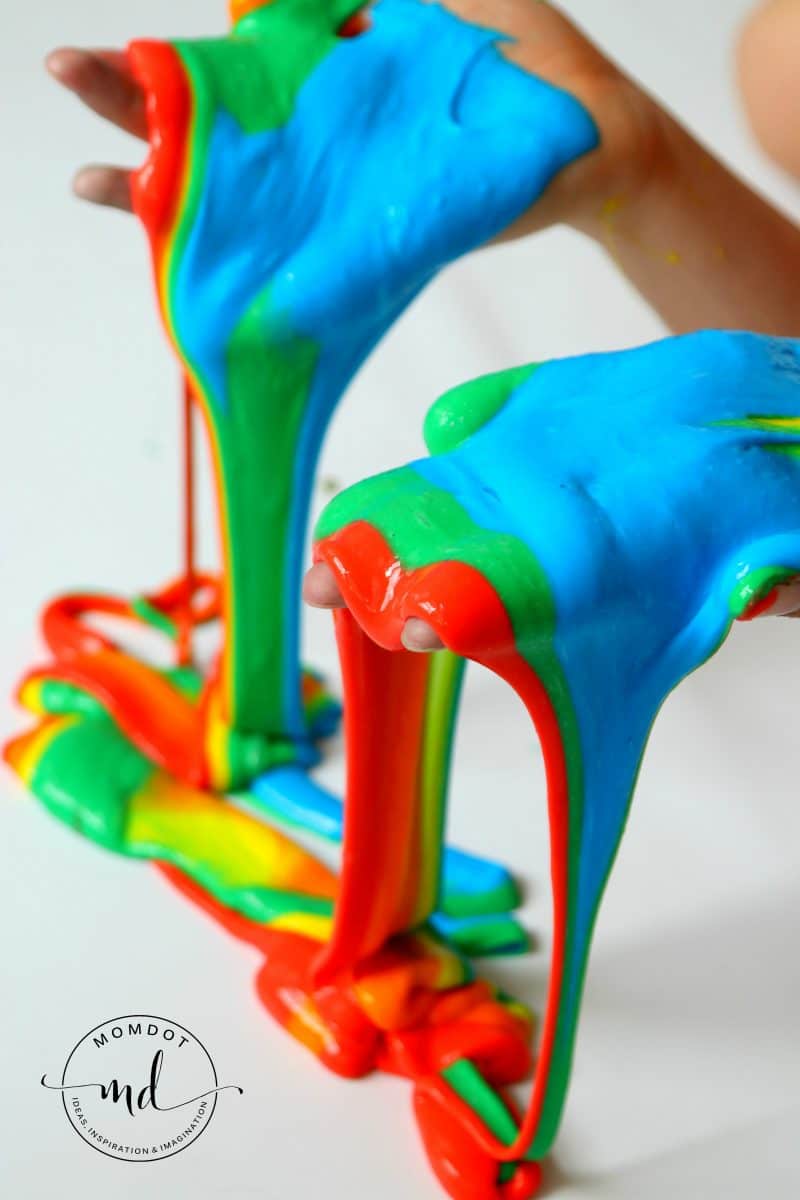 ---
Rainbow Slime without Borax
Purex Sta-Flo Liquid Starch, 64 Ounce
PRO TIP: Many people do not like to deal with borax
and water when making slime- I know I don't. You can also make slime by using LIQUID STARCH
and glue. It's a ton easier.
That being said, it can be pretty hard to find liquid starch, so pick this one up here (it's the one I use) as well as a huge thing of glue so you can make tons of slime for all occasions. Buying this way is a lot more cost effective and once you start making slime, you will def want to have glue on hand!
When it comes to the gallon size glue, if this one is out, go to the "Available by these sellers". Due to the popularity of many of MomDots recipes, stock seems to come and go on this item. If you see one, grab it! Its IMPOSSIBLE to find gallon glue in the stores.
&
Purex Sta-Flo Liquid Starch, 64 Ounce
Elmer's School Glue, Washable, 1 Gallon
---
---
See how multi-colored slime is made here! I made this super short video to show you how to make slime and see some of the stages! Check it out~
---
Before we get started, a few things about slime. While we have perfected a few great recipes that work depending on the kind of glue you use, its also very much a DIY project in that you can make your slime flow quicker or slower by changing the amount of liquid starch you use. If you prefer a faster slime, use less Liquid Starch. If you prefer a slower slime, use more!
Rainbow Slime DIY
First lets talk about supplies. I use liquid starch in nearly all of my slimes. I used to use borax but the reality is I dont trust its properties and can end up hard as a rock if you get any of the measurements off. For that reason alone, liquid starch is completely worth it. Its sold in places like Dollar General and Target, but they usually only carry a bottle or two and its out a LOT. The bottle I use, listed about, says right on it GREAT FOR CRAFTS.
GLUE! With multicolored slimes, striped slimes and slime for more than one child, you will want to have a lot of glue. Each tiny bottle is only about 2/3rds worth of white glue and will not make this rainbow slime. To make it, you will need a much large bottle or bottles. From experience I can tell you that driving around looking for glue is far more time consuming and expensive than just buying a gallon.
The past week I have been experimenting with different colorants. The colors used in this rainbow slime is Wilton's Color Right Performance Color. Its an icing colorant and adds really bright vivid colors without making the glue more liquid. You can grab a set here and its what I will be using for all my slime recipes this point forward.
Homemade Slime Instructions
Set up 5 glass bowls. Add 1/2 cup white glue to each bowl. Add 1-2 drops of food coloring per bowl. I used red, orange, yellow, green, blue. The Color Right is really strong so start with one.
PLEASE READ THIS Now, concentrating on only one bowl at a time, add 1/3 cup starch to the bowl and stir together. The starch and glue will start to form a ball immediately. I only stir for about 15 seconds. Then I take out and start kneading with my hands, passing the goop back and forth, twisting around my fingers. Note at this point it will still be very wet. If there is any starch left in the bowl, keep dipping your glue back into the starch until its all absorbed. The process takes about 2-3 minutes to absorb. Your slime will start slowly unstick to your hands as you play with it. Stretch it like taffy in different directions. In about 3-4 minutes, lay your slime back in the bowl and complete process with the other colors. Slime starts out VERY WET and then unsticks. DO NOT GIVE UP! It will form, I promise!
To get the rainbow look, line up some of each bowl of slime on your hand. Let flow down or squeeze your hand together and let drip. Its so beautiful!

Want to see more slime? Visit my Slime Recipes Here.
Stages of Slime
So many people message me and ask me how I get slime so perfect…..well, it goes through stages and some people quit before they get to the slimy stage! I did a video showing you what you can expect when you create your slime. It's a lot easier than you think. Yes, there are two ads in this video near the beginning, which help pay for all this slime recipes and ideas that are provided here and we appreciate your support in keeping those costs down. I think you will like this video and it will help get you less frustrated in creating slime and figuring out the direction you are going. Please note this video is specifically about using WHITE glue. Clear glues and glitter glues are a different consistency.
Do not forget your ingredients to get started:
Purex Sta-Flo Liquid Starch, 64 Ounce
Elmer's Liquid School Glue, Washable, 1 Gallon,
Wilton Color Right Performance Color System, 601-6200