With summer just a hop, skip, and jump around the corner, many celebrations will be making its way to our home. From birthday parties, to mothers day, picnics and the celebration of our new pool, beautiful and delicious desserts like these Rainbow Cupcake Cones are at the top of my list. Easily made, the rainbow swirl frosting and the pretty cupcake cones make for delighted kids and amazed adults. The best part? ITS SO EASY. Not much more than your original recipe, you can make the "out of the box" cake taste like a bakery with a few small changes. Read below to find out how to create your very own rainbow cupcakes (in a cone!)
Plus, if you like these, do not leave before checking out the Unicorn Poop Cupcake version.
Rainbow Cupcake Recipe
---
Rainbow Cupcake Cone SUPPLIES
Wilton ColorSwirl 3 Color Coupler, 411-1992
If you are going to get started on these Rainbow Cupcake Cones, the frosting is EVERYTHING. Make sure you pick up this tri-color bag set and coupler, which makes making these swirls super easy. It's really inexpensive on Amazon and will make your entire process much more smooth!
*Seamlessly swirl 2 or 3 color of icing
*Interlocking coupler pieces for seamless icing swirls
*Decorating Bags and Decorating Tips 1M, 1A, 2C and 4B (sold separately)
* Circles with perforated centers
DO NOT START THIS PROJECT WITHOUT THIS! 
In a hurry to get started? Go HERE to get your Color Swirl Cupcake Frosting Tip Now!
---
Rainbow cupcake cones:
1 package funfetti cake mix
1 cup water
3 eggs
1/3 cup vegetable oil
Red, blue, yellow, orange, green and purple gel food dye
Directions for Rainbow Cupcake Cones
Combine your cake mix, water, eggs and oil into a bowl and mix until together. Then add into an electric mixer for 2 minutes on medium.
Now separate your cake batter into 6 bowls for the 6 colors of the rainbow and add gel dye to achieve your desired colors.
Set your ice cream cones into a cupcake/muffin tin or ice cream cone cupcake tin as shown
Add a scant 1 Tablespoon of each color to the cupcakes, starting with purple, then blue, green, yellow, orange and topping it all off with red.

The cupcakes are done when a toothpick comes out clean, which is anywhere from 20-25 minutes

Cool completely before decorating.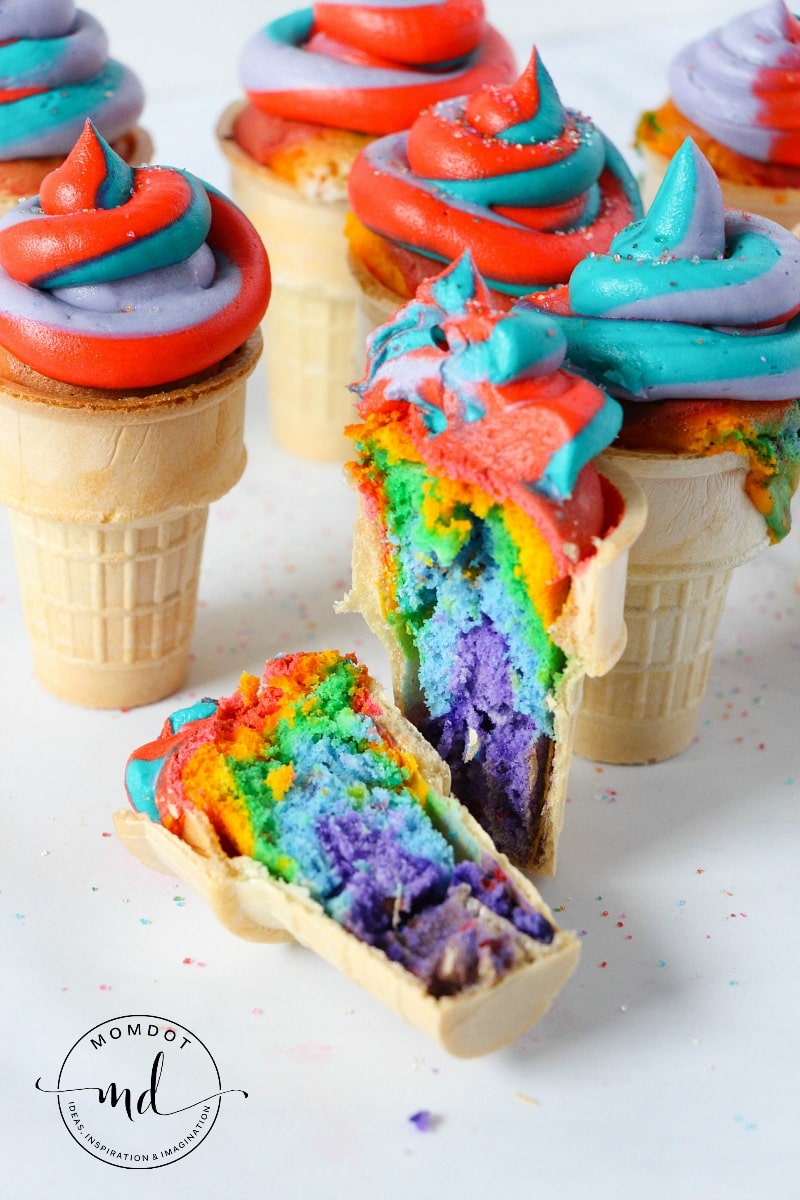 Rainbow Swirl Frosting:
For rainbow swirl frosting rainbow cupcakes:
Add the butter and icing sugar to your mixer and beat on medium speed for 1 minute. Add the vanilla and 1 Tablespoon of cream. Beat for at least one minute before adding additional sugar or cream to achieve your desired consistency.
Separate your frosting into 3 separate bowls and add 3 of the rainbow colors – I went with red, teal and purple.
Fill your 3 piping bags with one of each color and cut off tip of each one.
Attach a circle tip #1A to a separate bag with a coupler on the end and cut.
Put 3 bags of colored frosting inside the coupler bag with the coupler so that the tip of each bag is in the circle tip, creating one frosting bag.
Swirl onto each cupcake starting in the middle – working your way out and then back in again. Top with rainbow sprinkles
---
Wilton Color Right Performance Color System, 601-6200
PRO TIP: This is the BEST coloring system out there for projects like this! The Wilton Color Right Performance System wont thin your icing or your cake and can also be used in craft projects like slime.
I keep this on hand ALWAYS. You can pick some up on Amazon and get the kit. Its also great for the Unicorn Poop Cupcakes and lasts a long time. For the brightest and best results, this is my favorite dye.
---