Everyone around me is talking about Valentines Day. What are you doing, where are you going, are you getting a present, will you get a present. And I'm over here yesterday telling my husband to please skip the flowers, chocolate and cards in lieu of anchoring the dishwasher in the kitchen.
I'm practical like that. But after 20 years with someone, the flowers are less important and the time we spend together is much more important. So this year we are just going to sit at home, be thankful for what we have, and enjoy a meal together after the kids go to bed so we can talk like adults are supposed to do.
You know, without interruptions.
If that is you and your hunny this Valentines day, or really any night of the week, I wanted to share a quick, easy, and delicious recipe (in partnership with LB PR) that will take the drama out of the kitchen and leave you full and happy. Create your own pasta dish for two that tastes authentic and delicious. By picking up your ingredients at Sams Club, you will still have plenty of left overs making sure you won't have to cook tomorrow night either. (Speaking of Sams, I'm constantly thinking of all the thing I want to buy. I walked through yesterday to plot my pantry revenge. If you don't have a membership, you should.)
Moving on.
This recipe is fantastic. It's a Spicy Sausage Alfredo dish and hits the palette in just the right way.  I know that "cooking from scratch" is all the rage, but let's be honest here…I would rather put more time into my husband and family than spend 6 hours in the kitchen for a 30 minute meal. I love that Bertolli has created sauces that are just as good as I could create with 1/4th the work.

Spicy sausage alfredo
one box of rotini pasta
1 jar of Bertolli® Alfredo
 4 andouille sausage links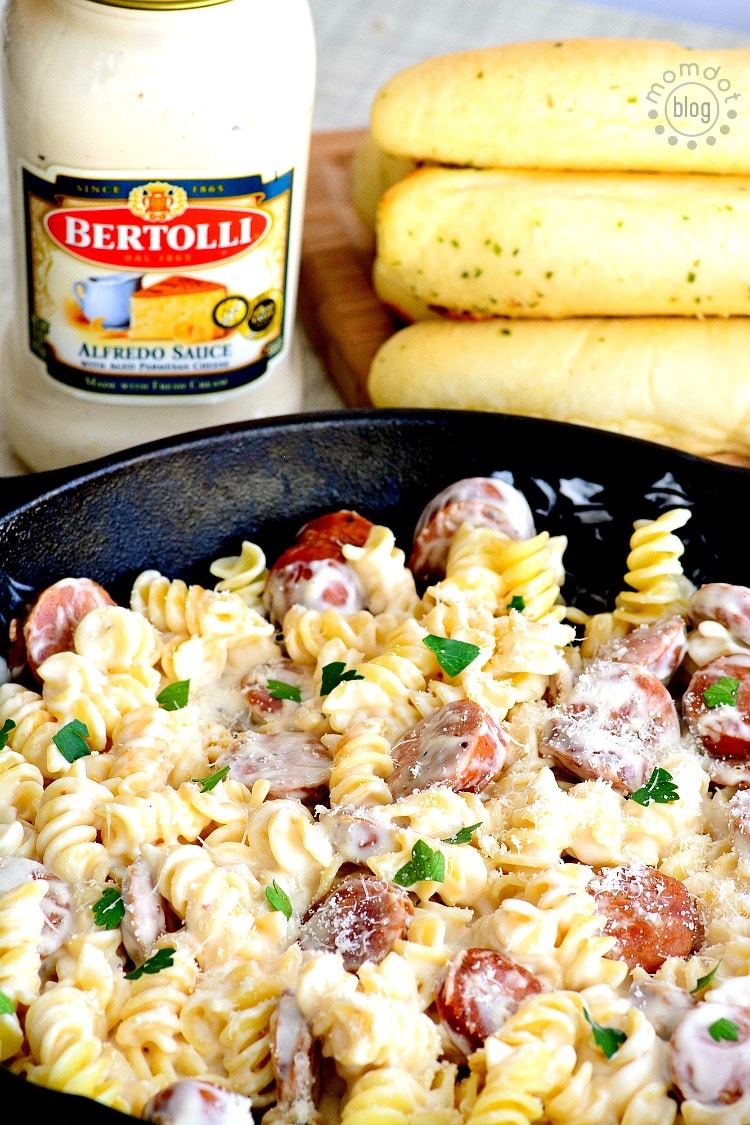 1) Go ahead and make your pasta according to the box and drain
2) Fry up your andouille sausage (cut up first) and drain
3) Combine your pasta, jar of Bertolli® Alfredo and your sausage together in a skillet, and mix up till warm. Done! See how easy that was!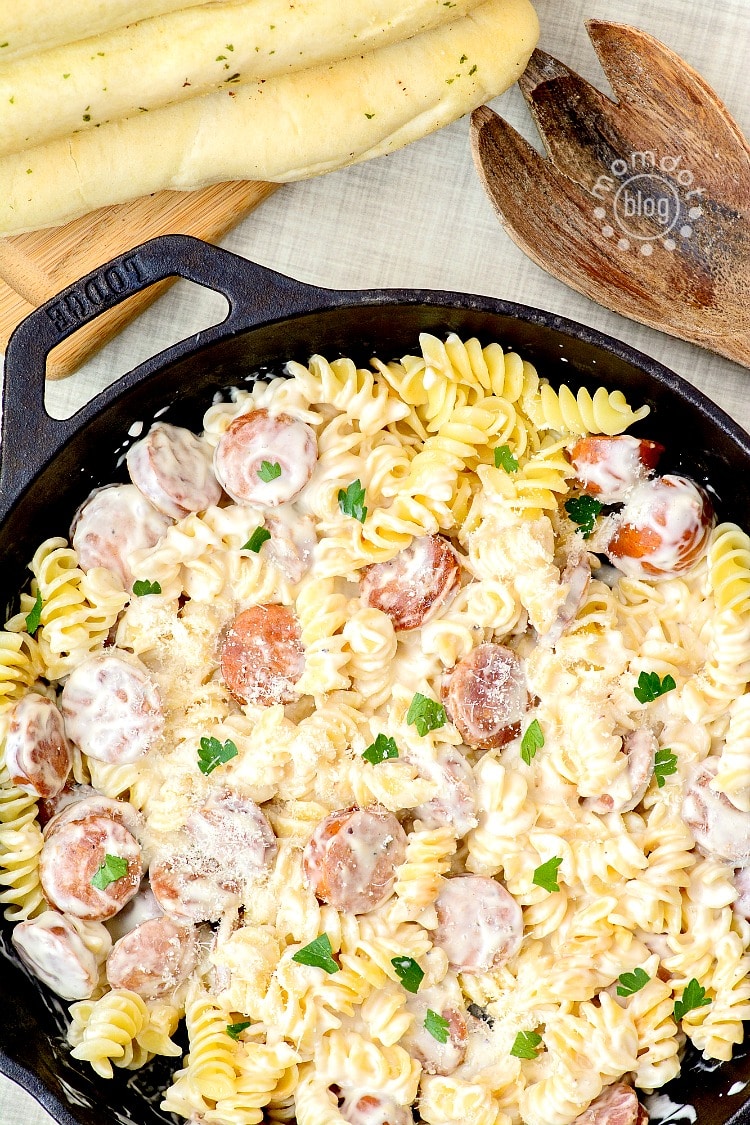 Make it a date night!
Nothing says a date night like a hot warm meal with a loved one and you don't need much to make it happen. Grab a couple of bowls, a special drink, and some flowers and it's the perfect at home setting for two this year.
Try either one of these sauces to create flavors that you love!
Bertolli® Alfredo
§ Create classic Italian favorite dishes with Bertolli® Alfredo, made with fresh dairy cream and aged Parmesan cheese.
Bertolli® Tomato & Basil
§ Cook with consciousness – 100% organic pasta sauce made from vine-ripened tomatoes, basil, fennel and a touch of Romano cheese.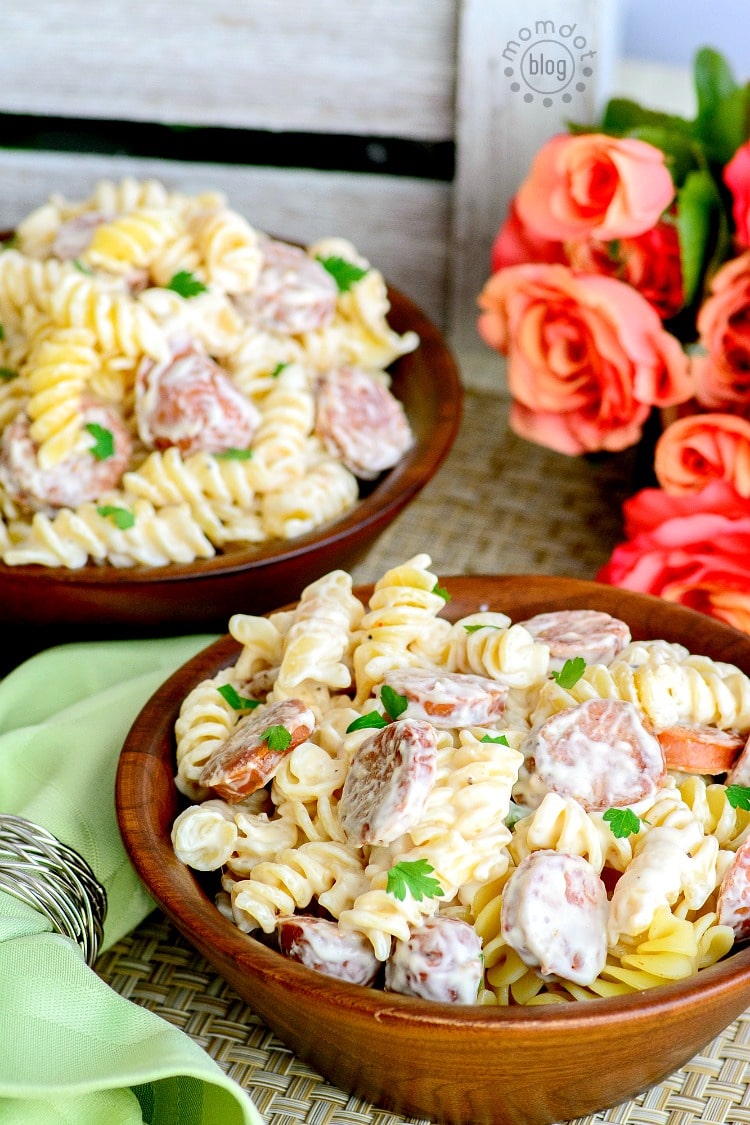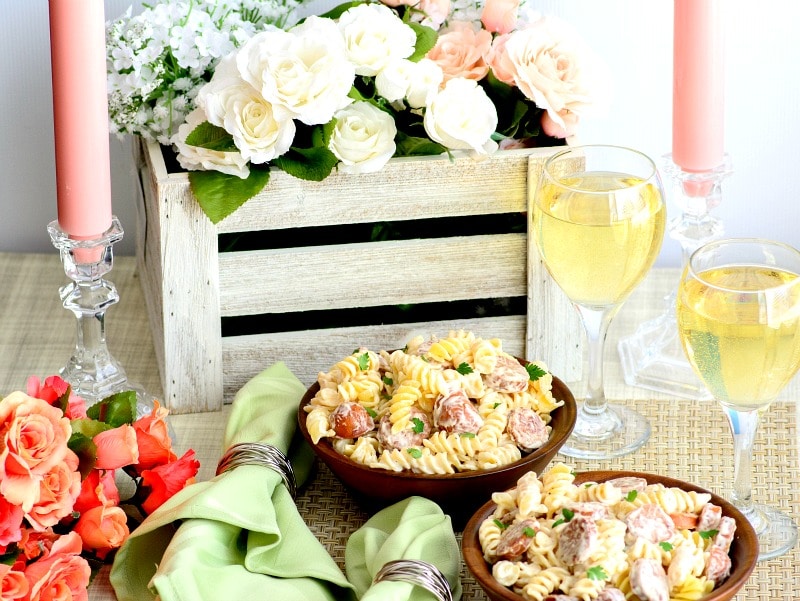 Love this? Keep it! Pin here on Pinterest and follow me for more quick and easy meals for two.