112 Amazing Shares
112 Amazing Shares
×
This is a Sponsored post written by me on behalf of DISH for SocialSpark. All opinions are 100% mine.
A long time ago I took my TV back. I quit Cable.
I was finding that every bill I opened was completely different and it was getting…well…old. And the features that I was being offered were low and non-existent and pretty unadvanced for a family of bloggers and techy-aged children. If you are in that same spot, I wanted to introduce you to a little company you might have already heard about.
Dish Network
DISH is a leader in satellite TV, providing subscribers with the highest-quality programming and cutting-edge technology designed with consumers in mind, all at the best value. DISH delivers satellite TV for more than 14 million subscribers!
Now I don't know about your household, but we have ipads and ipods and iphones and 2 computers. We are so connected some days I think my head my explode, but in my cases its a really fun thing. But even with several TVs in the house, it seems like dad wants to watch the Home network shows and Charlotte wants to watch Nick JR and P is now wanting Mickey Mouse Club House.
This is precisely why The Hopper from Dish is such a great thing.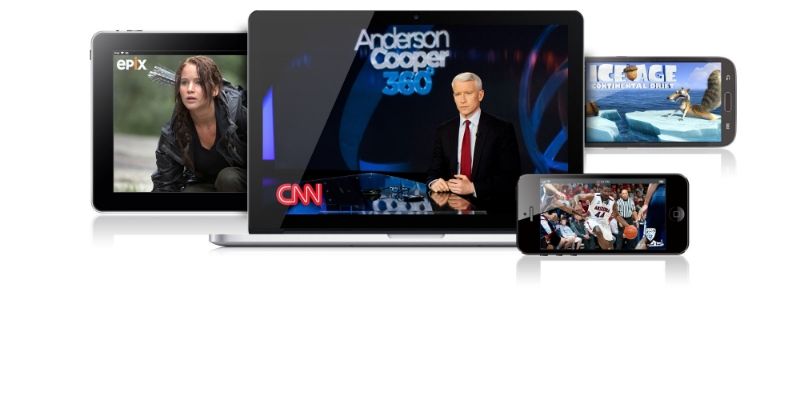 The Hopper™ is a Whole-Home HD DVR available only from DISH. Only the Hopper lets you watch live and recorded TV anywhere and instantly skip commercials in recorded primetime TV on ABC, CBS, FOX and NBC. Plus, you can record 6 different shows at the same time during primetime and store up to 2,000 hours of your favorite shows!
Now I don't have to fight over the TV with my family, I can take my iPad to the couch, pop in some headphones and watch what MOM wants to watch. I can record more than one show at a time, which is good because I have more than one show at a time I want to see, and we can avoid the family conflicts when it comes to the 6pm TV hour in my house.
Plus, check this out…..FREE! FREE!
Get the Hopper™ free when you sign up for DISH. Packages starting at $24.99. (For 12 months with 24 month commitment. Restrictions Apply.)
Other great features? Absolutely!
AMAZING HOPPER FEATURES!
(New Features Available 2/11/13 only from DISH)
NEW — DISH Anywhere™ – Never miss watching your favorite team or program again by transforming your smartphone, tablet or computer into a portable TV. With the DISH Anywhere app (for Apple and Android devices) and www.dishanywhere.com online portal, customers can watch live and recorded TV including live sporting events, TV shows and movies – anytime, anywhere. DISH Anywhere also lets you take control of your DVR to schedule and manage recordings remotely. DISH Anywhere is included with every DISH subscription at no additional charge.
NEW — Hopper Transfers™ – This is the long awaited solution for watching programs when traveling without an Internet connection, such as in-flight or on the road. Simply transfer your DVR recordings to your iPad with the free Hopper Transfers app before you leave the house and you can enjoy your favorite movies or shows on flights or keep your kids entertained on a long road trip, even when you don't have an Internet connection. Your shows and movies – on your time anywhere.
AutoHop™ – Hate commercials? DISH created commercial-free TV so you can save an hour each night! Now you can instantly skip commercials in recorded primetime TV on ABC, CBS, FOX and NBC. Only DISH gives you ad free TV with AutoHop™ on the Hopper™.
PrimeTime Anytime™ – With the Hopper™ you can record 6 different shows at the same time during primetime giving you three hours of on demand primetime ABC, CBS, FOX, and NBC programming available to you for up to 8 days from initial air date.
Whole-Home HD DVR Functionality – The Hopper™ lets you have full HD DVR functionality on every TV, so you can pause, rewind and record live TV in any room. Plus, you can access your DVR library on all TVs so you can record a movie in the living room, start watching it in the bedroom and then finish in the kitchen.
And Learn more about the Hopper !
WIN WIN WIN
Win an iPad Mini with MomDot and Dish
Want to get started on using all these great benefits with The Hopper? MomDot is being provided an iPad giveaway for one lucky winner here! No more fighting in your house when you can watch TV right on your new iPad!
1. Comment on this post with what your favorite part of the DISH commercial (embedded in the blog post) and leave your email address. Your email has to be visible as Social Spark will come by and pick the winner randomly.
2. LIKE DISH on Facebook and leave a comment sharing what account you "liked" with.
3. Additional entry: Tweet out a message with the dedicated #WinDISHAnywhere hashtag and comment with your email and a link to your tweet. Follow DISH on Twitter
~trisha
112 Amazing Shares
112 Amazing Shares
×