It's important to be acquainted with different types of fabric. Knowing which fabric your clothes are made of will help you take better care of them. Also, knowing different fabrics allows you to opt for the best one. That's the case when purchasing ready-made clothes, and also so if you're into needlework.
Without further ado, let's dive in!
The 19 Most Used Fabrics
There are a lot of fabrics that we use on a daily basis without knowing enough about them. Moreover, there are fabrics that we use without even knowing their names. That's probably because many of the familiar fabrics, like wool, have numerous varieties to them.
1. Cashmere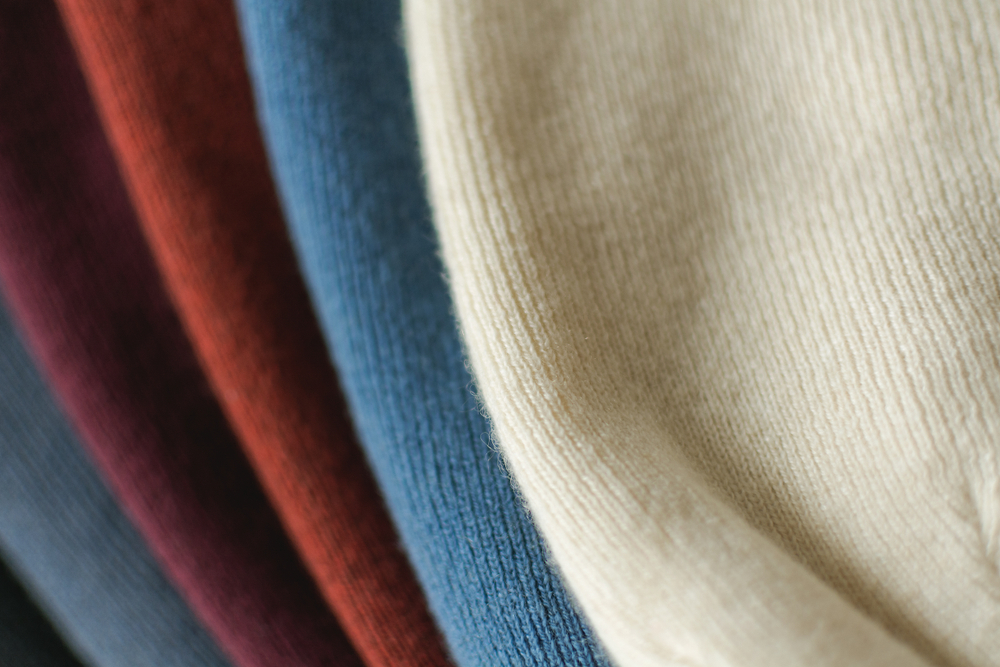 Cashmere should be synonymous with comfort. Cashmere is a natural fabric and it's a kind of wool that we get from cashmere goats. It can also be derived from pashmina goats.
What gives rise to the cashmere's comfort is its delicate fibers. Such fibers give it a silky touch, and it's much lighter and warmer than the wool we get from sheep.
To take care of cashmere, always make sure to dry-clean it, or even hand-wash it. Never use the machine nor the iron with this fabric, its delicacy won't respond well to that.
2. Merino Wool
This wool is often mixed with cashmere to add weight to its delicate fibers. This fabric was once a royal one. Nowadays, it's not only accessible but also widespread.
It's a soft, skin-friendly fabric. You can find it in the form of wool laces that enable you to weave the most comfortable of clothing items. You'll also find it being used in producing blankets.
One of the things that makes it optimal for making blankets is the fact that it's hypoallergenic. That means it won't cause issues for people with known allergies and asthma.
[amazon box="B07CZNQFQ6″]
---
3. Melton
Unlike the previous woolen fabrics, this one isn't delicate, but rather dense and thick. That makes it perfect for making outerwear and robust clothes. Regarding fabric fraying, it's minimal to non-existent. That's thanks to its tightly woven, felted texture.
Melton wool is warm and moisture-wicking, making it one of the most weatherproof woolen fabrics.
[amazon box="B006P5TU9Q"]
---
4. Cotton
Cotton is another natural fabric that's widely used in all households. You'll find it in everything from T-shirts and baby blankets to bed sheets. It comes from cotton plants. For the most part, it's composed of cellulose. This is part of the reason why cotton is so fluffy and soft.
Nowadays, most cotton garments are pre-shrunk. This means they've been shrunk in the manufacturing process, keeping them from doing so when washed by the end-user. This also adds a lot to their durability.
[amazon box="B08BY5L8WB"]
---
5. Denim
Denim is a more sturdy version of cotton. It's different from plain cotton in that it's produced using twill-weaving. Twill, along with plain and satin, constitutes the three main weaving textiles.
Denim has different types. One is the stretch denim, in which an elastic component has been integrated, making it more flexible. There's also the crush denim, which has been manufactured in a way that makes it look stylishly wrinkled.
[amazon box="B07GRSF1TR"]
---
6. Crêpe
Crêpe is a fancy fabric that's known for its wrinkled surface. It used to be made exclusively out of silk. Presently, it's made out of wool and even synthetic fabrics.
It's used in manufacturing clothes and home decoration pieces alike. It's also used in the making of suits, dresses, curtains, and pillows.
[amazon box="B07F45DMKF"]
---
7. Jersey
You've probably heard this word in relation to athletes and their uniforms. That's because it's a fabric known for being stretchy and soft. Combine that with its light weight, and you've got yourself a fabric used in a whole variety of things, from sweatshirts to bed sheets.
At first, jersey material was made out of wool. Now, it can be made out of cotton and synthetic fibers, as well.
8.  Leather
Leather is any fabric obtained from animal skin. Virtually all animals can be used as a source of leather, from crocodiles to pigs. However, the most widely-used leather is cowhide. Here's where the food and clothing industries intersect.
Although cowhide is largely related to the cattle and food realm, it's been capitalized on oftentimes to meet the needs of the clothes industry. Of course, there's a deal of processing that goes into it. One of the most known processes in this regard is tanning. Leather is also available in synthetic options.
[amazon box="B087JQLTXN"]
---
9.  Polyester
This is one of the most prominent synthetic fabrics. It's made of petrochemical materials, like petroleum. It's best known for its durability. Its extreme durability has a drawback to it, what it has in durability it lacks in breathability.
It doesn't absorb sweat well, so rocking it on a sunny day will only bring the sun closer to you. The solution for this is blending.
Polyester can be blended with other fabrics to increase its breathability. It can also be added to other fabrics to increase their durability.
10. Silk
Unlike previous natural fabrics, silk doesn't come from animals or plants. It comes from insects, and more specifically, the silkworm. This insect produces silk to build its cocoon and nest.
When it comes to silk, two key attributes have to be mentioned right away: softness and shininess. That makes it commonly used for things like upholstery and formal wear.
[amazon box="B086JYQ8C7″]
---
11. Linen
Linen is a natural fabric that comes from the flax plant. The origin of the word "lining", as in the lining of clothes, traces back to this fabric. That being the case as linen is used in lining jackets and other clothes.
It's also commonly used for making tablecloths, towels, and bed linens. The linen material is a breathable and absorbent fabric, making it a perfect choice for summer clothes.
[amazon box="B01FFEGNF6″]
---
12. Satin
Satin, twill, and plain. These three constitute the major weaving textiles. Satin is known for being soft on one side, and dull on the other. It's also a flexible and elastic fabric. Satin is commonly used in gowns, blouses, and underwear.
It's also used in manufacturing ballet shoes, bedsheets, and upholstery.
[amazon box="B07BPG5RQH"]
---
13. Velvet
Velvet is akin to silk. Actually, it's a descendant of it. Being made originally of silk, it has features such as softness and luxuriousness. Velvet is used for making fancy, special-occasion dresses, drapes, and more.
For velvet to be part of everyday clothes, it had to be blended with other fabrics, such as cotton and wool. That makes the velvet-made clothes way cheaper.
[amazon box="B00RVYU5SA"]
---
14. Rayon
This next one isn't a natural fabric, nor is it a synthetic one. Rayon is a semi-synthetic fabric. It's made from wood pulp that had been processed by chemicals. It's a ubiquitous fabric that shares a lot of properties with other fabrics, like silk and cotton.
It's comfortable and suitable for many kinds of weather. Its only downside is that it's liable to shrinking if laundered. So, it's better to hand or dry-wash it.
[amazon box="B01N6M7QTX"]
---
15. Chiffon
Chiffon is a lightweight fabric that's made using a plain weave. True, chiffon has a transparent, sheer look. However, it has a rough feel to it upon touching. That's attributed to the small puckers it has.
At first, chiffon was made from silk. Nowadays, there's synthetic chiffon. This one has synthetic materials, like polyester, included in its components.
[amazon box="B0869C3M62″]
---
16. Canvas
For the most part, canvas is made out of cotton. In fewer instances, it's made out of linen. Either way, It's made through plain weaving. You've probably heard canvas being mentioned in contexts of art and painting. That's because its linen component makes it suitable for oil paints.
The version made of cotton, known as cotton duck, is also used in painting. More commonly, it's used with acrylic paints. Canvas is also used in home decorations, accessories, and clothes.
[amazon box="B07TBBT5P9″]
---
17. Gingham
This is a medium-weight fabric that mostly has a striped pattern. These stripes are characteristic of button-down shirts that are made using this material. Its pattern, whether striped or otherwise, has two color combinations. These are blue and white, or red and white.
Gingham is a widely used fabric, due to its affordability and relative ease of manufacturing. Other than shirts, gingham is used in making tablecloths and dresses.
[amazon box="B074PVFRG2″]
---
18. Tweed
Due to the fact that it's closely woven, tweed is one of the roughest and thickest fabrics on our list. Tweed is essentially made out of wool and can be made using either twill or plain weaves. Its thickness makes it exceptionally warm.
Tweed is also moisture-resistant and weatherproof, making it ideal for not only jackets but also suits, and skirts.
[amazon box="B0989SDWPN"]
---
19. Viscose
Viscose is another semi-synthetic fabric. It's made out of a fellow semi-synthetic fabric, rayon. It's mostly used as a substitute for silk, as it's smooth to the touch and luxurious to the eye. On top of that, it has the advantage of being relatively cheap to manufacture.
Viscose is used in dresses, jackets, blouses, and even furniture padding.
Final Words
You've now been re-acquainted and properly introduced to the most common and different types of fabric used in tailoring. That should make your next purchasing decision more informed, guide you to the right fabric for your tailoring project, and help you take care of different fabrics in the best way.
Fabrics can either be natural, synthetic, or semi-synthetic. Accordingly, their characteristics differ a lot. Synthetic fabrics, like polyester, may rank higher in durability, but lack breathability. That's when blending different fabrics to get the best of both worlds comes into play.
Nowadays, fabrics collaborate more than they compete. All of that with one main purpose in mind: making the perfect piece for you!