Bubble bath is so much fun, but some of them contain chemicals and additives that shouldn't be on kids' sensitive skin! We've compiled a list of our 10 favorite bubble bath brands for kids. Pick one of these and be confident they'll have safe, clean fun in the tub!
We've taken the time to put together a list of the best bubble bath for kids, but before you shop you should know about what's in kids' bubble baths including some ingredients you'll want to avoid. Let's dive in.
The Bubble Factor
A good bubble bath means serious bubbles. Unfortunately, some of the biggest bubbles are made with a product called sodium laureth sulfate or SLS. SLS is harsh on sensitive skin and for some, can cause allergic reactions.
For this reason, we strongly suggest that you stay away from SLS in kids' bubble bath. Kids' skin is sensitive, so look for a bubble bath that doesn't contain SLS.
That said, your child still wants bubbles. I mean, that's what makes a bubble bath fun, right?
The bubble baths on our list do not use SLS to make those oh-so-loveable bubbles. Some of the bubble baths might need a little help getting those bubbles started, though.
A great way to make sure you get the max amount of bubbles from a bubble bath is to pour the soap near the faucet as the bath fills up. Also, using a showerhead to fill the tub can help increase the bubble factor.
Ingredients to Avoid When Choosing a Bubble Bath for Kids
The ingredients list can look like another language, and while some of the ingredients listed might sound frightening, not all of them are. However, there are a few ingredients that you'll want to stay away from.
Sodium Laureth Sulfate (SLS). As we mentioned above, SLS can cause allergic reactions, especially for kids who already have skin conditions such as eczema, dry skin, or extra sensitive skin.
Fragrance. Unless it specifically states what the fragrance is or comes from, avoid it. Fragrance is a generic term used by companies, and for kids and those with sensitive skin, it can potentially cause allergic reactions.
Phthalates. Phthalates are used in everything from toys to beauty products to medical devices and more. Some research has linked phthalates to infertility, allergies, and other health issues.
Make Bubble Bath Time Safe
Besides choosing a bubble bath that is safe for kids' skin and is, of course, oh-so bubbly for your little one, there are a few other things we'd like to mention about baths in terms of safety.
Place a nonskid bath mat at the bottom of the tub to prevent slips.
Use age-appropriate toys. While bath toys are great, some, like bath markers/crayons, aren't suitable for toddlers who still might be putting things in their mouths. Check the age of the toy before purchasing it.
Keep an eye on them. Don't leave the room. Not even for a minute. An unattended child can slip under even a few inches of water and drown in seconds. Make sure you have everything you need for bath time such as soap, washcloth, and towel, right there and ready to go.
Consider getting a spout cover so your child doesn't accidentally hit their head on the metal spout.
10 Best Bubble Baths for Kids
If you are looking for a gentle bubble bath for your little one, we've got the list for you.
The bubble baths that made our list don't have any harsh chemicals that might irritate delicate skin, many being suitable for even the most sensitive skin like newborns. No matter which one you choose, they are all safe for kids and are sure to make bath time fun!
1. Honest Calming Lavender Bubble Bath
It's hard to not love the dreamy lavender scent of this bubble bath. The lavender scent makes this the perfect bubble bath before bedtime, but the other scents available such as Apricot Kiss and Sweet Almond are equally delightful. 
But if you prefer no fragrance at all, don't worry. There's a fragrance-free option too.
This hypoallergenic bubble bath is free from SLS, parabens, artificial fragrances, dyes, and any harsh chemical that could potentially hurt kids' sensitive skin.
However, while it says it's tear-free, we found that not to be the case. Make sure it doesn't get into your child's eyes.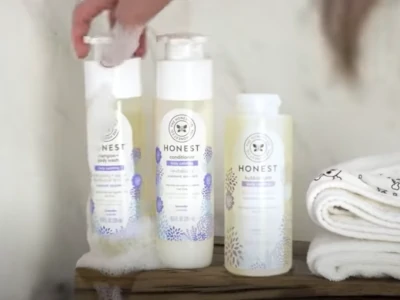 But does it bubble? It does and quite well too! A little goes a long way which means this bottle will last for plenty of bathtimes to come.
What We Like:
No harsh chemicals and hypoallergenic
Calming lavender scent
Bubbles great
Plant-based formula
What We Don't Like:
---
2. Babyganics Bubble Bath, Chamomile Verbena
Kids will love the bubbles and dreamy chamomile verbena scent. You'll love that it contains no harsh chemicals and won't break the bank.
The plant-based formula is pediatrician and dermatologist approved for even the most sensitive skin.
Also available in a fragrance-free and orange blossom scent option, this bubble bath will provide a good clean and leave kids' skin soft and moisturized.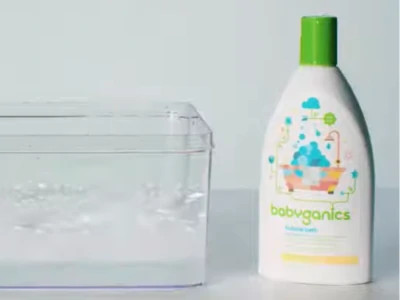 Free from parabens, sulfates, phthalates, artificial fragrances, and dyes, kids will have a gentle but bubbly fun bath.
We found that the secret to extra bubbles for this bubble bath is to use the showerhead when filling the tub!
What We Like:
Light chamomile verbena scent
Free from harsh chemicals, artificial fragrances, and dyes
A good amount of bubbles
Nourishes kid's skin
What We Don't Like:
Need to use a lot for a good amount of bubbles
---
3. Alaffia Everyday Shea Lemon Lavender Bubble Bath
Gentle, relaxing, and oh so bubblicious. The Alaffia Everyday Shea Bubble Bath is made for kids and their sensitive skin. 
You and your child will love the lemon lavender scent and the shea butter ensures the kid's skin won't dry out.
For kids with a gluten allergy, this bubble bath is gluten-free. It's also free of parabens, dyes, and artificial fragrances and is vegan.
Not a fan of lavender? It's also available in eucalyptus mint, especially great for kids with stuffy noses.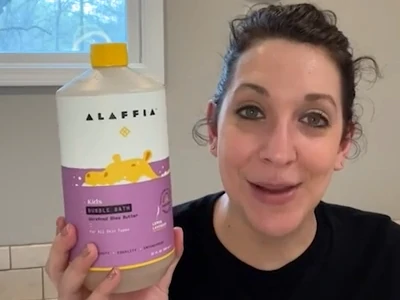 This bubble bath also has a conscience. Alaffia uses 100% certified fair trade ingredients and part of the proceeds go toward that help people out of poverty.
What We Like:
Light lemon lavender scent
Shea butter prevents skin from drying out
Gluten-free and vegan
100% certified fair trade ingredients
Plenty of bubbles
Gentle enough to use every day
What We Don't Like:
Not gentle enough for kids with extra sensitive skin, eczema, or other allergies
---
4. Burt's Bees Baby Bubble Bath
This 99.8% natural formula tested by pediatricians is gentle enough on even the baby's skin. The key cleansing ingredients in this bubble bath are sunflower oil, coconut oil, and soy proteins.
The original scent is light and pleasant and the formula is tear-free just in case some accidentally get in their eyes.
It will, however, take a few capfuls of this bubble bath to get a good bubble. Again, the shower helped generate more bubbles for us.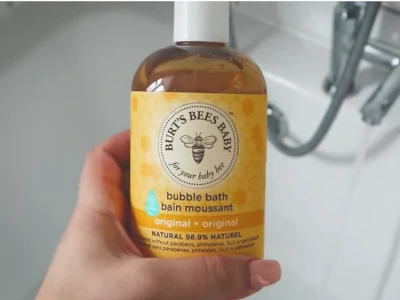 What We Like:
Light, pleasant scent
8% natural formula free from SLS, parabens, and phthalates
Gentle enough for baby's skin
Tested by pediatricians
Tear-free formula
What We Don't Like:
Takes a good amount to get a lot of bubbles
---
5. Babytime by Episencial Peaceful Bubble Bath and Shampoo
Babytime by Episencial was developed by pediatricians and is a top-rated EWG-verified product.
This organic cleaner, gentle enough to use even on newborns, features what they call Actively Health ingredients that help support skin immunity.
Free of any nasty chemicals like SLS, parabens, and fragrances, this light-smelling cleanser and bubble bath is a great pick.
We love the gentleness, but it doesn't really make a lot of bubbles. This isn't one that will give you that great bubbly, foamy experience in the tub.
What We Like:
Developed by pediatricians
Tear-free formula
Extra gentle, even on newborns
Supports immunity
Free from harsh chemicals
What We Don't Like:
It isn't a great bubble maker
---
6. California Baby Super Sensitive Bubble Bath
For kids with extra sensitive skin, California Baby is the bubble bath for them.
This fragrance-free bubble bath is more expensive than the other bubble bath's on this list, but it is free of gluten, soy, oat, dairy, and nuts (except coconut).
This plant-based formula provides a surprising amount of bubbles, and California Baby even includes a bubble wand for some extra thrills.
This bubble bath worked really good for our kids with eczema and extra dry skin.
What We Like:
Perfect for extra sensitive skin and those with allergies
Plant-based formula
Tons of bubbles
Fragrance-free
Comes with a bubble wand
What We Don't Like:
---
7. Johnson and Johnson's Baby Bubble Bath
A tried and true classic. Johnson's baby bubble bath is soap-free, paraben-free, phthalate-free, and free of artificial dyes.
The familiar dreamy scent will also soothe kiddos before bedtime.
As with other Johnson baby products, this bubble bath is tear-free and affordable.
Tested by pediatricians and dermatologists, it is hypoallergenic and suitable for children 6 months and older.
The main reason we do like this one is because we can get it on Amazon or any big box store.
What We Like:
Affordable price
Free of paraben, soap, phthalate, and artificial dyes
Light soothing scent
Tear-free formula
What We Don't Like:
Some ingredients may irritate kids with extra sensitive skin
---
8. TruKid Yumberry Bubble Podz
It's hard to beat how easy bath time can be by simply throwing one of these natural "podz" into the bath and watching it bubble.
This package comes with 24 podz that are dermatologist and pediatrician-tested and are free of any nasty chemicals.
Not enough bubbles? You can use two podz. These safe, gentle podz make bath time a blast.
Kids like the Yumberry scent, but for extra gentle bubbles, it also comes in an unscented version too.
While not the best value on the list, especially if you use 2 podz for every bath, it is a fun treat for a bubbly bubble bath that's gentle on sensitive skin (and smells great too!)
These are like fun bubbly bath bombs for kids. Our kids think they're really fun.
What We Like:
No mess and easy to use
Chemical free
All natural ingredients
The unscented version is suitable for kids with eczema
Gluten-free and tear-free
What We Don't Like:
---
9. Babo Botanicals Lavender Meadowsweet Calming Bubble Bath
If you need a little help getting your child calm before bedtime, this bubble bath by Babo Botanical might help.
Not only does it contain lavender, a classic go-to soothing scent, but it also has meadowsweet extract that is known for its anti-inflammatory and antiseptic properties.
This bubble bath is cruelty-free, vegan, gluten-free, as well as free of any chemicals, and suitable for those with soy, dairy, walnut, peanut, and almond allergies.
The coconut oil and shea butter in this bubble bath keep kid's skin super moisturized too.
We really like the scent of this one, but it will make some tears if it gets in your kids' eyes.
What We Like:
Perfect for bedtime because of the soothing scent
Coconut oil and shea butter moisturize skin
Free of gluten, soy, dairy, walnut, peanut, and almond
Vegan
What We Don't Like:
---
10. Baby Mantra 3-in-1 Bubble Bath, Shampoo, and Wash
Get it all done at once with this 3-in-1 by Baby Mantra. We love multitasking baby products. This one is fun for the kiddos and convenient for us.
The soothing aloe keeps kids' skin super soft and the lavender scent calms and relaxes your little one, making it especially great for bedtime. What it doesn't include are harsh chemicals or dyes.
As far as the bubble factor goes, it takes a lot of soap to get a good amount of bubbles for this one. But once you get the bubbles, they last for a long time.
This gentle formula is suitable for nearly any skin type and is allergy tested.
What We Like:
Great for extra-sensitive skin
Lovely light lavender scent
Aloe moisturizes the skin
No dyes, chemicals, or preservatives
Gluten-free and vegan
What We Don't Like:
Need to use a lot to get a good amount of bubbles
---
Frequently Asked Questions
Q: Are bubble baths safe?
A: Generally, yes. However, as we mentioned before, avoid bubble bath soaps that have harsh chemicals, fragrances, and dyes. Kids with a history of urinary tract infections should avoid bubble baths.
Q: At what age can my child take a bubble bath?
A: Doctors strongly recommend that kids be at least 3 years old before they start taking a bubble bath. Soaps that are found in a bubble bath can enter a child's body via the urethra, which can then cause a UTI.
No matter what age, make sure that kids wash off all soap and bubble bath with clean water after they are done in the bath.
Q: How long is too long for my child to bathe?
A: Sitting in the bath too long can strip your child's delicate skin of its natural oils. We recommend that your child, depending on their age, only stay in the bath for around 10 to 20 minutes. 10 minutes for younger children, and 20 minutes for older children (around age 8 or 9).
Q: What do I do if my child has a reaction to the bubble bath?
A: Even natural bubble bath soaps may cause irritation in sensitive children. If you notice skin irritation, eye irritation, or a rash, flush the skin or eyes with cool, clean water. If a rash develops, rub the area with anti-itch cream. If it persists, consult your child's pediatrician.
Bottom Line
All of these bubble baths for kids are great. They are gentle on skin sensitive, with a few bubble baths suitable for kids with allergies, skin conditions, and extra sensitive skin.
Our top pick is the Honest Calming Lavender Bubble Bath. No nasty ingredients, a lovely scent, and a good amount of bubbles so kids will get clean and have fun doing it.