Waffles have been my trusty savior on tight mornings. Not only are they easy to prepare, but they're also loved by most kids around the world. But has it ever occurred to you that you might be using toxic cookware?
Yes, the regular non-stick coatings on a waffle maker can disintegrate and enter the body through fumes or particulates. Lucky for us, we don't have to give up waffles altogether. Opting for all-natural ceramic coatings can protect you and your family.
In this article, I'll review 7 of the best ceramic waffle makers currently on the market. Let's see!
The 7 Best Ceramic Waffle Makers: Reviews
How does every waffle maker perform? How is it built? And are there any downsides to consider? These are some of the questions that I'll answer in each of the following reviews.
1. Calphalon Intellicrisp Waffle Maker – Top Pick
Although the Calphalon waffle maker costs nearly triple the average, it's worth every penny! This is the product you should get if you want something to provide years of excellent performance.
We love this waffle maker.
Surely, paying this much gives you a premium design that leaves a unique touch in your kitchen. The main body has a dark matte finish that balances well with the shiny stainless steel handle.
Over the front, there's a large high-contrast LCD screen that displays the countdown timer and the current cooking status (preheating – ready to cook – cooking – sensing).
Right next to the screen, you'll find a temperature dial that flips between 5 levels of browning and crispiness. This is a perfect perk for people who prefer to fine-tune their waffles.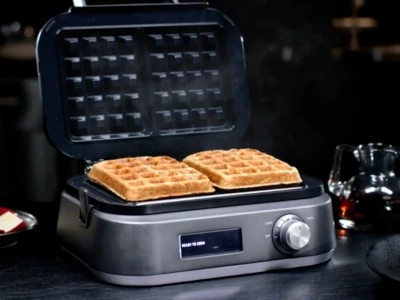 Do you often encounter tight mornings? If so, you'll find this waffle maker super helpful. Its 9-inch cooking area cooks 2 large waffles at a time.
If you don't think you'll make use of that capacity, I think you should consider another option to facilitate storage. This device measures 10 by 11 by 6 inches and weighs around 9 pounds.
To make the storage a bit easier, Calphalon placed a convenient lock that secures the lid in place. This way, you can save some space by storing it in a vertical orientation.
What We Like:
Ultimate cooking precision with 5 levels of browning
Fashionable design
Cooks 2 waffles at a time
What We Don't Like:
---
2. Oster Titanium Infused DuraCeramic Belgian Waffle Maker – Budget Pick
Opting for an affordable, compact waffle maker should be the best option for RV owners, students, and other folks who may have restricted space. If this applies to you, I think you'll love this device from Oster.
Unlike most of the cheap options, the Oster waffle maker comes equipped with features that you'll only find in high-end products.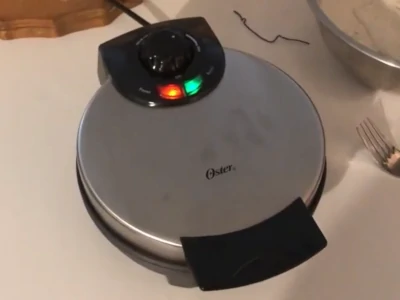 For starters, the ceramic non-stick heating area is reinforced with titanium infusions. Thanks to its sturdy metallic nature, titanium compensates for ceramic brittleness, thereby enhancing overall durability.
Additionally, since titanium is an excellent heat conductor, it drastically improves heat distribution. Oster claims that it can cook 30% faster, but several customers say this improves the browning consistency rather than the cooking speed.
Exteriorly, Oster opted for a stunning polished chrome finish that gives the impression of ingenuity. Over the top, there's a temperature dial that has a generous 180-degree range.
This product doesn't have its own timer, which is pretty expectable at this price range. You only have an LED indicator that tells you when the device is preheated enough to cook the batter.
This waffle maker measures 6 by 9 by 11 inches and weighs less than 4 pounds. The plates cook a circular waffle that can be cut into 4 triangular pieces.
What We Like:
Highly affordable
Elegant design
Generous temperature dial
Titanium-infused plates
Compact
What We Don't Like:
Doesn't have a timer
Can't be stored upright
---
3. Presto 03510 Ceramic FlipSide Belgian Waffle Maker – Best Flipping
It might sound like a negligible nuance, but I really hate it when my waffles don't distribute evenly into the plates. Not only do they look awful, but they also tend to burn in short areas.
If this is something that ruins your breakfast too, you have to try this waffle maker from Presto.
The two heating elements of this device are mounted on a platform with extensions on the sides. This unique design allows you to flip the batter within a range of 180 degrees.
This way, you can rest assured about the volume and the texture of your finished waffles.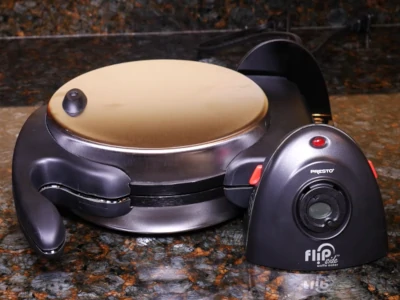 Better yet, after you finish, you can lock the waffle maker on a 90-degree position using the manual switch on the side. This can be such a useful perk if you don't have enough storage space.
Despite having an ingenious design, the Presto waffle maker lacks a temperature dial. As a result, you won't have the ideal control over the overall crispiness of your waffles.
Over the side, you'll find a digital timer that you can set with a small button placed beside it. I don't know why, but Presto didn't connect this timer to the main circuit.
You'll need to replace its Li-ion battery from time to time to avoid major time discrepancies.
To make matters worse, the timer doesn't sound any audible alarm. You must keep an eye on the remaining time unless you like to savor burnt waffles!
In spite of the mentioned disadvantages, I still think Presto priced this waffle maker in a reasonable manner.
Besides, you can forget about the built-in timer altogether and use your phone instead. It's what I do, and it's kinda nice because I can keep the timer with me so I'm sure to hear it.
What We Like:
It flips 180 degrees to evenly distribute the batter
It can lock in a vertical position
Reasonably-priced
What We Don't Like:
The timer runs on batteries
There's no temperature dial
---
4. Hamilton Beach Belgian Waffle Maker – Another Flipping Option
Owing to the amazing outcomes of the flipping waffle makers, I thought I should feature another model equipped with this technology.
Unlike Presto, this device doesn't flip backward. Instead, the two plates are installed over a hinge that rotates around itself. There's a large handle that protrudes forward in a way similar to a skillet handle.
Rotating the device with that handle is a lot simpler to do while cooking when compared to Presto.
On the downside, this design increases the likelihood of batter spillage, especially if you flip the device too early. There's a large plate situated below the device to collect any accidents, but we don't need it very often.
We love that we can pop the grids out of this waffle maker and put them in the dishwasher to get them nice and clean.
The outer housing is stainless steel and built to last. This is a really fantastic waffle maker.
Of course, we're partial to the Belgian-style grids that make extra-deep wells for melted butter and maple syrup. Yum! It takes about 8 minutes to cook well-browned crispy waffles.
What We Like:
Deep Belgian-style plates
Unique flipping design
Extra-long handle for easier flipping
What We Don't Like:
The batter might drop to the sides if you flip too soon
A bit expensive
---
5. George Foreman GRP4842MB Multi-Plate Evolve Grill – Most Versatile
All parents know the struggle. Serving one meal for breakfast won't cut it. Some kids need to savor other servings beside waffles in order to finish their plates. If this applies to your family, I'm pretty sure you'll love that versatile waffle maker from George Foreman.
In addition to the 2-slice waffle plates, this device also comes with plates for panini and muffins. The good news is, all of these plates have ceramic non-stick coatings. Serve as much as you need and forget about cleaning!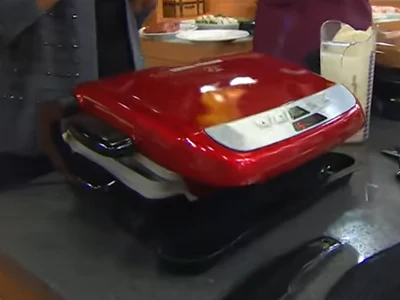 Controlling this device couldn't be easier. Over the front, you'll find buttons that set the timer/temperature and turn the device on and off. The current temperature and time are conveniently displayed with a high-contrast display.
The heating components in this multipurpose beast are capable of supplying temperatures between 300 and 425 °F alongside a 20-minute timer.
To deliver the ultimate value, George Foreman built this device with an additional searing capability to add that satisfying crust on your meals. When you press the "SEAR" button, the device will run at 500 °F for a maximum of 60 seconds.
All of these perks are topped off with an amazing price that puts the competitors to shame. Not only that, but you'll also have 3 years of limited warranty to cover any malfunctions.
The only thing I wish was different is the density of the ceramic coating. Some customers revealed that the plates, especially the waffle grids, started peeling away after 4-5 months of regular use. By extension, this drastically hindered the non-stick property.
What We Like:
Reasonably priced
Comes with 4 sets of plates for different functions
Gives a massive range of heat
What We Don't Like:
The ceramic coating isn't that durable
---
6. Oster CKSTVWF1 Titanium-Infused Waffle Maker – Best Vertical
If you liked the concept of flipping devices, you should also take a look at fully vertical models. In that design, the CKSTVWF1 waffle maker from Oster comes on top of the list.
If you haven't seen that type before, its working principle is super convenient. While the device is closed, you should start pouring your batter into the top funnel. The batter will arrange itself over the grid to get that uniform browning that everybody craves.
When the green indicator turns on, you'll open the device to find your cooked waffle slices resting over the bottom plate.
Unlike the Oster flipping waffle maker, this device is built to stay upright at all times. Therefore, you won't have to worry about those annoying spillages. If you happen to encounter that issue, you should contact Oster for a refund or a replacement.
To decrease the possibility of over- or underfilling, Oster ships a measuring cup that fills the device up to its sweet spot.
If you don't have experience with electric waffle makers, I'd recommend considering another product. We had mixed results with this one. Some of us loved it, and some quickly passed it on for a different model.
Why? Well, this device lacks all the useful perks that you can normally find in most of the other waffle makers. There's no temperature dial or timer. You'll only depend on the LED indicators which might not be that accurate most of the time.
Aside from this, this waffle maker was praised for its overall satisfying performance. As we saw in the previous Oster products, the ceramic coating is infused with titanium for the sake of better durability and heat efficiency.
What We Like:
Titanium-infused ceramic coating
Affordable
The batter doesn't leak from the sides
What We Don't Like:
There's no temperature dial or timer
No way to make sure that your waffle will turn out right until you open it when it's done
---
7. Euro Cuisine WM520 Eco-Friendly Heart Shaped Waffle Maker – Best Design
Who said waffles have to be rectangular or circular? You can impress your children and flirt with your significant other by serving them gorgeous heart-shaped waffles!
There are a lot of brands producing that mold, but Euro Cuisine is undoubtedly the best.
The WM520 waffle maker comes as a circular device that measures 10 by 8 by 4.5 inches and weighs 4 pounds. On the inside, the non-removable plates cook 5 heart-shaped slices of waffle per serving.
It's worth noting that Euro Cuisine doesn't specifically state the material used to coat the plates. However, they do verify the absence of PTFE and PFOA, which are the main toxic ingredients present in Teflon coatings.
Exteriorly, this device is equipped with a stunning polished chrome finish.
The temperature can be controlled with a large 360-degree knob that sits nearly in the middle. Behind that, there are 2 LED indicators that denote power and preheating status.
Our only real complaint with this cute waffle maker is that the handle can get a bit hot during extended cooking sessions. You might still need a hot mitt to open it up when your waffles are done.
What We Like:
Reasonably-priced
Uniquely-designed non-toxic plates
Equipped with a large temperature knob
What We Don't Like:
---
Ceramic vs. Teflon Waffle Makers
As you might already know, ceramic coatings are fairly new on the market of non-stick cookware. Before it emerged, Teflon was the most widely used material.
Although Teflon provides exceptional non-stick properties, it gradually lost popularity owing to its potential health hazards. In this section, I'll dive deeper into this matter to see how the ceramic waffle makers can be better.
Teflon Contains Degradable Synthetic Materials
Teflon is the brand name of a formula that contains multiple synthetic materials. The most important one is poly-tetra-fluoro-ethylene (PTFE).
Generally speaking, PTFE isn't a toxic material. But when you expose it to extreme levels of heat, things might go south. According to the most recent studies, heating Teflon over 550 °F degrades its materials into harmful gases and particulates.
Over the long run, the emitted gases from heating Teflon were found to cause severe damage to the airway.
Luckily, waffle makers almost never reach high temperatures. Most of the products don't exceed 300 °F. Does this mean Teflon is safe? Well, not necessarily.
The Danger of PFOA
Before 2013, most Teflon formulas contained another synthetic material called per-fluoro-octanoic acid (PFOA).
Unlike PTFE, this material doesn't need to be overheated to rear its ugly head. The tiniest exposure to this material puts you at a higher risk of thyroid disorders, chronic kidney disease, liver disease, and testicular cancer.
To make matters worse, PFOA persists indefinitely in the environment and most of the living bodies. In 2000, a shocking NHANES study detected a percentage of this material in 98% of its participants!
As I said, PFOA was finally banned in 2013. It was a long time coming, but at least it happened. If you own a Teflon-coated waffle maker that was manufactured before this date, I'd recommend throwing it right away, even if it functions normally.
Ceramic Is an All-Natural Material
To be honest, the word "ceramic" is a bit extensive to be classified under one category. Besides coating cookware, they're also used to coat cars, fabricate hair straighteners, and make different types of floorings.
But in general, ceramics are known to have a natural origin. Most of the famous formulas are based on materials like clay. It doesn't contain PTFE, PFOA, or any other similar materials.
Better yet, the ceramic powder must be exposed to extreme temperatures in order for the manufacturing process to succeed. In turn, a ceramic coating won't degrade before exceeding 1400 °F.
Unless you have a little dragon as a pet, it's nearly impossible to reach this temperature with a household waffle maker.
Downsides of Ceramic Waffle Makers
Nothing is perfect, right? Despite being healthier, the best ceramic waffle makers have some disadvantages you should bear in mind before purchasing.
They're Not That Durable
Wait a minute! If ceramics need higher temperatures to degrade, doesn't this guarantee exceptional durability? Not necessarily.
When it comes to strength, Teflon easily excels. It can be fairly resistant to any scratches that might come their way.
Ceramics, on the other hand, will be readily scraped with the lightest touch from any sharp metals. That's why I always advise against using metal utensils to clean batter off the deep spots in your grid.
They're Not Dishwasher-Safe
If you pick a ceramic waffle maker with removable plates, do yourself a favor and never shove them in the dishwasher.
Unlike Teflon, ceramic coatings are too brittle to withstand the abrasive components of dishwasher detergents.
After enough washing cycles, your waffle iron will lose its non-stick property, leaving you with a dreadful cleaning ordeal every single day.
Bonus: How to Clean a Ceramic Waffle Maker
If there's one thing that should worry you with non-stick cookware, it has got to be the cleaning and the general handling. If done improperly, their coatings will start to peel off until the device becomes a nightmare to clean.
In this section, I'll share with you some tips that would guarantee longevity without compromising cleanliness.
Step 1: Unplug it
I know that this might sound too obvious. But in reality, some people intentionally turn on their devices before cleaning, thinking that this would dissolve any caked-on food. Although this is somewhat true, it's still incredibly dangerous to handle your hot device while it's running.
Step 2: Wipe the Excess Grease
After every meal, always make sure to grab some paper towels to wipe any grease on the plates or the housing of your waffle maker. If you do this on a consistent basis, you won't need to clean your device often.
To reach the deepest areas of the plates, fold the paper towel and push it through each groove. Never use any sharp utensils for this step. They may tear the paper towel and end up scratching the ceramic coating.
Some people like to use an old, soft toothbrush for the tiniest spots, but I don't like that either. You may get carried away and apply excessive force.
Step 3: Use a Warm, Damp Cloth
Get a piece of clean cloth and soak it into hot water. Then, wring it to lose some of its moisture, but make sure it stays quite damp.
Next, gently wipe the insides of your device with that cloth. Obviously, you should be paying more attention to the large stubborn food bits.
If you want to cut down on the scraping time, place the cloth over the plates and close the waffle maker over it. The hot moisture will disintegrate any remnants in 2-3 minutes.
In case you bought a model with removable plates, don't shove them into the dishwasher unless approved by the manufacturers. Otherwise, you might risk permanently damaging your non-stick coating.
If manual cleaning is all you got, don't use anything but a soft sponge and warm soapy water.
Step 4: Clean the Outer Housing
Carefully wipe the housing of your waffle maker with a damp cloth. Make sure to avoid touching the temperature dial, timer, or any other electrical component.
Step 5: Let It Dry
Open the plates of your waffle maker and let the whole device dry well in the air before using it again. This is extremely important since you may have flooded the circuit with moisture without noticing.
Best Ceramic Waffle Maker Brands
In the following section, I'll briefly highlight the best leading manufacturers of the waffle maker market. I wouldn't recommend straying from this list if you want to get a dependable and durable product.
Calphalon is highly valued for making high-end products that look and function in a premium manner. But of course, this comes at expensive prices, probably double or triple the average.
Unfortunately, they don't specialize in producing waffle makers. They only offer the Intellicrisp model that I reviewed earlier.
Whenever Presto is mentioned, state-of-the-art designs pop into my mind. They were the first to release waffle makers that can flip 180 degrees. Their latest model is capable of cooking cute waffle bowls.
Oster is one of the companies that offer a wide selection of waffle makers with different designs. They produce vertical, horizontal, flipping, and family-sized models. Most of their plates come infused with titanium, which improves durability and heat distribution.
Frequently Asked Questions
Q: Are flip waffle makers better?
Yes. With regular waffle makers, when you close the plates, the batter starts cooking immediately over the lower side. The upper side doesn't necessarily start right away since it may not have maximum contact with the batter.
Flipping devices, on the other hand, makes sure both sides are cooked evenly.
Q: Is waffle mix the same as the pancake mix?
They're pretty close, but not the same. Because waffles are thicker, their batter needs to be denser with a higher content of butter or oil. Aside from this, they share the basic ingredients: flour, water/milk, sugar, eggs, baking powder, and salt.
The Verdict
After reviewing nearly all the products on the market, I can say that the Calphalon Intellicrisp is the best ceramic waffle maker. I absolutely love its premium finish, especially the convenient high-contrast LCD display.
Tight on budget? Consider the Oster DuraCeramic Waffle Maker. Thanks to the titanium infused into the plates, your waffles will cook more evenly.
If you want to perfect the browning of your waffles, you have to try the Presto 03510 FlipSide Waffle Maker. Its hinging design allows for a 180-degree flip to verify that every bit of the batter gets maximum heat exposure.
Bon appétit!