The best hair detanglers for kids are made by Cantu Care, TotLogic, and Honest Company. They're pure and improve the condition of kids' hair. We put detangler sprays to the test. Read on to get the full list of mom-approved hair detangler sprays for kids!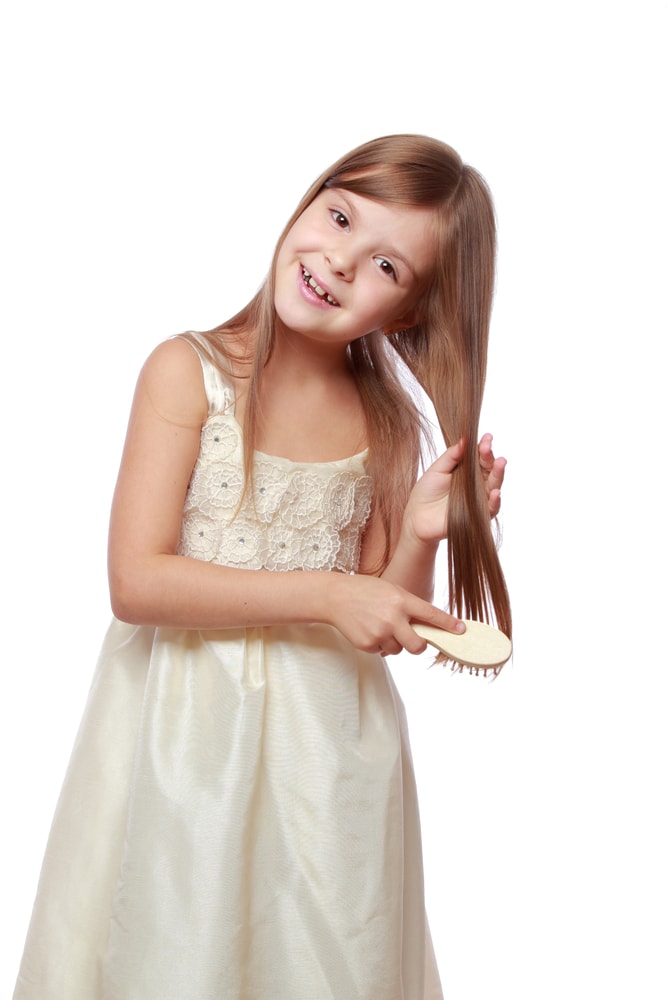 If your child frequently gets tangled hair, you both know the struggle is real and quite painful. But it doesn't have to be. Finding a good detangler will help remove tangles, knots, and snags, and help prevent them from forming.
We have a list of the 10 best hair detanglers for kids to help you brush your child's hair and release knots without any pain. We'll also give you a few tips and tricks to help prevent them from occurring.
Here are a few things to think about before you choose a detangler spray for your child.
Best Detangler Spray by Hair Type
Before you put a detangler in your shopping cart, make sure you choose one that is suitable for your kid's hair type.
Some detanglers are made specifically for curly hair while others are best for fine hair. Here's what you should look for depending on your child's hair type:
Curly or Coarse Hair– When it comes to thicker, coarse, and curly hair, look for detanglers with extra moisturizer in them. This will soften hair to make it easier to run a comb through it.
Wavy or Straight Hair– Kids with wavy or straight hair won't need quite as much conditioning as those with curly or coarse hair. As long as their hair is not coarse or fine, wavy or straight hair can use either a detangling spray or conditioner.
Fine Hair– Surprisingly, straight hair, especially fine hair, has a tendency to tangle more than curly hair. However, extra moisture is not the answer. Look for a lightweight detangler spray that conditions but won't weigh hair down making it look thin and stringy.
Detangler Spray Vs Conditioner
You may be asking, "Should I get a spray or just use conditioner?" As we just mentioned, curly or coarse hair will need a little more moisturizing to get those tangles out.
While a detangling conditioner might seem like a better option, there are plenty of sprays specifically made for that hair type. We do recommend using conditioner on your child's hair, but you'll still find a good detangling spray to be indispensable for tear-free brushing.
However, if your child has fine hair, a lightweight spray is better than a heavy conditioner. Too much moisture can be too much for fine hair, making it hang limply and look stringy.
The nice part about using a detangling spray for kids is that you can control where the spray goes and add a little more to knots rather than applying an overall conditioner. If your child's hair is whispy, this is important to keep it looking clean and fluffy.
Tips to Make the Most of Detangling Spray
Besides using a detangling spray or conditioner, here are a few extra tips to help kids have knot-free hair.
To brush your child's hair, gently start from the bottom and work your way up to the scalp.
Have your child wear their hair in a ponytail or braid when they sleep. The key is to make sure it's a loose ponytail so the ponytail elastic doesn't break your child's hair.
Also, choose a scrunchie over an elastic to help prevent breakage.
Sleep on a silk pillowcase. Let them be fancy! Swapping their pillowcase from cotton to silk can help prevent tangles and reduce frizz.
Make sure they (or you) are washing their hair right. Instead of scrubbing hair, have them (or you) work the shampoo into their roots gently by using just fingertips.
Use a detangling comb. As the name suggests, it helps detangle. A wide-toothed comb will work too.
Ponytails, braids, and ballerina buns help. Before your child goes running around to play, be sure to pull their hair back in a ponytail, braid, or a neat bun to prevent tangles.
In a Hurry? Here's Our Top Detangler Spray Picks!
Top 10 Detangler Sprays for Kids
Time to get those tangles and knots out! We've searched for the best of the best when it comes to detangler products for kids. Many of the brands you'll love and know (and may already use) while there are a few kid-specific brands that will help your kids be tangle-free.
Let's dive into the list!
---
1. Cantu Care for Kids Conditioning Detangler
This detangler not only works really well on curly texture hair but it's super affordable too. It contains shea butter, coconut oil, and honey to reduce breakage and nourish hair.
What does this kid-specific formula not contain? Harsh chemicals.
For our kids with super knotty hair, it did a great job getting the tangles out and moisturizing dry hair, even after a day on the trampoline.
What We Like:
Great value
Works great on curly, textured, and super tangled hair
Contains shea butter, coconut oil, and honey
Contains no harsh chemicals
What We Don't Like
Not a tear-free formula. Ouch.
---
2. TotLogic Detangler and Leave-in Conditioner Spray
TotLogic Detangler and Leave-in Conditioner is a non-toxic spray that works on both wet and dry hair. It's hypoallergenic and has no harsh chemicals which means it's gentle on kids' hair and scalps.
It contains jojoba and essential oils to detangle and also gets rid of frizz and static. This all-natural spray is vegan and works on all different types of hair.
We love that this one helps to keep static away from fine hair so it's not flying everywhere.
What We Like:
All natural – no harsh chemicals
Hypoallergenic
Prevents static and frizz too
Works on all types of hair
What We Don't Like:
Some kids don't like the smell of lavender, chamomile, and bergamot
---
3. Honest Company Conditioning Detangler
This lightweight leave-in conditioner/detangler is best on normal and fine hair. It contains argan oil, shea butter, jojoba, and quinoa extract, leaving kids' hair super soft and tangle-free.
The natural plant-derived formula contains no harsh chemicals and is gentle on kids' hair. Kids also really liked the sweet orange vanilla scent.
What We Like:
The lightweight formula works great on normal to fine hair
The orange vanilla scent smells good
No harsh chemicals. Ingredients are plant-derived
Great for everyday use
What We Don't Like:
Won't work as well on really tangled hair or coarse and curly hair
---
4. Fairy Tales Tangle Tamers Static Free Detangling Spray
This one's for princesses (and princes) with long tangled tresses that need some love without any nasty chemicals.
This detangling spray has no parabens, phthalates, and sulfates and is even dairy-, soy-, nut- and gluten-free. It contains keratin, jojoba, aloe vera, and vitamins to strengthen and repair hair.
It also does a great job taming frizz and preventing static – one of our favorite benefits of this detangler spray. This spray works on all hair types and works so well, you might even want to use it on yourself.
What We Like:
No harsh chemicals
Strengthens and conditions hair
Prevents static and frizz
Gluten-, soy-, nut- and dairy-free
What We Don't Like:
Some may not like the pineapple scent, but our crew enjoyed it
---
5. Johnson's Buddies No More Tangles Hair
Whether your kid's hair is wet or dry, this detangler will help loosen those pesky knots so you can slide a brush or comb through their hair with ease.
This no-rinse spray features Johnson's classic no-tear formula just in case it does get in your little one's eyes. It also has no parabens, phthalates, sulfates or dyes.
This particular spray works best on normal to fine hair. We didn't have as much success using it on course and curly hair.
We like that you can pick it up in most big-box stores.
What We Like:
Affordable
Works on both wet and dry hair
No-tears formula has no harmful chemicals like parabens or sulfates
What We Didn't Like:
Doesn't work as well on coarse hair because the formula is thinner
---
6. Suave Kids Apple Detangler Spray
This super affordable detangling spray comes in scents your kids will love – Silly Apple and Berry Awesome. This is another detangler spray that can be used on both wet and dry hair.
The spray also is hypoallergenic and suitable for kids with sensitive scalps. It's effective on normal and fine hair as well as thicker, coarse, and curly hair.
What We Like:
Kids will love the berry or apple scent
Very affordable
Tear-free & hypoallergenic
Can be used on wet or dry hair
What We Don't Like:
Can leave some buildup on hair and doesn't work for everyone
---
7. Dark and Lovely Beautiful Beginnings Detangler
The Beautiful Beginnings detangler contains both coconut oil and shea butter, leaving hair strong, shiny, and tangle-free. The formula also does a great job preventing split ends – a benefit for every age.
This detangler works on both natural and relaxed hair. It is made specifically for kids and is super gentle on their hair. This detangler can also be used on dry or wet hair.
What We Like:
Protects against split ends
Strengthens hair with coconut oil and shea butter
Works on both natural and relaxed hair
Can be used on wet or dry hair
Great value
What We Don't Like:
Some didn't find it moisturized quite enough, so additional conditioner may still be needed.
---
8. Shea Moisture Kids Extra-Moisturizer Detangler
If you love the Shea Moisture brand, then why not try it on your kids? (The Shea Moisture Kids version that is.)
With natural ingredients like coconut, hibiscus, slippery elm, and marshmallow extract, kids will have moisturized, tangle-free hair without the use of any harsh chemicals.
This particular detangler works great on thick, curly, or extra tangly hair, but go easy on it. It can feel a little sticky on hair if too much is applied.
We don't recommend it for fine or whispy hair because it's too heavy.
What We Like:
Natural ingredients provide great moisture
Works great on coarse, curly, or extra tangled hair
Also a great anti-frizz spray
Smells good
What We Don't Like
Feels a little sticky on hair and can be too heavy, especially for thin or whispy hair.
---
9. Paul Mitchell Taming Spray
Paul Mitchel has a line just for kids, including this taming spray. This spray detangles knotty morning lion's mane or those fairy knots in tough-to-untangle curls.
It works well on all hair types but works especially well on thick, curly hair. Besides detangling, it also tames frizz and reduces static.
The downside is the higher Paul Mitchell price tag. It really is a fantastic product though. If you're finding that cheaper options aren't giving you the results you need, you should definitely give this Paul Mitchell spray a try.
What We Like:
Great on thick, curly hair
Gets out tough knots
Works on damp or dry hair
Tames static and frizz
What We Don't Like:
---
10. L'Oreal Kids Extra Gentle Conditioner
It isn't a detangling spray, but using a conditioner like this one will help soften hair so that knots don't form as easily or stay in so stubbornly.
Kids love the juicy grape smell. You'll love their knot-free hair, especially when you pair it with a light detangler spray.
The L'Oreal Kids Extra Gentle Conditioner is paraben-free and tear-free.
A little goes a long way to help detangle hair too. This conditioner is best for kids with normal to fine hair and probably won't provide quite enough moisture for thicker or coarse hair.
What We Like:
Kids like the smell
Tear-free formula
Works great on fine hair – conditioning without weighing hair down
Helps prevent static
What We Don't Like:
Might not moisturize enough for super dry or extra tangly hair
---
Frequently Asked Questions
Q: What causes knots and tangles in hair?
A: Some hair is more prone to knots than others. But what causes knots in the first place?
Knots form when the cuticle of hair gets damaged and opens up. When this happens, hair catches with other hair (think Velcro) and causes those dreaded knotty messes.
So how do you stop the knots? There are many ways, but a good detangler will moisturize hair to prevent hair from becoming damaged and the cuticles from opening up.
Of course, like with most things, prevention is key. Using a detangler regularly and some of the tips we provided above, will prevent any tears from a dreaded brushing/detangling session.
Q: Help! My child's hair is really tangled! What do I do?
A: Resist the urge to wash your child's hair when it's full of knots. It'll only make things worse.
If your child's hair is full of knots and tangles, you are going to have to do some brushing before your child goes in the shower for good conditioning.
Check out this video for tips on getting through a detangling.
Bottom Line
From curly hair to fine hair, there's a detangler for every hair type on this list of best detanglers for kids. For textured curly hair, check out Cantu Detangler for Kids. It gets knots out of super knotty hair and moisturizes even the most damaged hair.
For a lightweight spray for kids with normal to fine hair, check out the Honest Company Conditioning Detangling Spray. You and your kid will like the vanilla orange scent, but more importantly, the tangle-free hair.