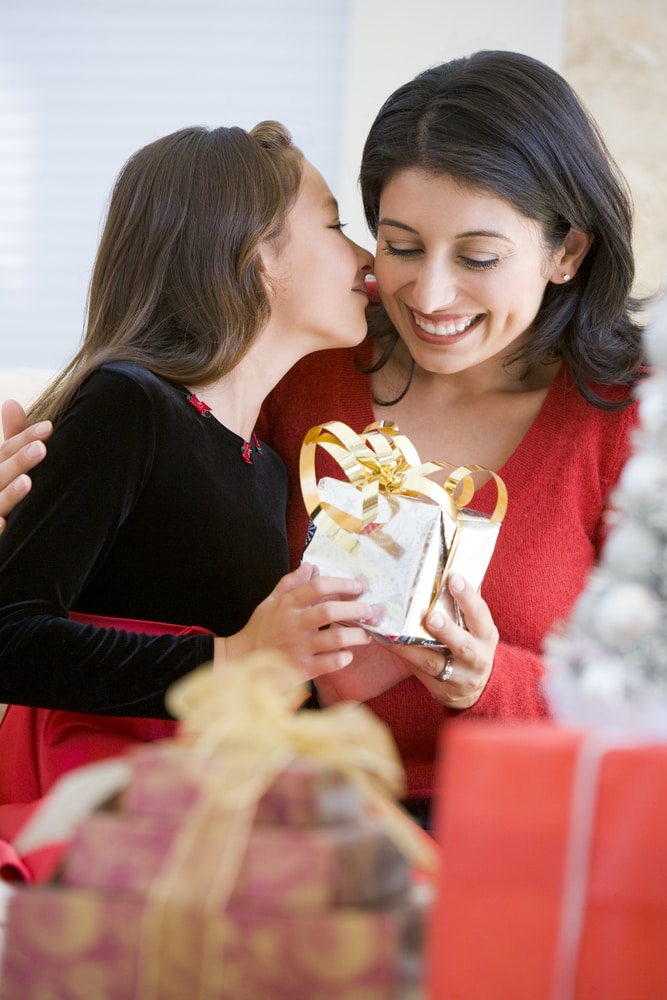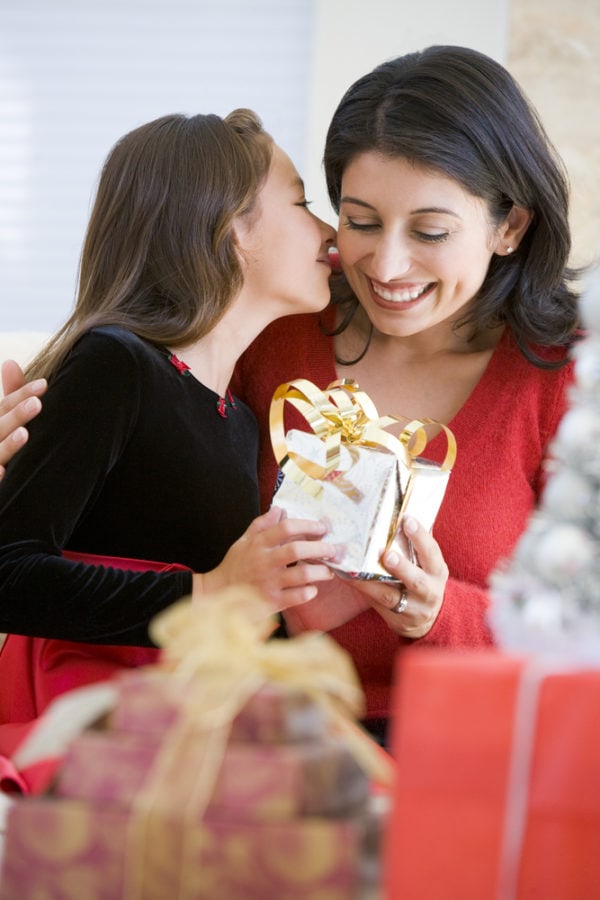 Aren't moms the best? Always there to give the support you need, always baking your favorite cookies, always thinking of others.
Christian moms are especially good at giving more of themselves to help others. They make dinner for church members when there's a family emergency. They organize Bible studies and childcare for others in the neighborhood. They volunteer for charities and organize fundraisers.
How do you find a way to thank this wonderful woman? What gift could possibly be good enough?
Fear not! We have curated a Christian gift guide that's almost as fantastic as the Christian moms in your life. Take a look at the best religious gifts for mom for mother's day, Christmas, or her birthday!
Books
Ever wonder how those picture-perfect lifestyle bloggers manage to be so… picture perfect? Christian mom and businesswoman Rachel Hollis explains in painful detail that her life has been far from perfect. She has written a book that discusses the specific lies that held her and hold other women back from reaching their full potential and tells how she has fought against these lies and hardships. She hopes that her readers will be strengthened and inspired to fight and change their own lives, too.
We all struggle with staying present and feeling grateful. Instead, we are always reaching for bigger and better things, ideas, and feelings. The poetic Ann Voskamp tells of her gratitude journal and the one thousand entries she made. She encourages readers to slow down, to find God and gratitude in the smallest details of everyday life.
Kathi Lipp is well known for her clutter-clearing lifestyle suggestions and this book fits that theme. As a Christian mom who has a large family, this author knows what she's talking about and she encourages other mothers to venture outside the norm and connect with their children. No matter how many children you have, what your family dynamics are, or what personality types your children may be, Kathi has suggestions and reasons for connecting with your children.
Jewelry
You know your mom is worth more than money can buy. Give her this delicate, sterling silver bracelet and she'll have it in writing that she's worth more than rubies! It's inscribed with a Proverbs 31 inscription: "Who can find a virtuous woman? For her price is far above rubies. Strength and honor are her clothing; and she shall rejoice in time to come. Her children arise up, and call her blessed; her husband also, and he praiseth her."
Tassel jewelry is uber popular these days, and this gorgeous coral tassel will add to mom's already classy appearance. The silver charm is stamped with "Proverbs 3:5-6" so mom will always be reminded to "Trust in the Lord with all your heart and lean not on your own understanding; in all your ways submit to him and he will make your paths straight." It's like the WWJD bracelet of the 21st century, only prettier!
6. Initial and Cross Earrings
For the super hip mom – which is obviously YOUR mom – give her this cool initial earring set. The cross-shaped earring dangles just a bit, while the initial is stud-style. You could be really adventurous and combine this gift with a trip to the salon where mom can get a side shave!
Drinkware
What's prettier than pink and gold in the morning? For the coffee-loving mom, this pretty mug with a shimmery script is the perfect gift. Not only can it handle a hefty amount of caffeinated goodness, but the inspirational message will also lift her up and give her the courage to get through the day.
Stay hydrated mom! And why wouldn't she want to drink more water when she has this pretty water bottle? It's stainless steel, creamy white in color, and has a lovely script that will remind mom of Jesus' message to the crowds on the mount: "Love each other as I have loved you." Each sip of water will be like a sip of joy!
This religious gift is perfect for the mom on the go! Whether she's carting kids around town, grabbing groceries, or heading out to Bible study, taking her coffee or tea along with her in this ceramic thermal mug will let her feel all the strength – of her inner self and of the caffeine. All the other moms in church will want one too!
Home Decor
Plank art is a popular choice these days, and this sign with its beautiful script and inspirational message will be a perfect addition to any home. It will be hard for mom not to smile when she opens your gift and reads the script on this lovely piece. It will be even harder for her not to smile when she sees it on her wall every day.
Not only is this lantern a stylish and popular decorative item, but the symbolism of the light is also meaningful to all Christians. Jesus is the light of the world and this elegant piece will physically and emotionally light up mom's life. This gift idea can be an attractive ornament inside your home, or the flameless LED candle can brighten your outdoor space.
No matter what their preferred style of music, most people will agree that Amazing Grace is one of the most beloved and recognizable hymns of all time. This word block will be a perfect addition a Christian woman's home décor and will also inspire peace as she reads, sings, and contemplates God's unending love.
Stationery Products
Is there anything more chic than a Carrara marble-designed journal? With its convenient lay-flat format and combination of blank and lined pages, this is the perfect gift for any mom who wants to keep a journal, carry a small sketchbook, or even write the next Great American Novel. Get her a fancy pen too while you're at it!
Coloring can be a wonderful method of relaxation and self-care for the busy mom. This compilation of hand-drawn illustrations and inspirational scripture verses will allow the mom in your life to meditate on her spirituality while enjoying some downtime too. It's a perfect combination.
15. Amazing Grace Planner
For the organized mom, or perhaps the mom who strives to be more organized, this lovely purple leather planner with its embossed leather cover will be an essential tool. There are daily devotional thoughts, scripture verses, and even a Bible reading plan included so that mom's motivation to stick with her schedule and to stick with Jesus is always supported.
Kitchenware
If the mom in your life is always in the kitchen, always preparing meals and treats for her friends and family, she will love this cutting board. With its gentle reminder that God's blessings are all around her, seeing this cutting board will no doubt make mom smile and encourage her to add even extra love to the goodies she prepares.
Even more than gifts from you, her favorite person, Mom loves quoting scripture. She will be so cheered by the uplifting message and bright colors on this flour sack tea towel, she'll be able to wipe away all the stress and disappointments of the day. She may just proclaim this towel too pretty for wiping hands!
This bright, beautiful bowl is for combining ingredients to create something delicious, just as the scripted message combines the ideas of prayer, generosity, and love to create a woman of faith. Say those exact words to mom as you gift her this bowl and she'll create whatever food you want – after she hugs you! Chocolate cookies all 'round!
Clothes
Mom is beautiful. Mom is kind. Mom is hardworking. Mom is patient. Mom is giving. Mom is tired. Mom is a hot mess. But that's okay because Jesus loves her just as she is! Wearing this handmade shirt with its scripted message will make mom smile – and make other moms exclaim with recognition! Whatever you do, though, don't actually call mom a hot mess. We can pretty much guarantee she won't appreciate that.
Who wants to keep calm and press on, or drink tea, or eat cupcakes, or watch Downton Abbey, or snuggle your cat… when you can keep calm and pray hard? This lightweight, super comfy sweater will wrap mom in both warmth and hope. Don't ask if you can borrow it though. She's not going to feel like parting with it!
Mom now has a cross around her neck, biblical home décor, a pretty and inspirational coloring book, and even a fish symbol on the back of her car. But does she have a pair of Holy Socks? These adorable socks are both comfortable and reassuring with their little lamb design reminding the wearer that they are not lost. Mom has never had such meaningful socks before!
Collectibles
19. Willow Tree – Christmas Ornament
Is your mom a collector of pretty things? Add this elegant Willow Tree Angel to her Christmas ornament collection. The 2018 inscription will call to mind all the wonderful events and occasions of the past year, and the angelic figure will add a peaceful reminder of God's love to the Christmas tree.
20. Precious Moments – Figurine
Is there anything sweeter than a Precious Moments angel? This delicate porcelain figurine is a gentle reminder that time spent in prayer is time well spent. For the mom who guards her personal devotional time carefully, this little angel will be a welcome companion.
One of history's most revered authors and preachers in bobblehead form? Oh my! Yes, please! Mom will get a kick out of this miniature and at the same time be reminded of the man's many wise words and influential, enriching sermons. And you'll get a kick out of the man's exceptional beard!
Board Games
For the board game lover! Does your mom rock at yelling out random words and beating the buzzer at original Taboo? Give her this Bible-themed version and watch her rack up the points as she hollers the answers. An especially good gift for Christian moms who love family game night as it's a great fit for the whole family!
Any true board gamer will have played (and loved) the award-winning Carcassonne game, and this Old Testament-based game will delight all the Christian gamer moms out there. It's based on the story of Joshua and the Israelites in the promised land, and every detail will have you smiling with recognition – and hopefully with victory!
Hmm. How could Scrabble be made Christian? Easy! Allow the players to earn extra points by spelling spiritual and biblical terms and references. Don't feel too confident in her gratitude for this gift, though. The chances are that since mom already wins every time you play Scrabble together, she's likely to triumph here too!
Technology Accessories
25. Blessed – Phone Case
Mom has probably been through a long list of phones and phone cases to go with them. But has she ever had a phone case this pretty? Or this inspirational? Give her a daily, maybe even hourly, reminder of all her God-given blessings – including yourself!
26. Cross – USB Drive
For the mom who has everything, how about a little bit of Christ-filled technology? She probably has USB drives in every color in the rainbow, but she probably doesn't have one that is a physical representation of her faith. She does now, and there won't be any chance of other family members accidentally confusing it with their own!
Maybe the mom in your life spends too much time on her iPad. If this is the case, you may not want to get her this elegant, rose gold iPad case. She will probably find it so lightweight and the synthetic leather so smooth that she'll be even less likely to put it down!
Subscription Boxes
Subscription boxes are all the rage right now, and this one is filled with Christian-themed goodies that mom will love! She'll receive books (novels, devotionals, etc.), fair trade and eco-friendly lifestyle products and trinkets, and sometimes even digital music downloads. What's not to love?
Oh, the treats included in this box are oh-so-pretty! Mom will receive a new book or devotional each month, along with items like tote bags, notebooks, hair ties, and even jewelry – all from Christian-run small businesses.
Ever been curious about the lesser-known women of the bible? This box contains at least two books each month (one fiction and one non-fiction), herbal tea, journaling accessories, candles, study brochures, etc., all centered around a different Bible character for each month. It'll take mom's bible study to the next level!
If you can't afford to send the Christian moms in your life to the Holy Land for a few weeks to walk where Jesus walked and love where Jesus loved, or a trip on an Inspiration Cruise with Michael W. Smith for entertainment, or a hand-built gazebo in her backyard where she can watch the sunrise as she fills in her devotional journal… you at least have a good list of Bible-based gift ideas to choose from here.
Although, we have a feeling that mom will say "you shouldn't have!" no matter what you give her!
You might also be interested in: Christmas Gift Ideas for Mom