Learning geography doesn't have to be boring! We tested a bunch of globes with our kids, and some are super cool! Here's our list of our 9 favorite globes for kids that will prove that geography can be fun and exciting for kids (and adults too)!
We've not only included the traditional stand globes on our list, but also globes that are interactive, light up, and even one that can be hugged. Kids of all ages (and yes we are talking about toddlers too!) can enjoy the world. Keep reading to find out which globes are the best for kids!
How Accurate Are Globes Made for Kids?
The globes that we feature on our list are all accurate and up-to-date. That said, many kids' globes aren't as detailed as a traditional globe will be.
Keep in mind that political geography changes every several years, so you may find your globe is outdated in a couple of years and needs to be replaced with an updated one.
Some of the globes on our list will accurately depict countries, states, and some cities while others may only depict countries and oceans or even just continents.
The two main reasons for this are because of size and simplicity. Kids' globes tend to be smaller in size which, for obvious reasons, means that more detail cannot be put on the globe.
Secondly, overwhelming kids with every detail imaginable may lose their interest. Teaching kids the basics first, such as only continents or only countries and oceans, will help them have a good foundation before diving into more detailed geography such as cities, terrain, etc.
9 Best Globes for Kids
Our list is comprised of globes for all ages. Many of the globes on this list offer some sort of interactivity whether it's an augmented reality experience via a smart device app or built-in memory housing thousands of facts about the world, nature, and more.
But don't worry, we have a few simple, budget-friendly globes as well.
So without further ado, take a look at which globes are the best of the best for kids.
1. USA Toyz 3-in-1 LED Globe 
The USA Toyz 3-in-1 LED Globe will not only have kids learning geography but astronomy too! With a flip of a switch, this globe becomes a constellation guide. We also love that the constellation mode acts as a soothing night light too.
This plug-in globe measures 13.5" high and comes with a long-lasting LED light. The globe details not only countries but deserts, oceans, rivers, and reefs.
When switched on to the constellation mode, the globe will show planets, navigational lines, and 88 constellations.
For more learning fun, download the interactive app that teaches kids about both geography and astronomy. Included with this globe is an illustrated constellation booklet too.
What We Like:
Teaches both geography and astronomy

Detailed map includes rivers, deserts, and more

Interactive app helps to teach kids geography and astronomy

Long-lasting LED light

Includes illustrated constellation booklet

It also acts as a nightlight
What We Don't Like:
Nothing! We think this globe is pretty great as is.
---
2. Educational Insights Geosafari Talk Globe
For kids 4-7 years old, the Educational Insights GeoSafari Talking Globe is a fun interactive way for kids to learn geography.
We LOVE that kids can hear up to 10 hours of facts, many of which are narrated by wildlife conservationist Bindi Irwin.
This smart globe comes with a special pen with a built-in speaker that allows kids to touch anywhere on the globe to hear fun facts about countries, oceans, animals, and more.
The dual swivel stand also makes it easier for kids to really explore the entire globe.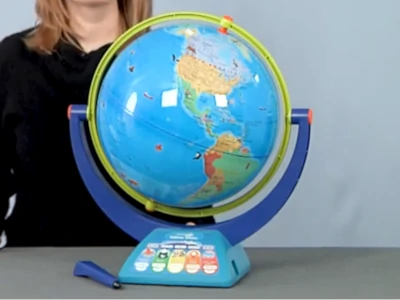 What We Like:
Kids can listen to up to 10 hours of facts

Features Bindi Irwin narrating fun facts

Kids learn not only geography but other fun science facts such as nature and animals

The dual swivel makes it easy for kids to search the whole globe

Kids can measure the distance between cities using the pen
What We Don't Like:
Expensive

It does not include batteries for the pen
---
3. Shifu Orboot Augmented Reality Globe
Augmented reality means combining the real with computer-generated, and that's exactly what this globe does.
Kids will use a smart device to bring the globe to life sharing over 1,000 facts and 400 highlights.
We love that the facts on this type of globe can be updated because of the augmented reality feature.
The first thing you'll probably notice about this particular globe is that it features no borderlines or names. That's because you'll find the country and state borderlines via the interactive app.
Kids will learn about so much more than geography including animals, historical landmarks, food, culture, and more.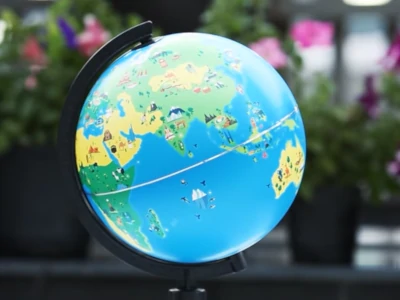 Included with this globe are a passport, stamps, country flag stickers, and an instruction booklet.
What We Like:
Globe is interactive with an augmented reality app

It comes with a passport, flag stickers, stamps, and an instruction booklet

Kids can learn over 1,000 facts

Teaches kids about geography, animals, culture, history, food, and more
What We Don't Like:
Must use the app in order to locate places.

That makes it more difficult to quickly point out something to a child.
---
4. Oregon Scientific Discovery SmartGlobe
Kids will learn a lot more than the countries of the world with the Oregon Scientific SmartGlobe.
This interactive globe features a pen that allows kids to tap on the globe to learn history, the country's national anthem, and tons more.
There are 3 panels located on the base of the glove that allows kids to choose one of 19 activities such as learning the capital of countries, comparing country populations, and finding the country.
Also located on the base of the globe is a map of the United States, so kids can learn more about their home country.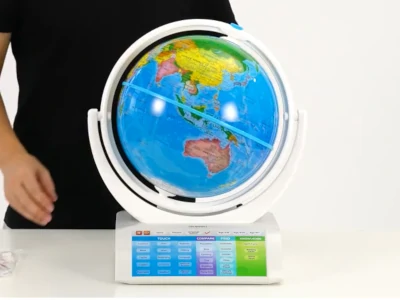 If kids feel like they've mastered the globe, they can test it by taking the Ultimate Challenge activity.
For some extra fun, download the Oregon Scientific Discovery SmartGlobe augmented reality app that allows kids to bring dinosaurs and animals onto the globe! Our kids especially enjoyed this feature!
What We Like:
Easy to use

The globe holds over 2,000 educational facts

The free app allows kids to have an augmented-reality experience
What We Don't Like:
Expensive

The auditory exercises are too loud in our opinion, but not everyone agrees
---
5. Learning Resources 3D Puzzle Globe
For young kids just starting to explore the world, we think they'll love the Learning Resources Puzzle Globe. This brightly colored globe is a fun way for kids to get to know the continents and oceans on Earth.
Kids will also love the adorable animal images that appear on each continent puzzle piece.
Simply designed, this 6-piece puzzle globe teaches more than you think.
Young kids will have the ability to fine-tune their motor skills. The bigger pieces though make it easy for little hands to manipulate the pieces of the puzzle.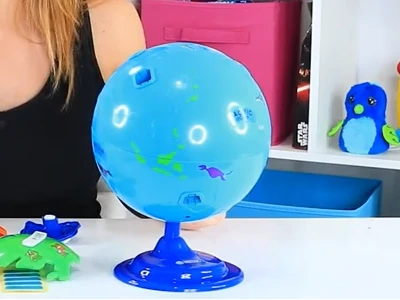 What We Like:
Puzzle globe teaches kids basic geography

Animal images on which continent animals are native to

It helps improve fine motor skills

Perfect toddlers and preschoolers
What We Don't Like:
Parents will need to put stickers on the globe
---
6. Replogle Explorer Raised Relief Globe
This tried-and-true classic globe is the perfect globe for any age. Its smaller size makes it perfect for desks and with 4,000 location names and boundary markings, it's great for school projects and advanced geography students.
The metal base is durable and steady and the globe sits on a realistic tilted axis. Kids can run their fingers over the raised relief to really get a feel of the terrain on earth.
This globe may not have any of the interactive features some of the other globes on this list have, but it is accurate and represents all the locations kids will need to know.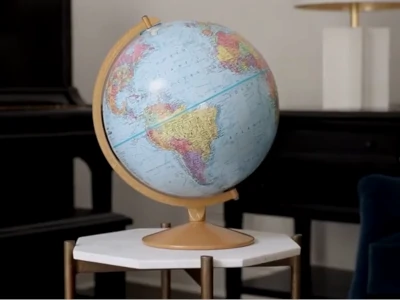 What We Like:
Realistic tilted axis

Raised relief

of geographical features

Over 4,000 locations marked

Great size for desks
What We Don't Like:
Some users noted that the seams on the globe didn't line up exactly

, making it look a bit cheap
---
7. Little Experimenter 3-in-1 Illuminated World Globe
The Little Experimenter 3-in-1 Globe is another globe that switches from a world map to a constellation map with a press of a button.
If kids forget to press the button, this globe will automatically switch over to the constellation mode thanks to a light sensor that senses when the room goes dark.
This is a smaller-sized globe, measuring 8" in diameter, and it is suitable for kids 8 years and older. It can also be used as a nightlight, projecting constellations on the ceiling and walls.
However, this globe is powered by batteries, so using this globe as a nightlight will call for more frequent battery changes.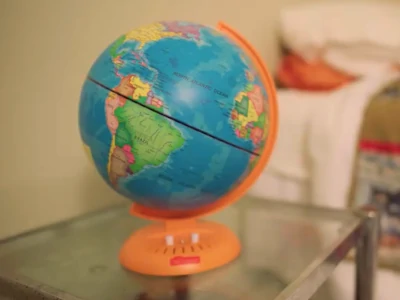 What We Like:
Affordable price

Both a globe and a constellation map

It can act as a nightlight

The built-in light sensor switches the globe automatically to constellation mode when the room goes dark
What We Don't Like:
Batteries drain quickly depending on usage

Smaller size

is a bit harder to see detail
---
8. Elenco Edu-Toys Desktop Political Globe
If you are on a tight budget (or tight on space) this small 5" globe is Elenco Edu-Toys is accurate, budget-friendly, and space-friendly.
Despite its small size, it's a well-made globe that can handle kids' less-than-gentle touch.
While this isn't the most detailed globe, considering its size it marks all of the oceans, continents, states, and even many major cities.
We think this is a great introductory globe for elementary-age kids who are starting to learn geography.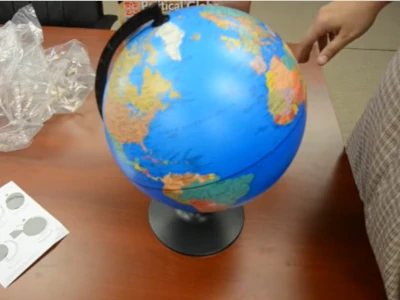 What We Like:
Small size perfect for little hands

Budget-friendly

Durable construction

Accurate markings
What We Don't Like
So small it cannot provide as many details as a larger globe
---
9. Hugg-a-Planet Classic
Hug it. Throw it. Squish it. Squeeze it.
For our last globe on our list, we picked the Hugg-a Planet Classic. It's a fun interactive way to learn about the world (and it just so happens to be comfy too!)
Learning about the earth doesn't have to be so serious. Kids will want to hug this soft plush world made with a cotton exterior.
It's also machine washable too!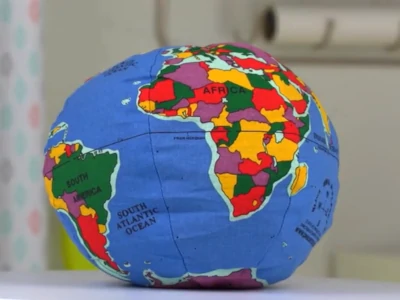 The globe print is accurate and measures about 12" in diameter. We think it's great for kids 2 years and older.
Our kids loved tossing the world around while learning a bit too! Your kids will love playing with Hugg-a-Planet plush globe.
What We Like:
The only globe on this list that can be hugged

Comfy and machine washable

Countries and oceans are accurately marked

Great for kids of all ages, even kids as young as 2 years old
What We Don't Like:
Will flatten out over time

especially if kids sit on it or use it as a pillow
---
Frequently Asked Questions
Q: What is the difference between a political globe and a physical globe?
A: A political globe means that the boundaries of countries and states are shown on the globe. Political globes tend to be brightly colored with one country or state being a different color from the state or country nearby.
A physical globe, on the other hand, may or may not show the borders of countries and states, but will show the terrain of the earth.
Q: What is raised relief?
A: Raised relief globes will represent terrain, such as mountain ranges, in a three-dimensional way. Globes with raised relief will actually have bumps, grooves, and ridges where certain terrain is located. Raised relief can provide a sensory experience for kids to show them the terrain of the earth.
Bottom Line
Whether you are looking for a unique gift or want to provide your child with a learning tool to instill a love and appreciation of the earth and geography, any of the globes on our list are an excellent choice.
We especially love the USA Toyz 3-in-1 LED Globe because it not only is a globe but switches over to illuminate constellations, as well as act as a nightlight.
If you are looking for something a little more interactive, check out the Educational Insights GeoSafari Jr. Talking Globe. With 10 hours of audio and 5 different categories to choose from, kids will enjoy learning about not only geography, but about animals, oceans, and more.