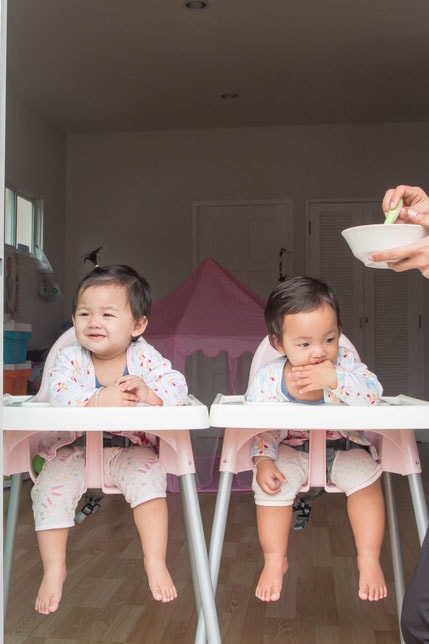 Introducing your baby, or in this case babies, to a high chair is a big step, and for those with twins, you have double feeding (and cleaning) as your child moves to the next milestone – eating in a twin highchair.
Finding space-saving, easy-to-clean twin highchairs for your darling two is important when your babies reach solid food age. And for most, affordability is also going to play a factor.
Unfortunately, twin-specific twin highchairs aren't really an option, but that's okay.  We've searched through all the twin highchairs out there on the market to find the best high chair for twins.
IN A HURRY? HERE'S OUR TOP PICKS…
What Makes a Good High Chair?
As with any baby product, there are tons of twin highchairs on the market. For parents with twins, you are going to want to search for not only a good high chair, but a baby high chair that will make your life a little easier (and probably won't take up your entire kitchen). So what should you be looking for?
Easy to clean.  Twins mean double duty cleaning, and you don't want to be stuck scrubbing the high chairs all day long. Look for a toddler chair with a removable tray and a seat that can be wiped clean easily.  Stay away from high chairs with lots of nooks and crannies where food can get stuck in.
Safety and Durability. Twin highchairs should come with a harness that looks similar to a car seat. Choose a high chair with at least a 3 point harness, preferably a 5 point harness.  Also, make sure that if the high chair has wheels that there is a lock to prevent it from moving.
Another thing to keep in mind is choosing a high chair that is sturdy.  You can check this by giving it a good shake to see if it remains steady and won't tip over.
Comfort.  It better be comfortable if you want them to sit through a whole meal! Make sure there are no sharp edges and that the seat pad has some padding so your twins will have a comfortable meal experience.
Size.  High chairs can be pretty bulky, and having two can mean some serious bulk. So keep in mind how big the high chair is versus how big your kitchen is.
A high chair that has a removable tray so you can put them up to a table can help save space too.  Many on the list are collapsible or at least fold in half for easy storage.
More on Safety
When it comes to safety for babies and children, there are two ways to check and see if a product is the safest it can be.
JPMA Certification Seal.  JPMA, the Juvenile Products Manufacturers Association, is a company that tests children's products. Companies voluntarily go through JPMA for testing to ensure that not only does their product meet government standards, but goes above and beyond what is required in terms of safety.
Consumer Product Safety Commission.  Whether you are buying a brand new high chair or someone gave you a hand-me-down, check with the CPSC to see if it has been recalled.  You can visit their site here: https://www.cpsc.gov/Recalls
Twin Highchair Types
There are several different types of high chairs, however, the following 4 are the most common.  Let's take a look at what they are!
Traditional.  When you think of a high chair, this is probably what you are thinking of.  It stands on its own, has a removable tray and many of them eat up a lot of space. In terms of comfort, they are pretty plush, equipped with comfy padded seats. They usually are on wheels to make moving around the kitchen or dining room a little easier.
Folding.  A close cousin of the traditional high chair, folding twin highchairs don't take up as much space and can be easily folded when not in use. They are lighter, good for travel, and can be a great choice for those who need to get multiple.
Contemporary.  These are easy to spot with their simple, but innovative design. They have all the safety features as a traditional but aren't as plush or bulky.  They also usually don't have a seat cover, making clean-up easier.  But the one thing they do have is a higher price tag.
Portable.  Portable or travel twin highchairs are great for parents on the go or parents with a limited amount of space in the kitchen.  These compact twin highchairs can be strapped to most dining chairs and still have the safety features or other twin highchairs.  These are another great choice for twins.
Best Twin Highchair
We've made it to the list! And we have a high chair for every parent including those who are really tight on space or those who have a tight budget. Check out which ones made the cut and which one is best for you and your family!
---
1.  Fischer Price SpaceSaver High Chair
If you are really short on space, then this SpaceSaver is exactly what the name states – a space saver. Simply place this high chair onto an existing dining chair, secure the straps, and voila – high chair for your babies.
The SpaceSaver fits onto most dining chairs. The seat cover is removable and machine washable and the tray can be removed for easy cleaning.  The chair also has a 5 point harness for safety.
This chair grows with your child. It has three recline settings and two height adjustments, and it is suitable for newborns, toddlers and can even be used as a booster for young kids. And the price is low enough that your wallet won't ache when you buy two.
Pros
Grows with the child.  High chair to a booster seat.
A true space saver — attaches to existing chairs.
Affordable price.
5 point harness keeps babies and kids safe.
Machine-washable seat cover.
Cons
The seat cover doesn't provide much in the way of padding.
---
2. Joovy Nook High Chair
This folding high chair has a simple design and is easy to clean. It folds up completely, making it good to store when not using or to travel with.
Cleaning this high chair is easy. The swing open removable tray is dishwasher safe and the leatherette seat cover is machine washable.  The roomy seat can hold children up to 50 pounds and the tray has 4 depth adjustments.
To top it off, it comes in five colors including charcoal, coral, black, red, and turquoise, ensuring that this high chair fits any style.
Pros
Can fold up to a super compact size for travel or storage.
5 stylish color choices.
Easy to clean – dishwasher safe and machine washable parts.
Roomy, comfortable seat.
Sleek, modern design.
Cons
---
3.  Graco Slim Snacker High Chair
Looking for something plush for your little ones without taking up a ton of space? This Graco will deliver. This high chair quickly folds up to free up space in the kitchen, but still features a comfy seat cover.
The seat cover is also easy to clean and can be machine washed. The seat has 3 reclining settings and a footrest for your little one's comfort and support.  Also, you can choose to use it as a 3-point or 5-point harness.
This high chair only holds up to 37 pounds, so won't last as long as other twin highchairs on this list.
Pros
Folds up easily and quickly.
Comfy, easy to clean seat cover.
3 reclining settings and a footrest.
Choice of 3-point or 5-point harness.
Stylish design.
Cons
Lower weight max.  Kids will outgrow this chair faster than others on this list.
---
4. Abiie Beyond High Chair
The Abiie Beyond wooden high chair will last your child from 6 months to adult!  This high chair easily converts to meet your child's seating requirements at any age. You can also choose from a 3-point or 5-point harness.
No tools are necessary to transform via the Abiie EZ Seat system.  This high chair comes with a removable tray, tray cover, backrest cushion, and seat cushion.
The wood from this chair is also eco-friendly.  For every tree harvested to make the chairs, several trees are planted. You'll also appreciate the classy modern design that won't take up a ton of space in your home.
Pros
Grows with your child from baby to adult.
EZ Seat System requires no tools.
Eco-friendly, sustainable material.
3-point or 5-point harness choice.
Stylish design.
Cons
---
5.  Oribel Cocoon 3-Stage Easy Clean High Chair
It is, in fact, easy to clean which is happily not the only great selling point of this high chair.  The large tray makes food play fun but is also easy to clean (dishwasher safe!). The foam pad on the seat is waterproof and easy to clean by simply wiping it with a sponge.
This high chair will fit kids 6 months to 3 years and features 3 reclining settings and 4 height positions.  This chair also folds up quickly for space-saving and comes in 4 color choices:  pink, blue, slate, and pistachio.
All this comes with an unfortunately high price tag, but some parents might find the easy-clean, easy storing, and aesthetically pleasing design worth the extra dough.
Pros
The tray is dishwasher safe.
The foam pad on the seat is waterproof.
Multiple reclining and height settings.
Stylish color choices and design.
Cons
---
6.  Baby Bjorn High Chair
This super modern high chair is a straightforward, no-frills high chair. No extra padding and cushioning means no extra cleaning. Simply wipe down the plastic.
This high chair also folds up pretty flat to store when not in use. But even when it is set up, it doesn't take up as much space as most twin highchairs.
This high chair is suitable for kids 6 months to 3 years. This chair doesn't adjust or recline like others on this list do.  It is JPMA certified and its ergonomic design curves around babies and toddlers back to help them sit upright.
Likes
Sleek, modern design.
Folds up for storage.
Ergonomic design supports kids in an upright position.
Cons
---
7. OXO Tot Sprout High Chair
This funky little high chair can be converted into a youth chair and hold up to 60 pounds.  It has 5 levels it can be adjusted to without the use of any tools. The simple design makes it simple to clean too.
The removable cushions can be wiped down while on the chair or removed for easier cleaning. Choose from pink, orange, or green cushion as well as a black, gray, walnut, birch, or white frame.
While this chair does have a higher price tag, its value is worth it being that it grows with your child.
Pros
Fun colors and simple attractive design.
Easy to clean.
Can be adjusted for ages up to 5 years old or 60 pounds.
Cons
Water can get inside the tray.
---
8.  Ingenuity SmartClean ChairMate High Chair
Believe it or not, but many parts of this chair can go into the dishwasher and the pad for the chair is machine washable. So needless to say clean up is pretty easy.
This chair is easy to clean and also will stick around for a long time, as it easily converts into a booster seat and then a toddler seat. For max space-saving, it attaches to nearly any chair.
While many of the pieces are dishwasher safe, they may wear prematurely over time, so it's advised that you wipe them down to extend the life of the chair.
Likes
Dishwasher safe and machine washable parts for easy cleaning.
Makes use of dining chairs.
Lightweight and portable.
Grows with the child all the way to toddler years.
Cons
May wear out if thrown in the dishwasher all the time.
---
Frequently Asked Questions
Q: When are my babies ready for a high chair?
A: When your baby can sit up on their own, you can start placing them in a high chair.  Babies usually start eating solid food between 4-6 months but letting baby get used to sitting in a high chair as soon as possible could make things easier later on.
Regardless of age never leave your child in the high chair unattended and always secure them using the harness on the high chair.
Q: My baby hates the high chair. How can I get them to sit their longer?
A: If you find your child screaming every time they go into the high chair, know that you are not alone.  Here are some tips to help get your child to learn to like their high chair.
Make sure the harness is not too tight and that the seat is comfortable.
Make it fun.  Give them a special toy just for this time or play a fun song that will keep their interest as you put them and get them ready for mealtime.
If possible, remove the tray and push them up to the table to see if they prefer feeling like a "big person".
Try feeding him different foods.  If they hate spoon-feeding, try giving them some finger foods.
Sit with him. Maybe he is bored. Maybe he is lonely.  Make mealtime a time to explore food and interact with your child.
Bottom Line
Feeding twins can be a monumental task. Don't let a less than great high chair get in the way. We've found the best high chair for twins to fit every budget and every space to help make your life a little easier.
Lacking space in your kitchen or dining area? Consider the Fisher-Price SpaceSaver. It is an affordable, durable, space-saving high chair that can be converted into a booster seat and attaches to most dining chairs securely.
Looking for something more traditional? The Joovy Nook High Chair has a slim design, can fold up for more space between meals, and comes in at a relatively affordable price tag.