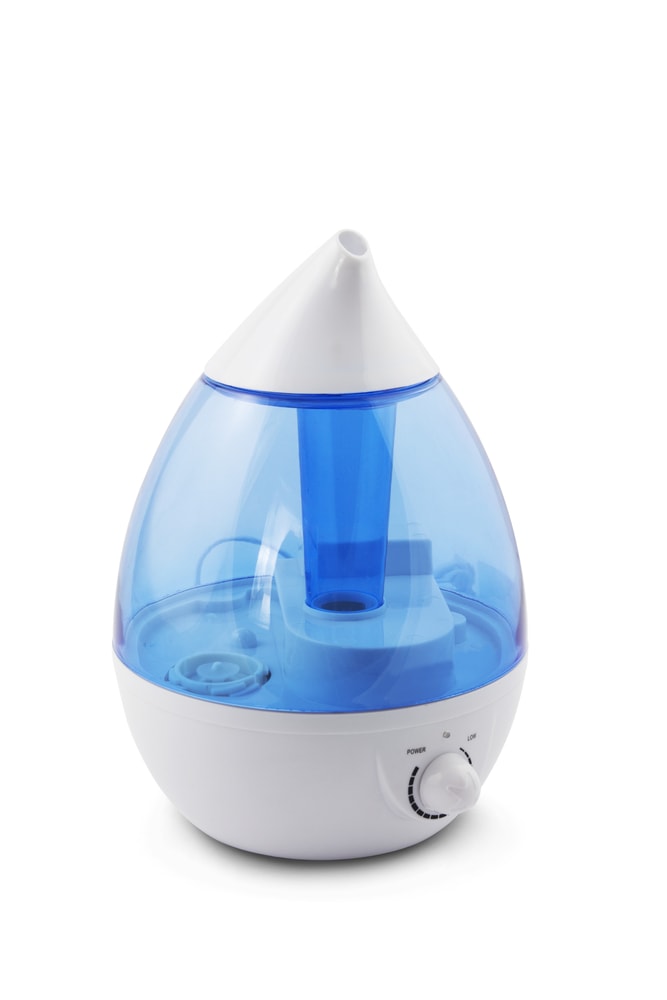 Cold weather is upon us and that means dry cold air that can irritate kids' noses and airways. But that's not all dry air can do. It can dry out kids' skin too.  But there is something that can help.
Perhaps you remember the ole gurgle of the warm mist humidifier from your childhood or have experienced a cool mist humidifier. Either way, you probably know that humidifiers can help alleviate some symptoms that go along with allergies, colds, flu, and other respiratory conditions.
Humidity in the air is not only necessary, especially in the winter, but air that contains a certain percentage of moisture can help prevent dry cracked lips, bloody noses and more. Also, humidifiers are generally safe for kids, even babies.  (That is as long as it is a clean humidifier, but we'll get into that later.)
So we've compiled a list of the 8 best humidifiers for kids.  But before we get to the list, let's look at the types of humidifiers and why you would even need one in the first place.
IN A HURRY? HERE'S OUR TOP PICKS…
Why do you need a humidifier?
Dry air can cause some rather painful or uncomfortable issues like bloody noses, dry and painful sinuses, as well as cracked lips and skin.  Using a humidifier adds moisture to the air to help alleviate these problems as well as help ease symptoms that commonly occur with allergies and respiratory illness such as colds, flu, bronchitis and more.
Types of Humidifiers
Humidifiers work by adding moisture to the air but there are two main types of humidifiers.  Let's see how they work as well as some things to keep in mind when deciding between them.
Cool Mist Humidifiers
Ultrasonic humidifiers, otherwise known as cool mist humidifiers, are a popular choice.  They are affordable, energy efficient and usually pretty quiet.  So how does a cool-mist humidifier work?  Well, it depends on which type you get.
Cool Mist Evaporative Humidifier
 The first is a cool mist evaporative humidifier. A filter absorbs water from the reservoir container while an electric fan blows air on the filter, causing the water to evaporate. This moistened air is released into a room.
The benefit of an evaporative humidifier is that impurities in the water are filtered first before being released into the air.  However, be sure to clean the filter regularly so there is no build-up of mold or bacteria.
Cool Mist Impeller Humidifier
The second type of cool mist humidifier is a cool mist impeller humidifier.  Water hits a high-speed spinning disc and then goes to a diffuser that breaks up the water into tiny microscopic droplets which then go into the air.
Unlike evaporative humidifiers, a cool-mist impeller humidifier does not have a filter to clean, which means you should fill impeller humidifiers only with distilled water to prevent impurities such as mineral residue and even bacteria and mold to form on the machine or spread onto surfaces in the room.
Steam-Based Humidifiers
Steam-based humidifiers work by boiling water and releasing steam into the air.  The benefit of this is that the steam released into the air is free from mold, bacteria or any other impurities.  However, since it works by heating up water it could be a safety hazard.
Refrain from using this type of humidifier overnight or leaving children unattended in the same room as one.
How to clean a humidifier
As with all appliances, refer to the manufacturers' instructions first. But in general, here are some guidelines when cleaning a humidifier:
Clean your humidifier at least once a week, or more often if you notice there is a build up of minerals.
For cool mist evaporative humidifiers, make sure to change the filter regularly. If it looks dirty, is hard or you notice a change in the air quality, it means its time to replace the filter.
To clean cool mist humidifiers in general (with or without a filter) empty out the tank of water and fill it was a solution of lukewarm water and vinegar. (1 gallon of water to 4 teaspoons of vinegar.)  Allow mixture to sit for an hour and rinse thoroughly. Make sure that all the pieces are dry before reassembling.
For mineral build-up, use a soft toothbrush to scrub it off after it soaks in the vinegar and water solution.
Top 8 Humidifiers for Kids
Humidifiers are definitely something good to have on hand for those nasty colds and respiratory viruses as well as for kids who suffer from allergies or dry, cracked noses and skin during the winter months. So the question is, which humidifiers are the best for your little one? We've picked out 8 of the best humidifiers to help alleviate your little ones dry nose.
---
1. Honeywell Germ-Free Cool Mist Humidifier
What makes this humidifier germ free? The ultraviolet light technology.  It kills up to 99.9% of germs which means your child will be getting moisture in the air without any harmful impurities.  The ultraviolet light kills fungus, mold, bacteria and more.
The Honeywell Germ-Free Cool Mist Humidifier is an evaporative humidifier which means it has a filter which will need to be cleaned regularly.  However, to extend the cleaning life of the humidifier, Honeywell suggests using a Protec Cleaning Ball (sold separately) which keeps your humidifier cleaner longer.
When full and run on low, this humidifier will run for 24 hours. Replacement filters are also available and the filter should be changed if it becomes hard or the moisture output decreases.
Pros
Ultraviolet light kills bacteria in the water.
Can run up to 24 hours on low without having to refill it.
Very quiet.
Cons
---
2. Pure Enrichment MistAire Ultrasonic Cool Mist Humidifier
The Pure Enrichment MistAire has a 1.5-liter tank which makes a good size for most bedrooms.  It has two stream settings, high and low, which are both powerful and effective. It also features a soothing nightlight which can be turned on and off.
When operating on the high setting, this humidifier will run up to 16 hours on a full tank and comes at an affordable price. And while not the main reason to buy a humidifier, it doesn't hurt that it has a stylish, sleek design.
Pros
Nightlight can be turned on and off.
Two stream settings.
Perfect for medium-sized rooms.
Affordable price.
Stylish design.
Cons
A little on the small side.
---
3. Vicks Warm Mist Humidifier
This filter-free humidifier is great for kids' and babies' rooms.  The warm mist will be 95% free of bacteria and a full tank can last up to 24 hours. For extra relief, you can add Vicks VapoSteam (sold separately) to the special medicine cup of the Vicks Humidifier to release a medicated steam to help relieve a cough from colds and other respiratory illnesses.
The Vicks Warm Mist Humidifier is quiet and gives off a nice blue glow, which can act as a nightlight. The see-through tank also makes it easy to see when you are running low on water.
Pros
No filter to clean. Warm mist kills 95% of bacteria.
Can fill with Vicks VapoStream for cough relief.
Very quiet.
Last up to 24 hours.
Affordable.
Cons
No humidity level control.
---
4.  Crane Filter-Free Cool Mist Humidifier
If you are looking for something a little more kid-friendly in terms of design, this is it.  There are plenty of animal designs to choose from including a monkey, pig, polar bear, frog, dragon, duck and more.  And, of course, it works well at keeping a higher moisture level in your little one's room.
To prevent any harmful bacteria from growing, this unit features Crane's Clean Control, which is an anti-microbial material that reduces the growth of bacteria over 99.9%. The unit is made of BPA free material and it has no filter which means no additional purchase necessary.
Pros
Animal designs fit well in kids' rooms.
Affordable price.
Runs up to 24 hours.
Works up to 500 square feet.
Cons
The LED light on the front of the unit is too bright.
---
5. Safety 1st 360 Degree Cool Mist Humidifier
This humidifier has not 1 but 2 places that mist comes out of and they rotate 360 degrees to ensure the entire room is covered.  The humidity control dial lets you control how much humidity the room has.
A big tank means long-lasting. The Safety 1st 360 Degree humidifier will work up to 24 hours. When the indicator light goes off, it's time to fill the tank.  Again, this another filter-free humidifier and super quiet (which means sleeping babies stay asleep!)
Pros
Two steam vents rotate 360 for full room coverage.
Filter-free and easy to clean.
Works up to 24 hours.
Humidity control.
Good for kids who share rooms.
Cons
A little difficult to get the tank on and off.
---
6. Vicks Starry Night Cool Moisture Humidifier
Another humidifier by Vicks, but this one will charm your little ones while they reap the benefits of the cool mist.  The Starry Night Cool Moisture Humidifier projects a starry night sky onto kids' ceilings. And if your child doesn't feel like a starry night, it can be turned off, as it works separately from the humidifier.
This humidifier is an evaporative humidifier which means you will need to buy filter refills, but that also means a filter will remove any impurities from the water.   It's also easy to refill and clean this tank thanks to the wide opening.
Sold separately, but a nice option, this humidifier takes Vicks VapoPads that will release soothing scents like lavender, eucalyptus, rosemary, and menthol.
Pros
Relaxing starry night projection kids will love.
Compatible with Vicks VapoPads.
Easy to refill and clean.
Humidifier and project work separately.
Cons
The nightlight is bright.
---
7.  Honeywell Mistmate Cool Mist
If you are looking for something pretty small, like for a small nursery or bedroom, the Honeywell Mistmate Cool Mist will do the job, and do it well.  The tank only holds a half a gallon of water but it will work for up to 20 hours.
This small humidifier comes in 4 colors: white, red, blue and black.  The wide opening makes it very easy to refill and clean.  It also has an easy to use humidity control. This simple but effective humidifier won't break the bank either.
Pros
Perfect for small spaces.
Comes in 4 colors.
Easy to refill and clean.
Compact.
Good value.
Cons
Doesn't produce a strong enough mist.
---
8. LEVOIT Cool Mist Humidifier
If you need something that goes a little longer, the LEVOIT Cool Mist Humidifier has a tank that is big enough to hold 4.5 liters of water which means 36 hours of mist for your little one.
This humidifier shows you the humidity level and allows you to adjust to your personal preference. Don't be fooled by its large size. It is quiet. It also has a special tray that allows you to put essential oils in it if you choose.
Easy to refill and easy to clean, this humidifier will hold up to plenty of use for those who need round the clock humidity control.
Pros
Last 36 hours.
Can use essential oils in it.
Easy to refill and clean.
Quiet despite its large size.
Cons
Despite its size, may not be suitable for larger rooms.
---
Frequently Asked Questions
Q: What is a dehumidifier?
A: A humidifier works by adding moisture in the air, but there is such a thing as too much moisture. A dehumidifier removes moisture from the air.  These are commonly used during the summer when moisture levels may be high or in a basement which tends to be the dampest part of the house.
Q: Can I add oils or herbs to a humidifier?
A: We strongly advise that you do not put anything in the tank except water.  Adding oils or anything other than water into the tank can damage the machine. Only add water to the reservoir. If the humidifier does not have a filter, make sure you use distilled water.
That said, there are a few humidifiers on this list that have a separate compartment where you can put oils or aromatherapy pads in.  Be sure to follow the directions and only put in what the manufacturer suggests.
Q: How much humidity do I need in my house?
A: You never want more than 55% humidity in your house.  This can form the perfect breeding ground for harmful bacteria, mold, mites and more. In the winter months, aim for between 40-50% but no less than 30%.
Bottom Line
If your child is suffering from a dry or bloody nose, allergies, colds, dry skin, eczema or any respiratory illness, then a humidifier can help.  Our top pick for the best humidifiers for kids is the Honeywell Germ-Free Cool Mist Humidifier that will not only help soothe their little noses but will prevent any harmful bacteria from getting into the air.  But no matter which humidifier you choose from this list, your child is sure to have a more comfortable winter season.