If your child has a need for speed, it might be time to trade in their pair of roller skates for a pair of inline skates (AKA roller blades). There are plenty of inline skates that are great for young kids without any roller skating experience at all. Some people even argue that inline skating is easier to learn than roller skating.
If your child has some reservations about learning how to rollerblade, there are plenty of skates out there that make the transition a little easier by converting from training skates to inline skates when they are ready.
If you are looking for a pair of inline skates for your child, you're in luck. We've got the list for you. Whether your child is super young and ready to get in line or they have some experience under their belt and are ready for a new, faster pair of inline skates, we've got something for every kid.
Best Inline Skates for Kids – 3 Main Types
An inline skate is an inline skate, right? Not so! There are a few different types of inline skates. Let's take a look at the three most common types of kids' inline skates.
Recreational Skate.  For kids, this is the most common inline skate out there. Speedier than a roller skate, but more control than some of the other types of inline skates we'll talk about in a minute, recreational inline skates are best for beginners and for kids who will be roller skating for fun rather than sport.  Recreational skates can be used both outdoors and indoors.
Hockey.  Hockey skates are quite obviously for playing hockey. And when playing hockey, players need speed. Inline hockey skates are much speedier than recreational inline skates and are also better at making sharp turns too. Hockey skates are best for kids with some inline skating experience.
Aggressive Skate.  Aggressive inline skates are what you'll see kids wearing at the skate park. These skates are durable and well-padded but are smaller than the above two types of skates. Located between the wheels is something called an h-block which allows the wearer to perform tricks on rails and other obstacles.
While there are a lot of great aggressive hockey skates out there, for this list we stuck with recreational skates since these are the most commonly used skates for kids.
What You Need to Know About Rollerblade Bearings
You'll see the word "bearing" thrown around when talking about roller skates and inline skatesm and for just cause. Bearings are a very important part of the skate. 
Bearings allow the wheels to spin, and when it comes to kids' skates, you want them to roll smoothly and fast, but not too fast.
Bearings will allow for some control when it comes to speed which is important for beginner and intermediate skaters. Here's what you need to know about the grades and types of bearings on inline skates.
Standard Steel Bearings vs Swiss Bearings
Recreational inline skates typically have standard bearings which are made of steel. Since they are made of steel, standard bearings are strong and found not only in inline skates but in roller skates and skateboards as well.
Standard bearings do require some cleaning and care. If you do need to replace them though, they are very affordable.
Swiss bearings, on the other hand, are the best type of bearing out there. They don't require much in the way of care and are made of ceramic or titanium. However, they aren't usually used in recreational inline skates but are preferred by advanced skaters since they allow for a faster, smoother ride. They also have a higher price than steel bearings.
ABEC Rating System
ABEC stands for Annular Bearing Engineering Committee and the ABEC rating system is the most commonly used rating system for bearings. Simply put, the higher the number, the better the speed and efficiency of the bearing.
How To Keep Rollerblade Bearings Clean
As we mentioned, it's important to keep the bearings clean. If your child notices that the skates are rolling less than smoothly, it might be time to give them a good cleaning.
Here's a video that'll show you how to clean the bearings to prolong the life of the skate and get a smoother ride out of the inline skates.
8 Best Rollerblades for Kids
The skates on this list are recreational inline skates. Almost all of them are suitable for beginners with some being a little better for kids with some inline skating experience. 
We made sure to include inline skates for kids as young as kindergarteners all the way up to the teens.
1. Roller Derby Tracer Inline Skates
Roller Derby Tracer Boy's Adjustable Inline...
Outgrow no more! Adjusts up to 4 sizes...
Perfect for young skaters! Comfort and...
Keep it fresh! Washable boot liner....
Smooth ride indoors and outdoors!...
Quality components and time-tested...
The best part of the Roller Derby Tracer inline skates is that they adjust to kids' fast-growing feet. The small size will adjust from size 12J-1 and the medium size will adjust from size 2-5.
The boot liner and tongue are padded and keep kids' feet super comfy while the boot itself supports feet and ankles.
The urethane wheels with 608ZB carbon bearings will provide a smooth ride and are durable enough to use these skates outside, though they will work great on indoor surfaces too.
What We Like:
Perfect for beginners, especially younger kids
Adjustable sizing for kids' growing feet
The padded boot liner is comfortable
Great for indoor and outdoor use
What We Don't Like:
Feels a bit clunky. Not suitable for advanced inline skaters.
---
2. Blade Runner Phoenix Skate
This is not a toy. For kids with a little experience who want a good inline skate, the Blade Runner Phoenix is a great choice. The ABEC 3 bearing and 72mm urethane wheels are durable and give the wearer a smooth ride.
Available in 3 adjustable sizes (J11-1, 1-4 and 5-8) these skates are durable enough to outlast your kids growing feet. The lightweight but durable frame with a high cuff provides the support kids need without weighing them down.
The Blade Runner Phoenix has laces, a ratchet buckle, and a Velcro strap for a secure fit.  Not only are they supportive, but they are also comfy too, thanks to the padded boot liner.
What We Like:
Good for beginner to intermediate skaters
2 adjustable sizes
Durable frame with high cuff
Lightweight
What We Don't Like:
The ratchet lock wore out with frequent use during our testing
---
3. Rollerblade Spitfire XT Inline Skates
The SG3 bearings in the Spitfire inline skates provide a pretty smooth ride, but more importantly, for beginners, the bearings allow kids to have better control of their speed.
So while kids won't be zooming around super fast in these skates, they'll get speed plus control, which makes these skates great for beginner to intermediate skaters.
The laces, Velcro strap, and ratchet buckle, as well as the low balance frame, keep kids' feet secure and stable. These inline skates are also lightweight, so kids won't feel weighed down by them.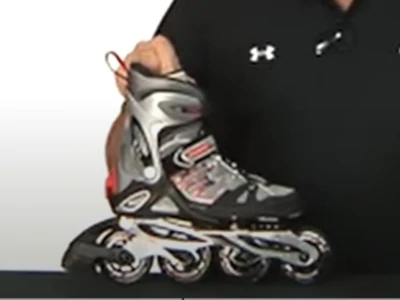 And they come in 3 adjustable sizes: junior 11-1, youth 2-5, and youth 5-8. Adjustable sizing means your kids will get plenty of use out of them and you'll get more bang for your buck.
What We Like:
Low balance frame provides good support and balance
Comes in 3 adjustable sizes
Easy to adjust sizes
Lightweight
Very durable
What We Don't Like:
Somewhat pricey compared to others we tested
---
4. K2 Raider Skates
For beginner to intermediate skaters, the K2 Raider Skates has an F.B.I frame that can absorb shock when used outdoors and a high Stability Plus Cuff that works with the F.B.I frame to provide the stability beginner skaters need, indoors or outdoors.
These skates are adjustable and can be switched up to 5 sizes. These skates have a traditional lacing system with a ratchet buckle and Velcro straps to provide a secure fit.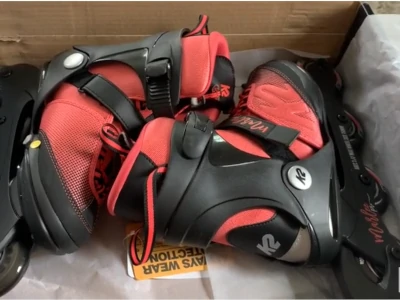 The 70mm wheels have ABEC 3 bearings for a pretty smooth ride and the entire skate is durable which means they'll be passing these down to their younger siblings.
What We Like:
Durable construction
High Stability Cuff and provides support for beginners
B.I frame absorbs shock on outdoor surface
Adjustable up to 5 sizes
What We Don't Like:
Adjusting the size is somewhat difficult
---
5. Chicago Training Skates
For the extra small skaters who may need a little help transitioning to inline skates, the Chicago Training Skates convert from trainer skates to inline skates when they are ready to make the jump. Another skate with adjustable sizing for kids' growing feet, it comes in two sizes: J10-J13 and 1-4.
These skates are a great value too since it comes as part of a bundle that includes the skates, a helmet, wrist guards, and knee pads, as well as a backpack in which everything fits.
The one complaint with these skates is their durability. They aren't great for skaters who plan on using them frequently.
We thought the plastic is flimsy compared to the other skates on this list, but they do make the transition from roller skates to blades a little easier.
What We Like:
Converts from training skates to inline skates
Great value. Comes with everything kids need to skate
Adjustable sizing to grow with kids' feet
2 ratchet buckles make it easy to get on
What We Don't Like:
Lacking in durability. The plastic is a bit flimsy compared to others we tested.
---
6. Mongoose Inline Skates
Mongoose Girl's Inline Skates, Small
Great skate for inline skating beginners
Easy and convenient 1 push button to...
Offers great performance and comfort
Dual straps for optimum sizing and...
Great Value
You might be better familiar with Mongoose bikes. These adjustable inline skates are just as great as their bikes and come at a very affordable price.
The thinner wheels make these skates speedy but also great for quick turns and weaving around whatever's on their path. The frame of the skate is durable which means they'll hold up through all 4 adjustable sizes on this the skates.
The small size fits kids 1-4 and the large fits size 5-8.
What We Like:
Great value
Simple, sleek design
Durable frame
Comfy padded liner
What We Don't Like:
May need to replace the wheels sooner than other rollerblade models
---
7. 2PM Sports Vinal Inline Skates
Your child will definitely stand out rolling around with these super fun light-up skates. And what's even better, no batteries are required. They're powered by your child's skating!
The Vinal inline skates by 2PM Sports come in 3 adjustable sizes: J12-2, 2-5, and 5-8. For an affordable price, the quality of the skate is impressive. 
The bearings are ABEC-7 and the frame is made of reinforced aluminum.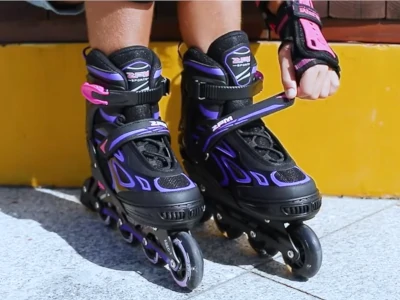 What We Like:
Lights on wheels are powered by the wearer. No batteries are required.
Durable aluminum frame
High-quality bearings
Adjustable sizing
Affordable price
What We Don't Like
Sizing runs small, so double check measurement chart before ordering
---
8. Fisher Price Grow With Me Inline Skates
For the young skaters, these will give kids the confidence they need to become comfortable inline skating in just 3 steps. The adjustable skates fit junior sizes 6-12.
The first stage is skating with one wheel lock. The next stage is rolling forwards only and the third is inline skating just like the big kids. And to top it off, it's easy to adjust from stage to stage.
Also, these skates go on over kids' shoes and are relatively comfortable once on. The hook and loop closure makes it easy to get these skates on quickly too. 
The major downside to the Grow With Me Inline Skates is the high price tag.
What We Like:
Slips on over shoes easily
3 stages to help kids learn and feel confident
Adjustable sizes
Great for really young kids
What We Don't Like:
---
The Benefits of Inline Skating
Today's children are less active than ever before, and with all of the digital distractions available for kids, it's up to parents to find fun ways to get their kids outdoors and exercise!
Inline skating is one of the best ways to challenge a child in an exciting way. Believe it or not, there are many benefits of inline skating for children.
Benefits of rollerblading include:
Cultivates improved balance and coordination. As kids grow, challenging their coordination and balance helps them to develop and mature. Inline skating forces a child to learn how to balance themselves on the elevated shoe and maneuver themselves around without falling.
Burning calories, maintaining, or losing weight. If your child is overweight, one of the best things you can do is get them active in a fun way that will capture their interest. Continuous inline skating can burn hundreds of calories per hour, which can easily be achieved by playing outside.
Inline skating is easy on the joints. For overweight children or children who have exercise limits due to issues with their bones or joints, inline skating is a smooth way of exercising that doesn't put too much pressure on the joints.
Builds stamina. Inline skating takes lots of practice to make perfect. And more practice means more stamina built up as your child works to improve their technique.
Inline skating is a great hobby. There's nothing worse than a child who has nothing to do, other than get into mischief. Inline skating provides children with an afterschool or weekend activity that is rewarding, wholesome, and can bring a community of kids together in one hobby.
Gives kids a sense of accomplishment. Kids having a sense of accomplishment helps them to cultivate their work ethic and is essential for them to become productive adults. Firstly, learning how to inline skate and then later learning how to do tricks or skate in a more experienced way will make kids feel accomplished in their hobby.
As you can see, inline skating provides quite a few benefits for children, both physically and mentally!
Best Rollerblading Pads and Helmets for Kids
Now that we've reviewed the best inline skates for kids, in this section, we'll be providing a brief review of the best pads and helmets to protect your child as they learn how to skate!
1. BOSONER Kids/Youth Knee Pad Elbow Pads Guards
With thousands of positive ratings, it's no surprise that the BOSONER Kids Knee, Elbow, and Wrist Guards are our choice for the best protective pads for inline skating!
These guards are affordable, even for those who may be on a budget, and come in 7 colors to suit both boys and girls; including Pink, Blue, Black, Blue and Black, Red and Black, Purple, and Yellow.
These pads come in two sizes, small and medium, to fit children ages 3 to 8 years (small) and children ages 9 to 15 years (medium); which makes these pads a universal option for toddlers up to teens.
The straps are adjustable to fit snuggly against your child's body, and each of the guards is padded for optimal comfort and protection in the event of a fall.
What We Like:
Comes in 7 different color combinations to suit both boys and girls
An affordable set of guards
The set comes with elbow pads, knee pads, and wrist guards
Comes in two sizes, small and medium for kids of different ages
Comfortably padded
Straps are adjustable to fit snuggly against your child's body
---
2. XJD Adjustable Kids Helmet CPSC Certified Ages 3-8 Years
The first of our favorite helmets for kids, the XJD Adjustable Kids Helmet is great for kids ages 3 to 8 years of age (be sure to measure your child's head to ensure the helmet will fit properly).
It comes in 5 different colors to suit both boys' and girls' favorite colors, including Black, Orange, Pink, Red, and Yellow.
This helmet is CPSC Certified, meaning that this product has been government-approved for child safety. It features ultimate impact resistance to protect your child's head in the event of a spill.
The lining of the helmet can also be removed to clean any sweat after playing.
What We Like:
Perfect for kids ages 3 to 8
Comes in 5 colors for both boys and girls
CPSC Certified for child protection
Inside of the helmet features .75-inch shock-absorbing padding to protect your child
The helmet is adjustable to fit snuggly to your child
---
3. FerDIM Skate Helmet for Kids Youth Adult
This skate helmet for kids is the most versatile option we could find. Not only does it come in various sizes (Small, Medium, and Large) to fit children of different ages and sizes, but it also comes in 11 bright colors to suit boys and girls.
These colors include Black, Red, Blue, Silver, Gold, White, Light Blue, Yellow, Orange, Pink, and Purple.
The chin strap is adjustable to fit snuggly against your child's head, and the lining inside the helmet provides ultimate protection from the shock of falling on the ground.
For cleaning, the lining is removable and washable to remove sweat and grime.
What We Like:
Comes in three size options to fit small children, teens, and even young adults! (Small, Medium, and Large)
Available for purchase in 11 colors
Affordable
Adjustable chin strap
Lining provides protection from shock
The lining is removable and washable
---
Frequently Asked Questions
Q: How can my child learn how to inline skate?
A:  Inline skating may seem daunting. If you don't know how to inline skate, it might be even more confusing on helping your child learn. Here are some tips to get them started:
Make sure your child is wearing the right size inline roller skate. Skates should be snug, not overly tight. Your child should feel secure and not wobbly. Be sure to check the manufacturer's sizing chart when selecting a pair of skates.
Have your child wear protective gear. Get your child into the habit of wearing all the right gear: knee pads, wrist guards, helmet, and elbow pads.
Start in the grass. Have them walk around in their inline skates in the grass so it's a little easier getting used to balancing on a single row of wheels.
Learn to use the brake. It's tempting to go flying down a hill, but avoid them and instead, learn to use the brake first instead.
Sign them up for classes. Check with your local roller rink or online to see if there are inline skating classes available.
Practice, practice, practice. Like with any sport, it takes time to master inline skating. Encourage them to get out there and keep at it.  You may even want to learn how to inline skate yourself!
Q: Do I need to replace the wheels of inline skates?
A: After a certain amount of wear, wheels will need to be replaced. If the skates are starting to feel a little sluggish and/or you can visibly see the wear on the inside of the wheel, it's time to replace them.
A way to prolong the life of inline skate wheels is to periodically rotate the place of them. For example, the first wheel and the third wheel can switch places while the second and fourth wheel will also switch spots.
Bottom Line
We've got a pair of inline skates for every child and beginner skater. Our top choice for kids of all ages is the Roller Derby Tracer Inline Skates. Adjustable, durable, and stylish, the Roller Derby Tracer Inline Skates are great for beginners.
Is your little one a little hesitant to make the transition? Then for the younger skaters, we suggest the Chicago Training Skates. Not only will they help your skater build the confidence they need to go to inline skates, but they also come with all the protective gear kids need, making them a great value.