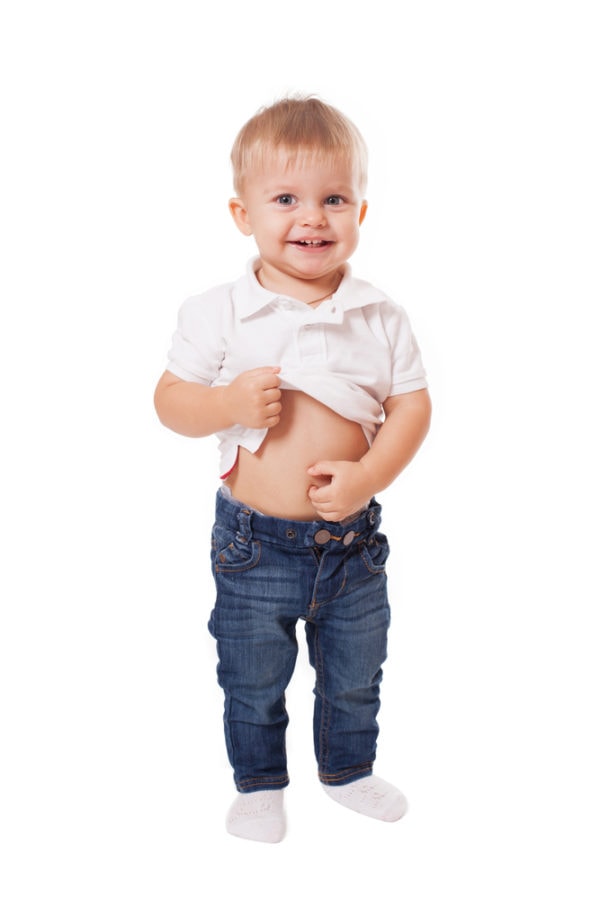 Whether your child experiences occasional tummy issues or needs something to keep his or her digestive system on track, a probiotic might be a good way to go.  In recent years they have become a popular choice for those who suffer from gastrointestinal problems such as irritable bowel syndrome and Crohn's disease as well as individuals who need a boost to their immune system.
But before you give your child just any probiotic, there are a few things to know to help you choose the right one for your little one. While probiotics are considered safe and have usually no or very minimal side effects, choosing a probiotic specifically made for kids is the way to go.
So if you are on the hunt for a probiotic for your child, check out our guide to what to look for when shopping for a supplement as well as our top 10 picks for the best probiotics for kids!
IN A HURRY? HERE'S OUR TOP PICKS…
What are probiotics?
For most people, bacteria equals bad.  But bacteria isn't necessarily a bad thing.  Our bodies are covered with and full of both good and bad bacteria.  And when comes to good bacteria, probiotics are the good guys, especially for our digestive system.
Probiotics are living microorganism (a bacteria and yeast) that are great for your digestive system.  Researchers don't fully understand how they work but studies show that they can help a wide range of health problems including digestion issues, certain skin conditions, allergies, oral health problems, immune support and more.
Are probiotics safe?
Probiotic supplements are generally considered safe.  Some are regulated by the FDA (Food and Drug Administration) while other are quality checked by a third party company.  Most individuals will not experience any side effects from taking a probiotic, but if your child does experience any side effects, they are usually mild such as gas, bloating or another mild digestive symptom.
It is good to note that probiotics are not meant to "cure" any particular medical issue, but can be a helpful way to supplement an occasional or ongoing problem. Before starting your child on any supplement though, make sure to discuss it with his or her doctor.
Where can you find probiotics?
Probiotics can be found in food and via a supplement.  Foods that contain probiotics include yogurt, kefir, sauerkraut, kimchi, miso, kombucha, pickles, and some soft cheeses. Make sure the label says live or active cultures to make sure you are getting probiotics.
The reason why many parents choose a probiotic supplement over having their child eat foods containing probiotics is not only for convenience and knowing exactly how much probiotics your child is ingesting, but because many children do not eat (or eat enough of) the above foods that contain probiotics.
Types of Probiotics
While there are many different types of bacteria, there are two main groups of probiotics.
Lactobacillus is the most common and found in fermented foods and yogurt.  For those who cannot digest lactose in milk or experience diarrhea, this type can help.
Bifidobacterium is a particular type of probiotic is found in different kinds of dairy foods.  This one may help individuals that suffer from digestive problems such as irritable bowel syndrome.
Saccharomyces is a third, less commonly used probiotic that is a yeast, rather than a bacteria. It is used for those with diarrhea and other digestive problems.
Should my child take a probiotic?
So if you are reading this guide, you may be wondering if your child should take a probiotic supplement. Here is some reason why a probiotic supplement might be right for your child:
Your child suffers from a gastrointestinal issue such as irritable bowel syndrome, inflammatory bowel disease, diarrhea or constipation.
Your child is on an antibiotic or just finished a round of antibiotics.
Your child has recently experienced a stomach virus or other temporary digestive illness.
Your infant has colic or acid reflux.
Your child needs help preventing tooth decay.
Your child gets sick frequently from various viruses and needs help boosting his/her immune system.
Probiotics don't necessarily need to be taken every day. Some children will benefit from temporary use, such as when on an antibiotic, while other experiencing chronic issues may benefit from a daily probiotic. Discuss with your child's pediatrician on if a probiotic is right for them.
What You Should Know Before Buying Supplements for Kids
There are a few things to consider before grabbing a probiotic off the shelf.
Quality
As mentioned before, the FDA regulates some probiotics, but not all.  Make sure that the probiotic is quality checked by a reputable third party company or the FDA. Next, check out the ingredients list.  It should list what type of microorganisms are in the probiotic (more on strains shortly.)
Another thing to check for on the ingredients list is if it contains any fillers, sugars or is allergy-friendly. Many probiotics are gluten-, wheat-, milk-, peanut-, soy-, egg- free, while others are not.  Choose a probiotic that, if sweetened at all, uses a naturally tooth-friendly sweetener such as xylitol.
Also, check the expiration. Anything that is expired means the organisms may no longer be alive.  Many companies will guarantee the viability of the organisms until the expiration date printed on the packaging.
Method
Probiotic supplements can be found in as a powder, liquid, pill and chewable.  Parents with children who are very young may benefit from administering a probiotic via powder or liquid if the child cannot yet swallow a pill.
Strains
Within the two groups of probiotics, there are different strains.  You'll see the name appear after an L. or a B.
Some common strains and what they treat include:
Acidophilus – diarrhea, digestive issues, acne
Rhamnosus – eczema, skin allergies
Plantarum – inflammation in the gastrointestinal tract
Casei – gastrointestinal support
Longum – constipation
Bifidum – gastrointestinal support, immunity
These are just a few, but the most common, strains of probiotics found in supplements.
CFUs
CFU stands for colony forming units.  And higher doesn't always mean better.  For children, look for probiotics that at least contain 1 billion CFUs. However, a typical dosage for children can be anywhere from 5 to 10 billion CFUs.
Check with your child's pediatrician to see how many CFUs should be in your child's probiotic.
A Word on Prebiotics
While both prebiotics and probiotics are good for balancing the good bacteria in your gut, they are not the same thing.  Probiotics are the good living bacteria in your gut and prebiotics are the food that probiotics eat.
Prebiotics come from fiber of certain foods.  Your body cannot digest this fiber and the good bacteria eat it.  Some supplements contain both prebiotics and probiotics.
If your child is on a probiotic, adding prebiotic foods to their diet can help the probiotic work more effectively. Some foods that contain prebiotics include oats, bananas, berries, beans, onions, and garlic.
Check out this video to learn a little more about probiotics and prebiotics:
Top 10 Best Probiotics for Kids
As previously stated, before you start your child on any type of supplement, make sure to check with his or her doctor first.  Once you get the go-ahead, use our list of the 10 best probiotic supplements for kids to help you find a quality probiotic that will benefit your child's overall health.
---
1. NOW Foods BerryDophilus Chewables
This very affordable probiotic has 10 probiotic strains and 2 billion CFUs.  Kids can chew 1 to 3 chewable tablets daily depending on if they need extra probiotics to help with a particular issue.
The strains included in this supplement are L. acidophilus, B. lactis, L. plantarum, L. casei, L. rhamnosus, L. paracasei, B. breve, streptococcus thermophile, L. salavarius and B. longhum. (Whew! That's a lot!) To keep all those microorganisms alive, store this probiotic in the fridge.
The "Berrydophilus" flavor is very tasty and is sweetened by xylitol to help protect kids teeth. What's even better is this supplement is effective and affordable, available in a 120 count supply. So if your child is experiencing some serious digestive woes or needs a daily probiotic to help boost immunity or prevent any digestive issues, definitely consider this probiotic.
Likes
Contains 10 strains and 2 billion CFUs.
Very affordable probiotic.
Comes in large 120 day supply.
Great for kids with stomach issues.
Has a very tasty berry flavor.
Dislikes
---
2. ReNewLife Ultimate Flora Kids Probiotics
With 6 probiotic strains and 3 billion CFUs, this probiotic is perfect for kids who need a little help with their digestive and immune system. This chewable tablet is berry-licious and naturally sweetened with xylitol and contains no artificial flavors or coloring. However, some kids may not like the chalky texture of it.
This supplement contains a good blend of probiotics including L. acidophilus, B. lactis, B. breve, L. salivarius, and L. plantarum.  To keep those bacteria kicking, store in a cool, dry place or preferably in the fridge.
This probiotic doesn't contain gluten or dairy, making it great for children who need to avoid either or both.  If your child doesn't mind the texture, this is a strong quality probiotic that can help their occasional or frequent upset tummy.
Likes
Very affordable.
Good amount of CFUs.
The tasty chewable pill makes it easy to have kids take it.
Affordable price for 30 day supply.
Naturally sweetened with xylitol.
Dairy- and gluten-free.
Dislikes
A little on the chalky side.
---
3. Culturelle Kids Probiotic Packets
Whether your child has ongoing stomach issues or needs daily help from a probiotic, this supplement might be right for your little one.   This gluten-, dairy- and sugar- free mix has 5 billion CFUs and contains L. rhamnosus GG to help your child's digestive system.
These individual serving packets contain a tasteless powder that can be mixed in nearly any food or drink (as long as it's not hot!)  For extra upset tummies, two packets per day can be taken. No refrigeration is needed for this probiotic making it great for kids (and parents) on the go.
Likes
Packets make it easy and convenient to serve.
Can be mixed into almost any food or drink.
Great for everyday use or used on occasion.
Gluten-, dairy- and sugar- free
Tasteless
No artificial colors and flavoring
Dislikes
Might be a little grainy in some liquids.
---
4. Naturo Sciences Probiotics 5 for Kids
In this supplement, your little one will get 5 billion CFUs, 8 probiotic strains, prebiotics, and a happy tummy. No refrigeration is necessary for these chewable tablets and the orange flavor seemed to be a hit with kids.
The probiotic strains in this supplement include L. acidophilus, B. lactis, L. plantarum, L. salivarius, L. paracasei, L. rhamnosus, L. casei, and B. longhum. The 15mg blend of prebiotics included larch tree fiber, gum acacia, and chicory inulin.
Having a hard time getting your child to take it despite its yummy flavor? Simply crush up this tab and hide in their food or drink.  (Again, just make sure not to add it to hot food or it will kill the good bacteria.)
The price of this probiotic is a little on the higher side compared to others on this list, but its effectiveness might make it worth it.
Likes
Higher CFUs and more probiotic strains.
No refrigeration is needed.
Can be crushed and put into cold food or drink.
Contains prebiotic.
Dislikes
Price is a little higher than others on this list.
---
5. Naturewise Kids Care Time Release Probiotics
The strawberry flavor in these chewables is from real strawberries and contains no fake flavoring or coloring! They are also sugar-, gluten-, soy-, wheat-, egg- and peanut-free. It also contains no GMOs.
This probiotic contains 4 billion live active cultures and 4 probiotic strains including L. rhamnosus, L. planatarum, B. infantis and B. lactis.  You can either crush them up into a powder and add them to cold food or drink or have your child chew them. This probiotic is great for little ones who need something for daily use.
Likes
No sugar and natural strawberry flavor
Tablet can be crushed into powder to give to infants
Good amount of CFUs – 4 billion
Vegetarian-friendly
Good for all ages
Dislikes
Some kids might not be fond of the strawberry flavor.
---
6. Rainbow Light Probiolicious Gummies
These tasty cranberry flavored gummies do not contain any artificial flavoring or colors and are free of milk, soy, eggs, fish, wheat, gluten, shellfish, and lactose.  This supplement does contain gelatin so it is not suitable for vegans.
A serving for kids is 1 gummy which comes out to 500 million CFUs and contains both probiotics and prebiotics.  For those looking for a higher dosage, might want to consider another probiotic.  This works well for everyday use.
This supplement has L. Sporogenes which is part of their Bio-Active Probiotic Defense. Simply put, it is a multi-functional probiotic that has a protective "shield" that will make sure the probiotic survives on its trip down to your gut. (Which means all those 500 million CFUs get to your child's stomach!)
Likes
Tasty gummy
Does not need refrigeration
No artificial colors or flavors
Free of wheat, gluten, eggs, and other possible allergens
Dislikes
A lower amount of CFUs
Not suitable for vegans
---
7. Garden of Life RAW Probiotics Kids
This probiotic supplement contains 23 raw USDA certified organic fruits and veggies as well as raw prebiotic insulin to help good bacteria thrive and is suitable for all kids 3 months and older.
One serving contains a whopping 5 billion CFUs! It has 5 different strains of probiotics including L. gasseri, L. plantarum, B. lactis, L. casei, and L. acidophilus.
It is gluten-free, dairy-free and suitable for vegetarians and vegans.  This particular supplement is a powder and can be mixed with water, milk, juice and even food. While not required, it's best stored in the refrigerator.
Likes
Easy to mix into liquid or food.
Certified Organic
Contains both prebiotic and probiotic
Suitable for vegetarians and vegans
Gluten- and dairy-free
Contains a higher dose of probiotics
Dislikes
It may be a little gritty. Make sure to mix very well.
---
8. Digestive Advantage Kids Daily Probiotic Gummies
Perfect for an everyday probiotic boost, the Digestive Advantage Kids Daily Probiotics are naturally fruit-flavored gummies that your kids will have no problems taking. The patented probiotic is called BC30 which is supposed to survive stomach acid better than other probiotics, including the ones found in yogurt.
The amount in one serving for a child (1 gummy) contains only 250 million viable cells of BC30, which is on the lower side. For kids with digestive issues, this might not be enough.
Likes
Affordable
Great for everyday use
Very tasty naturally-fruit flavored gummy
Affordable 60 day supply.
Dislikes
Contains a low amount of CFUs compared to other probiotics on this list.
---
9. Hyperbiotics Pro-Kids
This tiny pearl contains 4 powerful probiotic strains and 3 billion CFUs as well as a prebiotic for fuel. This sugar-free supplement is easy to swallow thanks to its very small size, but if necessary, can be chewed (although more effective if swallowed).
These pills are vegetarian-friendly and contain no gluten, soy, lactose, yeast or artificial colors or flavor.  Only 1 pill needed but can take up to 3 daily when needed.
Likes
Tiny pearl makes it easy for kids to swallow.
Sugar-free and no artificial colors or preservatives
Contains prebiotics too
Can increase dosage if needed
Good for use after antibiotics
Dislikes
Chewing tablet decreases efficacy.
---
10.  Up4 Probiotics Kids Cubes
Not a chew, not a pill, but a melt! This vanilla melt has 1 billion CFUs (guaranteed!) and Vitamin D for that extra boost to your child's bones.
This supplement is gluten-, soy-, sugar- and preservative-free.  It's also certified kosher. The probiotic blend includes L. acidophilus and B. lactis.
These melts taste so good, many kids prefer them over other chewables.  Up4 Kids Cubes is an easy way for kids to get their daily fix of probiotics.
Likes
Unique vanilla melt tastes good!
Guarantees that there will be 1 billion CFUs
Contains Vitamin D too
No preservatives
Dislikes
Price is on the higher side
Contains GMOs
---
Frequently Asked Questions
Q: Does my child need to take a probiotic if they aren't sick?
A: Some studies suggest that taking a probiotic can help prevent any potential gastrointestinal problems, especially for children who experience regular digestive problems such as diarrhea and constipation.   Some research has also shown that probiotics taken regularly can help boost the immune system which means fewer colds and other sicknesses. However, it is best to discuss with your child's doctor if a daily probiotic is right for your child.
Q: Can't my child just eat food instead of taking a supplement?
A: Of course! Yogurt, certain soft cheeses, and fermented foods are all great ways of getting probiotics. However, for children suffering from a medical condition or those that might need more probiotics they can get from their diet, a supplement can be a great help.
Taking a probiotic allows you to know exactly how much probiotics your child is getting.  Also, for children who don't enjoy yogurt, fermented foods or other foods that contain probiotics, a probiotic supplement can be an easier way to ensure your child is getting the support they need.
Q: Why do I need to refrigerate my probiotics?
A: Most of the probiotics on this list need to be at least stored in a cool, dark place, while most suggest that they are stored in the refrigerator.  That's because heat, especially temperatures exceeding 80 degrees, will kill the microorganisms in probiotics.
Q: Can newborns take a probiotic?
A: A 2014 study found that probiotics given to infants in their first 3 months experienced less colic, constipation and acid reflux.  If your child is experiencing colic, constipation and acid reflux a probiotic could potentially be something worth discussing with your child's doctor.  Probiotics given to newborns should be done so under the supervision of a primary care physician.
Bottom Line
Probiotics are a safe, effective way to help boost kids immune system, ease stomach issues and potentially help with an array of other medical conditions and issues. You're now able to find the best probiotic for you. If you are looking for an everyday probiotic for your dear darling, then check out the NOW Foods BerryDophilus Chewables. These chewables are affordable and if needed for children with tummy issues, the dosage can be increased.  For moms (and kids) on the go, the Culturelle Probiotic Packets are an easy way to get your little one to take probiotics without having to worry about refrigeration and can be easily mixed in their food and drink.