The best wide shoes for kids that we've found are the Merrell Unisex-Child Trail Chaser Jr Hiking Sneaker with its wide toe box and elastic laces. We also love the New Balance Kids' 574 V1 Evergreen Sneaker which has wide width available.
You'll know your child needs wide-width shoes if they're complaining that the shoes are too tight, or pinching their toes even though the size seems right. Narrow shoes don't let the foot flex right so that it grows strong and healthy.
If you are looking for shoes for your child's wide feet, you've come to the right place. We have put together a list of the best kid's shoes for wide feet. But first, here are some things to consider when buying shoes for your little darling.
In a Hurry? Here Are Our Top Picks!
Best Overall
Merrell Unisex-Child Trail Chaser JR Hiking Sneaker,...
Saucony Unisex-child Baby Jazz Hook & Loop Seasonal ,...
Best Overall
Merrell Unisex-Child Trail Chaser JR Hiking Sneaker,...
Saucony Unisex-child Baby Jazz Hook & Loop Seasonal ,...
Buying Shoes for Kids With Wide Feet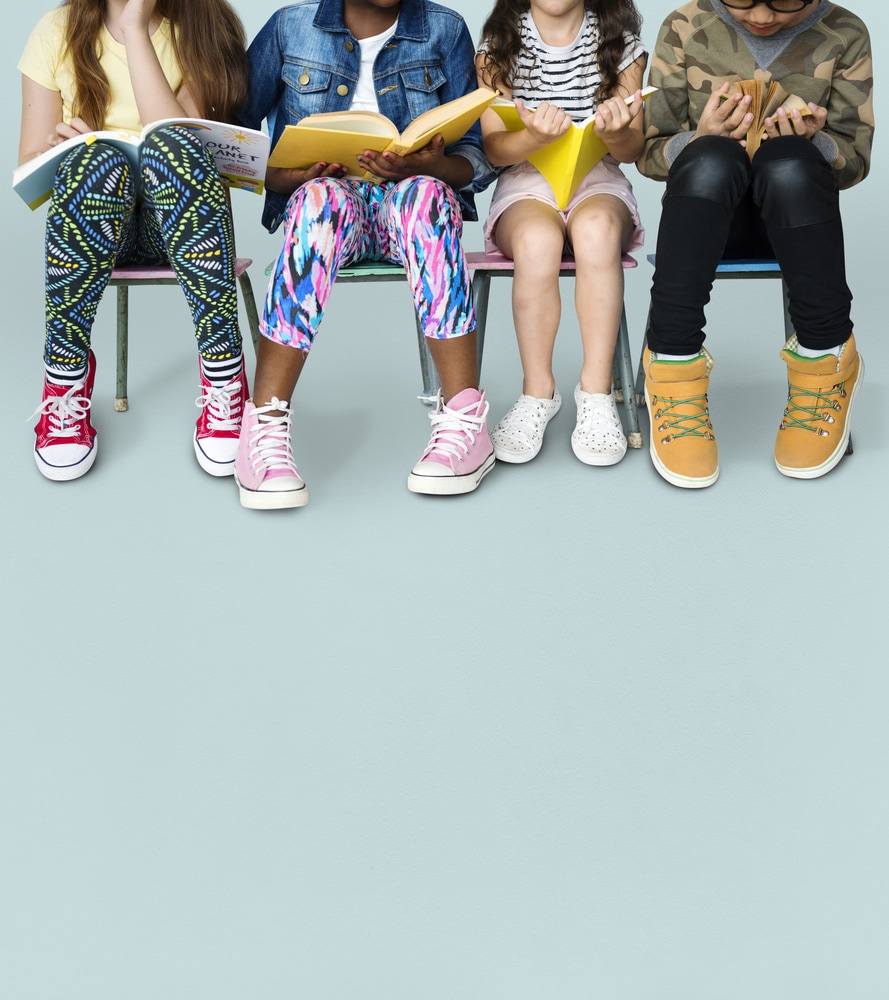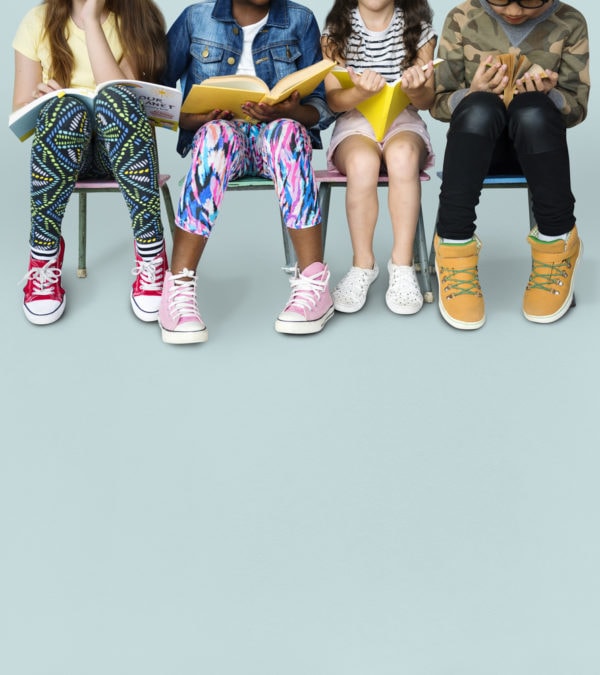 Buying shoes for kids is very similar to buying shoes for adults. There are a few extra considerations for kids, but in general, the same principles apply.
Here are some things to keep in mind when going wide shoe shopping for your child:
Go into a store and have your child try a pair of shoes on. Measuring a child's foot and buying the corresponding size isn't enough. Have the child, (yes, even a toddler) put the kid's shoe on and walk around a little.
Check their feet. It's time to get down there and feel their feet in the shoe. Are their toes curled? Is their heel where it's supposed to be? Do their toes have about a thumbs width space in the forefoot?
Have the child wear the socks they will wear with the shoe. Don't use a pair of disposable booties. Bring the socks your child will wear to the shoe fitting to see how they fit.
Listen to your child. If your child has complaints or issues with the shoe, listen to them. If something hurts or bothers them, most likely it's not going to get any better. The key to buying a comfortable shoe for kids (or adults for that matter) is to make sure they fit well from the start.
Resist the urge to buy the "next size up." Buying shoes that are too big for your child can be just as bad as buying shoes that are too small. Make sure there is some wiggle room for their little piggies (about a thumbs width), but not so much that they could trip over their own feet.
Special Considerations for Kids with Wide Feet
As mentioned before, many children have wide feet. Some grow out of it, while others have wide feet for the rest of their lives. Luckily many brands have wide and even extra-wide options for their shoes.
Buying the incorrect shoe size, such as something that is too small or made for a narrow foot, can not only be uncomfortable but can lead to serious foot issues such as blisters, corns, bunions, ingrown toenails, and more.
While it may be tempting to get the next size up in order to help alleviate the width issue, don't. Buying a pair of shoes that are made specifically wide or extra wide will keep children's feet healthy and comfortable.
10 Best Kid Shoes For Wide Feet
Let's get down to it, shall we? You need a pair of wide-width shoes for your child and we have compiled a list of the best out there today! This list includes shoes that are for boys, girls, and unisex options, too.
All the shoes on this list come from trusted brands that you might even wear yourself! Whether you are looking for a sneaker, a slip-on, or something fancy for a special occasion, we've got you (and your child) covered.
---
1.

Merrell Unisex-Child Trail Chaser Jr Hiking Sneaker
This is our absolute favorite hiking shoe and all-around sneaker.
They're supportive, and the toe box is nice and wide so the foot isn't cramped even with the regular sizes, but they offer a wide-width shoe for every size they make!
I have used Merrell shoes for my kids for a long time, they just take a beating and don't look like it afterward.
I love that the top laces are elastic with velcro, which is perfect for fast on/off. We all know that kids don't want to wait to get their shoes on.
Merrell is an expensive brand of shoe, but they outlast our kids and keep their feet healthy and supported no matter how long our hikes are, or how hard they're playing on the court or in the yard.
There are so many colors available that they're perfect for girls or boys, and the breathable mesh helps to keep them from getting stinky.
What We Like
There are color combinations perfect for girls and boys alike.
The breathable mesh upper keeps the shoes from getting stinky.
The leather top is super protective for little feet while running and playing.
Rubber non-slip, non-marking sole is supportive and safe indoors and outdoors.
The aggressive tread is especially good for wilderness activities.
What We Don't Like
They're pretty expensive, but they last as well as quite a few pairs of cheap shoes.
The style is suited only for hiking and outdoor play. They're not appropriate for anything besides casual wear.
2.

New Balance Kids' 574 V1 Evergreen Sneaker
We love NewBalance sneakers because they're a comfortable, supportive, fashionable street shoe. If the Merrells aren't your style, the New Balance just might be.
Some of the New Balance sneakers have a velcro top which is great for kids who can't tie the shoes yet, and it enables you to leave a little more room on the top of the foot. The rest of the options have laces.
We tend to replace the laces with elastic laces so that they're easier to slip on and offer a little more flex while the kids are running around to keep the feet from feeling squished.
What We Like
We like the suede upper. It is supportive and helps protect little toes while they're running around but it isn't as stiff as leather.
The rubber sole is grippy for playing indoors and outdoors.
The wide variety of styles and colors make these a win for boys and girls alike.
The classic style is great for casual wear and sports.
What We Don't Like
The casual style can't be dressed up for events at all.
The suede upper doesn't stay looking new as long as leather uppers.
They're vented, but not as much as other shoes, so they can get a little more stinky.
3. Saucony Jazz Hook & Loop Sneaker
Our kids feel comfy in these lightweight shoes, and they're extremely stylish. The simple Velcro closure makes it easy to get these shoes on and off as well as adjust the width a little more.
The upper part of the shoe is made of durable, stylish suede and a breathable mesh to prevent kids' feet from getting too hot and sweaty. The midsole is a lightweight EVA foam that provides just enough cushion without being too overly plush.
These particular shoes are available for both big kids (sizes 10.5-12) and little kids (sizes 4-10).
What We Like
Comfortable size and material.
Mesh upper makes these shoes breathable.
The suede upper is stylish.
Comes in big kids' and little kids' sizes.
Comes in a variety of colors.
Easy to get on.
What We Don't Like
The Velcro can prematurely wear depending on how often the shoe is used.
---
4. Florsheim Berwyn JR Oxford Shoe
Need something fancy for your little gentleman? This snazzy leather oxford comes in wide width and has an easy on/off hook and loop closure.
This shoe is surprisingly cushioned proving that dressing sharp doesn't mean being uncomfortable. The heel is 1-inch tall. It's just tall enough that we think it looks really nice without being hard for little kids to walk (and run) in.
This shoe is durable and can withstand frequent use. The price might be a little higher than some might want to pay for a shoe but the quality and durability prove that it's worth every penny.
What We Like
Stylish leather design
An easy closure system for easy on and easy off
Plenty of cushioning
Durable enough for daily wear
What We Dislike
The wide might not be quite wide enough for some kids.
---
5. Keds Daphne T-Strap Sneaker
With patterns and prints and colors for every taste, these comfortable wide-width shoes are perfect for any little girl on the go.
The T-Strap is adjustable and the closure makes it easy for girls to get the shoes on and off. A unique feature of the shoe is the deep flex grooves on the sole that allow girls' feet to flex naturally— perfect for running around on the playground and all-day wear.
We love that the rubber sole provides great traction, even on slippery surfaces, and the memory foam footbed is comfortable as well as supportive.
What We Like
Easy to get on/off T-Strap closure.
Many different designs to choose from.
Memory foam is super comfy as well as supportive.
The rubber sole flexes thanks to the deep grooves.
What We Dislike
For the designs that feature glitter, the glitter falls off which can be annoying.
---
6. Skechers Nitrate Sneaker
These flashy sneakers will have your little boy running comfortably and with style. The 3D print knit mesh upper is seamless which means no irritations, or blisters, and a cool, sweat-free ride.
The memory foam is comfortable as well as supportive, conforming to the unique shape of your child's foot. Also unique to the shoe is they are vegan meaning this shoe is not made from any animal products.
We like to wash our kids' shoes in the washing machine, but not these ones. To keep the memory foam in top shape they should be hand-washed instead.
What We Like
Fun, funky colors to choose from
Stylish design
Comfortable memory foam
Seamless knit upper prevents blisters and other irritations from occurring.
What We Dislike
Won't hold up to the washing machine.
---
7. New Balance KV624 Hook & Loop Uniform Shoe
This simple, straightforward sneaker is supportive, and comfortable, and comes in a wide and extra-wide width. This is our pick for those who need a specific non-marking shoe for a school uniform or job.
We don't think this is the most stylish shoe (no fancy colors or designs here), but it is a durable shoe that can take a beating on the court.
The hook and loop straps are easy to use and the padded interior is so comfortable, your kid might forget that it isn't a fun color.
Coming in sizes for 4-year-olds all the way to 12-year-olds, your growing child will have a go-to shoe for a long time.
What We Like
Super comfortable injected-molded midsole.
Simple design and color choices go with a variety of outfits.
Hook and loop straps make for easy-on, easy-off.
The upper is made of polished leather.
What We Dislike
The two hook and loop straps may wear prematurely with excessive use.
Boring color choices.
---
8. See Kai Run Robyne Sneaker
These do not specifically come in "wide width," but we've found that the cut of the shoe is wider than most regular-sized kids' shoes. They are definitely worth trying on.
The rubber sole provides a safe sturdy platform for toddlers and older girls. The shoe is available in sizes up to 13.5!
The collar and tongue are both padded and the inside of the shoe is lined with breathable material to keep kids' feet extra comfy.
The Robyne is available in cute colors and designs (that won't give you a headache) like navy with stars and moons and dark purple with dots.
What We Like
Lightweight, breathable materials.
Rubber sole provides great traction.
The double Velcro straps secure feet snugly.
The padded tongue and collar are very comfy.
What We Dislike
Not a true "wide width" shoe but might work for many girls with wider feet.
The price is a little higher.
---
9. Nina Bonnett Mary Jane
With a low ½-inch heel and a classic Mary Jane design, this little girls' shoe comes in a wide width so she can be comfortable and fancy for special occasions.
The shoe has a buckle closure with an ankle strap that can be adjusted. The only issue we found with the shoe may be the actual sizing. From our experience, you may need to go up a half or full size.
While they may not be comfortable for everyday wear, they are perfect for special occasions or for when your dearest one wants to dress up a little.
What We Like
Classy, sleek Mary Jane design.
The strap can be adjusted to the child's unique foot shape.
Nonslip sole.
Durable patent leather exterior.
What We Dislike
May need to size up a half or full size.
Not comfortable enough for daily wear.
---
10. Sperry Halyard Hook & Loop Boat Shoe
We love this canvas boat shoe because it's stylish, durable, and comfortable but also comes at a fair price.
The outsole of the shoe is made of a flexible vulcanized rubber that provides cushion and allows the natural movement of your child's foot.
The double hook and loop closure are easy to use and make putting the shoe on and taking it off easy for your little one.
What We Like
Very stylish design that comes in a variety of neutral, flattering colors.
Easy to use hook and loop closures that keep the foot securely in place.
Rubber outsole provides support, flexibility, and comfort
Affordable price for a quality shoe.
What We Dislike
The straps are a little short exposing Velcro. Our kids' socks and soft pants tend to get stuck on the Velcro.
---
Frequently Asked Questions
Q: How do I know if my child has wide feet?
A: The simplest way to tell if a child's foot is wide is to simply look at their foot in a regular shoe. If you can see a bump on the outside of the shoe where the little toe is that means your child's feet are wide and that they would benefit from getting a wide-width shoe.
Q: How often should I measure my child's foot?
A: You don't need to be told that children's feet grow quickly! That said, it's good to check on your child's feet every 2 to 4 months to see if their foot has grown and if it's time for a new pair of shoes.
Q: How do you measure a child's shoe size?
The easiest way to measure your child's shoe size is to make a tracing of the feet on a piece of paper. Hold the pencil vertically to get an accurate tracing. Measure the tracing from the back of the heel to the tip of the big toe. Add a little to the measurement for wiggle room.
Use a conversion chart like this one from Nordstrom to convert your measurement to shoe sizes. Though this will be pretty accurate, always have your child try on the shoes before you leave the store. There can be differences in shoe sizes between brands.
Q: How much should I spend on my child's shoes?
A: Children's shoes can be as little as $10 for very cheap shoes without any foot support. These are fine for occasional wear. High-quality hiking shoes or leather boots can be as much as $80. Typically the quality is such that your child will outgrow them before the shoes wear out.
Look for daily-wear sneakers in the $30 range to get a nice supportive shoe that will help your child's foot grow healthily and support the feet during play and exercise.
Our kids are so active, and it makes sense to us to spend a few extra dollars on high-quality, durable shoes that we know are treating their feet well. Plus we save money in the long run by not buying a lot of pairs of cheap shoes because they've worn out.
Bottom Line
For both boys and girls, the Saucony Jazz Hook & Loop is a perfect choice for shoes with wide feet. It is an affordable, comfortable wide-width shoe that will last your child a long time, or at least until they grow out of them!
However, if you are looking for something a bit fancier for special occasions, the Florsheim Berwyn JR Oxford Shoe for boys or the Nina Bonnett Mary Jane for girls will keep your kids comfortable and stylish.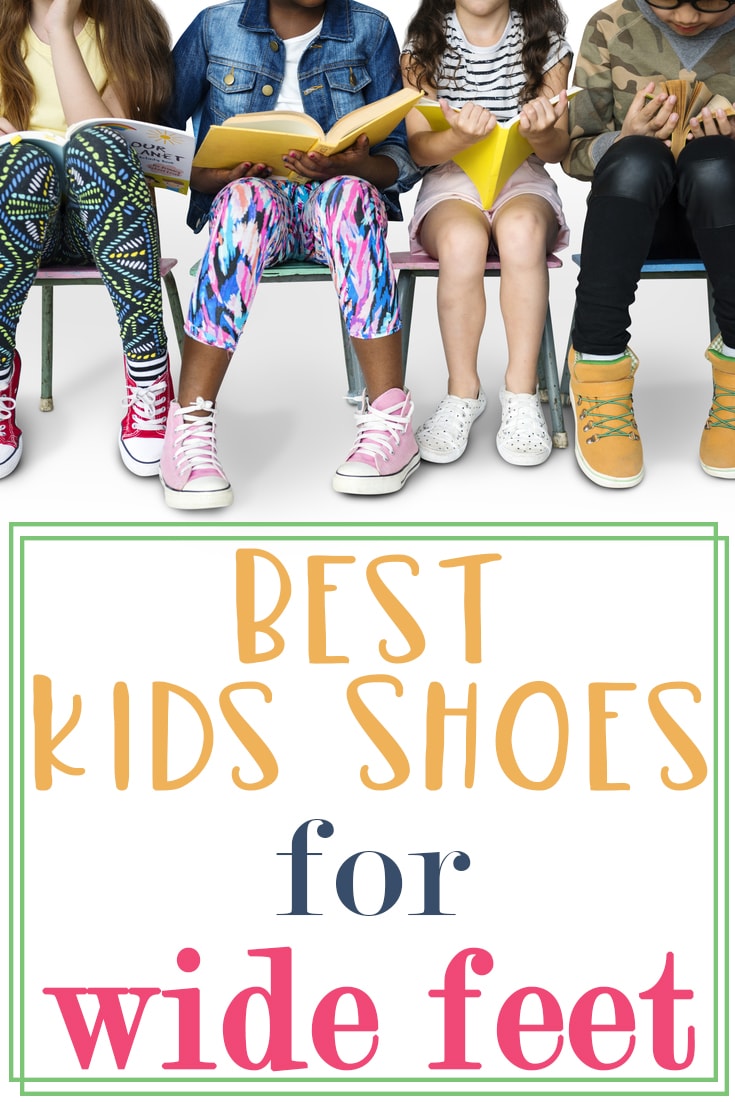 You might also be interested in Best Rain Boots for Kids