Beautiful blue skies and a nice breeze means the perfect day for a kite! For kids of all ages (and adults too!) kites are a ton of fun and come in so many shapes, sizes, colors, and even different creatures. The choices are endless.
But just because a kite looks cool, doesn't mean it flies well. That's why we decided to make a list of the best kites for kids that not only work well but look awesome, too.
We'll dive into our favorite kites in just a minute, but first, check out a few things to consider when choosing a kite and why your child should be flying a kite in the first place!
In a Hurry? Here's Our Top Picks…
Benefits of Flying a Kite
Didn't think kite flying had any benefits, did you? Kite flying isn't just fun, but it's actually good for kids, too! Let's take a look at a few of the benefits:
Gets kids outdoors: Rather than spending beautiful days watching TV or playing video games, a great kite can get kids outdoors. This can lead to not just kite flying but to all sorts of outdoor activities.
Improves hand-eye coordination: The kites we chose for this list are all easy to fly, but will undoubtedly help kids with their coordination.
Helps kids practice mindfulness: Once kids get their kite sailing in the sky, being focused is the name of the game. Kids will be unknowingly practicing mindfulness as they keep their kite afloat.
A great social activity: Whether kids are flying kites with family and friends or participating at a local community event, flying kites brings people together.
Things to Consider When Choosing a Kite
So now that we've learned why kids should be flying a kite, here are a few things to consider.
Ease of Flying
For most kids, choosing a single string kite is the way to go. Unless you are looking for a kite for an older child with some kite flying experience, stay away from trick or stunt kites that tend to feature two handles.
Also, for smaller children, large kites might be difficult for them to maneuver, so keep in mind the size of the kite.
Assembly
We love kites that require no assembly, so we made sure to include them on the list. The ones that do require assembly, in the form of support poles, we made sure they were easy to assemble and disassemble.
Spool or Handle
Most of the kites on this list come with a handle where the line simply wraps around it.  This may be easier for little ones to use.  Just make sure that the handle is not only comfortable to hold but durable.
If a handle isn't going to cut it for you or your child, spools of line can be purchased and easily swapped out on your kite of choice.
Tail or No Tail?
Tails not only look cool but can help keep a kite stable in stronger wind conditions. Just make sure the tail is made from a lightweight material.
Age Consideration
There is a kite for kids of all ages, but that doesn't mean all kites are for all ages. As we mentioned above, keep in mind the size of the kite as well as the type of kite.
Affordability
You don't need to spend a lot of money to get a great kite. The kites on this list are all budget-friendly!
Types of Kites
Single Line Kites vs Acrobatic Sports Kites
As the name suggests, single line kites are flown with one line whereas acrobatic sport kites, also known as stunt or trick kites, have two or more lines.  Single line kites can do tricks, but not as many as acrobatic sport kites can.
Acrobatic sport kites are more complex to use, which means fliers should have experience with a single line kite before moving to an acrobatic kite. Single line kites are not only easier to fly, but they also tend to be far less expensive than multi-line kites.
Shapes
Not only are there different types of kites, single and stunt kites, but kites also come in a variety of shapes. Some shapes are easier to fly in light wind conditions while others can hold up to stronger wind conditions. Let's take a look at the shapes and conditions they are best used in:
Delta: Suitable for light to moderate wind conditions
Diamond: Suitable for light to moderate wind conditions
Dragon: Suitable for light to moderate wind conditions
Box: Suitable for stronger winds
Parafoil: Suitable for stronger winds
Safety Tips
Before your child starts flying high, make sure they know these safety tips to help keep them safe.
Keep kites away from power lines
Never fly a kite over a road or near an airport
Be mindful of other people as well as other kite-fliers
Never fly kites in a crowded area
Best Kites for Kids
Before the next windy day, make sure you have a great kite on hand. Our list includes kites of different colors, styles, shapes, and even different animals, too.We've also made sure to include a couple of trick kites for older kids who are ready to put on a show.
1. aGreat Life Rainbow Kite
This kite is big and flashy. What's better than that? Let the colors of the rainbow fly through the sky! The super-low price tag is a bonus.
Assembly is quick and the materials the kite is made of are non-toxic. The handle is kid-friendly, meaning it's easy for little hands to hold, but it isn't easy to wind up.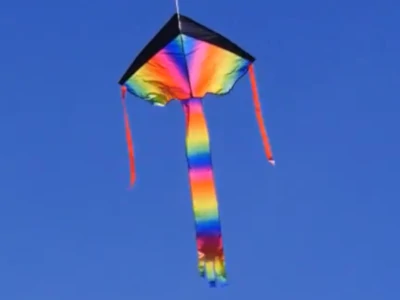 The aGreat Life Rainbow Kite comes with everything you need to getting flying ASAP including a winder and string.
Pros
Very affordable
Big and colorful. Easy to see in the sky
Made of non-toxic materials
Kids will have no trouble holding the handle
Cons
Requires some skill to fly in light wind conditions
---
2. Image 3D Dolphin Kite
This lightweight, frameless parafoil kite comes with 400 feet of line so it can fly up, up and away! But don't be fooled by its large size. It's easy to control and if it does come crashing down, you'll find out that it can take a beating. No frames mean no bent poles and the fabric is super durable and less likely to tear.
This large dolphin design also has a colorful tail to help stabilize it in extra windy conditions. However, kids may have a hard time controlling this kite in strong winds. It'll pull kids hard, so make sure they use it in light to moderate wind conditions.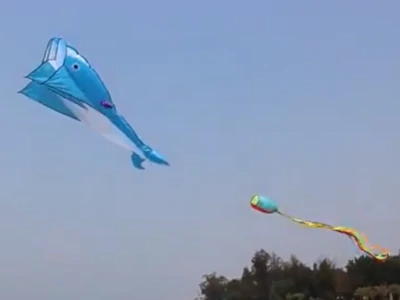 Pros
Large, colorful design
Easy to use
Frameless and made of soft but durable material
Cons
In strong wind conditions, this kite will pull a small child too hard
---
3. Premier Kites Easy Flyer Shark Kite
Premier Kites 7' Shark- Black
Easy To Assemble
Size (W X L): 55 x 83 in. / 140 x 211...
Fabric: Nylon, Frame: Fiberglass and...
Line: Includes 300 ft. 30 lb. Test Line...
Kids are certain to make a splash with this large, easy to fly, shark kite by Premier Kites. Its simple, eye-catching design is sure to thrill kids and adults at the beach, park or wherever you plan on flying it.
This kite requires some assembly, which proved to be pretty easy. Flying it was a breeze (no pun intended), and so simple that even young kids were able to maneuver it in the sky.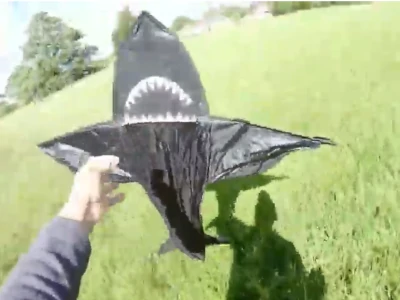 It isn't the cheapest kite out there, but it is a quality kite that also comes with 300 feet of string and a winder. It comes in two color choices: black and gray.
Pros
Large size and bold shark design
Easy to fly
Quick assembly
Comes with 300 feet of line
Cons
A little pricier than other kites on this list
---
4. HENGDA KITE Octopus Kite
We love how easy it is to fly this kite – almost as much as we love the octopus image soaring through the air. This super-affordable, windsock-like kite isn't small, either. It's 31 inches wide by a whopping 157 inches long!
No assembly is required for this kite – simply remove the kite from the bag and start flying! This kite also comes in a few color choices including all red, red with multi-color tentacles, purple with multi-color tentacles, and pink with multi-color tentacles.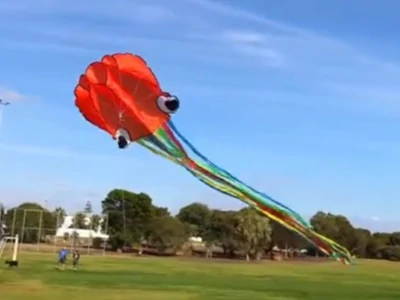 Because of its larger size, this kite works great for slightly older kids.
Pros
The fun design comes in multiple color choices
Large size
Easy to fly
No assembly required
Cons
A little difficult to maneuver
---
5. Joylife Kite Rainbow Kite
Super colorful and super fun, the Joylife Kite Rainbow Kite is hard to miss flying high in the skies. The durable polyester proved to stand up to strong winds. Though strong winds aren't exactly necessary… this kite will sail up with just a touch of wind, making it easy for little ones to use.
The kite is easy to assemble, but if you need a little extra help the company has an assembly video on their website. The kite is 50" wide and from tip to tail, 70" long! (No wonder it's so easy to see this one!)
The easy-grip spool is easy for both kids and adults to use and the kite comes with 100 feet of line. The 100 feet of line doesn't seem like enough to get this kite really high, but regardless, it's hard to not love the swirls, rainbow, stars, and streamers of this colorful kite!
Pros
Super colorful and bright!
Durable polyester material holds up to strong wind
Easy to use in a variety of wind conditions
The easy-grip handle is good for little kids to use
Cons
The 100 feet of line goes quick. May need to purchase an additional line
---
6. In The Breeze Diamond Rainbow Kite
Got to love a classic! This diamond kite comes in a variety of color combos like rainbow, red, white and blue, orange, yellow – and more! Don't be put off by its simple construction, though. The rods are made of fiberglass and the fabric is a strong Ripstop fabric.
The kite is 27" long and 23" wide but also comes with a 19' tail! The kite's handle wasn't quite comfortable to hold, but overall, the kite can be operated by kids of all ages.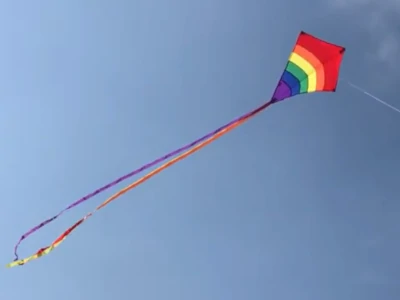 Assembly couldn't be easier. Just two bars into place and you're done! And it's hard to beat the low price. This classic kite has proven to be exactly that: timeless.
Pros
Multiple color options to choose from
The super long tail matches the kite
Simple, classic design
Cons
The handle isn't very comfortable to grip onto
---
7. In The Breeze Colorwave Stunt Kite
Here's another kite from In The Breeze that is not only fun but makes a statement in the sky. For the older kids who are looking for a little more excitement, this is a great stunt kite. It has two lines so kids can do flips, dips, and stunts galore.
The Colorwave stunt kite is available in cool designs like tie-dye, pirate skull, and even a skunk. It is pretty big coming in at 48" wide by 28" tall. And if for some reason the kite crashes, don't worry, it can take a beating – its durable fiberglass construction means a crash or two won't affect this kite.
Each handle comes with 80 feet of line. When we say "older kids" we mean it. Two-line kites require some good hand-eye coordination. But if your child has some experience under their belt, and is ready to take it to the next level, this is a perfect affordable kite for them.
Pros
Great beginner stunt kite for older kids
Very affordable
Fun designs to choose from
Durable construction
Cons
---
8.  StuffKidsLove Delta Kite
We know that young kids want to try their hand at stunts, too. That's why we chose this delta kite by StuffKidsLove. It's super affordable, easy to use and fun for kids of all ages.
Watch this kite soar through the skies with its 200 feet of line! It won't be hard to miss, either, since it's a whopping 60" across. It comes with a detachable tail that clips on and off easily.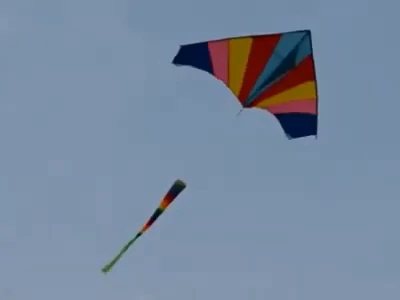 This delta kite is available in four color choices including blue, green, pink and rainbow. While the price isn't super low, it's definitely affordable for most, and considering it's made of a hardy Ripstock fabric and resin rods, we feel the price is justified.
Pros
Easy to fly making it perfect for all ages
Comes with 200 feet of anti-tangle line
Large size and bright color choices
Durable fabric and rods
Easy to attach/remove the tail
Cons
The handle may wear out prematurely depending on how frequently it's used
---
9.  HENGDA KITE Classical Dragon Kite
Who wouldn't want to see a dragon soaring in the sky? The HENGDA KITE Classical Dragon Kite will leave your kid amazed. It features bright colors, a cool design, and did we mention the super affordable price tag?
This kite is sure to stand out in the sky, if not by it's bright color scheme than by it's sheer size – 55" wide and 62" long! And the dragon tail isn't the only "tail" on this kite. The trailing twisted red kite tail makes for an extra show.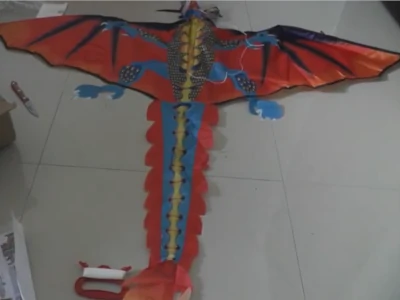 The kite itself is made of reinforced nylon which is durable and holds up to plenty of use. However, the plastic frame does lack in durability so if you can help it, try not to let this one crash and burn too many times.
Pros
Colorful dragon design with an extra-long tail
Made of durable nylon material
Super affordable
Cons
The frame is made of a less-than-durable plastic tubing
Might be a little tricky for young kids to maneuver
---
10.  X-Kites WindNSun SeaLife Otter Kite
The X-Kites WindNSun SeaLife Otter Kite is just downright adorable. For light to moderate wind conditions, this sea otter is surprisingly easy to fly and withstands plenty of wear, since it's made of durable nylon fabric.
This kite comes with 125 feet of line and is recommended for kids 8 years and up. While it's meant for low to moderate wind, we found it worked better in moderate wind conditions.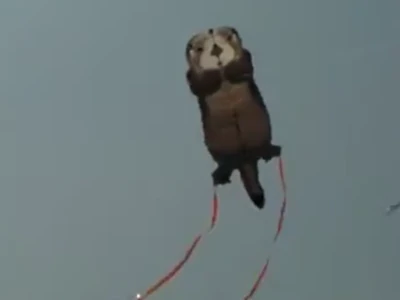 Pros
Adorable otter design
125 feet of line included
Affordable
Cons
Doesn't work well in light wind conditions
---
Frequently Asked Questions
Q: My child is having a hard time flying a kite. What is he/she doing wrong?
A: There could be one or more reasons why your child is unable to get the kite into the air. Let's look at what they are.
Too little or too much wind
Not standing with back to the wind
Not using a spotter to help them take off
The kite is assembled incorrectly
The kite is damaged
If you find that none of the above apply, then let's take a look at the proper way to get a kite flying.
Have a spotter hold the kite in the air. With your back to the wind, and with plenty of line lying out, the wind should catch the kite and lift it to the air. Once the kite has flown away from you a little, you can pull on the string to make it go higher. This will point your kite up.
Still need help? Check out this video on how to fly a kite:
<iframe width="560″ height="315″ src="https://www.youtube.com/embed/QjxJYTEQn6Q" frameborder="0″ allow="accelerometer; autoplay; encrypted-media; gyroscope; picture-in-picture" allowfullscreen></iframe>
Q: Do I need a spotter to fly a kite?
A: In the event where no one is around to help the flier get their kite up, lean the kite against a wall, rock or bush and pull the kite afloat. Make sure there is enough line to get it into the air.
Q: What is a bridle?
A: You may hear the term used when talking about kites. Simply put, the bridle is where the string or strings are attached to the kite.
The Takeaway
It's hard to choose a favorite from this list, but if we had to pick one it'd be the aGreatLife Rainbow Kite. It's hard to beat this one. It's easy to fly, very affordable and looks great soaring through the sky.
For the older kids that are interested in taking their kite flying to the next level, check out the In The Breeze Colorwave Stunt Kite. It requires some hand-eye coordination since it is a two-line kite, but once they get the hang of it, they'll have a blast doing stunts in the skies.
We hope you enjoyed our article covering the best kites for kids!