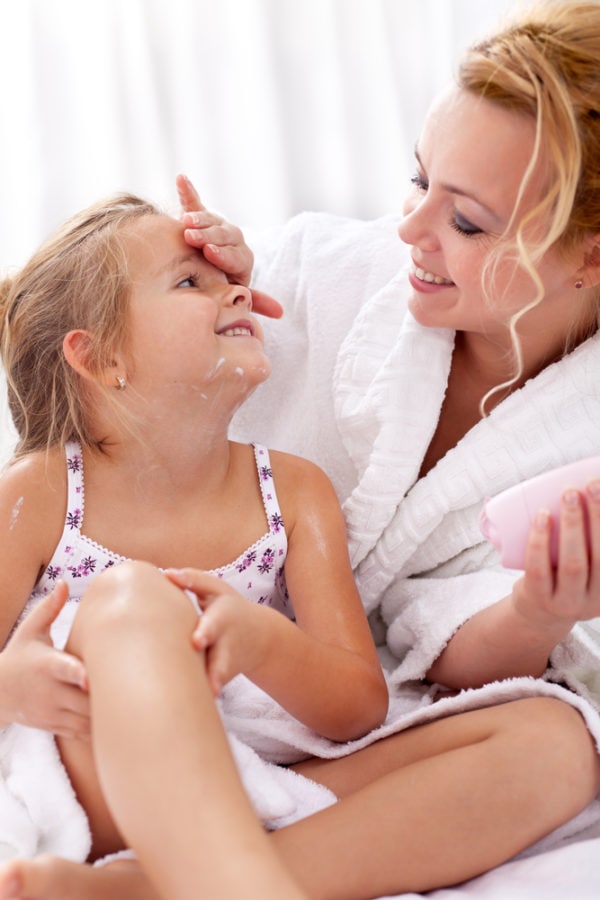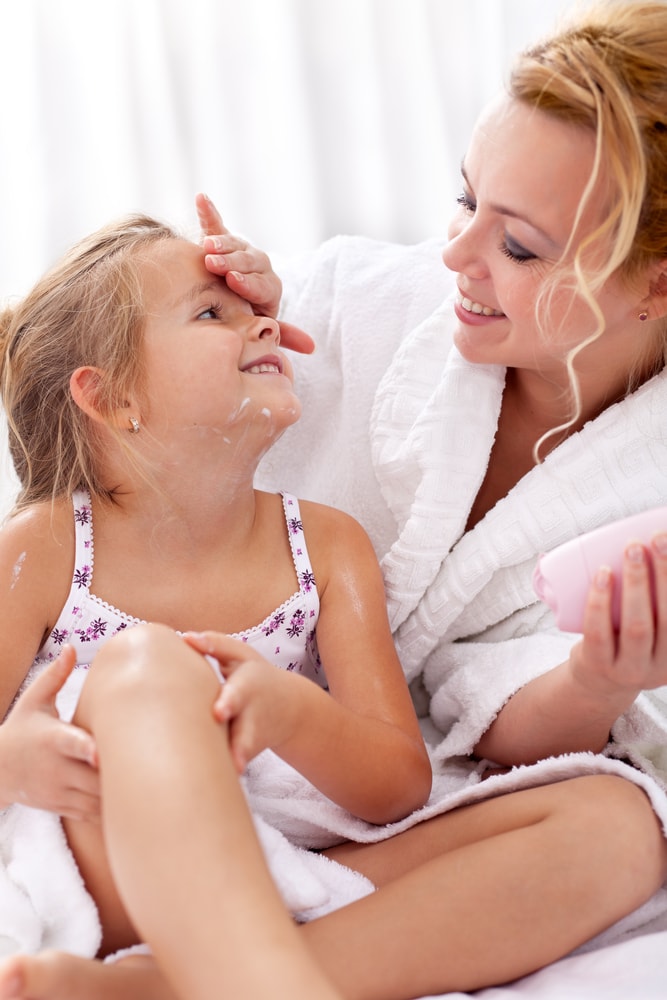 When your child's skin is dry, don't reach for your lotion.  Kids' skin is sensitive and requires a gentle lotion to moisturize their dry or irritated skin.  But walking into your local store or surfing online stores for the right lotion can seem like a daunting task. The choices seem endless and ingredients lists for most lotions might as well be considered another language.
Luckily, we've sifted through the vast sea of lotions for babies and kids and found the best lotion for kids.  There's lotion for every skin type and every age, including newborns. (And for most of them, you may even find yourself using it too!)
But before we jump to the list, there are a few things to watch out for when choosing lotion for your child.  There are some nasty ingredients lurking in common skin care for both adults and kids that you should stay away from, and we also have a few tips for preventing as well as treating kids with extra dry skin.
IN A HURRY? HERE'S OUR TOP PICKS…
Ingredients to avoid
When selecting a lotion for either you or your child, the first thing you should check is the ingredients list.  If you find yourself a little confused though, we get it. Some of the names might sound like something out of chemistry class.  The first thing to know is even though some of the ingredients might sound scary, many are not.
However, there are some ingredients out there that you should avoid if possible.  Some studies show that the following ingredients can lead to negative health risks or allergic reactions.
So here's a list of ingredients to avoid, what they do and why you and your family should avoid them.
Parabens – A type of preservative. Some studies have linked parabens to reproductive issues and breast cancer.
Phthalates – A commonly used chemical that is used in making a variety of products, including fragrance in skin care products. Phthalates have been linked to reproductive issues as well as asthma and allergies.
Fragrance – Fragrance is one of the top allergens added to skin care products. It can cause skin irritations and has been linked to disrupting hormones.
Formaldehyde– A preservative.  Formaldehyde is a known carcinogenic and allergen.
What is EWG?
EWG stands for the Environmental Working Group.  The EWG rates health and beauty products as well as food and determines which products are safe to use and which ones contain harmful substances that could potentially negatively affect your body.
Products are rated on a scale of 1 to 10, 1 being the safest and 10 being the most harmful.  When choosing a lotion, choose one that is ranked as low as possible, ideally a 1 or 2.  EWG will also tell you why it is ranked that number, and what harmful ingredients, if any, are in it.
If you want to find out the rating of a particular lotion, you can visit their website here and type in the name to find out the rating.
Preventing dry skin
As with most things, prevention is key. If your child has a tendency to get dry skin, here are some steps to prevent it from happening in the first place.
Shorten bath time. Keep baths or showers quick. If your child wants to sit in the bathtub, let them play first and then have them wash right before getting out of the tub. Also, opt for a gentle cleanser.
Moisturize right after the bath.  After your child towel dries (gently! No rough scrubbing the water off!) go ahead and immediately apply lotion.
Protect your child's skin. If it's cold outside, make sure their skin is covered by the appropriate clothing and accessories to protect from the cold and wind. Same goes for the sun. Make sure your child is covered with sunblock.
Drink up.  No matter the season, be sure your child stays hydrated, as this will contribute to moisturized skin.  Dry skin means thirsty skin, so make sure your child is drinking plenty of water.
Get that chlorine and salt off their skin as soon as they're done. In the summer, pool and beach time is inevitable, but chlorine and salt are drying. Just make sure that your child rinses off after going in the pool or ocean.
Treating dry skin
Treating dry skin is very similar to preventing it, but requires a few tweaks.
If your child bathes every day, use body wash every other day or switch to a soap-free body wash.
Apply lotion twice a day.
Consider using a heavier duty lotion such as a cream, healing ointment or petroleum jelly.
Make sure the bath or shower water is warm, not hot.
Best Lotions for Kids
So now that we've covered how to prevent and treat dry skin and which ingredients to avoid, check our top picks for the best lotions for kids! These lotions are gentle enough for daily use on your little one's sensitive skin.
---
1. Burt's Bees Nourishing Calming Lotion
Burt's Bees Nourishing Lotion is perfect for baby's delicate skin and is approved by pediatricians. This lotion contains nearly 99% natural ingredients and has a soothing lavender and vanilla scent.
The key moisturizing ingredients in this lotion are aloe and shea butter.  The lotion is thick and creamy and can moisturize even the driest skin. The hypoallergenic formula is not only gentle on bodies but children's faces too.
Likes
Calming vanilla and lavender scent.
Thick lotion moisturizes dry skin.
Hypoallergenic.
Made almost entirely of natural ingredients.
Dislikes
Takes longer to absorb into the skin.
---
2. Aveeno Daily Moisture Baby Lotion
This fragrance-free, hypoallergenic lotion is gentle enough to be used on babies' sensitive skin every day. Approved by pediatricians, Aveeno Baby Lotion does not contain parabens, phthalates or dyes and is even suitable for children with nut and dairy allergies.
The oat kernel flour in this lotion soothes irritated skin and locks in moisture to keep skin moisturized all day. While it won't be as effective for extra dry skin, it works on all other skin types without leaving skin feeling greasy.
Likes
Affordable price.
Great for sensitive skin and everyday use.
No parabens, pthalates, dyes or fragrance.
Good for preventing dry skin.
Dairy-free and nut-free for kids with nut and dairy allergies.
Soothes irritated skin.
Dislikes
Not as effective on extra dry skin.
---
3.  Puracy Organic Baby Lotion
Developed by doctors, Puracy Organic is a lightweight lotion, gentle enough for children with the most sensitive skin, including babies. Their plant-based formula contains no toxic chemicals and is not test on animals.
This lotion contains both lavender and grapefruit oils for a nice scent that most liked, though some found slightly overpowering.  Other natural ingredients in this lotion include Jojoba seed oil, shea butter, and sunflower oil.
This lotion is great for all skin types and for kids that suffer from eczema and extra dry skin, this will moisturize their skin without feeling heavy or oily.
Likes
Non-toxic plant-derived ingredients moisturize all skin types without feeling greasy.
Great from extra dry and extra sensitive skin.
Light lavender and grapefruit scent.
Vegan and cruelty-free.
Dislikes
Some felt the scent was a little too strong.
---
4. Weleda Baby Calendula Body Lotion
The star ingredient in this lotion, Calendula extract, is organic and reduces skin inflammation. It is gentle on super sensitive skin and is even safe for newborns.  The Calendula extract even comes from Weleda's own biodynamic garden in Germany.
This lotion also contains sweet almond oil, sesame seed oil, and beeswax to moisturize extra dry skin.  Nearly all of the ingredients in this lotion are organic and it's even gentle enough to use on the face.
Likes
Soothes skin inflammation.
Gentle enough to use on newborns, suitable for adults too!
Sweet almond oil and beeswax moisturize very dry skin.
Light pleasant scent.
Dislikes
---
5.  CeraVe Baby Lotion
Like other CeraVe products, this lotion contains ceramides which form a protective barrier on the skin to hydrate dry skin all day.  It also contains Hyaluronic Acid to help skin retain its own moisture.
This lotion has the National Eczema Association Seal of Acceptance, meaning it is suitable for kids with eczema and sensitive skin. It is also fragrance-free and does not contain any parabens or sulfates.
Likes
Suitable for kids with eczema and dry skin.
Ceramide and Hyaluronic Acid formula protects and hydrates skin.
Affordable price.
No parabens or sulfates and fragrance-free.
Dislikes
May not work for kids with extra dry skin.
---
6. TotLogic Lavender Bliss Body Lotion
This dreamy smelling lotion comes from a blend of essential oils including lavender, chamomile, sweet orange, and bergamot.  It is made of plant-based non-toxic ingredients and contains no harsh chemicals.
The animal-friendly formula is vegan, cruelty-free and free of sulfates, dyes, phthalates, parabens, and soy.  While some found the texture to be a little greasy when putting it on, it did absorb leaving kids' skin smooth and soft.
Likes
The calming, pleasant smell from the blend of essential oils.
Natural ingredients and free from harsh chemicals.
Soy-free.
Suitable for infants and children (and adults too!)
Dislikes
Felt a little greasy when applying it.
---
7. Aquaphor Baby Advanced Therapy Healing Ointment
For some serious repair on extra dry skin, Aquaphor Baby Healing Ointment is gentle but heavy duty, to heal skin in need of some extra TLC.  This ointment can be used for diaper rash, chapped skin, dry hands and more.  It is fragrance-free and preservative-free.
Unlike petroleum jelly, the petrolatum ingredient in this ointment allows air and water to get in while keeping moisture locked in.
Likes
Perfect for extra dry skin and diaper rash.
Gentle on babies' skin.
Fragrance- and preservative-free.
Locks in moisture.
Dislikes
Won't absorb like lotion.
---
8. Earth Mama Calming Lavender Body Lotion
Here's another lotion that will soothe their skin and calm babies and children with its lovely lavender vanilla scent. Tested by dermatologists, this lotion won't irritate kid's sensitive skin, but will absorb quickly, providing all-day moisture.
Many of the ingredients in this natural lotion are organic. Some of the ingredients are aloe juice, rooibos extract, calendula extract, shea butter, lavender oil, and vanilla extract. This lotion worked well at calming eczema and itchy, dry skin.
Likes
Suitable for babies.
Soothes eczema and extra dry skin.
Natural ingredients are effective.
Dermatologist-tested.
Lightweight lotion is not greasy and absorbs quickly.
Pleasant lavender vanilla scent.
Dislikes
Some thought the lavender scent was a bit too strong.
---
9.  California Baby Calendula Everyday Lotion
Clary sage oil and French lavender oil give this baby lotion a light, soothing scent that you and your child will enjoy. This lotion is perfect for babies and children who have some extra allergy concerns as it is nut-, dairy-, soy- and gluten-free.
The organic calendula extract calms irritated, red and dry skin, but is gentle enough for use on the face and those with extra sensitive skin too.  The only downside to this lotion is the higher price tag.
Likes
Suitable for those with nut-, dairy, soy- and gluten allergies.
Great for extra dry and sensitive skin.
Absorbs quickly.
Nice lavender and sage scent.
Calms irritated skin.
Dislikes
---
10. Johnson's Head-to-Toe Lotion
It would be hard to have a list without including Johnson and Johnson and that's because they have baby's delicate skin down to a science.  The Head-to-Toe Lotion is a lightweight lotion that is gentle on newborns' skin.
This lotion is recommended by both dermatologists and pediatricians.  It contains no sulfates, parabens or dyes that could hurt baby's skin.  This lotion does have a scent that some found a little stronger than they would've liked.
Likes
Very affordable.
Free from parabens, sulfates, and dyes.
Recommended by pediatricians and dermatologists.
The lightweight formula suitable for newborns.
Works on all skin types.
Dislikes  
---
Frequently Asked Questions
Q: What age can I start putting lotion on my child?
A: While some lotions are safe for newborns, most newborn babies do not need lotion.  However, if their skin looks cracked or dry, talk to their pediatrician first.  Your child's doctor may suggest a mild, fragrance-free lotion or even petroleum jelly.
In general, skip the lotion until your child is at least a few months old.
Q: What exactly is "fragrance" on the ingredients list?
A: It varies from company to company. Fragrance can be any blend of chemicals that give the product a scent.  Under current regulations, companies do not need to specify what is in the fragrance blend they use.
To be safe, choose lotions that are fragrance-free or actually break down what the "fragrance" is made of.
The Takeaway
If your little one's skin needs a little extra moisture, there's a lotion for every skin type on this list.  For kids with some seriously dry skin, we suggest the Burt's Bees Nourishing Lotion. The smell is really nice and while it doesn't absorb as fast as others on this list, it will provide moisture all day and night.
For moderately dry skin or everyday use, Aveeno Daily Moisture Baby Lotion absorbs into skin quickly and provides the perfect amount moisture for both babies and children.
No matter what you choose from this list you can be sure you're choosing the best lotion for kids.