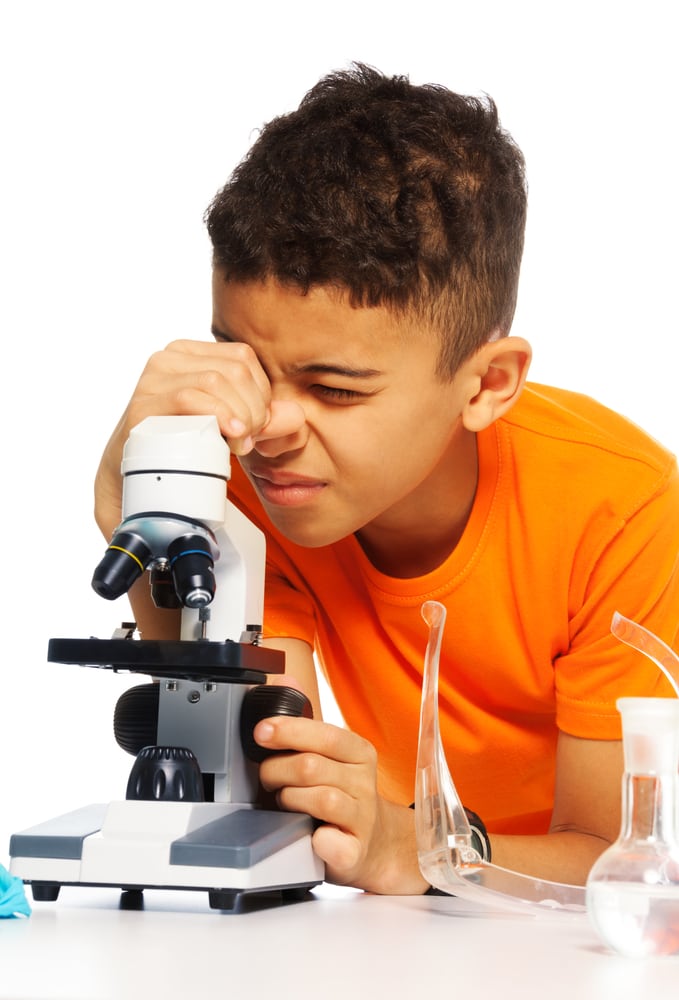 Is your little scientist talking about bacteria, water bears, DNA, and neutrons? Then it's probably time to get them a microscope. But how much is it going to cost you? And are there microscopes out there for kids that actually work like a real microscope?
It may be tempting just to go to any toy store and grab whatever they have but don't.  Choosing a functional, durable microscope is important and will only further support your child's love of science.
We've searched for the very best microscope for kids that will have them seeing Tardigrades, blood cells, and germs in no time!
Choosing a microscope for your child
Looking at the vast amount of microscopes on the market might make your head spin.  So let us break it down for you.  Here's what you need to know when narrowing down which microscope to choose for your child.
Binocular VS Monocular
Binocular microscopes, which have two eyepieces, tend to be easier and more comfortable for most people to use.  However, some kids might have a hard time actually seeing out of binocular microscopes and may do better with a monocular microscope (one eyepiece). Ultimately, the choice depends on the child.
Age
There are microscopes for kids as young as toddlers all the way to high schoolers on this list.  Microscopes for younger kids tend to have fewer magnification levels, are lighter weight and made of plastic while older kids have microscopes that are made of metal and have multiple magnification levels. Which leads us to…
Magnification levels
When it comes to buying a serious microscope for your older child, most student microscopes can go up as high as 1000x magnification which can allow them to see blood cells, bacteria and more. Of course, the higher the magnification usually means a higher price.
Accessories
Choosing a set that comes with blank and prepared slides as well as tools such as tweezers, Petri dishes, and test tubes is a good choice.  A good scientist needs their tools in order to explore the world, right?  And luckily all of the sets on this list have at least some tools to get them started.
Using a microscope
So your child has their microscope all set up but doesn't know how to make a slide. Just smear some stuff on a piece of glass right? Hold up.  Here are some things to consider when your child starts using their microscope.
How to make a slide
The most common way to make a slide is the "wet mount slide" method.  You will need a plain glass slide, slide coverslip, and water.  Also, tweezers and a dropper would be good tools to have on hand to help make it a little easier making a slide.
First, you will take the specimen you want to examine and cut off a small, thin piece.   Place a drop of water on the slide and carefully (preferably using a set of tweezers) set the specimen in the drop of water.
Next, take a coverslip and gently place it on top of the specimen. Make sure you lower it down at an angle to prevent any air bubbles from forming. The water will seal the coverslip on the slide.
And voila! A slide to view! Now it's on to the good part.
Viewing a slide on a microscope
First, make sure the microscope is on a level and steady surface. Turn the microscope to the lowest magnification and lowest light power setting.
Place the slide on the microscope stage and turn the coarse focus knob until the image is clear.  You may then opt to turn it to the higher light power setting.  Adjust the coarse focus knob again and if applicable, use the fine focus knob for additional focus.
Best Microscopes for Kids
No matter what age, if you have a child eager to start using a microscope there's a microscope on this list for them.  We've chosen microscopes that are suitable for students with a love of biology as well as preschoolers eager to learn about the world around them.
Here are the top 10 microscopes for kids!
---
1. Omano JuniorScope
The Omano JuniorScope is made just for kids and has 3 magnification levels: 40x, 100x and 400x and a low and high-powered mode.  The premium grade crystal-clear lenses and an EZ focus knob let kids see up close to blood, germs, insects, and even DNA.
This microscope is battery powered, lightweight and can be easily transported. This kit comes with Petri dishes, test tubes, glass slides, forceps, stains, droppers, and more.  Also included is the World of Microscope book that helps kids learn how to use the microscope and gives experiment suggestions.
The Omano JuniorScope is suggested for kids 6 years and older.
Pros
EZ focus knob is easy for kids to use.
Complete kit comes with all the tools kids will need.
3 magnification levels and a low and high powered mode.
Premium grade glass lenses make viewing crystal clear.
Lightweight and portable.
Cons
Nothing! This is a great microscope for kids.
---
2.  National Geographic Dual LED Student Microscope
This powerful microscope is perfect for older kids, age 13 and up, and comes with two sets of interchangeable lens for 20x and 50x magnification.  Kids can start exploring right away because this set comes with 10 prepared slides featuring specimens like lichen, earthworms and even muscle tissues.
The dual LED light system allows kids to view 3D objects as well as slides. This set comes with a ton of accessories as well as a shrimp brine experiment where kids can watch the complete lifecycle of brine right on their microscope.
This battery operated microscope also comes with blank slides to let your child's inner scientist do some exploring of their own.
Pros
Premade slides with biological organisms included.
20x and 50x magnification lenses.
Dual LED light system allows kids to look at 3D objects.
Complete shrimp bring experiment included.
Cons
The top LED light is not very powerful. When using the top LED light, need to be in a brightly lit room.
---
3. Educational Insights GeoSafari Jr. Talking Microscope
Looking for a great STEM activity for your preschooler? The Educational Insights GeoSafari Jr. Talking Microscope features Bindi Irwin teaching your child fun facts while your child views their specimen.
This set comes with 20 slides and Bindi will teach your kids 100 facts as well as 100 quiz questions to help them recall what they learned. The slides store neatly in a drawer on the bottom of the microscope for easy cleanup.
The microscope has a 5x magnification and kids can place their own toys and other items to view too. This set is for ages 4 and older.
Pros
Affordable price.
Easy to use.
Slides store in the microscope base.
Teaches 100 facts and quizzes them on what they learned.
Two eyepieces instead of one for easier viewing.
Perfect for preschoolers.
Cons
Only one type of magnification level.
---
4. Amscope 52-Piece Beginner Set
Not only will you get 6 magnification levels, up to 1200x, but a hard case to carry it and all the tools your child will need too.  The metal frame and clips on the microscope are durable and the microscope itself is easy to use.
The Amscope Beginner Set has a built-in light and a reflecting mirror to illuminate specimens via natural light. This set includes a Shrimp Brine experiment, to track the life cycle of your very own shrimp. Some of the accessories included are blank slides, 20 prepared slides, tweezers, droppers, Petri dish and more.
Pros
Great value.
The hard case holds the microscope and tools.
10 prepared slides and shrimp brine experiment included.
Up to 1200x magnification.
Easy to use.
Cons
The image of the specimen isn't quite as clear as the other microscopes on this list.
---
5.  Plugable USB 2.0 Microscope with Flexible Arm Observation Stand
This isn't your traditional microscope.  This easy to use digital microscope has 250x magnification that allows you to view the image right on your computer.  Just plug the USB cord into your USB drive on your computer and get to exploring!
Not only can you check out your specimen via the digital camera, but you can take a picture of it too by simply pressing the camera button located on the top of the microscope.  It also has a LED Halo Light to better see what you are viewing.
This set comes with the Plugable microscope, observation stage, bendable stand, and quick start guide. While not a traditional microscope, kids will have fun exploring and getting up close to things they find in nature or around the house with this digital microscope.
Pros
Very affordable.
Easy to use.
Can take pictures of a specimen.
Easy to set up.
Cons
Requires a computer in order to view specimens.
---
6. Amscope M162-2L Microscope
For the serious scientist, the Amscope M162-2L is a serious microscope made of a metal frame and has 40x, 100x, 250x 400x and 1000x magnification, allowing your kid to look at cells, grains of sand and many other ultra tiny subjects.
This microscope has two LED lights to view slides and opaque specimens as well as coarse and fine focus knobs. This set comes with blank slides, 5 prepared slides, The World of Microscope book and more.
The Amscope M162-2L is made for older kids and does cost more than the other microscopes on this list.  The higher price is to be expected from the quality and magnification.
Pros
Magnifies up to 1000x!
Comes with blank slides and prepared slides.
Dual LED lights for slides and opaque specimens.
Coarse and fine focus knob.
Comes with an introductory book.
Cons
---
7.  My First Lab Mini-Duo Microscope
On a tight budget or aren't ready to make the investment? This super affordable set is great for beginners and comes with everything kids will need to need to start learning how to use a microscope.
The lens has a special coating to make images sharp and prevent mold from growing on it.  The top and bottom LED light allows kids to view slides as well as 3D objects too.
Other accessories included in this set are 8 glass slides, 2 prepared slides, forceps, pipette, empty specimen vials, and a yeast specimen vial, a brine shrimp specimen, and an instruction manual.
Pros
Very affordable.
Perfect for beginners.
2 LED lights for slides and 3D objects.
Easy to use.
Shrimp egg experiment included.
Cons
Not very durable. Won't withstand a lot of use.
---
8. Educational Insights GeoSafari Jr. My First Microscope
For toddlers and preschoolers, the Educational Insights GeoSafari Jr. My First Microscope is a simple, affordable microscope that will get kids interested in science at an early age. The 2 large eyepieces and big focusing knob make this microscope easy for little ones to use.
This microscope can magnify up to 8x and has a bright LED light.  No slides necessary with this microscope. Kids can place whatever they want on the stage like rocks, coins, little figures and more.
Pros
Easy for toddlers and preschoolers to use.
Two big eyepieces and chunky focus knob make it easy to view.
No slides needed.
Very affordable price.
Cons
No specimens or learning material included.
---
9.  Play22 50-Piece Microscope Set
The Play22 50-piece set is hard to beat.  For a budget-friendly price, this set includes a metal frame microscope, case and all the accessories a scientist needs.
Besides the microscope and case, this set includes 5 prepared slides, 7 blank slides, slide covers, dye, brine shrimp egg, micro slicer, test tube, Petri dish and more. It even includes a spare light bulb.
Kids will see their specimens magnified at 3 levels, 200x, 600x and even 1200x and the microscope has an LED light and mirror to illuminate the specimen.  This set is great for kids 8 and up.
Pros
50-piece set is very affordable.
Great for beginners.
Comes with brine shrimp egg experiment.
Magnifies up 1200x.
Comes with a spare light bulb.
Cons
Slides are made of plastic.
---
10. Amscope Compound Microscope with Digital Camera
Does your child want to capture the image they see in this microscope? They can with this Amscope microscope.  It has five levels of magnification plus a digital camera that connects directly to your computer so kids can explore and take pictures at the same time.
The monocular head of this microscope swivels 360 degrees.  The top and bottom LED lighting is powered either by cord or battery, making this microscope portable.  A coarse and fine focusing knob is located on each side of the microscope.
The digital camera is easily attached to the microscope and hooked into a computer. It is compatible with Windows and Mac, though you will need additional software (not included) to hook it up to a Mac.
Pros
The digital camera allows kids to capture what they are viewing.
5 levels of magnification (up to 1000x).
Coarse and fine focusing knob.
High-quality optics for crystal clear viewing.
Cons
Additional software needed for Mac users.
Expensive.
---
Frequently Asked Questions
Q: What is a water bear?
A: Ah, yes. We have mentioned the water bear AKA Tardigrade a few times.  But what exactly are they? Tardigrades are microscopic animals that can only be seen using a microscope.  Their nickname, water bear, comes from the fact that they do in fact look a little like a bear swimming in water.
The unique creatures can live in environments nothing else can live in.  They survive dehydration, starvation, extreme temperatures and more. Nothing can kill these funny little guys!
For more about water bears check out this video.
Q: How do I clean a microscope?
A: Is the lens becoming a little less than crystal clear? Refrain from using any ole cloth, tissue or paper towels to clean the lens. The safest way to clean a microscope is by purchasing a microscope cleaning kit and/or lens tissue.  Also, to prevent them from getting dirty in the first place keep them covered or in their case to prevent dust from forming on them. Also, remind kids not to touch the lenses with their hands.
Bottom Line
Ready to buy the best microscope for kids? For all the kids out there who want a taste of microbiology, the Omano JuniorScope is a great introduction to microscopes and everything microscopic.  It can view up to 400x magnification and comes with everything kids need to learn and start experimenting ASAP.
For the extra small scientists, Educational Insights GeoSafari Jr. Talking Microscope will not only allow them to see things under a 5x magnification but be able to teach them 100 facts to spark their interest even more in science.