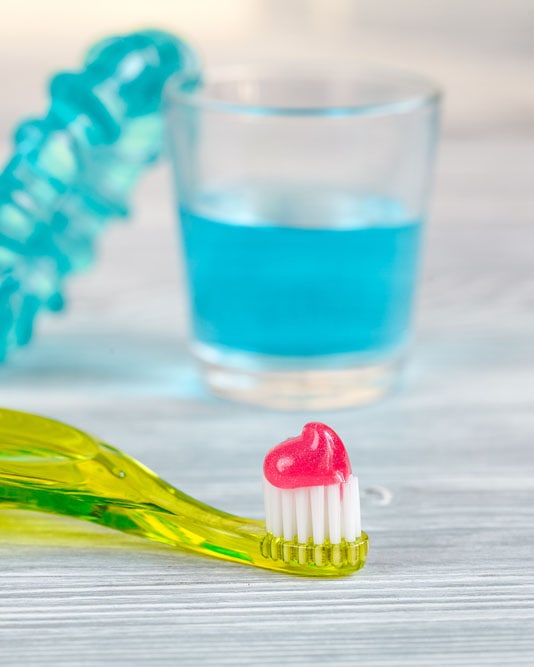 Adding a mouthwash to your child's oral hygiene routine can help kill bacteria and prevent tooth decay, especially for kids with teeth that are more prone to cavities.  But choosing the right mouthwash is important.  You'll want to select one that is gentle on kids delicate teeth and gums, and in order to make your life a little easier, a mouthwash that your kids won't mind using.
We've selected the most effective mouthwashes out there today that will help keep kids teeth healthy, but also taste great so kids won't mind incorporating it into their daily routine.  We've included both fluoride and fluoride-free mouthwashes on this list, but all of them are free of alcohol which is the most important factor when choosing the best mouthwash for kids.
Before you start having your child rinse with mouthwash, here are a few things to consider including when kids can starting using it, how it can help keep kids teeth healthy as well as tips to consider when choosing the right one for your little one.
IN A HURRY? HERE'S OUR TOP PICKS…
When can kids start using mouthwash
In terms of when kids can start using a mouthwash, most kids are able to start using a mouthwash around the age of 6.  That is because children under 6 years old generally lack the reflexes and motor control to gargle and spit.
A good way to see if your child is ready for mouthwash is by letting them practice with plain water before introducing a kid-specific mouthwash.  Once you think they are ready for a mouthwash, check with your child's dentist first to see if your child will benefit from adding mouthwash to their daily dental routine.
What does mouthwash exactly do?
You may be wondering if alcohol-free mouthwash actually kills germs. Absolutely. A kid-friendly mouthwash can do the same job as a mouthwash for adults.  That's because the key ingredient in most kids' mouthwashes is sodium fluoride.
An effective mouthwash, like the ones on this list, can freshen breath, kill bacteria, and prevent tooth decay.  Along with brushing twice-a-day, mouthwash can help prevent plaque from forming and help remove any particles that are leftover after kids are done brushing and flossing.
Choosing a mouthwash for kids
No matter which mouthwash you choose, here are three things to keep in mind when selecting a mouthwash for your child:
Choose a mouthwash that is alcohol-free. Alcohol can be found in many types of mouthwash for adults, and while it is effective at killing bacteria, it is not suitable for kids. Swallowing small amounts isn't good for their growing bodies, so opt for an alcohol-free mouthwash until they are older.
Look for the ADA Seal.  A mouthwash that has been approved by the American Dental Association (ADA) has been tested to ensure the product is not only safe but effective too.
Let them choose the flavor.  Not all kids love mint, so let them choose the flavor.  Most kids' mouthwash is available in kid-friendly flavors such as bubble gum. And know that no matter what flavor they choose, they'll still get a great clean and fresher breath.
Tips for using a mouthwash
It may take a little time for your child to get used to using mouthwash correctly.  Here are some tips for you to keep in mind when having your child incorporate a mouthwash into their routine:
Supervise children while they use mouthwash.  For kids under 12, make sure you keep an eye on them while they use it.  You want to ensure they aren't accidentally swallowing or that they are skipping straight to mouthwash, forgoing the brushing and flossing part!
Have your child swish for 60 seconds.  Set a timer or play a song to help them know when to stop.
Store in a locked cabinet or a high shelf.  Mouthwashes for kids can taste good and young children might be tempted to reach for it and drink some when mom and dad aren't around.  Be sure to store mouthwash out of their reach.
Best Mouthwashes for Kids
So which mouthwashes are the best for kids?  We've found the best gentle alcohol-free mouthwashes that are not only effective but kids won't mind using them.  Keep reading to find out our top picks!
---
1.  Listerine Smart Rinse
You know the classic refreshing rinse of Listerine.  This kids version will provide the same deep clean without the alcohol (or the burn). Kids will love the Sweet Bubble Gum flavor and you'll love their fresh breath and cavity-free teeth.
This mouthwash gets kids excited to rinse with the fun characters on the bottle with choices including The Incredibles, Marvel Avengers, Disney Frozen and more.  And for kids who don't want the bubble gum flavor, this mouthwash is also available in a refreshing mint flavor too.
Pros
Very effective at killing bacteria and preventing cavities.
Movie character featured on the bottle.
Kids love bubble gum flavor.
Strengthens enamel on teeth.
Cons
The cup might be a little tricky for kids to learn to fill.
---
2. TheraBreath for Kids
This gentle mouthwash is naturally sweetened with xylitol and organic grapes and contains no nasty preservatives, artificial coloring or flavoring.  And to top it off, it's also gluten-free, vegan, and kosher.
And for mom and dad's peace of mind, if kids spill this mouthwash, it is clear and won't stain anything. Some kids didn't love the grape flavor, but those that did had no problem rinsing with this mouthwash. It worked especially well on kids who need some extra help freshening their breath.
Pros
Gluten-free, vegan and kosher.
No preservatives, coloring or flavoring.
Sweetened naturally.
Clear liquid won't stain.
Cons
Does not have a child safety cap.
Some kids didn't like the grape flavor

.
---
3.  Tom's of Maine Children's Anti-Cavity Fluoride Rinse
If you are looking for something more natural, but still effective, check out the Tom's of Maine Children's Anti-Cavity Fluoride Rinse.  It comes in 4 minty flavors that will freshen kids breath and help prevent tooth decay.
This mouthwash uses a mix of oils and mineral zinc to naturally freshen breath and clean teeth. However, if your child isn't a fan of mint, you may want to look elsewhere.  The flavor choices include Juicy Mint, Peppermint Wave, Whole Care Fresh Mint, and Cool Mountain Mint.
Pros
4 minty flavors all freshen breath.
Natural, gentle ingredients prevent cavities.
No artificial colors, preservatives or flavors.
Cons
No kid-friendly flavor choices. Only in mint varieties.
---
4. Mountain Falls Anti-Cavity Fluoride Rinse
This unassuming bottle of mouthwash packs a powerful punch when it comes to fighting bacteria. This mouthwash is gluten-free, alcohol-free, sugar-free and as effective as the more notable brands on this list.
Kids will love the bubble gum flavor, but if they aren't fans of bubble gum, you'll need to look for another mouthwash.  This particular one only comes in bubble gum.
Pros
Gluten-free and sugar-free.
Great bubble gum flavor.
Very affordable.
Cons
Only available in one flavor.
---
5. ACT Kids Anti-Cavity Fluoride Rinse
Not sure you can get your kids to rinse twice a day? The ACT Kids Anti-Cavity Rinse can be used just once a day thanks to their maximum dosage of fluoride.  This alcohol-free mouthwash is not only effective at preventing cavities but kids love the different flavors.
This mouthwash comes in flavors like Bubblegum Blowout, Batman Fruit Punch, and Sponge Bob Ocean Berry.  The sorbitol in the rinse does make this mouthwash pretty sweet. The ACT Kids Rinse Easy Dosage Meter makes it easy for kids to squeeze the right amount of mouthwash without spilling or making a mess.
Pros
Kids love the different flavors.
Max fluoride prevents cavities.
Only need to use once a day.
Easy to pour right amount with their dosage meter.
Great value.
Cons
---
6.  Hello Oral Care Kids Rinse
Looking for something with no fluoride but still effective at preventing cavities? Hello Oral Care Kids Rinse is your best bet. Available in mint and watermelon, this rinse will get all the bits and pieces kids missed while brushing and flossing.
This mouthwash is free of alcohol, sulfates, artificial sweeteners, artificial flavors, and dyes. This naturally sweetened rinse contains aloe and organic natural flavoring. Since it contains no fluoride, it may not be suitable for kids with cavity-prone teeth who are looking for extra protection.
Pros
Kids like the watermelon and mint flavors.
No artificial sweeteners, flavors, and dyes.
Not tested on animals.
Naturally sweetened.
Cons
Won't protect kids from cavities.
---
7. Colgate Kids Anti-Cavity Fluoride Rinse
What kid doesn't love Minions or Trolls? And with its Bubble Fruit flavor, kids will enjoy using this great tasting mouthwash. And of course, this mouthwash works. It strengthens tooth enamel and does a great job keeping mouths fresh and clean.
This rinse contains no ethanol which means no burning while swishing. While it is safe to use, it does contain some artificial coloring and flavoring, which some parents might not like. However, there's no doubt that it does a good job making rinsing fun so kids teeth stay cavity-free.
Pros
Strengthens tooth enamel.
Kids love bubble fruit flavor.
Choose from fun characters to motivate kids.
Cons
Contains artificial ingredients.
---
8. Spry Kid's Alcohol-Free Mouthwash
Here's another good choice for those looking to opt out of fluoride.  The key ingredient in this mouthwash is xylitol which has been linked to helping prevent tooth decay. It is made from an herbal blend that is gentle on teeth but also has added calcium to help make teeth stronger.
The bubble gum flavor is all natural and the xylitol acts as the natural sweetener.  The non-GMO formula is safe if kids accidentally swallow it, making it perfect for young kids who still need a little practice.
Pros
Safe if accidentally swallowed.
Added calcium for stronger teeth.
Gentle on teeth and gums.
Kids like naturally sweetened bubble gum flavor.
Cons
More expensive than other mouthwashes on this list.
---
Frequently Asked Questions
Q: My child brushes and flosses. Do they really need a mouthwash?
A:  While mouthwash isn't a must-have for children, it can greatly help kids get a better clean.  For kids with braces, it can help get into some of the harder to reach spaces, and for younger kids (over the age of 6 though!) it can help get into the places they might have missed.
Kids with cavity-prone teeth might also benefit from adding a fluoride (but alcohol-free) mouthwash to their dental routine, but again, be sure to check with your child's dentist to see if it's right for them.
Q: Should I get a fluoride or fluoride-free mouthwash?
A: Opting for a mouthwash with fluoride is going to help prevent cavities and plaque from forming.  Just be sure the kids don't swallow! While ingesting a little fluoride won't hurt, too much isn't good for kids.
If your children are very young and haven't gotten the hang of gargling and spitting, choose a fluoride-free mouthwash until they are older.  It will still aid in rinsing away particles for a better clean.
Q: What's the difference between cosmetic and therapeutic mouthwash?
A:  Therapeutic mouthwash helps prevent tooth decay, kills germs that cause bad breath and helps prevent plaque build-up.  All of the mouthwashes on our list are considered therapeutic mouthwashes. Cosmetic mouthwash, on the other hand, will freshen breath, but they won't help with preventing cavities, plaque build-up or kill germs that cause bad breath.
Bottom Line
When it comes to the best mouthwash for kids, any of these picks on our list will do a great job of preventing cavities, freshening breath and keeping kids mouths happy and healthy.  Our top pick though is the Listerine Smart Rinse. Kids will love the flavor and the fun characters on the bottle. And you'll love that you won't be making as many trips to the dentist.
For moms and dads who are looking for a fluoride-free rinse, definitely consider the Hello Oral Care Kids Rinse. Kids really liked the watermelon and mint flavors and you'll be happy not having to fight your kids to rinse after brushing and flossing.