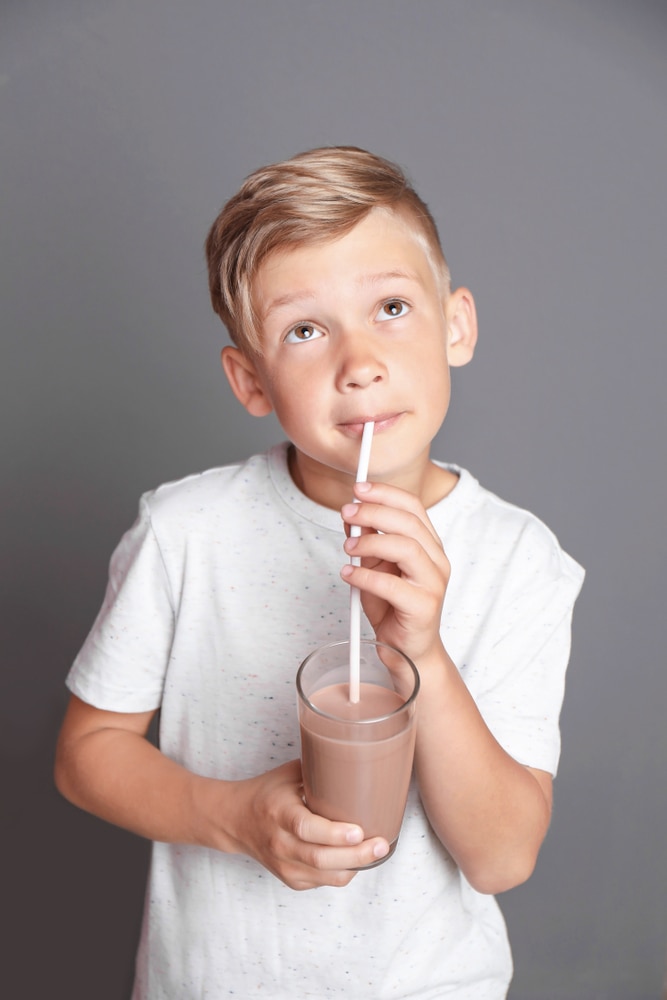 The best kids' protein powders should be organic, non-GMO, with no added fillers, colors, or dyes. If you're vegan, look for a healthy plant protein like pea. Kids who can tolerate dairy will benefit greatly from single-ingredient whey protein isolate.
If children are eating a balanced diet that includes a variety of fruits, vegetables, lean meats, and grains, then they should be getting the right amount of protein.  But sometimes that's not always possible.
Whether your child is a picky eater or you need a convenient way to add some extra protein to their breakfast, protein powder might be a good choice.
However, if you are looking to add a protein powder to your child's diet, there are a few things you need to know first.
We have picked our favorite powders that are not only full of protein but are also free from any artificial colorings, sweeteners, and things your growing child does not need.
Before you add a protein powder to your child's diet, keep reading to find out what you need to know to choose the best protein powder for kids, including why protein is important, how much protein your child needs, and more.
DISCLAIMER: Many of the protein powders in this post will be labeled with adult serving sizes. While these products are safe for the whole family, please make sure to adjust accordingly to ensure your child is getting the right amount of protein.
You may also want to check with your child's doctor before supplementation to see if it's right for them.
In a Hurry? Here's Our Top Picks!
Why is Protein Important?
Protein is necessary for every cell in your body.  It repairs and builds tissue in your body and is the building block for bones, cartilage, muscle, and skin. It also regulates hormones, is a part of an enzyme for digesting food, and helps carry oxygen through the body.
Like carbohydrates and fat, it is a macronutrient and is something that your body must have in order to survive. Needless to say, protein is crucial for both kids and adults. But more does not equal better.
For more information about protein, check out this short video!
How Much Protein Powder Do Kids Need?
Children need 1 gram of protein for every 1 kilogram of body weight. So for example, if your child weighs 50 pounds, which is 22.6 kilograms, then your child would need 22 grams of protein.
Keep in mind that a protein supplement can have up to 80 grams of protein per serving, which is entirely way too much protein for a child. Choose a nutritional shake that is suitable for your child's weight.
Things to Watch Out for in Protein Powders
If you choose to give your child a protein powder supplement, here are some things to keep in mind when shopping for one:
Make sure the ingredients list is as short as possible. Look for protein powders that consist mainly of, well, protein. For example, a pea protein powder would list peas or pea protein isolate as an ingredient. If possible, look for organic and non-GMO options. These won't contain any nasty additives that are unhealthy for your child to consume.
Stay away from powders with sugar or artificial sweeteners. Artificial anything isn't good for kids, so aim to find a natural option.
Look for protein powders with a "GMP" label on them. GMP stands for Good Manufacturing Practices and means that the protein powder was produced in a facility that discloses all the ingredients in the protein powder because it follows the best industry practices.
Be sure to check the serving size and how much protein one serving contains. Know how much protein your child needs and be sure to not exceed that amount.
Our Top 10 Picks for Kids Protein Powder
Whether you have a picky eater who won't eat high-protein foods, or you are looking to give your child a nutritional boost, check out these top protein powders for kids. 
We looked for protein powders that contain ingredients that aren't harmful to kids' growing bodies. We had our kids give these a try, so we weren't about to even try something that might not be good for them.
All of these passed our initial no-nasty-ingredients test.
DISCLAIMER: Many of the protein powders on this list will be labeled with adult serving sizes. Make sure to adjust accordingly to ensure your child is getting the right amount of protein.
These are the 10 kids protein powders that made the cut! (Plus what we liked and didn't like about each one.)
---
1. Source Organic Premium Pea Protein Isolate
The ingredients are as simple as the packaging. It contains only 1 ingredient— organic yellow pea protein isolate.
It is gluten-, soy- and dairy-free as well as suitable for vegans and vegetarians. It has no sugar, no preservatives, no artificial anything. Just simple clean protein.
It is strongly suggested you mix it into a fruit smoothie or juice, because our kids pretty much hated the flavor. The flavor isn't strong, but not pleasant on its own. 
They accepted this protein happily when we mixed it with fruit into a smoothie. This protein powder easily mixes into drinks and smoothies without clumping – a win for those who want an easy plant-based protein powder for kids.
What We Like:
Organic, gluten-free, dairy-free, and soy-free
Suitable for vegans and vegetarians
Only 1 ingredient
Blends easily into smoothies and drinks
What We Don't Like
Expensive
Must be mixed into a fruit smoothie or drink for kids to drink it at all
---
2. Grass-Fed Whey Protein Isolate
This unflavored protein powder contains just 2 ingredients: whey protein isolate and less than 1 percent of non-GMO sunflower lecithin.  That's it.
We like the sunflower lecithin because it keeps the powder from clumping but it's also great for kids' brains! Sunflower lecithin is pretty much a superfood on its own, so adding it to our protein drinks is a win-win.
This whey protein isolate is made from milk from hormone-free grass-fed cows. Kids will not only get a healthy dose of protein but calcium and vitamin A as well.
The powder mixes easily into our kid's favorite smoothies and drinks. They like this one. It can also be added to favorite recipes like pancakes to amp the nutrition in things they already eat. 
Since it is unflavored, it is more versatile than other protein powders.
What We Like:
Only two ingredients! No sugars, sweeteners, or preservatives
Gluten-free and non-GMO
Unflavored making it versatile to put in virtually any drink, smoothie, or food
Made from milk from grass-fed hormone-free cows
What We Don't Like:
Takes a while to mix into drinks – a mini blender or whisk works best
---
3. Bare Necessities Kids Shake Vanilla Bear
Kids not only love the taste, but you'll love the fact that it contains no artificial sweeteners, colorings, or preservatives. It also includes 11 vitamins and 5 grams of fiber.
This protein powder features pea protein and collagen protein. It does contain 5 grams of coconut palm sugar but is gluten-, dairy- and soy-free. All ingredients are organic and do not contain any GMOs.
One scoop will provide 10 grams of protein and can be easily mixed in smoothies, yogurt, or in dairy-free milk of choice.
Our kids really liked the taste of this one which made it easier to give them regularly – we don't have to use it in a recipe to get them to drink it.
What We Like:
Kids love the vanilla taste
All organic and non-GMO ingredients
No artificial sweeteners, colors or preservatives
10 grams of protein per serving
Gluten-, dairy- and soy-free
Suitable for kids ages 2 and up
What We Don't Like:
---
4. Orgain Organic Plant-Based Vanilla Protein Powder
One serving of this protein powder will give you 21 grams of plant-based protein that comes from peas, brown rice, and chia seeds. 
This one has zero sugar, so it is a healthy protein powder choice for the kids. Some of the protein powders they liked better had a little added sugar, but then we didn't want to give it to them as much. So this one is a better choice.
This organic protein powder is soy-free, gluten-free, and vegan. It contains no GMOs and is naturally sweetened with stevia. It also is a good source of fiber and has 5 grams per serving.
A serving size is 2 scoops, making it easy to cut a serving in half for your child.
What We Like:
Plant-based protein for peas, brown rice, and chia seeds
No artificial ingredients
Has 5 grams of fiber in it
Gluten-free and soy-free
Contains no sugar – sweetened by stevia
Good vanilla taste
Mixes well into drinks and smoothies
What We Don't Like
Might be a little too sweet for some – but not our kids. 😉
---
5. Garden of Life Raw Organic Protein, Vanilla
If your little one has a sensitive tummy, this particular protein powder has probiotics to make digestion a little easier.  It's also full of vitamins including Vitamin D, Vitamin A, Zinc, Iron, Vitamin E, and more.
We are big fans of Garden of Life products, and this protein powder for kids is no exception. It's like a healthy feast for the body in each scoop.
The ingredients list might seem a little daunting to look at, but it contains all organic, natural ingredients. 
The 22 grams of protein per serving comes from a variety of plant-based sources including pea, brown rice, various grains, chia, and others.
It also has a variety of probiotics and enzymes (3 billion CFUs) to help your little one digest this powder. If you have kids with constipation problems, we recommend trying this at least for a little while to see if it helps. The probiotics in this are awesome.
Honestly, when we mixed it in water, this protein mix flavor wasn't a huge hit, but blended into smoothies it worked great. That takes a little more work, but it's also a good opportunity to add a real health kick to the kids' diet.
What We Like:
No sugar, dairy, or soy
Vegan-friendly
Contains probiotics for easy digestion
Organic and non-GMO
Contains vitamins such A, D, E, and K
What We Don't Like
The kids say it's yucky unless we mix it in a smoothie recipe
---
6. Optimum Nutrition 100% Whey Protein Powder, Double Rich Chocolate
You don't need to be looking to increase muscle mass to take this protein powder.  This whey protein powder is great for kids and it's really quick and easy to mix up.
Even the pickiest eater will love the double chocolate flavor all while getting the protein their growing body needs.
One scoop of this powder is packed with 21 grams of protein and only 1 gram of sugar per serving.  
We don't love that it does contain some artificial flavor, but for the extra picky eater, this chocolate taste might win them over.
What We Like:
Packed with protein in one scoop
Tasty chocolate flavor kids will love
Only 1 gram of sugar
What We Don't Like:
Contains artificial flavor
---
7. Nutiva Organic Hemp Protein Hi-Fiber Powder
Looking to add more fiber as well as protein into your child's diet? Then this protein powder might be the right one for your child. Nutiva Hemp Protein Powder contains 12 grams of fiber and 11 grams of protein per serving.
This is another 1-ingredient wonder, as this protein powder contains no sugar, no preservatives, and no sweetener.  Just organic hemp protein. It is also high in zinc, magnesium, and iron.
We all thought it was a bit gritty, but it tasted okay. If your child needs more fiber and you want to go plant-based, this might be a really good pick.
Our only suggestion is to mix well.  The blender was necessary for mixing to avoid the potentially gritty texture.
What We Like:
Hempseed is sustainably farmed
High in fiber
Contains zinc, magnesium, and iron
Dairy and sugar-free
Can be added to hot and cold foods and drinks
What We Don't Like:
Can be gritty so be sure to mix well or use a mini blender
---
8. Sunwarrior Warrior Blend Protein Powder, Vanilla
Is your child ready to release their inner warrior? Then check out the Sunwarrior Protein Warrior Blend. This plant-based organic protein powder has what your little warrior's body needs and none of the artificial stuff it doesn't!
Just one scoop of this protein powder has 18 grams of plant-based protein.  The protein blend consists of pea protein, hemp protein, and goji berry. 
It contains no sugar but does contain stevia extract for a touch of sweetness. Our kids liked the flavor of this one pretty well. It mixed well in dairy and non-dairy milk, and was easy to mix into smoothies.
What We Like:
The plant-based protein blend is all-natural and organic
Taste great in drinks and smoothies
No sugar or additives
Vegan- and vegetarian-friendly
Gluten-, soy- and dairy-free
What We Don't Like:
Contains more sodium than others on this list
---
9. Levels Whey Protein
This is another whey protein that sticks to only two ingredients: whey protein and sunflower lecithin. The whey comes from pasture-raised grass-fed and hormone-free cows.
Each 1-scoop serving contains 25 grams of protein.  This protein is unflavored and very versatile and can be put in everything— smoothies, oatmeal, cookies, pancakes, and more.
We felt this protein powder was really good, and we love that it's a clean whey protein. It was easy to use when cooking and also mixed into the kids' chocolate milk easily.
What We Like:
Works well in virtually anything— pancakes, cookies, bars, and more
Packed with protein in just 1 scoop
No sugar, gluten, or GMOs
What We Don't Like
---
10. Naked Casein
You wouldn't mind having this protein powder with your kids. Naked Casein contains one ingredient, micellar casein, which means no sugar and no artificial anything.
This casein in this protein powder comes from a farm in the United States. It contains no hormones and is soy-, gluten- and GMO-free. 
The taste is neutral and worked great when blended into smoothies, but don't try serving this up in the water. We made that mistake. It was chalky and gross and we had a rough time getting the kids to try it again in milk.
It mixes well into smoothies and baked goods (kids gobbled them up and never knew) and provides a whopping 26 grams of protein per serving, which is 2 scoops – more than kids need, so cut it in half or less.
What We Like:
Only 1 ingredient
Serving size can be easily halved
Non-GMO and gluten- and soy-free
What We Don't Like:
Expensive
Chalky taste and texture, so it's best when mixed into recipes or smoothies
---
Frequently Asked Questions
Q: Can my child have too much protein?
A: Yes! Too much protein in your child's body can make their kidneys work overtime and potentially make kids dehydrated.  If using a protein powder supplement for your child, be sure not to give them too much and stay within the recommended range of protein which as previously mentioned is 1 gram of protein for every 2.2 kg of body weight.
Q: My child doesn't like shakes or smoothies.  What else can I put protein powder in?
A:  While a go-to for protein powder is to make a protein shake or smoothie, most protein powders are versatile enough to add to many more things! Here are some ideas:
Add a scoop to your child's yogurt or pudding.
Add it to waffle or pancake batter.
Make protein balls. (Here's a recipe!)
Add a scoop to cookie or muffin batter for protein-powered treats!
Mix into your child's oatmeal.
Q: At what age can kids have protein powder?
A: Kids aged 4-13 may have small amounts of protein powder, though most don't need it if they're eating a balanced diet, especially one that includes dairy and lean meat. Be sure to not give them too much, because it can be hard on their bodies.
Bottom Line
Choosing the best protein powder for kids along with knowing the correct amount of protein your child needs is essential if you want to add it to their diet. Sticking with a protein powder with as few ingredients as possible and no added sugars or artificial ingredients is key.
For this reason, our top pick is the Source Organic Premium Pea Protein Isolate. It is only 1 ingredient, organic, non-GMO, and suitable for virtually all diets. It mixes well into a variety of smoothies, drinks, and food providing the protein your child's growing body needs.