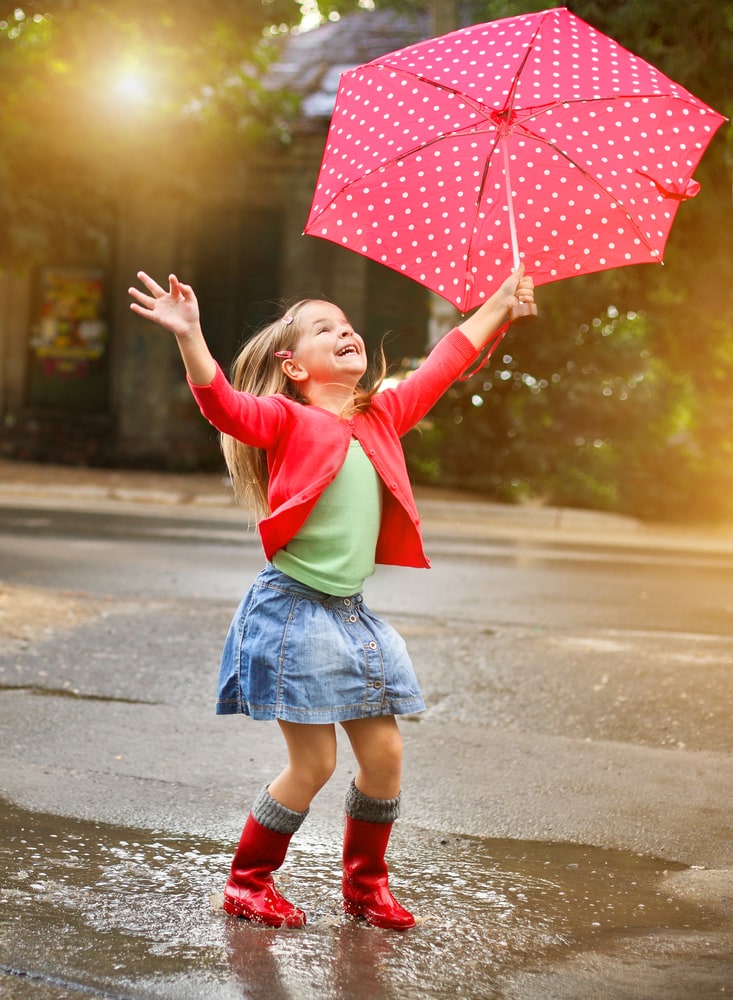 Wellies, galoshes, puddle jumpers, whatever you want to call them, having a pair of rain boots in your kid's arsenal not only makes rainy days more fun but it also is a better choice than using their everyday footwear. Sneakers and regular boots aren't waterproof and can be damaged or prematurely wear by all that splashing around. And let's face it, what kid doesn't love splashing around in puddles on a rainy day?
Wet feet are not only uncomfortable but can lead to blisters as well as some serious complaints about their squishy, soggy feet. Luckily, you don't have to spend a fortune to find a great pair of rain boots for your little one.
If you are searching for the best rain boots for kids, look no further. We've narrowed it down the 10 best. And trust us, there is a boot for every rainy day, every style and every kid on the list.
But before we get to the list, let's take a look at how you and your child should care for rain boots so you'll have them for many rainy days to come.
IN A HURRY? HERE'S OUR TOP PICKS…
Getting a long life out of the rain boots
While rain boots don't need too much in the way of special care, here are a few things to consider to get the longest life out your child's rain boot.
Do not dry rain boots in the sun or by a heat source. Putting boots in direct sunlight or near a heater can cause the rubber to shrink, crack or warp. Allow them to dry in a cool spot that is out of direct sunlight.
Give rain boots a good cleaning ideally after every use. Give them a rinse to get the mud and any debris off the exterior of the boot is a good idea. However, for extra muddy, messy rainy days, you'll need to do a little scrubbing. (We'll go over how to clean rain boots in just a minute.)
Have your child wear socks with the rain boots. Rain boots can get stinky, especially if your child doesn't wear socks with them. Make sure your child puts on socks every time he or she wears them.
Allow boots to dry after each use. If your child's rain boots get really soaked, insert some crumpled up newspaper into the boot to absorb some of the moisture.
Cleaning Rain Boots
Doesn't rain clean rain boots? Not quite. For the most part, you don't need to scrub your boots constantly, but from time to time, especially after a muddy puddle jumping session, your rain boots may need a good clean.
To clean rain boots you will need the following:
A spray bottle
Dish soap
Water
A couple of rags and/or a scrub brush
First, add water and a teaspoon of dish soap to a spray bottle and shake until combined. Next, spray down the outside of the rain boots and let sit for a few minutes so the soap can work at loosening up the dirt.
Starting from the top of the rain boot, use a rag or scrub brush to remove any of the stuck on dirt, working your way down to the sole. With the second clean dry rag, dry the boots or allow them to completely air dry.
Best Rain Boots for Kids
It's time to see which boots made the list. There's a boot for every budget and every age on this list. Some are more of the classic rain boot design while others are a little warmer or extra durable to stand up to more than just rain.
Keep reading to see which rain boots made the cut!
---
1. Hunter Kids Classic Rain Boot
This rain boot is as the name states— a classic. This super durable, simply designed rain boot is made of vulcanized rubber and can hold up to plenty of puddle jumping.
The opening on this boot is a little wider making it easier for kids to get on and off. This rain boot is available in sizes for toddlers and kids, but note that they come in UK sizing, so you will need to take a look at their sizing chart before buying.
Likes
Durable vulcanized rubber.
Classic design comes in 4 colors.
Wider opening for easy on/off.
Sizes for toddlers and kids.
Dislikes
Depending on the child's legs, the opening might feel too wide.
---
2. OAKI Kids Waterproof Rain Boot
Looking for something super affordable and super cute? It's hard to deny how fun these OAKI rain boots are. They come in plenty of design choices that kids will love including polka dots, construction vehicles, fairies, forest animals and more.
The durable rubber is fully waterproof and the lining is made of comfy cotton, however, some users reported that with some extensive wear the lining began to rip away from the exterior. For kids looking to wear their rain boots often or go on some serious watery adventures, you might want to look at another boot.
Likes
Sizes for toddlers and kids
Waterproof durable rubber material.
Cute design choices.
Lining keeps feet water and comfy.
Dislikes
Lining may start to peel from the sides with a lot of wear.
---
3. Crocs Kids' Handle It Rain Boot
Easy on, easy off is the name of the game with the Croc Handle It rain boots. They are also lightweight which means kids feet won't feel heavy while they are running around.
As you can expect from Crocs, these rain boots can take a beating. The durable rubber can withstand any surface and provide the traction kids need to prevent from falling on slippery surfaces. Kids can choose their favorite color since this boot is available is a ton of bright and fun color options.
Likes
Durable, lightweight rubber.
Handles make it easier for kids to get on and off.
Comes in lots of color choices.
Dislikes
Can cause blisters if not worn with socks.
Runs small.
---
4. UGG Kids K Kex Sparkle Rain Boot
For the girl who wants to sparkle while she splashes, these rain boots by UGG will not only keep her feet dry but comfortable too since they have insole made of UGG's signature wool. And the handles make it easy for her to get on and off by herself.
The rain boots are made of rubber and have a sparkly wool shaft. But all this style and function comes with a higher price tag.
Likes
Stylish sparkly boot girls will love.
Comfy wool insole.
Durable waterproof rubber.
Handles make it easy to get on and off.
Dislikes
---
5. Carter's Kids Rain Boot
If you are looking for a shorter rain boot, these rain boots by Carter's let kids run and splash without having the boot higher up on their leg. Kids will also like the simple but cute kitty design.
The tab located on the back makes slipping the boot on easier. The outsole is thick and protects kids feet from anything underfoot as well as provides traction on slippery surfaces. And to top it off, it comes at an affordable price that fits most parents' budgets.
Likes
Shorter design.
Cute kitty design.
Thick durable outsole provides good traction.
Affordable.
Dislikes
---
6. Sperry Saltwater Rain Boot
Just like mom and dad, the kid's Sperry Saltwater rain boots can take on any terrain and are great in the rain or shine. These zip-up boots have the same rawhide laces, synthetic leather and rubber material as the adult version for that classic Sperry look.
The Sperry Saltwater rain boots are also as comfortable as they are stylish. These are another pricey option but can be worn more than just when it's raining, which makes them a better value than a traditional rain boot.
Likes
Durable synthetic materials.
Classic Sperry look.
Easy zip-up closure for secure fit.
Comfortable.
Dislikes
---
7. LONECONE Rain Boots
These 3-season rain boots are another fun boot with plenty of design options that kids will love. Kids can choose from designs like space shuttles, campfire critters, unicorns, sloths, sharks and much more.
The non-slip tread allows kids to play on slippery surfaces and the waterproof rubber does a good job at keeping water out and feet dry. The comfy cotton liner is soft and helps keep kids feet warm on cooler days. And of course, for the independent kid, the handles make slipping onthese bootst a breeze.
Likes
Plenty of super cute design options available.
Non-slip tread provides good traction on slippery surfaces.
Affordable price.
Comfortable liner.
Dislikes
May not hold up to frequent wear.
---
8. Stonz Natural Rubber Rain Boot
What makes the Stonz rainboots unique is that they are made from an all natural rubber and were manufactured without any harmful additives. The coloring of the rain boot comes from lead-free paint and even the glue is formaldehyde-free.
The rubber is soft and allows kids feet to move more naturally than other rain boots. The cotton lining dries quickly and keeps feet comfy and dry. For extra warmth in colder months, a velour-fleece liner can be purchased separately.
Likes
Comes in a variety of colors.
Not made with harmful chemicals or additives.
Quick drying comfy cotton lining.
Classic design.
Dislikes
Runs big.
May wear prematurely with frequent use.
---
9. Bogs Kids Classic Waterproof Insulated Rain Boot
If you are looking for something a little warmer that can withstand rain and snow, this is the boot for your child. These insulated boots keep kids feet warm and dry down to -30 degrees!
The four-way stretch synthetic upper is snug around the calf to prevent water and snow from getting as well as keeping legs toasty warm. The handles make getting the boot on easy too. All this insulation and material does make the boot a little heavier but might be worth the trade-off for kids in colder climates.
Likes
Good for rain and snow.
Insulation keeps feet comfy down to -30 degrees.
Four-way stretch snug on calf.
Durable rubber provides good traction.
Dislikes
---
10. Capelli New York Rain Boot
Thanks to the durable rubber handles, toddlers will have no trouble slipping on these rain boots. The straight forward design compliments the straight forward affordable price.
They come in plenty of neutral colors like black, blue and grey and are available in 3 sizes— 4/5, 6/7 and 8/9. A liner for extra warmth can be purchased separately.
Likes
Classic design in neutral colors.
Affordable price.
Can be worn with a liner (sold separately).
Easy for toddlers to put on.
Dislikes
---
Frequently Asked Questions
Q: What are those white powdery marks on my kid's rain boots?
A: The white powdery substance on a pair of rubber boots is called a bloom. It is pretty common and happens on natural rubber boots usually when exposed to hot and humid air. The bloom is not harmful, but for aesthetic reasons, you may want to remove it, which is simple to do.
Start with a clean rain boot. (See the "Cleaning Rain Boots" section above on how to clean a rain boot.) To remove the white bloom simply put a small amount of olive oil onto a clean cloth and rub it on the boot in a circular motion.
Just be sure not to apply any oil to the sole of the shoe. (You don't want to slip!)
Check out this video for more on cleaning the bloom off rubber rain boots:
Q: My child's rain boots stink! How do I clean the inside of the boot?
A: For extra stinky boots, fill a spray bottle with a solution of equal parts water and vinegar. Spray the inside of the shoe and wipe it down with a cloth. Allow the interior to completely dry in a cool spot. (Remember no heat or sun!)
The Takeaway
When it comes to the best rain boots for kids, it's hard to go wrong with a Hunter Rain Boot. Just like the grown-ups, this classic rain boot is durable and will provide the protection your child needs to run, jump and play in the rain. For those on a tighter budget, consider the OAKI rain boot. The fun design choices and lower price tag make it a win-win for parents and kids.