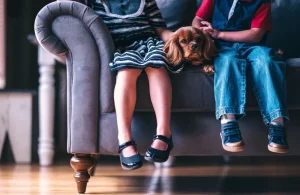 Is your child complaining that their feet and/or ankles hurt? Have you noticed that your child is walking a little, differently? Muscle fatigue, foot pain, and a change in their walking pattern (i.e. their ankle rolls inward while they walk) could be caused by flat feet.
Here are our 3 favorite shoes for kids with flat feet. Our 1st pick is the New Balance Kid's 997H V1 Lace-up Sneaker for overall style and orthotic support. Our 2nd choice is the Adidas Originals Swift sneaker. Our 3rd favorite is the Merrell Jungle Moc Frosty Slip-On.
Before we get to the full list, here's what you need to know about flat feet including how to find out whether or not your child has flat feet, and ways to treat pain caused by flat feet (other than choosing the appropriate footwear).
Flat Feet in Children
First of all, don't worry. Having flat feet is pretty common. Genetics can play a major factor in whether or not a child will have flat feet. (That's right, mom and dad. If you have flat feet, your child may have it, too.). As a matter of fact, 1 in every 5 children will have flat feet throughout the remainder of their lives!
Another cause of flat feet is obesity. If a child is unhealthily overweight, the more weight they put on their frame, the more pressure is placed on their feet, resulting in the arch physically flattening and altering shape.
Technically speaking, we are all born with flat feet (though it ideally shouldn't last throughout our entire lives). If you look at babies' and toddlers' feet you'll see that they lack an arch and that their feet are exceptionally soft.
For most people, an arch will form during childhood, doing away with the soft, flat, squishy feet and building stronger foot bones and arches. This process will begin at the age of 3 and your child's feet arches will be fully developed by the age of 6.
However, some people will continue to have flat feet.
No special treatment is necessary for flat feet that aren't bothersome. But if your child does have flat feet and is over the age of 6, it's a good idea to go visit their doctor or a podiatrist, especially if pain is a factor.
How to Tell if Your Child Has Flat Feet
If you are trying to figure out whether or not your child has flat feet, there is a simple experiment you and your child can perform to see if he/she does have flat feet. It's called the "Wet Test."
You will need a piece of cardboard bigger than your child's foot and a dish of water (or bathtub) that your child can dip the bottom of their foot in.
First, have your child dip their foot in the water. Make sure it isn't dripping wet. Shake off the excess if needed. Then have them quickly step firmly on the piece of cardboard.
When they remove their foot examine their footprint. If there is no clear curve from the heel to the ball of the foot, your child may have low arches or flat feet.
For a demonstration on how to perform the Wet Test, check out this video:
If you are still aren't sure, a podiatrist can perform a gait analysis to see if your child does have flat feet.
Treating Flat Feet
Like we mentioned before, if your child isn't experiencing any pain, no treatment is necessary to address flat feet. However, if your child has flat feet and is complaining about foot or ankle pain or fatigue, it may be time to consider a treatment option.
Some symptoms can be heel or arch pain, ankle swelling, muscle fatigue, or pain that increases when they are performing physical activity.
Some treatment options for pain caused by flat feet include:
Choosing shoes that provide arch support. That means avoiding footwear such as flip-flops and sandals.
Using orthotic inserts for additional arch support.
Physical therapy.
Stretching and strengthening exercises for the feet.
Losing weight. (For flat feet that are caused by obesity.)
Rest. Especially from strenuous, high-impact activities such as running and jumping.
A Word on Overpronation
Children with flat feet will overpronate when they walk or run. But what is overpronation? And what does it mean when it comes to flat feet?
Overpronation is when the ankle of a person rolls inward when walking or running.
Many children and adults have some level of overpronation, but those with flat feet tend to have an excessive amount of overpronation which can lead to foot, ankle, knee, or even back pain.
Addressing flat feet with orthotic inserts and/or shoes with sufficient arch support will prevent your child's feet from overpronating. But again, check with your child's podiatrist first before adding insoles to your child's shoes.
Choosing Shoes for Kids With Flat Feet
When it comes to choosing the right shoes for your child with flat feet, there are few things to keep in mind in order to get the right fit, support, and comfort.
Arch support. This is the #1 thing you are going to be looking for. Avoid shoes that have no arch support and stick with shoes that will provide your child's foot with a good level of support. Flat feet don't provide the same support as feet that arch naturally, so you'll need to find shoes that will provide this support, instead.
Comfort. Arch support should provide a level of comfort, but also make sure the shoe is made of a comfortable and preferably breathable material to keep their feet cool and dry.
Traction. Kids are active and the shoes they wear need to have a grip on whatever surface they encounter. Take a look at the outsole (bottom of the shoe) and make sure it is made of durable rubber and has some sort of tread to grip the surface.
Sizing.

Not all shoes have the same sizing. Make sure to refer to the brand's sizing chart to get an accurate fit. There should be a thumbs-width of spacing between the longest toe and the top of the shoe. Also consider if your child's feet are a normal width, a wide width (which is common with flat feet), or a narrow width, as this will affect sizing and comfort, as well.
This guide may be helpful in determining if your child has wide or narrow feet.
Best Shoes for Kids With Flat Feet
You'll be familiar with most of the brands on this list, and for those moms and dads who have flat feet, too, you might even want to consider the adult size for yourself.
Read on to find out our top 10 picks for the best shoes for flat feet kids!
---
1.

New Balance Kid's 997H V1 Lace-up Sneaker
These are our hands-down top pick for arch support shoes for kids. They're comfortable, have superior arch support, and come in fantastic colors.
We love that New Balance offers these shoes in wide width sizes as well, so if your child has wide, flat feet, these shoes will be perfect.
We also have an article on the best shoes for kids with wide feet if you're wanting those as well.
They only have lace-up shoes, which can be hard for some kids to put on, but we like them because the laces keep the shoes in place so the foot gets the instep support it needs.
Keep in mind that there are so many shoe types and sizes that they may not be available in stock, as I have found that often the size I'm looking for is unavailable at the moment I look.
Who are these shoes for:
These shoes are for children aged 6+ (likely) who know how to tie their shoes already with laces…or parents who like to tie shoes when going out.
For the person who has a little more disposable cash – these shoes are more likely in the $55+ range.
These are running shoes for youths, best for the active runner in your life, they're not built for hard gravel scuffing (which the Merrell shoes we have below would be better)
What We Like
Fantastic arch support for kids
Comes in tons of colors
Great look for athletic or streetwear
High quality – our kids outgrow them before the sneakers wear out
Leather and mesh upper protects the feet from bumps while providing good airflow
What We Don't Like
These shoes aren't dressy at all, so we still have to get arch support dress shoes
The mesh panels help with airflow but the shoes are still a bit hot
Not all-weather thanks to the mesh panels
2. Adidas Originals Swift
These stylish lightweight shoes from Adidas are exactly what you'd expect from the brand— a classic good-looking design and a high-quality shoe that will live up to plenty of miles and wear and tear at the playground. For kids with flat feet, it'll give them the support they need.
The EVA midsole and OrthoLite sock liner provide plenty of comfort and support for casual wear and activewear. The sock liner also wicks moisture (aka sweat) away from kids' feet keeping them cool and dry.
The comfy Agility Touch Skin upper doesn't just look good, but it feels good too. It conforms to your child's foot for a sock-like fit which means no break-in time.
As you can expect from Adidas, these shoes will cost a little more. But pain-free, comfortable footwear is worth every cent.
What We Like
The lightweight shoe is comfortable and supportive.
Agility Touch Skin upper conforms to a child's unique foot shape.
A durable rubber sole provides good traction for physical activities.
Comes in plenty of colors for boys and girls.
Available in sizes for toddlers up to big kids.
What We Don't Like
---
3. Merrell Jungle Moc Frosty Slip-On
Perhaps you are looking for something durable and rugged that's not a sneaker. Then check out the Merrell Jungle Moc Frost slip-on.
It features a nylon arch shank to support little one's arches and the slip-on design means kids can get these on fast and easy. This is a favorite for our older son who doesn't want to take the time to lace shoes on.
The suede upper on this shoe is treated with Merrell's M-Select Dry to make it fully waterproof.
The aggressive tread on the sole provides good grip on rough, bumpy terrain, making this shoe great for hiking and other outdoor adventures.
We prefer lace-up or Velcro shoes for hiking and running because they provide more reliable arch support, but for general everyday wear and walking these ones are very supportive.
Available in sizes for toddlers to big kids, these shoes are comfortable and can even withstand cold temperatures. These shoes are available in only two colors: black and dark pink, which they call "wineberry".
What We Like
Comfortable and supportive.
Fully waterproof. Can even use in winter.
The lugged outsole makes these shoes great for rugged terrain.
Easy to slip on.
Nylon arch shank provides good arch support.
What We Don't Like
Come in only two colors.
Expensive.
---
4. New Balance Kids' 680v5
The injected molded EVA midsole in the New Balance 680v5 provides kids with solid arch support. Along with the ABZORB crash pad in the heel, the midsole absorbs shock no matter how rough they play.
These shoes passed the test with our kids because the surprisingly lightweight sneaker has a breathable mesh upper that provides structure and another layer of support.
The synthetic outsole provides enough grip for running as well as other court sports and even light hiking.
Perfect for athletic kids or everyday wear, the New Balance 680v5 comes in plenty of bright colors for both girls and boys.
What We Like
The injected molded EVA midsole is very supportive.
ABZORB crash pad in the heel absorbs shock.
Breathable mesh upper keeps kids' feet cool.
Great for sports.
Good for kids with wider feet.
What We Don't Like
Runs a little big. May need to size down.
---
5. Saucony Kids Cohesion 10
This running shoe for kids by Saucony is cushy, supportive, and will have them flying in no time. The Cohesion 10 provides kids stability for everyday wear as well as for sports and other physical activities.
The durable leather and mesh upper allows for plenty of airflow while the lining of the shoe is made of an antimicrobial material, which means no stinky shoes.
The strategically placed tri-flex rubberized lugs on the outsole provide the grip kids need to run, jump, and play on any surface.
The Saucony Cohesion 10 is available in plenty of fun color choices for kids to choose from. This shoe has laces but is also available with or without a Velcro strap – a bonus for our kids.
What We Like
Super cushy, but supportive and stable shoe.
Bright fun color choices to choose from.
Durable mesh and leather upper is breathable.
Tri-flex rubberized lugs provide traction on any surface.
Choice of with or without a Velcro strap.
What We Don't Like
The velcro strap doesn't hold up to a ton of use.
---
5.

TSUKIHOSHI 3570 Youth Storm Sneaker
You're probably starting to see a trend, right? We have found that because of the design and construction, sneakers are going to provide kids with the right amount of support and comfort.
While the name might not be familiar to you, we found these sneakers by Tsukihoshi are a great choice.
The Tsukihoshi Youth Storm sneakers are super lightweight and flexible, allowing kids' feet to move naturally and not be weighed down. The molded cup insole in this shoe provides support for children's unique arches.
We love that ALL Tsukihoshi shoes are designed with orthopedic specialists to ensure that they help your child's feet develop properly. They have the right amount of toe room, super supportive arches, and can be paired with orthotics.
To make these shoes even better, they're machine washable.
What We Like
Designed specifically for children's feet.
Molded cup insole provides good arch support.
Odor-resistant antibacterial insole.
Machine washable.
What We Don't Like
The shoes run large, so take measurements of your child's feet and use them to order.
They're quite expensive, but they really are worth it.
---
6. Pediped Becky Mary Jane
Looking for something a little fancier?
For the flat-footed little lady who needs something for special occasions, the Pediped Becky Mary Jane has been approved by the American Podiatric Medical Association to keep kids growing feet happy and healthy.
This shoe features Pediped's Flex Fit System which are special inserts that can be inserted or removed in order to provide your child with the correct fit she needs as well as allow the shoe to last a little longer with her ever-growing feet.
These shoes also have cushioned arch support and a rubber sole, both of which are flexible and keep feet super comfy.
Need something for everyday wear? These will work great too! Our little princess wears these pretty much every day and they're holding up great.
What We Like
Cushioned arch support is comfortable and supportive.
Classy design for fancier occasions or everyday wear.
Flex Fit System allows you to customize fit and prolong wear.
Flexible, durable rubber outsole.
What We Don't Like
Will require some breaking in – they're uncomfortable around the edges at first.
---
7. KEEN Chandler CNX
We love KEEN shoes because they're robust and protective. These ones are suprisingly affordable as well!
The KEEN Chandler CNX is another tough shoe that will take on any adventure while providing your child and their flat feet with the comfort and support they need.
The breathable lightweight mesh upper won't weigh down kids' feet and the contoured arch provides plenty of support and stability.
Kids can get this shoe on quick and easy with the elastic quick tying laces. The lugs on the outsole are multidirectional which means rocks, roots and other obstacles are no match for this shoe.
It'll provide the traction they need no matter where they go— mountains, trails, jungles, or even the wild playground!
What We Like
Contoured arch support works great for kids who need extra support.
Quick-tying laces make getting shoes on and off easily.
Multidirectional lugs provide traction on any terrain, even ice.
Rubber sole is grippy and safe for running around.
Lightweight, breathable upper keeps feet cool.
Color combinations for every taste – boys and girls!
What We Don't Like
We found that the laces wear out quickly and had to be replaced.
---
9. Birkenstock Kids' Arizona Sandal
We know that kids don't want to be wearing sneakers all the time, especially in the hot summer months. And with these sandals, they don't have to!
We don't recommend sandals of any kind for regular wear because they don't support the foot as well as a good sneaker with arch support. However, when the kids want sandals, these ones have a heel cup and arch support that work.
These classic sandals by Birkenstock will provide the arch support your child needs at the beach, the pool, and everywhere in between.
Just like mom and dad's Birkenstocks, these sandals have a contoured cork footbed with a deep heel cup that is both supportive and surprisingly comfortable. The straps can be adjusted for a better fit.
The one downside? They aren't cheap. But they can take a beating, plenty of wear, and provide the comfort little feet need.
What We Like
Deep heel cup and contoured footbed provide arch support
Straps can be adjusted for a better fit
EVA outsole provides extra cushioning
Very durable, long-lasting
What We Don't Like
Expensive
Don't support the foot as well as good sneakers
---
10.

Memo Polo Ankle Support Children's Corrective Orthopedic Sneaker
Our last pick is for those looking for serious orthopedic sneakers that still look great.
When we were hunting for orthopedic sneakers for our kids we kept finding ones they didn't want to wear. These ones were winners. They look super cool, even though they don't come in a wide variety of colors.
The sole of the shoe is specialy designed to diagnose foot and posture problems by monitoring the wear on certain zones of the heel!
The upper is made of goatskin leather which is super expensive and so soft and luxurious. They look like they'll be stiff and uncomfortable, but they're not. They are super comfortable.
They can be fitted with custom orthotics as needed, and both the heel and insole are designed orthotically to encourage proper foot development. These are really special shoes.
What We Like
Goatskin leather upper is so comfortable and breathable.
The heel cup and arch support work simultaneously to encourage good posture and foot development.
Three fashionable Velcro straps hold the shoe on securely.
The Nonmarking rubber outsole has a good grip.
Can be paired with more arch support or orthotics as needed.
What We Don't Like
These shoes are really expensive, so they're really for those who need serious orthotic help.
The goatskin is softer but doesn't hold up as long as cow leather.
---
Frequently Asked Questions
Q: Does my child need surgery for flat feet?
A: Probably not. Unless there is another major underlying foot issue, flat feet do not require surgery. Consult your child's pediatrician or podiatrist to make sure any foot pain they are having is not caused by something else before experimenting with orthotic shoes.
Q: Does my child need custom orthotics or over-the-counter orthotics?
A: While the best kids shoes for flat feet on our list provide a great amount of arch support for kids with flat feet, it may not be quite enough for some kids. If that's the case your podiatrist may suggest a custom orthotic or over-the-counter insole.
Depending on your insurance, custom orthotics may or may not be covered. And for many parents, you may learn quickly how expensive custom orthotics can be. If that's the case, talk with your child's podiatrist to see if an over-the-counter insole will provide the arch support your child needs.
Q: How do I know if my child is wearing the right size shoe?
A: While purchasing a pair of supportive shoes is important for kids, making sure they are wearing the right size is just as important. Here's what you need to know when selecting the right size shoe for your child:
When trying on a shoe, have your child wear the socks they intend to wear with the shoe.
The shoe should have about a half-inch from the longest toe to the tip of the shoe.
Check to see if their pinky toe is pressed up against the side of the shoe. The pinky toe should have a little wiggle room and shouldn't be squished against the side of the shoe.
Make sure their heel is up against the back of the shoe when trying on the shoe.
Q: What is the difference between a midsole, insole, and outsole?
A: The midsole, insole, and outsole are three different parts of the shoe. The outsole, which is sometimes referred to as just the "sole," is located on the very bottom of the shoe. It is usually made of durable rubber and provides traction.
The midsole is located directly above the outsole. It is usually made of foam and provides cushioning arch support and stability. The insole is a removable piece that is placed on top of the midsole that provides some cushioning but also can wick away moisture.
For those needing additional support, the insole can be removed and replaced with an orthotic insole of choice.
Q: At what age does a child's foot arch develop?
A: Babies are born with flat feet. Most children will develop an arch in their feet while standing by the age of 6. Once your child reaches the age of 6, if you don't notice an arch, it's likely that they will have flat feet throughout the remainder of their life.
Q: How do you fix flat feet in children?
A: You can't "fix" flat feet in children. What you can do is provide well-fitting, supportive footwear that encourages the feet to develop properly. Children usually experience no pain with this foot shape, but if the ankles begin to tilt inward it can cause misalignment of the ankles, knees, hips, and spine.
It's better to have flat feet checked by a doctor regularly as they grow. If there are signs of an off-centered gait, orthotic shoes or inserts can be used to help maintain alignment.
Q: Do kids with flat feet need special shoes?
A: They don't necessarily need orthotics or inserts, but they do need supportive shoes. Choose shoes such as those we've recommended with a supportive heel and arch support. Pick shoes with laces or Velcro straps over slip-ons.
The Takeaway
Foot pain from flat feet is no joke, but fortunately, your little one doesn't have to suffer thanks to the development of special shoes for flat feet.
In this review, we've found plenty of supportive shoes that will help provide the arch support they need to alleviate foot and ankle pain caused by their flat feet.