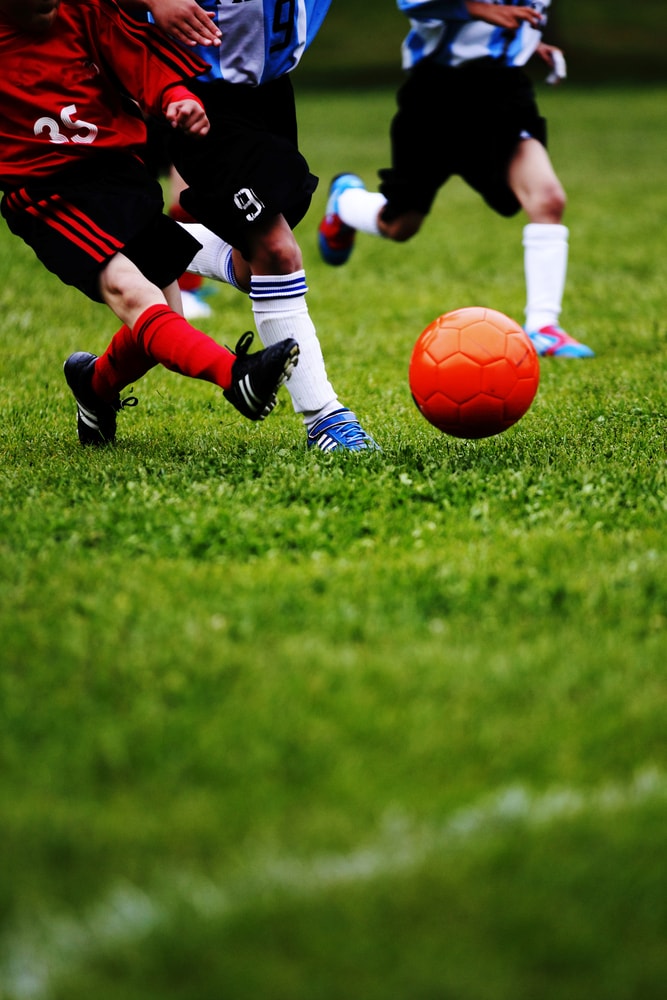 Your kids are all signed up and ready to play soccer, but before they head onto the field, they need the right shoes. Any ole sneaker just won't do.  Soccer shoes, or soccer cleats, are specially made to provide stability and traction on grassy fields, and in some case, indoor surfaces such as a gym.
There are a few things to consider before choosing a pair, like what type of surface they will be playing on, what you need to know about the sizing of soccer shoes and more. But we'll get into all that as well as our list of the 10 best soccer shoes for kids.
So whether they are indoors or out, on grass or astroturf, we've got a shoe for every soccer player.  Keep reading to find the best soccer shoes for kids!
IN A HURRY? HERE'S OUR TOP PICKS…
Types of Soccer Shoes
Before we get into the list, you need to know that there are several different types of soccer shoes.  Let's take a look at the most common types and which ones are best for kids!
Firm Ground Soccer Shoes. For most kids playing soccer, this is the type of soccer shoe you will want to get them.  They will provide the best traction on a variety of surfaces, especially grass.  The outsole has non-removeable rubber or PU studs that grip the ground.
Soft Ground Soccer Shoes. These particular soccer shoes are for players who intend to play on soft, muddy fields.  The cleats are longer and have metal tips to get better traction on the soft surface.
Hard Ground Soccer Shoes. As the name suggests, these work on fields that are hard but they also are good for playing soccer on artificial grass fields. The cleats are wide and short in order to provide good stability on harder surfaces.
Indoor Soccer Shoes. These shoes look more like "normal" athletic shoes. The outsole is flat and made of rubber to provide sufficient traction and comfort on hard smooth surfaces such as a gym floor.
While there are other types of soccer shoes out there such as hybrid soccer shoes and futsal shoes, the ones we just mentioned, especially the firm ground soccer shoes, are most likely the kind of soccer shoe your child will need for their soccer season.
Parts of the Shoe
It's important that every part of the shoe is not only comfortable but durable as well.  Let's take a moment to go over the parts of the shoe and what you should look for when choosing the right one for your child.
Upper
This part not only encompasses the outside upper material but the laces, tongue and even the inner lining as well.  The upper is important since it helps the player control the ball and protect your child's foot.
Some uppers will even be textured in order to get better control of the ball and can be made out of a variety of materials. (More on that in a minute.) The upper should be lightweight, but durable too.
The lining of the shoe should be made from a material that wicks moisture and will prevent kids' feet from getting overheated.
Midsole
The midsole of the shoe consists of the part under your child's foot.  It not only provides comfort but also supports the foot and absorbs shock.  On top of the midsole is usually an insole made of EVA foam for additional comfort and support.
Heel Counter
The heel counter provides additional support in the heel as well as overall stability.  It can be located either inside the shoe or on the outside of the shoe.
Outsole
The outsole is located on the bottom of the shoe.  For soccer shoes, this is where the cleats are and what provides traction on the field.
Depending on what type of shoe you purchase, such as firm ground, soft ground, etc., the cleats will look different. They can be bladed or conical and even have metal tips.
Upper Material: Synthetic V.S. Leather
There are pros and cons to each, but when it comes to young soccer stars, we suggest choosing a soccer cleat with a synthetic upper. Synthetic tends to be a little more lightweight, waterproof and durable.
While leather is a durable material, it can stretch out over time while synthetic material won't.  The upside to leather is because it does stretch you might get a little extra time between sizes. However, we think the support of a structured synthetic upper outweighs the extra time in between sizes.
Sizing
Keep in mind that when choosing a shoe, soccer cleats fit a little snugger than other athletic shoes do. The upper is more narrow to prevent your child's foot from shifting around while playing. It also gives soccer players better control of the ball.
When it comes to the length, a soccer shoe should have no more than a ½ inch space between the front of the shoe and the big toe.  While the shoe should not be touching the toes, there should be very little space in between.
Also when trying on the soccer cleat, be sure that your child is wearing the socks they intend to wear while using the shoe to get the most accurate fit.
Comfort
While it's important that the soccer shoe fits on your child's foot, it's also important that it is comfortable.  Buying the right size is a good start, but it's also important to find a shoe with a comfortable midsole.
The midsole is usually made of some sort of foam, such as an EVA foam, and provides cushioning, shock absorption and ultimately, comfort underfoot.  But more does not equal better.
The midsole material should support your child's foot and not be too overly cushioned.  The best way to see if the midsole is comfortable is to have your child walk around and even, if possible, run around in the shoe to see if its comfortable.
The shoe should not feel too heavy or cumbersome and should be lightweight, fitted and supportive.
Best Soccer Shoes for Kids
Now that you know what to look for in a soccer shoe, it's time to look at which ones are the best soccer shoes for kids!  We've made sure to provide a few different types of soccer shoes depending on where your child is playing.
You'll notice the same brands pop up multiple times and for good reason. Luckily, and even despite some of the bigger brand names, there's a soccer shoe on this list perfect for your budget and your budding soccer star.
---
1. adidas Kids' Ace 16.4 FxG J
These firm ground shoes have a comfortable, lightweight synthetic upper that will provide a secure fit so your soccer player can concentrate on more important things like making a goal. The lining inside the shoe kept kids' feet dry and cool through the toughest and hottest game.
Adidas' Flexible Ground Outsole is made of flexible rubber and durable cleats that provide good traction and stability on both real and artificial grass as well as hard ground.  Also, no break in time is needed with these shoes. The soft upper won't give your child any blisters, and also features a thin film that prevents water and debris from getting in.
To top it off, these shoes look great too.  They have the classic three stripe adidas design and are available in multiple bright colors.
Pros
Debris-resistant and water-resistant film on upper.
Soft upper is comfortable and lightweight.
Classic adidas design is stylish.
Affordable price tag.
Cons
---
2. Nike Jr. MercurialX Victory VI CR7 Turf Shoes
Not only will your kid look cool on the field, but these shoes provide traction both inside and out.  The inside of the shoe features an anti-skid top cloth to keep your child's foot secure in the shoe, while the rubber cleats on the outsole will provide the grip your kid needs on turf.
The synthetic leather upper not only looks stylish but keeps feet snug in the shoe. The price is a little on the higher side, but the comfort and style may be worth the slightly higher price tag.
Pros
Very stylish design.
Anti-skid top cloth in shoes secures the foot in place.
Perfect for turf.
Synthetic leather upper provides a snug, but comfortable fit.
Cons
---
3. Under Armour Boys' UA Spotlight DL FG-R Cleats
You'll see them coming in this bright hi-vis yellow soccer cleat by Under Armour. The TPU studded outsole makes this soccer cleat perfect for absorbing shock and providing traction on firm ground turf.
The lightweight synthetic upper and lining are durable and comfortable, while the inside of the shoe also has a die-cut sock liner for additional comfort. These do run a little small and you may need to go a half size up for the right fit.
Pros
Comfortable sock-liner and synthetic interior.
TPU studs provide great traction on firm ground.
Durable upper is long lasting.
Good value.
Cons
---
4. adidas Kids' Ace 17.3 FG J Skate Shoe
Here's another one from adidas that's perfect for artificial turf and indoor soccer and provides some additional ankle support with the higher collar.
The upper is made of adidas' Primemesh knit which gives it a sock-like fit. Like the Ace 1.64, this adidas shoe features the super thin film that protects feet from water and debris.
While this shoe doesn't come in a ton of color choices, the black and blue as well as the all-white look great. However, as you can expect, the white shoes get dirty pretty quickly.
Pros
Sock-like fit thanks to the Primemesh knit upper.
The higher collar provides extra support and stability.
The coating on upper makes this shoe water-resistant and debris-resistant.
Good for both indoor and outdoor soccer, especially artificial turf.
Cons
They are white which means they'll look dirty pretty quickly.
---
5. Nike Jr Bravata II FG
This firm ground soccer shoe is as stylish as it functional, coming in a variety of colors for both boys and girls.  It has a unique micro-textured synthetic leather upper that not only gives it a cool look but helps kids to have better control of the ball.
The asymmetrical lacing is strategically placed as to not get in the way of the ball and the sock liner provides good cushioning for a comfortable ride. This durable and speedy soccer shoe is perfect for any serious soccer player.
Pros
Textured upper looks good and helps the player have better control of the ball.
Asymmetrical lacing gives a larger area to kick the ball.
Variety of color choices and a stylish design.
Comfortable sock liner.
Durable upper.
Cons
---
6. Vizari Infinity FG
If you are on a tight budget (or you can't keep up with the rate your child's foot is growing!) check out these firm ground soccer cleats.  They come in plenty of color choices and are very affordable.
The dimpled synthetic upper is durable and has an anti-stretch lining. The molded rubber outsole isn't quite as durable as other outsoles on the list and may wear prematurely, but that may be the trade-off for the lower price tag.
The simple design and affordable pricetag make this a great shoe for kids who are just starting out in soccer.
Pros
Bright colors to choose from.
Very affordable.
Anti-stretch lining and durable upper.
Great for beginners.
Cons
Not as long lasting as the other cleats on the list.
---
7. adidas Nemeziz Messi 17.3 FG J
The adidas Nemeziz Messi is a responsive soccer shoe with a snug fit. If you are looking for something with a little more stability and ankle support this is a great option.
The dual lock collar provides excellent ankle stability as well as the snug, sock-like fit. Because of this snug fit, kids will be able to move quickly and change direction swiftly with no problem.  The durable outsole holds up on a variety of surfaces but is made especially for firm ground.
The upper is made of a comfortable synthetic mesh, adidas calls AGILITY MESH. And to top it off, as you can expect from adidas, they look great too.
Pros
Snug fit makes for a responsive shoe.
Comfortable.
Great ankle stability thanks to the dual lock collar.
Durable upper and outsole.
Textured upper grips ball for good control.
Cons
A little difficult to get on.
---
8. Diadora Cattura MD Jr.
The Diadora Cattura MD Jr. is a super comfortable, reasonably priced shoe, and another great choice for kids who are just getting into to soccer.
The polyurethane upper is extremely durable and the midsole features a comfortable shock absorbing EVA foam. The mesh lining does a good job wicking sweat and keeping kids feet cool and dry.
It's available in sizes for 4-year-olds up to 12-year-olds and comes in plenty of color combos that your kid will love.
Pros
Good value.
Super comfy EVA foam insole.
Lining keeps feet cool and dry.
Perfect for beginner soccer players.
Comes in sizes for little and big kids.
Cons
Laces a little too short to double knot.
---
9. Puma Spirit It Indoor
The Spirit It soccer shoe is a good choice for kids who are playing soccer indoors. The rubber outsole won't mark up the floors but will provide good traction on smooth surfaces such as a gym floor.
The synthetic upper is soft, lightweight and comfortable while the rubber sole provides good support underfoot. The shoe comes in three eye-catching color choices including black and yellow, yellow and red and red and silver.
And if your child decides to take it outdoors, the Puma Spirit It is also available in a firm ground version.
Pros
Overall lightweight shoe with soft, comfortable upper.
Non-marking outsole provides good traction on indoor surfaces.
Comes in a firm ground version too.
Stylish design and color choices.
Durable synthetic materials.
Cons
---
10.  adidas Goletto VI FG
Yes, another one from adidas and for good reason. Adidas is known for their high-quality soccer shoes for adults and kids, and the adidas Goletto VI FG fits that bill too.
The Goletto VI are firm ground soccer shoes and have a removable die-cut EVA foam insole that is both comfortable and supportive.  The upper is lightweight but durable synthetic leather.
These particular adidas shoes aren't available in a ton of colors to choose from (only black and white with pink or with green), but they are still a classic and stylish design you would expect from adidas.
Pros
Durable and lightweight shoe.
Comfortable foam insole provides support.
Affordable price.
Classic adidas design.
Cons
---
Frequently Asked Questions
Q: How do I clean my child's soccer shoes?
A: Whether your child had an especially muddy practice or they just need some TLC from regular wear, keeping your child's soccer shoes clean will ensure you get the longest life out of them possible.  But whatever you do, don't throw them in the wash!
While the last thing you may want to do is scrub your kids' soccer shoes, it will help get the longest life out of them.  It's also not as hard as you think.  With a little care, they will look good as new.
First, you'll need some supplies: dish soap (like Dawn), a toothbrush, sponge and some paper towels or dish towel for drying.
Now it's time to get scrubbing. Check out this video to see a step by step on how to clean soccer shoes:
https://www.youtube.com/watch?v=8Rl5sgn9iI4
Q: My kid's shoes smell AWFUL.  How do I get them to smell better?
A: The struggle of stinky soccers shoes is real.  To get rid of some serious stink, it's time to give them a good wash like we addressed in the questions above.
However, there are a few other tips that will help you keep their shoes smelling fresh:
Sprinkle some baking soda inside the shoe.
Invest in a good shoe deodorizer to spray in the shoe after each use.
Place a dryer sheet in each shoe.
Be sure to air dry them after each use. Loosen the laces and pull back the tongue so they can dry. If they get especially wet, stuff some newspaper to help absorb the moisture.
The Takeaway
It's hard to go wrong with any of the best soccer shoes for kids on this list, but before you choose one, consider what surface your child will be playing on as well as what level they are.
For beginners or players who need a shoe for firm ground, the adidas Ace 16.4 FxG is a durable and very affordable option.  For the more experienced soccer player, we recommend the Nike Jr Bravata II or the Adidas Nemeziz Messi 17.3. Both are responsive and supportive soccer shoes for your little soccer star.