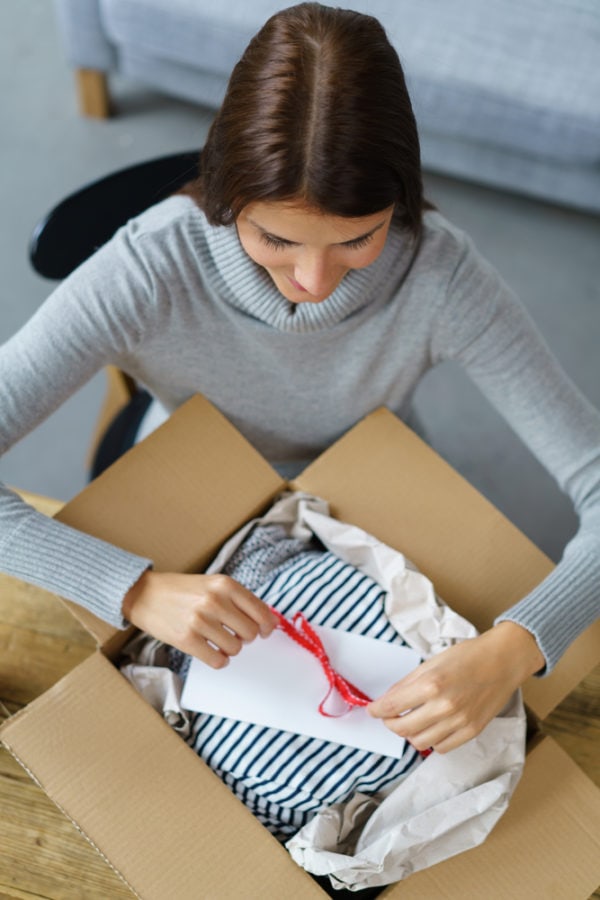 Subscription boxes are everywhere, have you noticed? This isn't a bad thing, though. Subscription boxes make fantastic gifts, both for yourself (treat yo' self!) and for others. And who's more deserving of a good gift than your mom?
Not even necessarily YOUR mama, but any mama friends you have. These are especially good gift ideas for people who have everything, or for those who are particularly difficult to buy for. If you can think of just one thing that they like, there's a subscription box for that!
Here's a great list of mommy subscription boxes to help you choose a subscription box that's best for your loved one. Or for yourself! You deserve some treats too!
For Moms Who Love Makeup
For only $10 a month, Birchbox will send you a kit filled with different skin, hair, and styling products. There are five products in every box, and subscribers have received items such as facial serums, BB tinted moisturizer creams, Argan oil shampoos and conditioners, and ultra glossy lip pencils. You're asked to complete a Beauty Profile, which is a questionnaire that helps them understand your skin type and your preferences, so they send you products you'll actually use. They also send out several different combinations of their bags/boxes each month, so different subscribers don't all receive the same products.
Ipsy has a great set of questions they pose in order to identify which products you'll like best. They ask about your preferred makeup brands, your skin types, your color preferences… a little bit of everything. They also offer two payment options: $10 for monthly subscription boxes or $110 for a year's worth – you get a free box if you sign up for a year! You get a combination of full and sample sized products, including all sorts of makeup, skin care, and even hair care products, all high quality and from reputable brands. And each month, customers receive a unique makeup bag along with all their other treats. Previous kits have included brow pencils from Billion Dollar Brows, a facial primer from Benefit, Delectable triple moisture body lotion, and Smashbox liquid lipstick.
For Moms Who Love Knitting
Knitters will love receiving a monthly subscription box containing one skein of yarn, a knit and crochet pattern, and a mystery gift. Your first subscription ships out within only one week of them receiving your order. Previous kits have included recycled silk roving yarn for making a cowl, lace-weight silk yarn (with optional dye!) for making placemats. Darn Good Yarn works with a group called Crossroads which provides jobs for developmentally disabled adults, and these are the people who pack the boxes. This means you can not only get excited about receiving your woolly goodies, but you can also feel good about supporting a commendable organization.
There are a few membership options with KnitCrate, but all include at least one skein of premium, hand-dyed yarn and one exclusive knitting pattern to go with it. Prices range from $19.99 per month to $45 per quarter, and some include craft-related treats like circular knitting needles and organic tea bags. Each crate has a theme and the yarns and patterns all reflect this theme through the colors and patterns. Previous themes and yarns sent out have included "Indigo Glow," which was a gorgeous teal-colored merino from Uruyarn, "Modern Primary," a bright multicolored worsted yarn from Knitology, and "Verdigris," a soft grey merino from Yarn Fairy & The Pixies.
For Moms Who Love Yoga
This is more of a lifestyle box than a yoga box, but many of the included products are yoga-related. Yogi Surprise offers two options of boxes for mommies: The Yoga Box and The Jewelry Box. The former contains fair trade and vegetarian treats and products that relate to your yoga practice. Previous boxes have included essential oils, skin care products, and even chocolate bars – and everything is always GMO and cruelty-free. The Jewelry Box contains handcrafted products that aim to enhance mindfulness as you navigate your yoga practice. This has included mala necklaces, bracelets, diffuser jewelry, and there's always a little surprise included, like essential oils and scrumptious chocolate cookies. The Yoga Box is $44.95 each month and The Jewelry Box is $24.99.
These glorious boxes contain between five and seven items, including crystals, spiritual growth tools, aromatherapy products, and even loose-leaf tea. There are several different themes you can choose from for your box, including the Sacred Waters Box, the Heart Chakra Box, and the Yogi Magic Box. Previous kits have included organic body polish, purifying facial masks, nail decals, satin sleep masks, and a variety of different teas. All products are vegan and cruelty-free. While this amazing subscription kit costs $33 per month, the products they offer in each delivery are worth more than twice that amount.
For Moms Who Love Snacks
Each healthy Snack Box contains at least ten goodies, sometimes more, and all are from reliable companies with vegan products and values. Previous kits have had white bean chips, gluten-free oatmeal, organic non-dairy milk, dried fruit sticks, gourmet marshmallows, and even drinkable soup. It's a mix of full-sized treats and sample sizes, and most of them are even gluten-free. With three different options for pricing and frequency – monthly for $22.95, every six months for $120, or yearly for $222 – there's something for every budget. This company also offers vegan Beauty Box and Makeup Box subscriptions.
Yes. You really can get all kinds of candy delivered to your door on a monthly basis. This is not a dream! Each box from Candy Club contains either three or six jars of sweet, sweet candy plus a "candy splash" that is sprinkled into the box. That's up to three pounds of sugary goodness! These jarred treats have included mini gummy piglets, milk chocolate peanut butter pretzel balls, and hot tamales. The extra, sprinkled-in candies have included saltwater taffy, Smarties, and even Zots. A subscription with three jars of candy will run you $29.99 per month, while the bigger box costs $49.99 each month.
For Moms Who Love New Clothes
Women everywhere love that one of the most comfortable pieces of clothing ever created is now acceptable to wear to almost any venue for any occasion. Leggings are so great! This subscription option sends the customer one new pair of leggings each month for only $16.95, and the shipping is free. They claim their pants are uber comfy, uber soft, and uber stylish. Previous pairs have had Aztec-style prints, snowflake patterns, tie-dye, multicolored stripes, and even elephant prints!
Who doesn't enjoy getting new undies? This Canadian-based company will deliver high-quality sexy panties right to your door – and in a very discrete envelope so your nosy neighbors won't gossip. And don't worry, you don't have to get thongs if you don't want to go that route. You can get all thongs and G-strings, no thongs or G-strings – which means hipster or bikini style, or a mix of both. They're made of cotton, lace, polyester, spandex… a little bit of everything. There are three packages to choose from, based on your style preference, and each of these packages is priced the same: $3.99 per month.
For Moms Who Love Romantic Scents
These aren't just your run-of-the-mill scented candles. They are the highest quality candles you can buy in the USA, created by the finest candle makers in the country. Vellabox offers three subscription options for you to choose from: a delivery of one 4 oz candle (25 hours of burn time) per month, one 8 oz candle (50 hours of burn time) per month, or a combination of one 8 oz and one 4 oz candle (75 hours of burn time) per month. These differently-sized boxes cost $10, $20, and $30, respectively. Each box comes with an extra little surprise as well, such as tea sachets, Ghiradelli chocolates, or an aromatherapeutic bath bomb and salts. Their products are all non-toxic, lead-free, and hand poured.
From $39.99, you can get gorgeous fresh flowers delivered to your door either weekly, bi-weekly, or monthly. No need to wait (possibly in vain) for your spouse to surprise you! Bloomsy offers three "levels" to choose from, meaning that you can get either classic flowers or more exotic choices, and these levels vary in price: $39.99, $49.99, and $54.99. Their blossoms come from fair-trade farms all over the world and they come with specific care instructions for the individual flowers you receive. The different varieties of flowers have included gerbera daisies, hydrangeas, Peruvian lilies, roses, and orchids. As a delightful bonus, all Bloomsy's bouquets include free overnight shipping!
For Moms Who Love Help In The Kitchen
Meal subscription boxes are very popular these days, and there are many options to choose from. Hello Fresh is consistently rated as one of the top meal subscription options in the country. For as low as $6.60 per meal, you get all the ingredients you need (okay, there may be a few exceptions) to make the three meals listed on the recipe cards in each box. For instance, if you choose the vegetarian option, you may get ingredients for "Cauliflower Stir-fry Bowls," "Sesame crusted tofu," or "Pesto Tortelloni Bake." Customers can choose either the veggie, classic, or family meal subscription, then choose whether they need meals for 2 or 4 people, and then they decide whether to get 2, 3 or 4 meals per week. The recipes may require you to have your own olive oil, salt, and pepper, or other kitchen staples like these. Nothing you can't handle.
Don't worry about what's for dinner! Blue Apron sends you a combination of fresh ingredients and step-by-step recipes that will feed you and your family, taking all the guesswork and much of the prep work out of mealtime. You can choose from a variety of recipes before you order your box, so you can be sure that you and your family will actually like the food they send! For a little extra fee, you can even add a wine delivery that will pair with your meal. A subscription plan for two people costs $59.99 for three meals per week and $47.95 for two meals per week. For a family of four, $71.92 will get you two weekly meals, $95.88 gets you three weekly meals, and $119.84 gives you four full meals per week. Recipes have included "Seared Chicken and Brown Rice Bowls," "Pesto and Zucchini Paninis," and "BBQ Chicken Tacos."
For Moms Who Love To Read
Readers get to choose each month from five book options that are suggested by dedicated curators. Once you make your choice, the hardcover tome is sent to your home in a bright blue box and you can read to your heart's content. Not bad for $14.99! And it can be less than that if you commit for 12 months. If only one book can't satisfy your voracious appetite for the written word, you can easily add one or two more to your blue box for roughly $10 each. Previous novels have included The Heart's Invisible Furies by John Boyne, The Girls by Emma Cline, and #FashionVictim by Amina Akhtar. The boxes also contain a bookmark and some kind of sweet surprise, like maybe a set of nail art stickers, a wine glass koozie, or perhaps an extra book!
If your mama is a book lover who also loves book-related goodies, this subscription service offers one book per month as well as an assortment of other treats. These extra gifts always relate to the story, so previous boxes have included items like pillowcases, hair clips, faux and even leather tablet sleeves. All of these treats have a page number written on their packaging and readers are encouraged not to open them until they have reached that page of the book. That way, the details of the story will perfectly explain the significance of the novelty item. It's a well-rounded experience – in a box!
For Moms Who Love Wine
Winc has a great questionnaire – only six questions – that is delightfully short and simple and gives them an insight into what types of wine you'll most enjoy. There are four bottles in every box, and you get to choose how many of the four you'd like to be white, and how many you'd like to be red, or perhaps have all of one and none of the other. Some wines that have been included in past deliveries are a 2017 Loves Me Not Rose, 2016 Funk Zone Red Blend, 2015 Piu Gioia Pinot Grigio, and a 2015 Vinyasa Chenin Blanc. Sometimes Winc collaborates with artists to make unique label art, and they also work with chefs for recommended food pairings. You may even find a luxurious chocolate bar (or something similar) in your box, one that pairs well with a certain bottle you receive.
Now here's something you didn't expect – a wine subscription that only sends you one glass worth of wine! This is perfect for someone who doesn't drink much wine but wants to refine their palate, or for someone who lives alone and doesn't entertain much, or for someone who frequently commits the unforgivable sin of wasting extra wine. The selection process for this box is in itself gorgeous: sommeliers in Europe will visit boutique wineries and hand pick varieties that are then poured into Vinebox's signature vials. Your deliveries are chosen based on the answers of the quiz you complete for them, and you're able to send feedback on the vials you receive so that they can get an even better idea of your tastes. They will even suggest full sized bottles for you to buy, based on how much you enjoy the samples they send. Previous deliveries have included a 2013 Cru de Languedoc Vignelacroix, 2015 Domaine Baud L'Etoile, and a 2013 Corte Di Valle Chianti Classico.
For Moms Who Love Feeling Cozy
Embrace the Danish concept of hygge and ultimate comfort with the lifestyle goodies that are included in this subscription. In each Standard Hygge Box, you'll find handpicked seasonal items that always include "elements of light" (scented candles, tealights, stringed lights), hot beverages (well, ingredients for hot beverages!), cookies or other sweet treats. This subscription is $25 per month. Deluxe Hygge Box contains all of the same things plus a few others like a few extra seasonal items, home décor accessories, bath and beauty products, and a few full-sized luxury items. This subscription is a bit more: $36.50 per month. Previous subscribers have received goodies like salted caramel cookies, thick and fluffy slipper socks, lavender soy candles, tea-based facial masks, and even stoneware mugs.
www.bathbevy.com
Either once per month, once per quarter or once every six months, Bath Bevy will send you a collection of luxurious tub treats. Talk about ultimate comfort! For as low as $33.33 per box, tub time lovers can enjoy a crazy collection of products to enhance relaxation in the water. Soy candles (with matches included!), snowflake-shaped bath bombs, sugar body scrubs, loofahs, and organic lip balms are just a few of the delicious products included in Bath Bevy boxes so far. One box even contained a cup holder with suction cups – the perfect perch for your glass of pinot!
For Moms Who Love God and Spirituality
These subscriptions are curated for Christan women, to encourage them in their spiritual walk and to provide a way for them to give back to the community. Frameable artwork, cards with quotes from scripture, lifestyle products, home décor, and inspirational jewelry are all items that can be found in these subscription boxes. Previous boxes have included notepads with scriptures and artwork on them, bird seed in the shape of a cross, beaded tassel necklaces, scented candles, and devotional books. If you prepay for six months the fee is $155.70, or you can do three months at $80.85, or simply choose one month for $27.95. With each shipment, The Believer's Box donates five meals to the Christian charity foodforthepoor.org.
24. Courage Crate
This is a Christian-based subscription box that focuses on encouraging and equipping you to find fulfillment in both your spiritual life and personal life. Each kit contains one new release and one slightly older book. A few books that have been included in previous crates are Unqualified by Steven Furtick, Kind is the New Caring by Candace Cameron Bure, and The Circle Maker by Mark Batterson. Other inspirational goodies like artwork, gratitude journals, and even cute hand towels are included. Month-to-month kits are $35, quarterly kits are $102, and six months subscriptions are $199. They also offer a Courage Crate For Kids and a Teen Courage Crate, all at different prices. A portion of Courage Crate's profits is shared with different charitable organizations each month.
For Moms Who Love a Little Bit of Everything
This box is described as one that delivers MUST HAVES for women. Fitness, home, beauty, food, and other self care product are carefully selected by the Popsugar editors for inclusion in these kits. Each month/box has a theme – or themes – that all included treats adhere to. For instance, the themes of a previous month were "cozy, giving, sparkling, traditions, warmth, celebrate" and the items in the box were a shiny pendant necklace, a lightweight scarf that had sparkles, a set of glittery acrylic drink coasters, a body scrub that smelled like sugar cookies, gift tags that said "FOR YOU," a cocktail-inspired scented candle, and a milk chocolate bar.  Each delivery costs $39.95 per month but packs in over $300 worth of goodies. This service is delivered quarterly and is a great way to experience new lifestyle brands and also receive products from trusted and established brands too.
For only $49.99, FabFitFun will send you a box of beauty, fashion, and fitness products that are worth roughly $200. Each box has a different design, and inside is always a little magazine that describes the products in the box, the designers and makers, horoscopes, and a few other stories and articles. The goodies included in these boxes are some very high-quality items! Previous kits have included deep cleansing face masks, vegan leather handbags, glass and silicone water bottles, yoga towels, and even popsicle molds! Deliveries are quarterly, and the included items are always seasonally appropriate.
Like we said, if you notice even one small thing that the mom in your life is interested in, you're all but guaranteed to find one or two subscription boxes to cater to that interest. No more searching for the perfect gift – just order a box, and let the gift box give itself!
And while you're at it, order a box of goodies for yourself. A bouquet of flowers, a box of candy, a collection of books… you deserve it!
You might also be interested in: HOW TO GIFT WRAP BOTTLES