These best teething necklaces for babies feature soft, safe beads strung on an unbreakable cord. Having a teething necklace for mom to wear means you have a safe teething toy on-hand at all times for baby to soothe gums and new teeth. Read on to see our top 8 faves!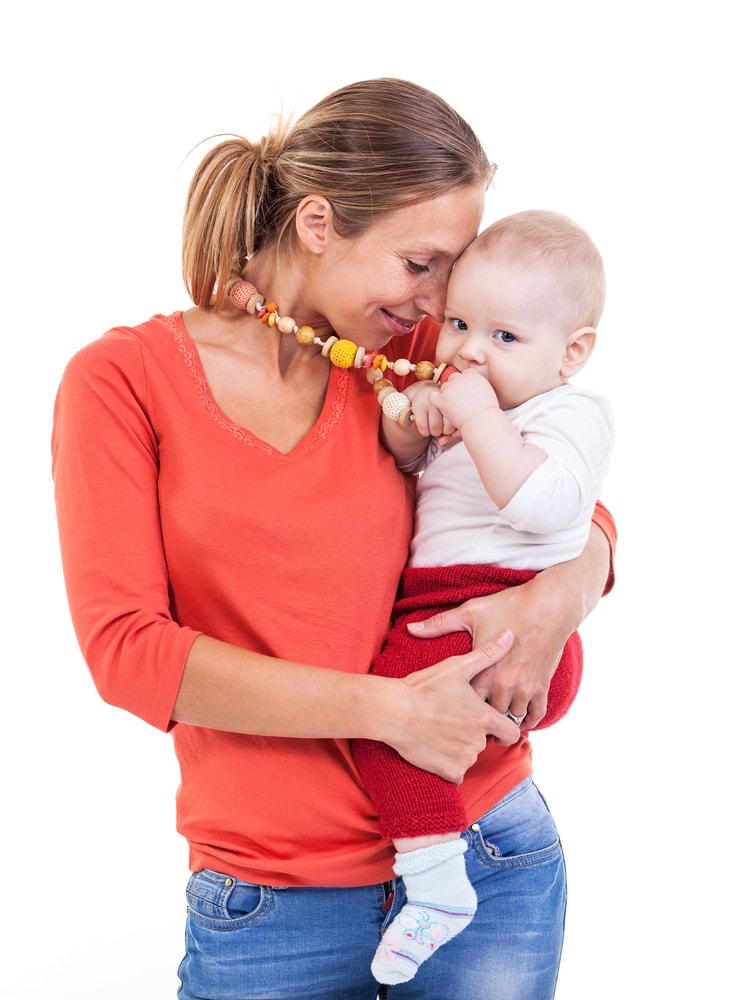 If your little one is teething or just loves putting everything into his or her mouth (what baby doesn't?) you know the struggle is real. That means no jewelry, scarves, or anything unsafe that your little one might want to chew on.
But wouldn't it be nice if we could wear a little jewelry from time to time when out with your little bundle of joy?
Well if you think teething jewelry doesn't exist, think again.
It's real, it's functional and we've got our top picks for the best teething necklaces for moms to wear that look oh-so cute and yet are oh-so safe for your little one to munch on.
The Low Down on Teething Necklaces
Teething toys can be a great way to help your teething baby get through the pain of those teeth coming in. But a teething necklace that is worn by mom is also a great choice.
Babies naturally want to grab for mama, so giving them something to grab that is also safe to chew on, will help not only ease teething pain but can be a fun tactile learning experience, too.
However, don't let them chew on just any necklace. What makes a baby teething necklace so special?
The beads are made of silicone. Whether food-grade silicone or medical-grade silicone, teething necklaces for moms are made of silicone because it's safe, durable, and easy to clean.
However, you'll notice that a necklace on this list does feature beads that are not only silicone but wood, too. Untreated wood is also safe for kids to chew on and can be a nice change for mom's couture!
The cord is strong. No thin strings here. Babies are surprisingly strong so teething necklaces are usually made of a durable cord, eliminating the possibility of the beads breaking off and becoming a choking hazard.
The clasp is a breakaway clasp. Babies can pull and yank and poor mom's neck can take a beating. That's why teething necklaces usually feature a clasp that easily breaks away if the baby starts tugging too hard.
8 Best Baby Teething Necklaces for Moms to Wear
So now that you know what makes a great teething necklace, let's move on to our top choices for teething necklaces for you. While safety is the top priority, these teething necklaces also look cute, too! Check out which ones made our list!
---
1. Goobie Baby
What girl doesn't love a simple strand of pearls? And what baby doesn't love munching on some soft but firm balls on a string? This is our absolute favorite teething necklace for moms.
The Goobie Baby Audrey necklace has a 14-inch drop, a safe breakaway clasp, and silicone beads that are safe for the baby and cute on mom.
Available in colors like white, black, rose quartz, and turquoise, there's a Goobie Baby for every outfit and taste. Great for breastfeeding babies who also want a little something to hold on to and touch while they feed.
This necklace is BPA-, phthalate- and latex-free and is even dishwasher-safe.
What We Like:
Available in tons of colors
100% silicone is dishwasher-safe
Breakaway clasp for safety
14-inch drop is a perfect length
What We Don't Like:
Little hairs and fuzzies stick to the silicone beads, so it has to be washed often
---
2. Bebe by Me Harper
A little soft, a little squishy, a little hard… a variety of textured beads are on this necklace depending on what kind of firmness your little one wants to munch on today. We love the variety of beads on this one.
This stylish necklace features a variety of beads, each with varying degrees of firmness.
The beads are all made of medical-grade silicone and are latex and BPA-free.
It has a 15-inch drop and is dishwasher and freezer safe.
The clasp is durable but also breaks away safely in case your child pulls a little too hard.
What We Like:
Different firmness levels: squishy, soft, and hard
Stylish design with cool, complimentary colors
Breakaway clasp for safety
Freezer and dishwasher safe
What We Don't Like:
The two strands have a tendency to get tangled up
---
3. Chew-Choos Sweet Pea
This is a chunky eye-catching piece, a lot of fun to wear and chew on. The Sweet Pea teething necklace features food-grade silicone beads that are cadmium-, BPA-, and latex-free.
The necklace is also resistant to bacteria and hypoallergenic.
Super affordable, the Sweet Pea teething necklace is 28 inches in total and the beads won't pull on the hair.
The clasp is made of PVC and the cord can be easily cut to adjust to the desired length.
What We Like:
Affordable price
Square textured beads are soft and durable
Free of cadmium, BPA, phthalates, latex, or other harmful materials
Hypoallergenic
What We Don't Like:
The clasp stopped working after being broken away several times
---
4. Mama & Little Alexa
If you are looking for something a little simpler, less on the chunky side, the Mama & Little Alexa necklace is simple and modern with one single curved bead for babies to chew on.
We love having this simple option for a teething necklace that isn't so chunky as the others.
This necklace has a 14-inch drop and the curved bead is textured on the backside for extra relief for little ones.
It is made of food-grade silicone and like the other necklaces on this list, features a breakaway clasp.
What We Like:
One single teething bead is durable
Simple, modern look
Made of food-grade silicone that doesn't harbor bacteria
Safe breakaway clasp
What We Don't Like:
Available in a limited number of colors
---
5. Chewbeads
We love that they come in solid colors. Your baby will love munching on the beads.
This is another easy-to-clean (dishwasher safe!) necklace made from medical grade silicone that is BPA-, cadmium-, and phthalate-free.
If you are looking for something a little more colorful check out the vibrant chartreuse or bright turquoise options. Or if you prefer something more classic there is black.
In total, there are 10 colors to choose from which ensures there is something for every mom and every style – one of our favorite things about this teething necklace.
It has a little over a 14-inch drop.
The only downside is the slightly higher price tag, but between the style and the function, you'll probably have no issue spending a little more.
What We Like:
10 fun colors to choose from
Dishwasher safe
Bold chunky design
What We Don't Like:
Higher price than others on our list
---
6. Koala & Co.
Here's another funky little option that comes in two style options: Spicy Mocha and Monochrome Pebbles.
The food-grade silicone beads on this necklace will stay free of bacteria, and mold and won't absorb any odors.
Also on the Spicy Mocha option, the necklace features wood beads that are untreated and safe for the baby to chew on. We love having the style of wood beads with this teething necklace in the wardrobe.
This budget-friendly necklace is not only safe but stylish for any mom with a baby who is in the throes of teething.
What We Like:
Very affordable
A mix of silicone and wood beads for different textures
Hypoallergenic
What We Don't Like:
May need to oil wood beads occasionally if they dry out
---
7. ItyBity
For more of a statement, the ItyBity teething necklace will give your child plenty to chew on from the double strands of silicone beads or the silicone flower accent on the side.
No matter what he or she chews, it's super safe and free from any harmful chemicals or materials.
This necklace is dishwasher safe and is made of food-grade silicone.
Available in three colors including black & white, black & cream, and mint & grey.
Safety knots are located at the tops of the beads and it also has a breakaway clasp for safety.
What We Like:
A bold stylish necklace with a fun flower accent
Plenty of beads to chew on
Affordable
Three color options
Dishwasher safe
What We Don't Like:
The two strands of beads tend to get tangled up
---
8. Megoday
The Megoday Teething Necklace is a trendy option for moms looking to wear something other than chunky necklaces.
The simple feather is perfect for your little one to grab onto and chew, but also looks cute on you! This one is a nice change from wearing tons of silicone beads.
The BPA- and phthalate-free silicone is safe and fun for kids to chew on and the bumps of the design help soothe those aching gums. It is available in grey, greyish-white, pink, and green.
This necklace has a 15-inch length, a strong cord, and a breakaway clasp.
It is also freezer and dishwasher-safe too!
What We Like:
Trendy feather design
Affordable price
BPA- and phthalate-free silicone
Easy for babies to hold
Dishwasher and freezer safe
What We Don't Like:
Some babies gag on the long feather if shoved in their mouth too far
---
Frequently Asked Questions
Q: How do I clean my teething necklace?
A: Many of the teething necklaces are dishwasher safe, but check with the manufacturer's instructions first. When in doubt, wash the necklace with water and gentle soap.
Q: Can I put the necklace in the fridge or freezer?
A: Again, check the manufacturer's instructions first, but yes, most are safe to put in the fridge or freezer for a little extra relief.
Q: Are wooden beads safe for my baby to chew on?
A: Yes! Teething toys can be made of rubber, silicone or wood. You'll notice that one of the necklaces on our list features wooden beads. These beads are not treated. The only thing you should do if the beads get dried out is to apply a little oil on them to moisturize the wood.
Q: How do I know if my baby is teething?
A: Babies start teething right around 6 months to 12 months old. The first teeth that usually come in are the bottom front. The main signs that your baby has started teething are excessive fussiness and drooling. Look for red, swollen gums as well.
Teething is painful. Those little teeth breaking through a baby's gums aren't fun, but you can ease the pain of teething and sore gums with teething rings and chilled teething toys to chew on.
Q: What is tactile learning?
A: We mentioned that teething necklaces promote something called tactile learning which is learning through touch. Learning through touch is extremely important for babies and not just for learning how to use their body, but also helps with cognitive, language, emotional and social skills, too.
Many moms choose to wear a teething necklace while nursing their child for those tactile learning benefits.
Q: Do amber necklaces really work for teething babies?
A: Some moms swear by them, but we don't recommend them because they aren't safe for babies, and here's why.
An amber teething necklace is made from Baltic Amber which is fossilized tree resin. The theory is that the baby's body heat helps release a very small amount of the oil in the amber which then absorbs into the baby's skin and subsequently, their bloodstream.
The oil contains something called succinic acid which is supposed to have an analgesic property that helps swollen painful gums. This is unproven outside of anecdotal testimonies.
The problem with amber necklaces is they can pose a strangulation risk as well as a choking risk if beads break off into the baby's mouth.
Today, many doctors strongly recommend that mothers do not put amber necklaces on their babies. The risk is just too high compared to the anecdotal evidence of pain reduction.
Bottom Line
Whether for teething or tactile learning, a teething necklace for moms is a great way to not only help alleviate some of the pain for the baby that comes along with teething but it's fun for them to learn through touch.
The Goobie Baby "Pearl" necklace is our favorite pick. It has a simple design and comes in a variety of colors that you won't mind wearing and are safe for the baby to chew on.