Italians love baking different types of Italian bread, although they don't eat it as much as the French do. Nevertheless, a typical Italian will eat some bread every day for breakfast, lunch, or dinner. In this article, we'll list some of the most popular Italian bread types, so keep on reading to learn more about them and find the right bread for your dishes!
Rules For Eating Italian Bread
Food plays an essential role in Italian culture. This is why some rules should be followed while eating Italian bread.
Bread is meant to be eaten with other types of food, except pasta. Pasta is made of starch, and adding bread to the plate doesn't make sense from an Italian point of view. People usually eat bread with their soup, main course, or vegetables, usually using pieces of bread to add food to their fork while they're enjoying a delicious Italian meal.
In Italy, people don't dip bread in olive oil or add butter on top. However, in some cases, the bread is toasted with olive oil drizzled on top of it. In this case, the bread can be eaten as a snack before the main meal.
You may use pieces of Italian bread to scoop up the remaining sauce on the plate in less formal gatherings.
In some parts of Italy, the bread is baked without any salt. You shouldn't add any salt to it because in most cases, the food served with the bread is very salty.
Types of Italian Bread
Italy has a wide variety of bread types that can be served for multiple meals. There are regional differences, but all kinds of Italian bread are tasty.
1. Focaccia
Focaccia is extremely popular all over the world because it usually combines impressive flavors from the herbs used to give this bread a distinctive look and taste. This is an oven-baked flatbread that has a texture that resembles pizza dough. Focaccia bread is soft and usually infused with several herbs to enhance the flavor.
In the simplest forms, focaccia bread is drizzled with some olive oil on top. It can be served in a bread basket or sliced for making sandwiches. The more complicated versions of focaccia are topped with different types of vegetables and meats or cold cuts. There's also a sweet version, which is served as a dessert.
2. Ciabatta
The Ciabatta bread is one of the most popular types of Italian bread due to its unique soft honeycomb texture. The bread is usually elongated and can be served warm or cold. Compared to other Italian bread types, this one is relatively modern, as an Italian baker introduced it to the market in the 1980s.
The bread is usually sliced at an angle and served with olive oil, freshly ground pepper, and salt before the meal or as a side to salads and soups. It can also be used to make sandwiches, where the filling can be made of meat, cheese, and fresh vegetables. Most people use Ciabatta bread to make paninis because it can handle grilling.
3. Pane Toscano
Pane Toscano originates in Tuscany and is baked in a wood-fired oven to give the bread its distinctive flavor. This bread is large and round, looking very much like a traditional white loaf, but flatter.
People usually serve the Pane Toscano bread with soups and stews, or as an appetizer with Tuscan pecorino cheese. It also goes well with cured meats or salty antipasti like salami and prosciutto.
Before eating this bread, you need to drizzle a little bit of olive oil on top of it to soften its texture. It can be used to scoop up any leftover sauces when your plate is finished.
4. Panigacci
This simple flatbread comes from the Lunigiana, and the dough is made of flour, salt, and water. The dough is then shaped into small discs that are baked in an open fire oven.
The Panigacci bread is usually served with cheese and several types of cured meat. It's also quite popular in Italian street food.
5.  Piadina Romagnola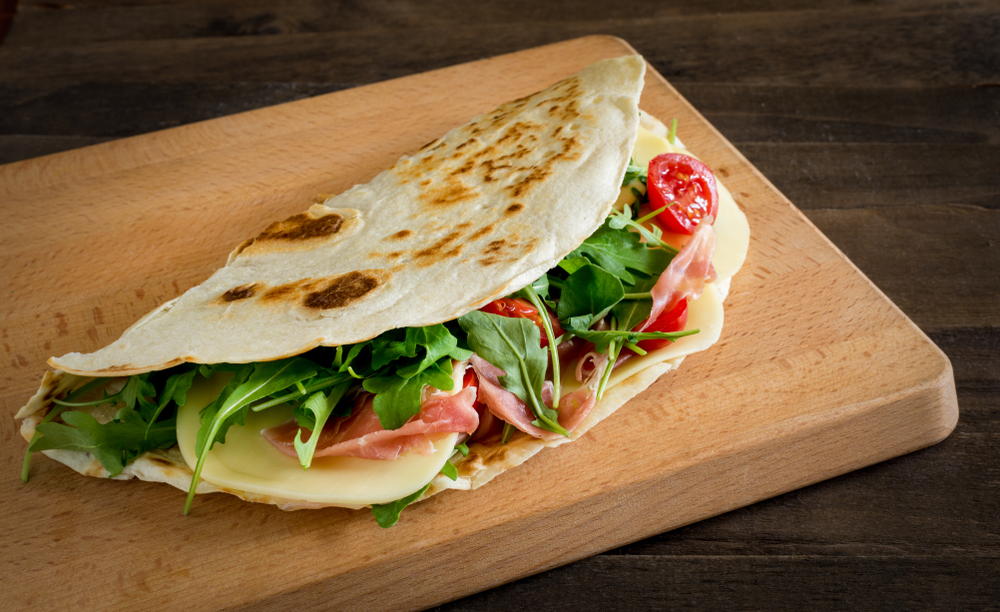 This is another type of simple flatbread that became very popular in the 20th century, so much so that it was even called the "bread of poverty" in a poem called La Piada. Today, this recipe is awarded a PGI status under European Law as it has become a staple in the cuisine of the Emilia-Romagna region.
People usually use the Piadina Romagnola to make sandwiches, and it's recommended to eat warm. The most popular filling used is cream cheese, prosciutto, tomatoes, and wild arugula.
6. Pizza Bianca
This is a crossover between pizza (by the way, check out this amazing meatball pizza recipe!) and bread and is usually served warm. The dough is rather thick, so it looks and tastes more like bread than pizza.
Some olive oil is drizzled on top of the Pizza Bianca while it's still hot. In some cases, fresh mozzarella is spread on top, so the cheese will melt a little because of the heat of the bread. In the sweet version, it can be served with chocolate.
7. Coppia Ferrarese
This classic sourdough bread dates back to the 1200s and gained a PGI status under European Law. This means that at least one stage of its production should take place in Ferrara, where it originally comes from. A special malt is used to give this bread a distinctive flavor.
The dough is shaped in a criss-cross pattern, achieved by twisting four strands on top of each other. It's best eaten on the day it's produced and should be kept in a brown paper bag. Coppia Ferrarese pairs well with eel broth and other fish soups. It can also be used to make bread soup.
8. Civraxiu
Civraxiu comes from Sardinia and is usually crispy on the outside while being tender and soft on the inside. It's made using regular flour and semolina flour, and it tends to be a little lighter on the inside.
In the past, people used to prepare this bread once a week and keep it in cellars wrapped in cloth.  Because of its crunchy, yet soft, texture it pairs well with soups and dishes where you need to scoop up the sauce. It's usually served warm as an appetizer after dipping it in olive oil or drippings from roasted meat.
9. Pane Pugliese
The origins of the Pane Pugliese can be traced back to the Turks who ruled southern Italy in medieval times. This sourdough bread is made using flour, water, and yeast but gets its distinctive shape and texture from the kneading technique. The long fermentation process strengthens the flavors in this bread, while the golden crust makes it an excellent choice for soups and stews.
The dough is a little challenging to work with, but after following the wet dough folding method, the resulting bread will be airy and soft. The Pane Pugliese is usually used to make bruschetta.
10. Ciriola
This bread is named after its flame-shaped crust, and the word Ciriola means "candle" in Italian. However, locally, the name refers to the eels which are widely consumed in Italy and resemble the bread.
The bread is crusty on the outside and tender and soft on the inside. It usually hardens after baking, so it's best consumed on the same day, or it can be used to make crostini if it gets too hard. The Ciriola bread can be served with eggs, cheese, and other types of fillings.
Wrap Up
The Italian cuisine is full of rich and tasty flavors, and Italian bread complements these delicious dishes. Food should never be wasted in Italy, so even if the bread gets stale, it can still be incorporated into some of the tastiest dishes. We hope our guide to the best types of Italian bread has helped you find the right side for your Italian dishes!