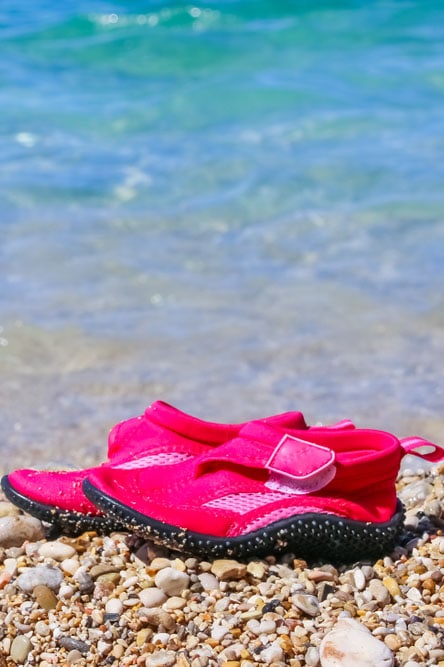 Whether you're planning to head off to a water park, beach, pool or just to splash around in a local creek, it's a good idea to have some amphibious shoes on hand for your little one.  However, depending on what type of water play your little one plans on doing will depend on what type of water shoe you should get.
We took care of all the hard work and found a variety of water shoes perfect for every type of water play.  Whether you take your kid for a muddy hike or just want to spend a day running around on the beach, we have a shoe for every child.
Before we dive on into our list, we have a few things to keep in mind before choosing the best water shoes for kids. Keep reading to find out why your child needs water shoes and which type of water shoe you should consider.
IN A HURRY? HERE'S OUR TOP PICKS…
Why does my child need water shoes?
It may be tempting just to throw a pair of old sneakers or cheap flip-flops on your child's feet, but there's a reason why water shoes are a better option.
Protection.  Perhaps the number one reason your child will benefit from a water shoe is for the same reason we all wear shoes – for protection.  Wading around on a rocky creek bed or running across hot sandy beaches are just two examples of why water shoes are a wise choice.
Traction. The right water shoe will provide traction on wet surfaces.  Running around at a water park or around the pool can be dangerous. Water shoes that provide good traction with a grippy rubber outsole can help prevent slips and falls.
Regular shoes aren't made for water. Wet feet in non-water shoes can lead to blisters and irritations.  Regular shoes won't allow water to drain, and won't dry very quickly leading your child's feet to become very uncomfortable very quickly.
Also, the chemicals in pool water and the salt in ocean water can damage children's everyday shoes. And as we mentioned before, water shoes provide traction on wet surfaces that some regular shoes might not provide.
Check out this short video on why both you and your child should wear water shoes:
Sandal V.S. Sneaker V.S. Slip-On
There are three main types of water shoes you'll find for kids.  A classic water shoe is a slip-on water shoe. It usually consists of a quick-drying mesh upper and a rubber sole. This affordable option is great for the pool, beach, and waterpark, where the surfaces won't be too rocky.
Amphibious sneakers or water sneakers look more like classic shoes but are made of entirely of rubber with perforations all over to allow water to drain. These type of water shoes are a little more durable and can hold up to rockier terrain, river beds, creeks, hiking and more.
A very popular option is a water sandal or amphibious sandal.  These look like a classic sandal, most with a velcro closure, but the upper material is quick drying and the outsole provides good traction on wet and dry surfaces.  A water sandal is a good all-day wear option for summer and also can hold up to rockier surfaces.
Top 10 Water Shoes for Kids
We've arrived at our top 10 list. Remember, make sure to keep in mind what activities your child will be doing in this shoe.  Some are built for everyday wear and work great for vacation adventures, while others are lightweight and great to throw in the beach bag for your next day trip.
Many of these shoes also have an adult version, so be sure to grab yourself pair so you too can reap the same benefits. Now, on to the list!
---
1. Speedo Kids' Surf Knit Athletic Water Shoe
The Speedo Surf Knit is a pretty traditional looking water shoe: mesh upper and rubber outsole.  However, this particular water shoe is durable enough for a variety of adventures and comes at an affordable price.
The upper of this water shoe is made of Speedo's Surf Knit technology. The hydrophobic material and unique design are breathable, comfortable, dries quick and supports your little one's foot.
The S-Trac rubber outsole provides excellent traction on wet surfaces. The slip-on design and heel tab make it easy for kids to slip this water shoe on.
Pros
Breathable, comfortable, supportive upper.
Rubber outsole provides great traction on wet surfaces.
Easy to slip on.
Comes in size 11-6.
Cons
---
2. Merrell Hydro H2O Hiker Sandal
If you are looking for something that your kid can wear all day long, in and out of the water and will hold up to any terrain, then this is it.  The Merrell Hydro H2O Hiker Sandal can handle any terrain, in and out of the water, and has plenty of cushion underfoot to keep kid's feet comfy and happy.
The outsole of these sandals features Merrell's M-Select GRIP technology providing good traction on rocky terrain. Upper is made of a lightweight leather and synthetic lining that are quick drying and the footbed of the sandal has an anti-odor treatment.
The hook and loop closure makes it easy to get these shoes on and off as well as a secure fit. It comes in two sizes for 4-years-old all the way to 12-year-olds.
Pros
Durable and comfortable. Perfect for all-day wear.
M-Select GRIP outsole provides great traction.
Synthetic and leather upper dries quickly.
Rubber toe guard protects from accidental bumps.
Sizes for both little and big kids.
Affordable price.
Cons
The anti-odor treatment might not work well enough to keep stink at bay for everyday wear.
---
3. OshKosh B'Gosh Aquatic Shoes
Easy on, easy off in a variety of colors and designs, this water shoe will work for any kid ready to do some serious water play!
The outsole is flexible and allows kids feet to move naturally. The cutouts allow for air to flow through and dry the shoe and your little one's feet. The material is soft and won't irritate your child's skin.
This shoe comes in sizes for little kids (1-4 years) and big kids (4-8 years).  Best of all, these shoes are machine washable.
Pros
Velcro strap makes it easy to get shoes on and off.
A flexible outsole allows kids feet to move naturally.
Sizes for both little and big kids.
Machines washable.
Cons
Not durable enough for rocky surfaces or frequent-daily wear.
---
4. Speedo Surfwalker Pro 2.0 Toddlers
Here's another good choice from Speedo, perfect for your toddler.  It features Speedo's S-Trac rubber outsole for great traction, a durable four-way stretch mesh upper and an air mesh panel in the shoe that helps the shoe dry quickly.
This shoe has a velcro adjustable strap to customize the fit.  It fits toddlers 1 year – 4 years old and comes in four color choice: black & green, blue & black, black & pink and an all pink option.
Pros
Durable upper dries quickly
Adjustable strap keeps the shoe on securely
Great for toddlers
Rubber outsole provides good traction
Cons
Runs large.
Not comfortable enough for all-day wear.
---
5. Native Jefferson Slip-On Sneaker
This unique little water shoe has a sneaker-look but is designed for water play. Best of all, it comes in so many color options that your kiddo will be stylish while splashing.
The all-over perforations allow water to flow out of the shoe and the rubber outsole gets good traction on wet surfaces. The footbed is made of an EVA and conforms to your child's foot shape.
These shoes are odor resistant but if a little extra cleaning is needed, you can hand wash them.
Pros
Lightweight rubber isn't heavy on kids feet.
Odor resistant material.
EVA footbed molds to child's foot.
Stylish design with tons of color options.
Allover perforation allows water to flow out of shoe easily.
Sizes for toddlers, little kids, and big kids.
Cons
Might be too tight on some feet.  May need to order next size up for a better fit.
---
6. Stride Rite Made 2 Play Phibian Sneaker Sandals
If you have a little one who likes to run, jump and splash, these Phibian Sneaker Sandals will hold up to some rough water play.  The rubber pods on the slip-resistant outsole give this shoe great traction on whatever surface your child decides to run or climb on.
The hook and loop closure makes it easy to get these shoe on and off.  The EVA upper dries quickly and is durable enough for everyday play.
These shoes come in colors galore for both boys and girls.  And as an added bonus, the price is just right.
While these shoes are great for nearly any water environment, they are not so great for the beach.  Sand has a tendency to get trapped in the shoe and irritate kid's feet.
Pros
Machine washable!
Comes in plenty of colors to choose from.
Rubber pods on outsole provide great traction.
Easy to get on and off.
100% vegan materials.
Cons
Not a great choice for the beach.
---
7. Crocs Swiftwater Sandal
While the original Crocs might be a great go-to for all-around play, we think the Swiftwater Sandals are better as a true water shoe.  It is not only comfortable but dries quickly and provides solid traction.
The mesh upper is lightweight, soft and comfortable on kids' feet, and it dries quickly too. There is a raised toe bumper to protect your kiddos toes and the adjustable velcro closure ensures the shoes are secure on feet.
The Croslite foam outsole is not only good for traction but is also comfortable and does a good job supporting kids feet.
Pros
Super comfortable, lightweight with a soft mesh upper.
Dries quickly.
Outsole has toe pumper and provides good traction.
Available for toddlers, kids, and adults!
Cons
The velcro closure on back of heel prematurely wears.
---
8. CIOR Kids Slip-On Beach Sneaker
This classic no-frills water shoe is perfect for the beach, the pool, waterparks and more. It comes in a variety of cute designs and colors and at an affordable price.
The lightweight fabric upper is breathable and dries quickly.  The rubber sole is very flexible and comfortable, providing good slip-resistance without a lot of bulky rubber underfoot.
Thes beach sneakers are available in toddler, little kid and big kid sizes as well as sizes for adults.
Pros
Very affordable.
Simple design with plenty of color options.
Easy to slip on.
Flexible to allow for natural foot movement.
Quick dry upper is comfortable.
Cons
The liner comes out easily when taking off the shoe.
---
9.  Teva Kids Hurricane XLT 2 Sport Sandal
Wear them for the water or wear them all day. Kids will be comfy thanks to the EVA footbed that supports and cushions kids feet. The velcro hook and loop closure make it easy to get them on and off without any problems.
This water sandal comes in sizes for kids as young as 4 all the way to 12.  These shoes are great for summer water sports or even everyday wear.
Pros
Durable outsole provides good traction.
EVA footbed is supportive and comfortable.
Great for water sports or everyday wear
Affordable price.
Cons
---
10. Carter's Kids Troop Water Shoe
While this shoe comes in size for toddlers and kids, we found that this water shoe is best for toddlers. The material on the upper is breathable and the adjustable strap makes it easy for you to get these shoes on and off fast.
The rubber sole is slip-resistant and an elastic band around the forefoot helped ensure a secure fit. A heel tab also makes getting the shoe on a little easier. It comes in only two colors, blue and pink, and is available in toddler/kids sizes 5-12.
Pros
Great for toddlers.
Adjustable strap and elastic band on forefoot keep shoes on securely.
Heel tab helps get shoes on.
Rubber sole provides good traction.
Cons
The tongue of the shoe had a tendency to shift and can potentially cause some irritation.
---
Frequently Asked Questions
Q: How do I clean my kid's water shoes?
A:  As with all shoes, check the manufacturer's instructions first.  Most shoes can be hand washed with a mild detergent while others can be machine washed. If you are unsure, go with hand washing and allow them to air dry.
Q: Where should my kid where water shoes?
A: There are plenty of places where water shoes are a perfect choice.  Here are some other places where your child should put on water shoes:
Swimming in the pool or ocean
Boating
Waterpark
Creeks and rivers
Tubing, kayaking, and other water sports
Hiking in wet conditions
Puddle jumping
Fishing
Bottom Line
There's a shoe for every kid on this list.  Whether you are heading to the beach, spending the day fishing on a boat, or taking a walk on a rainy summer day, there's something for everyone. You should easily be able to find what you want from this list of the best water shoes for kids.
For a classic go-to water shoe, we suggest Speedo Surf Knit Water Shoe. It's quick drying, affordable, and durable enough to last all summer long.  For something that kids can wear all day long, the Merrell H2O Hydro Hiker is a comfortable shoe that can get wet and handle any adventure you and your child go on!