This morning, while we were super excited to go outside and enjoy the 80 degree weather, it started to get dark.
And cloudy.
And dark and cloudy.
So we headed in to instead find something more crafty and and kids play. Now recently two things happened. One, a pitch came to my email advertising a sort of play kids car tape where you can set up roads and two, a picture has been circulating the internet on the same deal but using masking tape. And both prompted me to consider the unused blue painting tape that has been sitting in my garage as a haven for a spider webs for atleast a year, so being the mom I am, I dug it out and got to work.
While it's not fancy store bought tape with lines down the middle and it's not white masking tape so you can draw your own, my painters tape is easy to lay down and just as easy to pull up.
The whole thing took less than 5 minutes but has provided hours of fun!!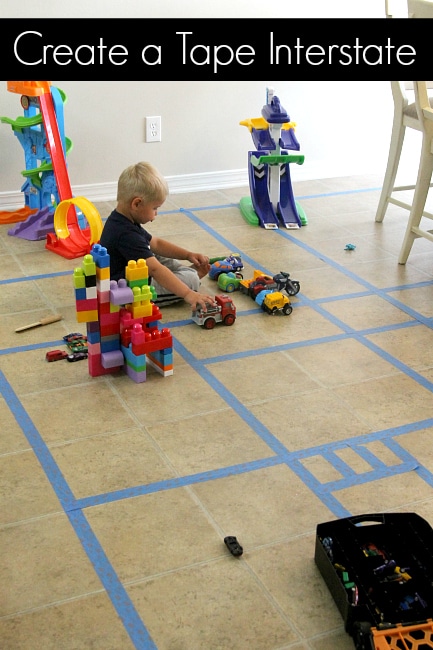 Our makeshift interstate was also really good at keeping Phoenyx busy on and off all day and even better, any time he looked like he was running out of steam I "built" a new section of road to peak his interest again.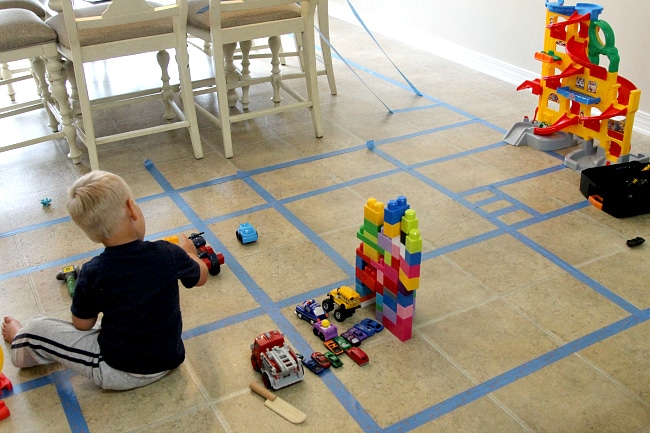 What you need
painters tape (or masking tape, but I believe painters tape may come up easier)
Cars and Blocks!
Start building your "road" on any type of flooring, up the walls, across the couches and more! For some added fun we took out some blocks and built some cities and I included some parking lot areas.
The beauty is this works in all parts of your home, down the stairs, across the dining room table and out the front door!
Have fun.
🙂
Trisha