With Valentines Day coming up, it's totally an excuse to eat some delicious goodies. Starting with breakfast (cause Breakfast is the most important meal of the day) I wanted to share with you a totally adorable way to crack your kids up with Donut Hole Love Bugs! These super cute little love bugs will light up the dessert table or a fun breakfast on a special day. Easily alterable to any color of "hair", these little love bugs are as tasty as they are adorable.
Donut Hole Love Bugs
---
Before you get to creating your cute valentines breakfast, you need to ready the supplies. Here are my suggestions to help baking be SUPER easy!
Easy Donut Hole Recipe
Yes, you can buy premade donut holes, but why? Customizing your exact flavors is EASY and FUN, plus totally kid friendly. If you do not have one of these, a cake pop maker is a MUST HAVE for any kitchen. They make creating donut holes, cake pops, or even round muffins SO easy. A homemade treat or special breakfast is done in mere minutes and they come in perfect circles ready to decorate.

Babycakes Mini Cake Pop Maker
Baked Donut Hole Recipe
1 tablespoon vanilla extract
1½ cups flour
1/2 cup milk
1 teaspoon baking soda
1/2 cup butter, softened
2 eggs
1/2 tablespoon pure lemon extract
When you are baking you should mix together your wet ingredients first and then your dry. So in this case,  sugar and butter, then add eggs, milk, vanilla, and lemon. Stir in your flour and baking soda, careful not to over blend.
Now your batter is ready. Just add to your cake pop maker according to instructions and boom! FRESH AND HOMEMADE IN MINUTES!! TIP: Feel free to use cake batter or muffin batter as well.
---
Easy Buttercream Icing Recipe
1 X Multi-Opening Decorating Tip #233 (for Grass)-by Wilton
1 cup butter softened
3-4 cups icing sugar
2 teaspoons vanilla extract
pinch salt
2-3 tablespoons milk or heavy cream
Mix together your wet ingredients and then dry, adding more sugar till you get the exact consistency you need. Color your icing to customize love bug in the perfect shade of pink.
<—————–You will need this coupler in order to do the hair for the love bugs. It's definitely one you want to have in your baking drawer as its used a lot for Easter grass as well.
---
Love Bug Assembly
Set up your donut holes and begin adding your frosting "hair".
In this little cutey below, the hearts are made from fruit roll ups and the eyes are candy eyeballs.
He is also sat on a fruit roll up for "feet."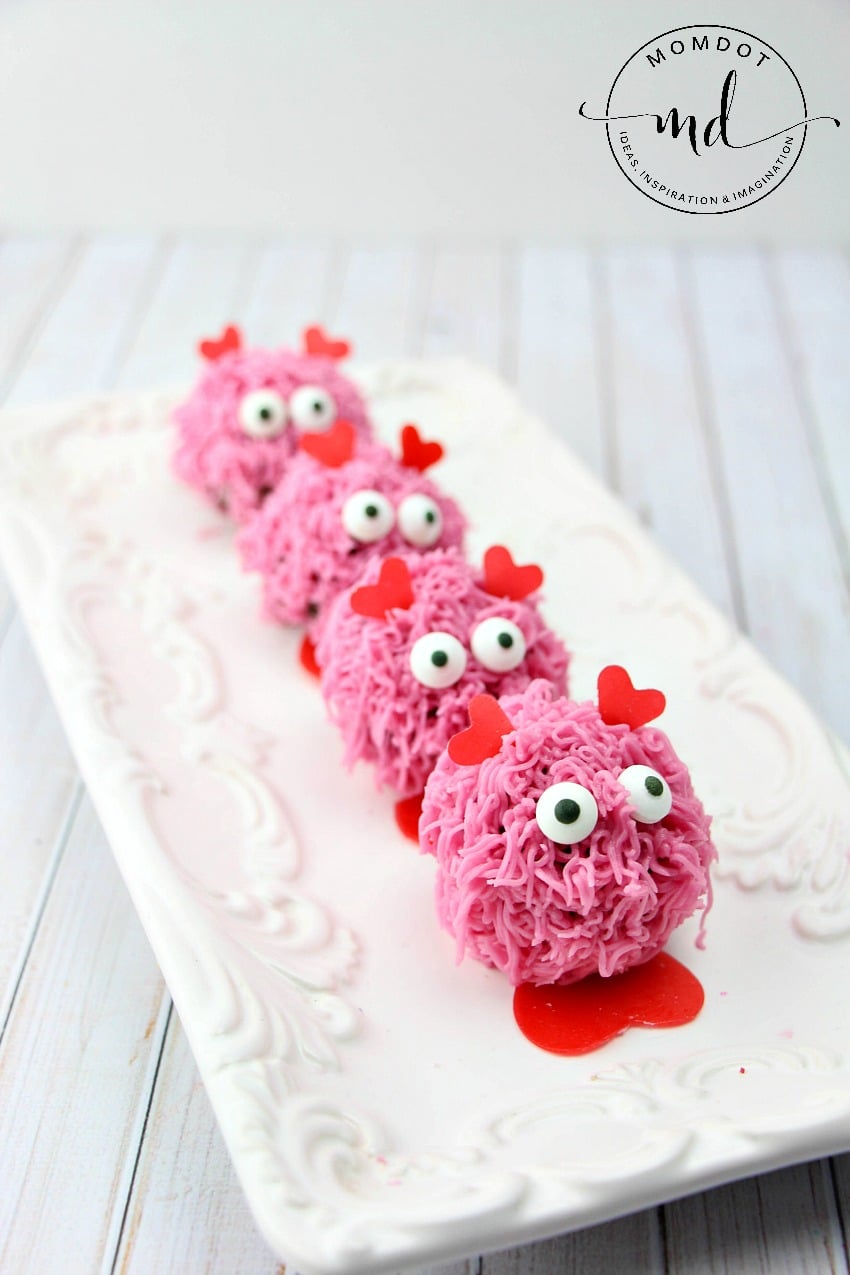 Looking for another fun Valentine's Idea? Get a FREE Valentines Day Card Unicorn Printable here!