If you are reading this for the first time, this is the second page of a Drip Painting Pumpkin Tutorial.  This messy moment sponsored by Wet Ones® wipes.
Head to page one to learn exactly what we used to create these looks.  This pumpkin below is the dried version of Pumpkin #3!
Pumpkin #4
We actually really loved the flow of this type of pumpkin (see the rainbow version on page #1). The little grooves in the sides makes a fun wall for the paint slide down, so we did another.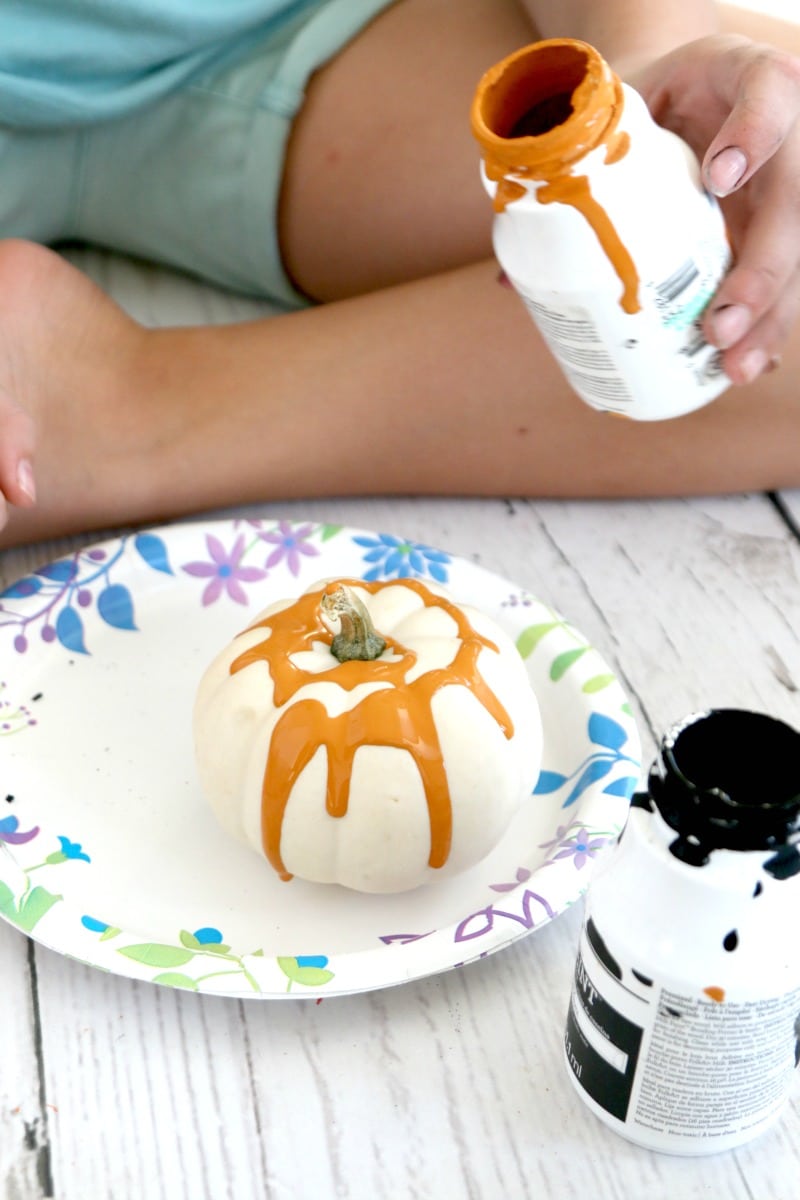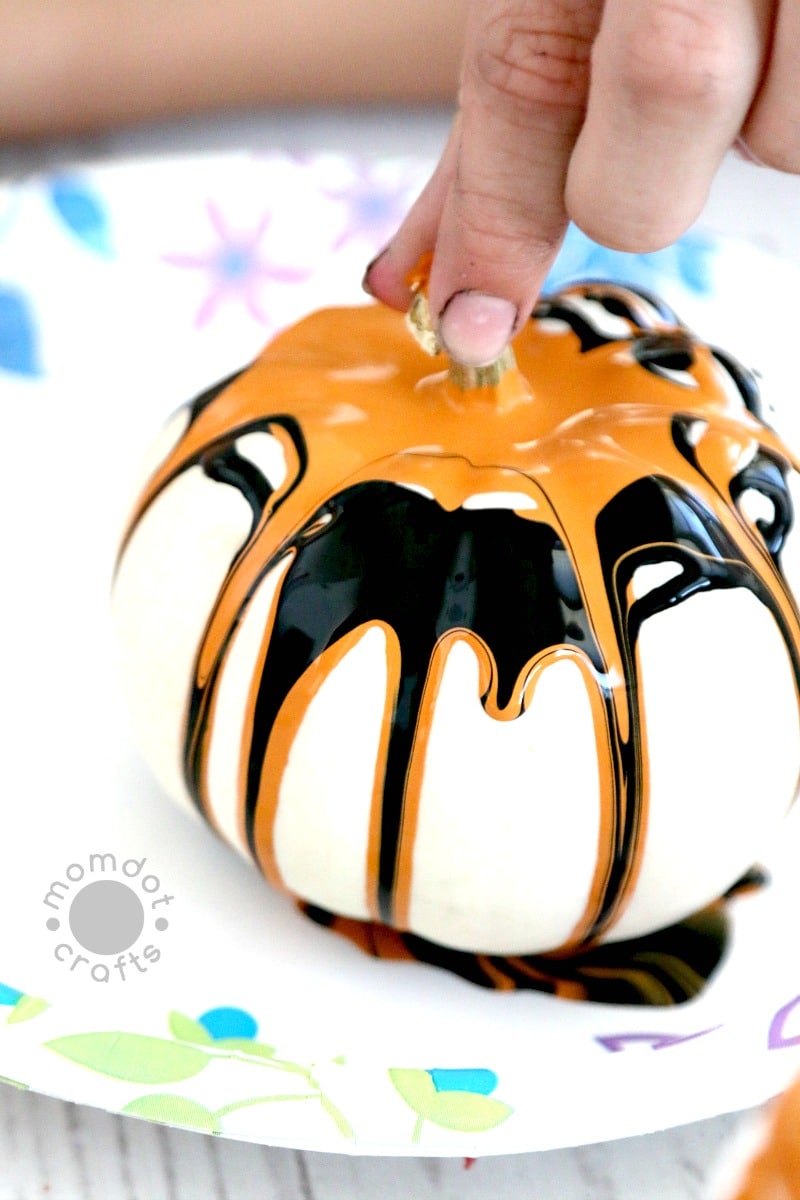 Pumpkin #5
This one we did just by pouring the paint in stripes. Its simple and a good way to do it for the youngest child of your bunch.
(Pumpkin Dry Below)

Pumpkin Drip Painting Fail
Not every craft project is perfect!
This pumpkin we did upside down! We wanted to try to go for the drip jar idea we did here, but it proved far more messy since you have to hold your pumpkin. Truthfully, the kids loved it. The more mess, the better when it comes to them. The only downside is when you do a pumpkin this way and flip it back over, it just turned muddy. We ended up rinsing this one off and starting over. If you want to do this technique, in hindsight, sit on top of a mason jar (which is sitting on a paper plate) and then do it.
Let dry completely before removing.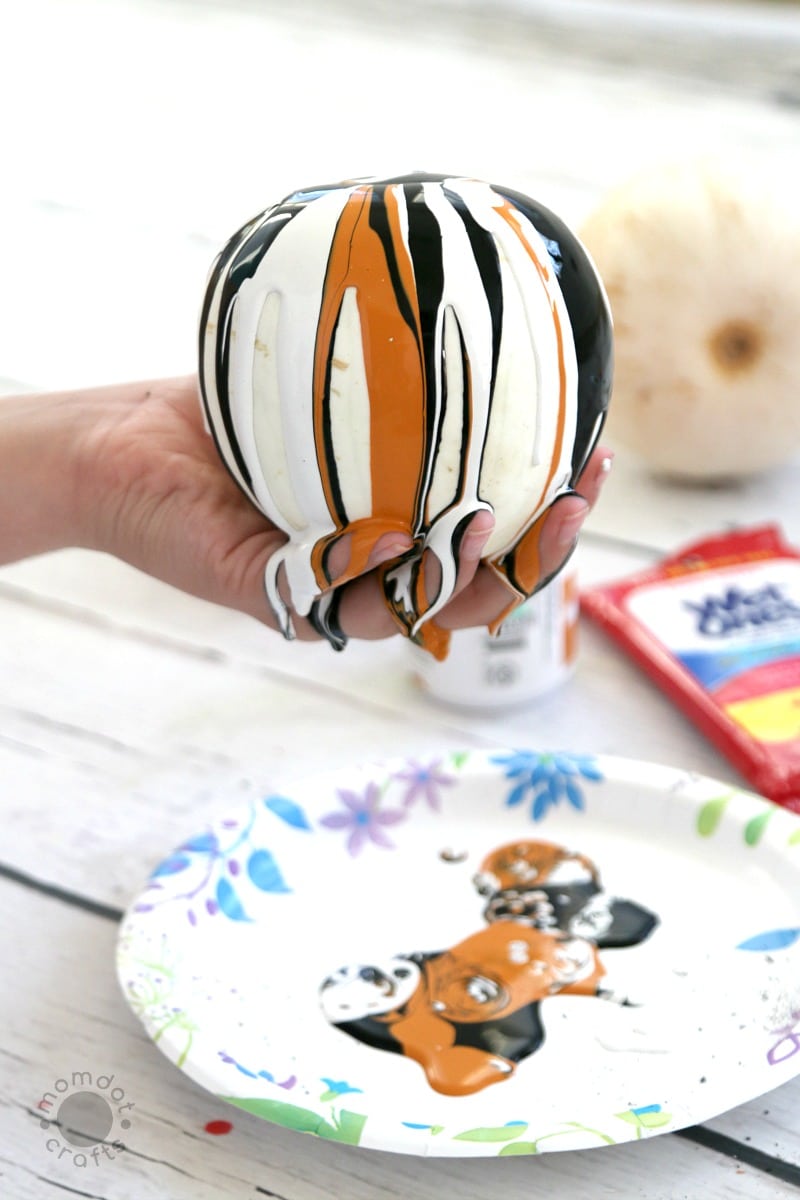 And with all those pumpkin crafts and jars of paint, we were glad to have the Wet Ones® wipes on hand! After using a few packs it was nice to see my floors and our pants, didn't bear the brunt of any paint stains. Wet Ones® Hand Wipes are available at mass, drug and grocery stores nationwide and come in three convenient sizes so you can keep them at home, in the car, and in purses and backpacks.  For more information, visit www.WetOnes.com
Woot!
This post is sponsored by Single Edition Media on behalf of Wet Ones®. I have received product or an incentive from the brand.
Get your Milk Paint!
FolkArt Milk Paint Bonding Primer and Sealer
FolkArt Milk Paint in Assorted Colors (6.8
FolkArt Milk Paint Finishing Oil (3.7 Ounce),