If you follow my blog (and I hope you do, even if I don't blog everyday) you know that I have had a lot of cats. I am a chronic cat adopter, but no worries, I keep all my kitties till they pass.
Last year we had a horrible year when Sebastian was diagnosed with cancer that he got from a rabies vaccination and then subsequently died about 7 months after his amputation surgery. Our whole family was quite distraught at the loss of him. We had adopted Sebastian while still in college (let's not talk about how long ago that was) so losing him was devastating. He was my first "out of my parents house" pet. The entire dynamics changed amongst our pets as he was the dominate male and everyone felt the loss and the emptiness.
It was then that I knew we had a hole in our hearts to fill. While a new cat could not take his place, I really needed to heal my heart from the traumatic way he died. We have adopted all of our pets at different life stages from young adult to aging adult, but I wanted a kitten this time. We went to a ton of adoptive places, including the shelter, adoption agencies, and visited pet stores having adoption fairs. I knew that I would know when I met the right cat.
So one night after combing the city for a pet and having no luck, one of our local pet stores hosted a "bring your left over animals" to the store. Its pretty much when everyone hangs outside the front door with boxes and carts of pets and tries to beg you to adopt them because they were too irresponsible to get their pets fixed.  Its really sad but since we were there with a purpose, I agreed to go. We unfortunately got there 5 minutes after it was over, but there were a few teenage kids milling around with a  mama cat and two kittens. I kept going back to one of the kittens and she was shaking so bad when I held her.
I just knew she needed me.
(check those tiny baby blues)
She has since appeared many times on my blog picking fights with her brothers:
Assisting me with tutorials and crafting: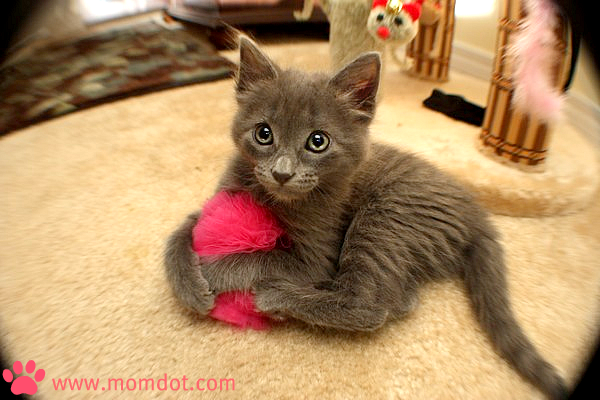 And even inspiring her own tutorial on how to make a tutu for your kitten:
Gwennie (Gwendolyn) is now 6 months old! She has been a light in my life. She has grown into everything a kitten should be and her personality is her own.
She sleeps with me at night, she sits on my lap during the day at the computer, she kisses…actual kitty licks….if you kiss her. She loves her big brother and they lay together all day.
Here are some updated shots of my sweetheart all grown up:
If you need a pet to love, please adopt!
~Trisha