With Valentines just two days away, I am sad to say that the Valentines Day crafts have just about come to an end. The good news is that Charlotte, P, and I are onto some new holiday stuff – St. Patrick's Day and Mardi Gras!
I wanted to kick off the new holiday celebration with something super easy today.
I created this St. Patrick's Day "Under the Rainbow" set that can be used for about any age. If your little one is too young to write (like one of mine is), you can encourage he or she by asking the questions and filling out the paperwork. Then move onto the drawing portion!
Make this St. Patrick's Day Rainbow Snack Cup to snack on while you fill it out!
Charlotte, 9, was my tester: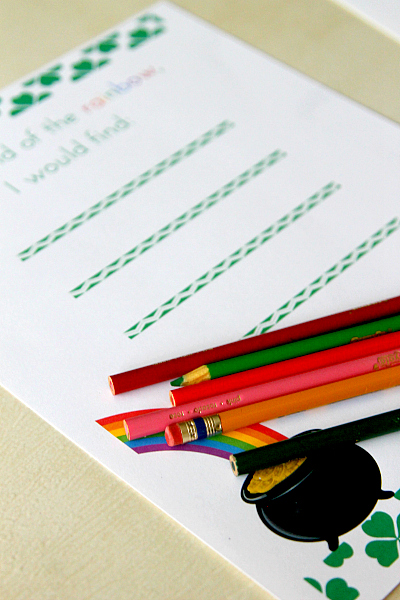 I learned that she has a 'house with an indoor pool' under her rainbow. Me too, Charlotte…me too.
If you haven't noticed, she is my leftie: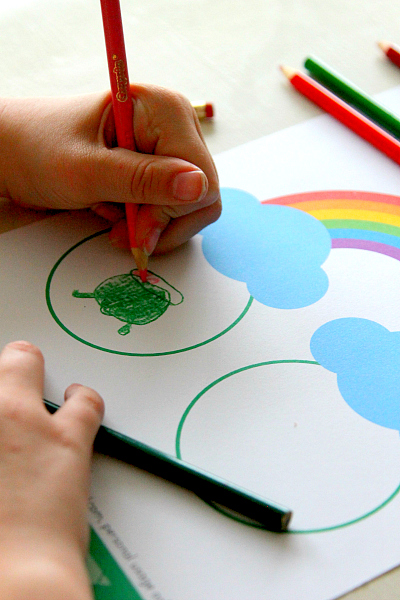 Here is the link to download my 2 free St Patricks Day Printables, which you can use in your house or in your classroom!
~Trisha
Bloggers, I adore when you share! You may link to this post but please do not hotlink my printable directly.
Do you love Crafting?
Ready for more St. Patricks Day Ideas?
We have great full picture and DIY tutorials (denoted with a

) or you can check out some of our amazing blog resources for tutorials from other talented bloggers!