If you are here from my Hot Glue Spider Web Pumpkin, I am presume your hot glue gun is already rearing to go and it should be. This is a super easy Halloween DIY craft that can awaken the DIY Goddess in you. I mean…hot glue…spider webs? YES PLEASE.
Lets be realistic- there is nothing scarier any time of the year than a spider landing on your floor, so when it comes to Halloween the earlier you hang these, the more fun you can have making spiders to freak everyone out. Of course in my house, these are friendly spiders.
Before I start I wanted to give you a tip- spider webs are not perfect .This is an imperfect craft and that is half the fun. Do not be so concerned or frustrated with great lines and circles. When you use hot glue, it kinda does its own thing. Sometimes it comes out thick, sometimes thin, sometimes it sticks and makes tiny strings- these add to your authenticity so go with it.
Hot Glue Removable Spider Webs
What you need
Lay out your parchment paper
and secure on both sides so it doesn't fold on you. Now how you create your web is totally up to you, but what I did was run straight lines like a star and then start connecting smaller to larger circles around it. Make sure you stop every 20 seconds or less while the hot glue is still hot, to sprinkle on your glitter. If it dries the glitter will just bounce off!
IMPORTANT: Your web needs to connect to itself on all sides. You cannot leave your lines unconnected or it won't be stable.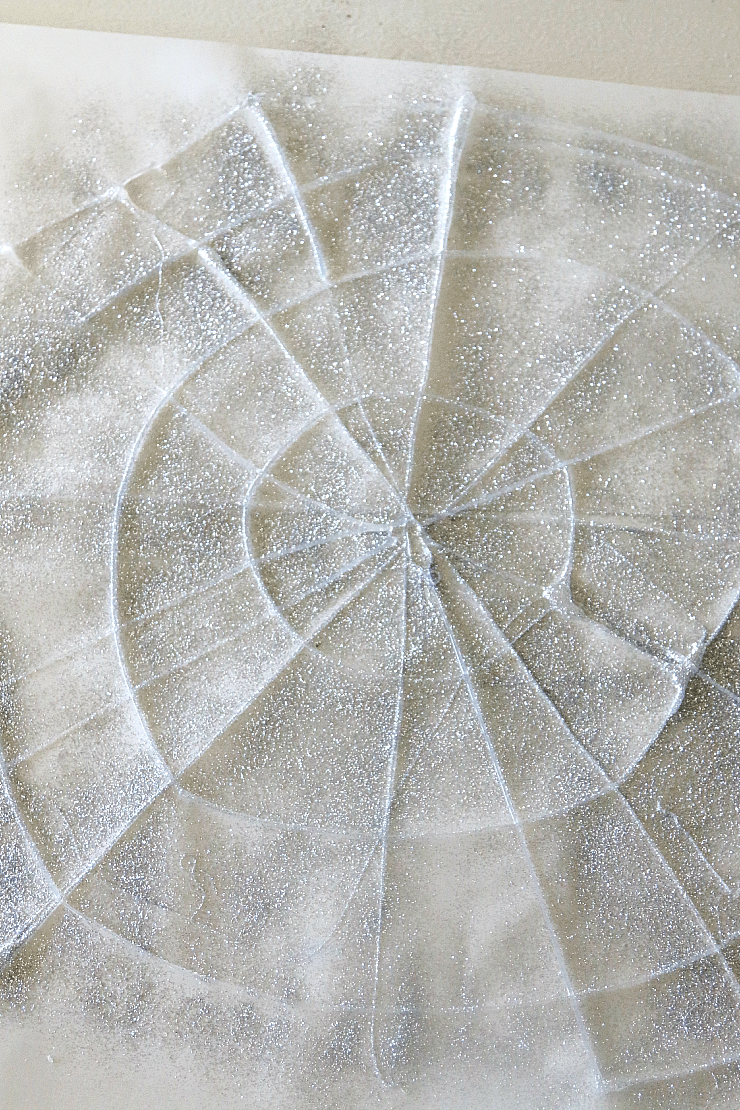 Once your spider web is dry which should take less than a minute or two, your spider web will peel RIGHT OFF your parchment paper. Seriously if you have never used parchment paper, it will save your cooking life. I discovered it a few years ago and now I keep it in my house at all times.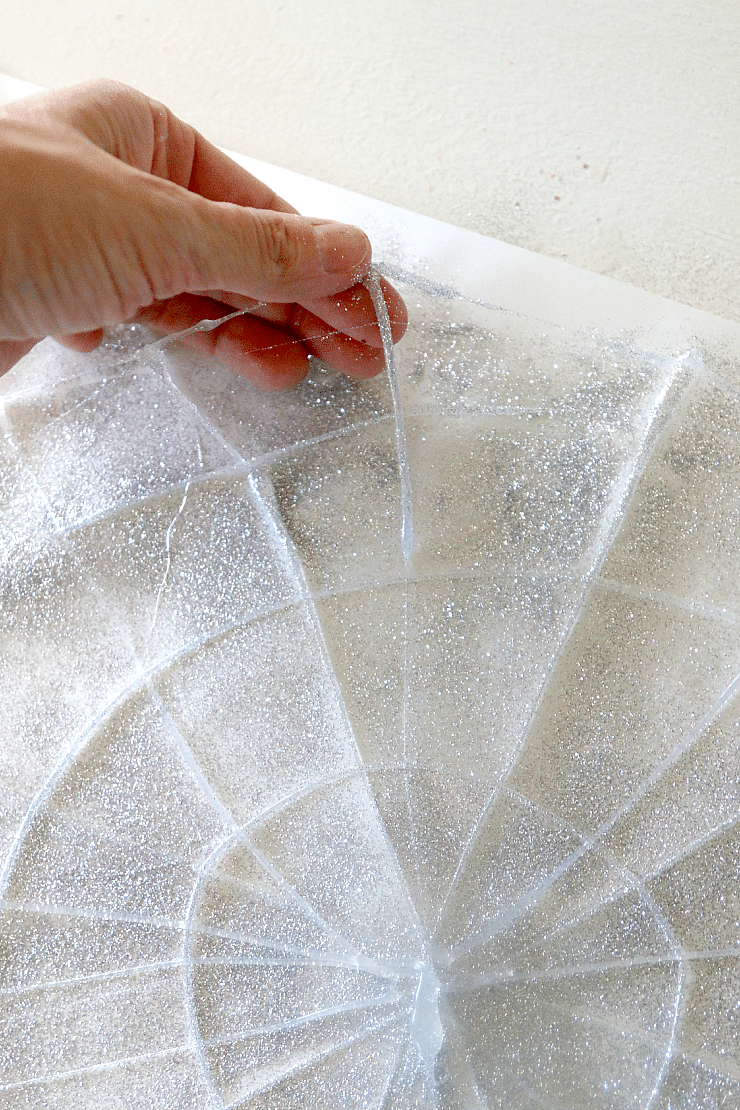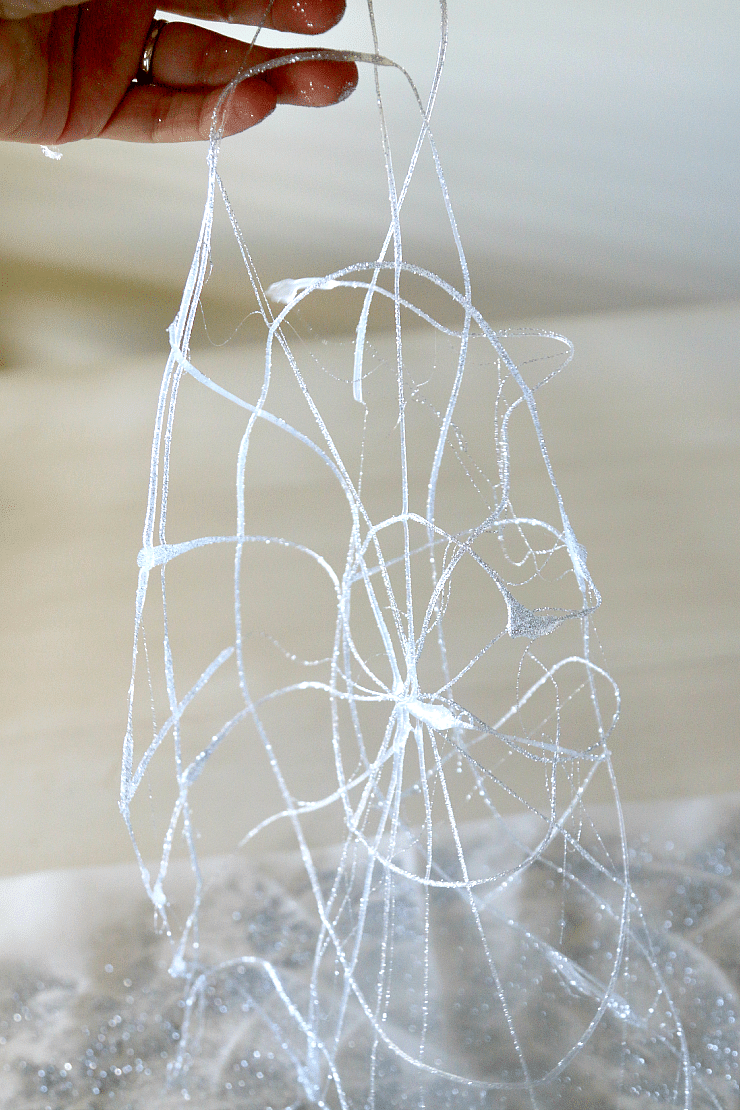 Now you are wondering, ok, what the heck are you gonna do with that.
Well…a ton of things!
You can make small ones for Halloween cards, put it as decor on a table or what I did….oh…stuck it in the front yard with the world's cutest hot glue spider. It took me a bit to get this little spider how I wanted, so I will be doing a separate tutorial on how to make him. Stay tuned!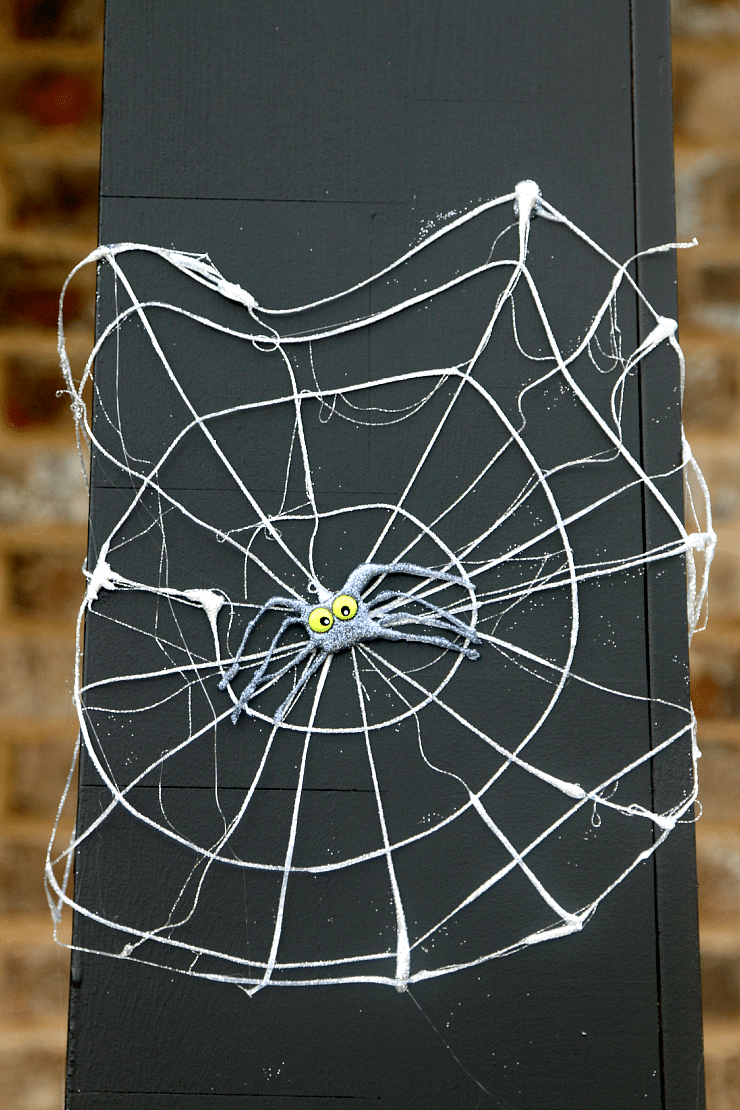 Do not forget to Pin to your Halloween boards and please follow my Halloween Pinterest board for more Halloween ideas all season long!~
Follow MomDot's board Craft Ideas: Halloween Crafting on Pinterest.