Unicorn Poop Slime recipe is a homemade slime fan favorite. Our recipe is the Original Unicorn Poop Slime and many have tried to duplicate this how to make slime tutorial. I admit it, naming this slime recipe Unicorn poop slime gave me a pause.
Did I really want to call slime… poop. But yes. Yes I do. Because unicorn poop is silly and slime is totally awesome and together its got to be like rainbows and kittens.
Ok, fine, its gross but here we are. Basking in the ambiance of 'unicorn poop slime' so let's just roll with it.
You may be asking yourself, what exactly IS unicorn poop. Well..according to about every major source out there, unicorns poop rainbows so therefore anything with rainbows is unicorn poop by default.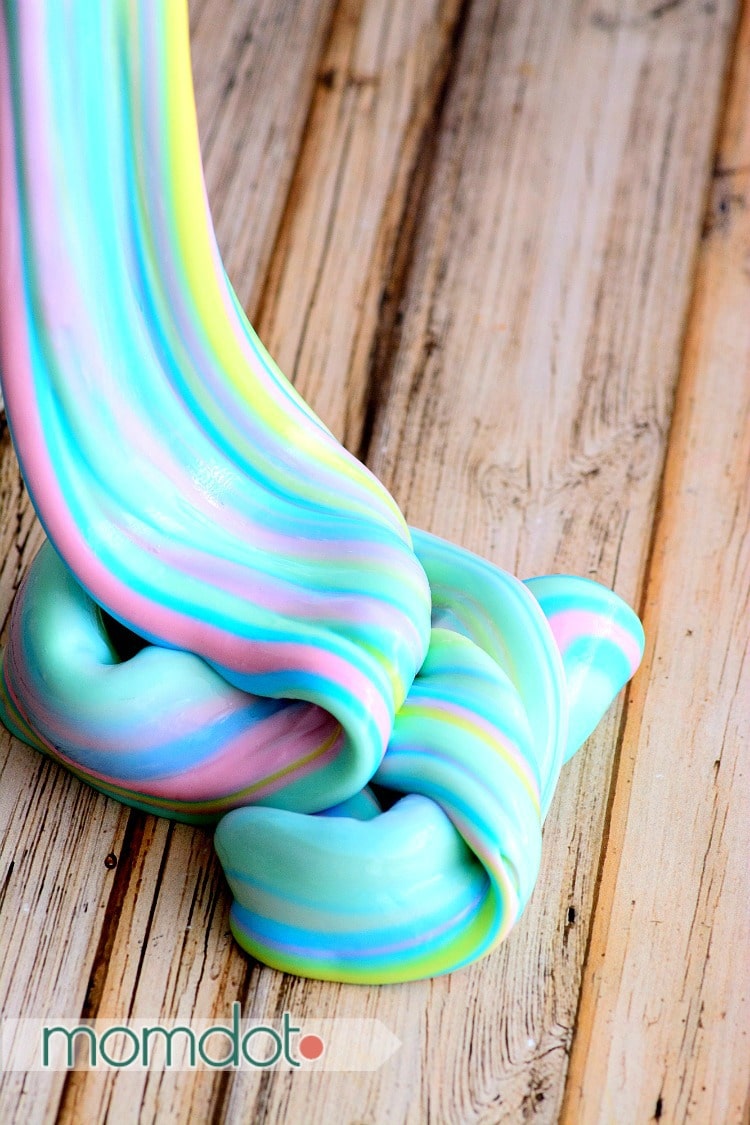 ---
Get the Best Unicorn Poop Slime Recipe for Kids
Download FREE Unicorn Poop Slime E-Book!
There are so many great unicorn poop slime recipes here on momdot, that I put this original one and a few others in a simple full color download file! Just print off here so you can enjoy from home.
This file is for personal usage and contains a recipe for unicorn fluffy slime as well as this original unicorn poop slime and other links back to the other unicorn slimes.
Your kids or classroom will love it! Do not worry, the PDF file has links that will send you right back to the original posts for more instructions and images.
Head to a desktop computer with a printer and download! Then you can take this mini booklet with you to events, friends houses, classrooms and more!
Just click HERE or below to begin an instant download.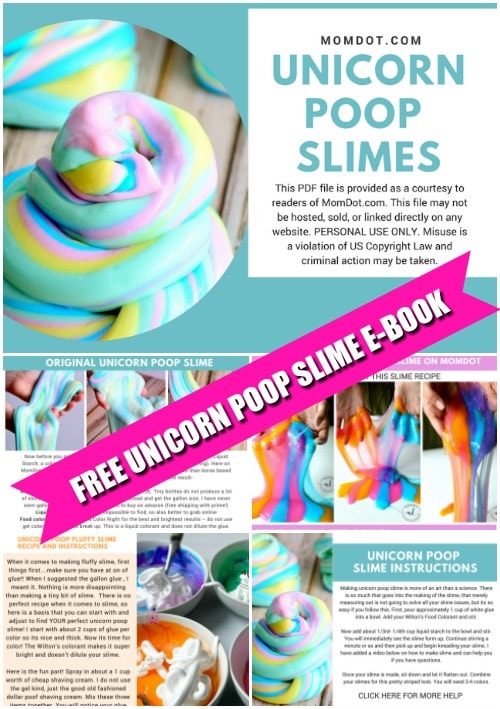 ---
Unicorn Poop Slime
No matter how gross, silly or funny it is, the fact is making rainbow anything is awesome, so I am happy to provide the recipe for your enjoyment.
Homemade Slime is and of itself contains very few ingredients but can be a little difficult to get the right consistency on the first round.
The first time I made slime I end up with goop. Since then I have a lot of slime recipes on here and you can find them all and lots more messy play, here —-> Slime Recipes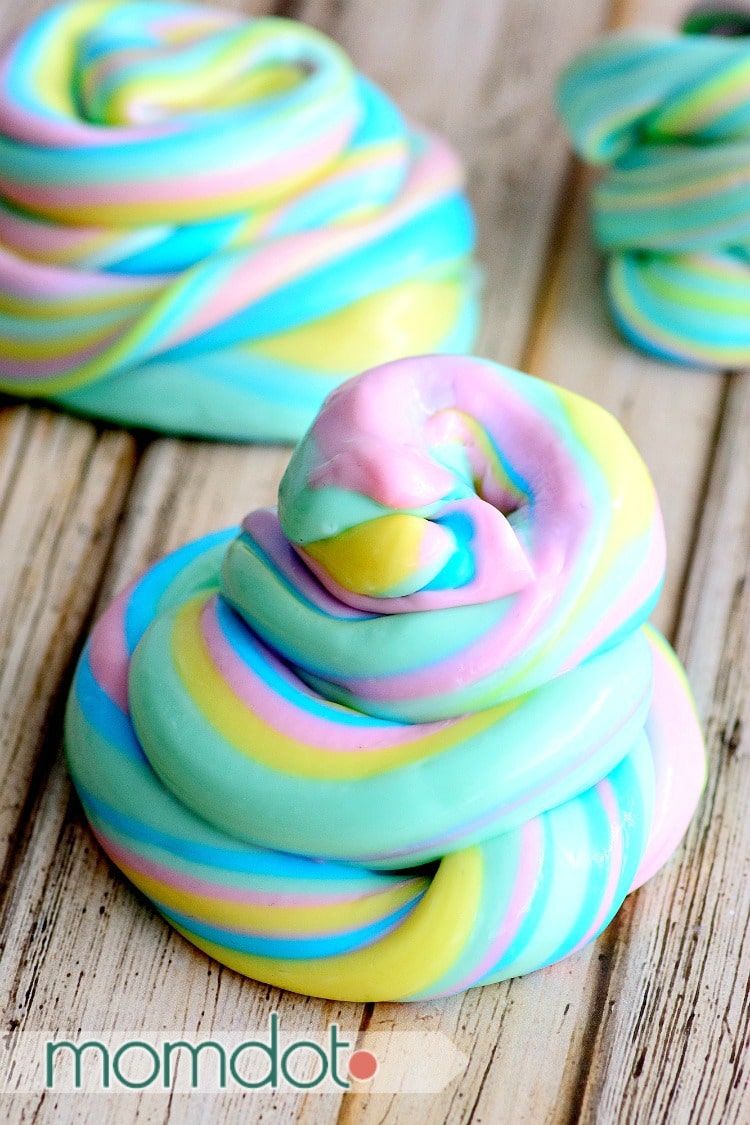 Unicorn Poop Slime Recipe
Now before you get started, you will need a few things to learn how to make slime: Gallon of Elmer's Glue, Liquid Starch, a colorant if you want it to have color (I prefer Wilton's Food Coloring).
Here on MomDot,  I make slime with liquid starch.
It's so much easier to make than borax based slimes and you will have less mistakes in the end result- TRUST ME.
Unicorn Poop Slime Ingredients
White school glue – I always use GALLON SIZED GLUE. Tiny bottles do not produce a lot of slime and this is an addicting project. Go ahead and get the gallon size. I have never seen gallon sized in stores, so you need to buy on amazon (free shipping with prime!)
Liquid Starch – This can be impossible to find, so also better to grab online
Food coloring – I use Wilton's Color Right for the best and brightest results – do not use gel coloring, its hard to break up. This is a liquid colorant and does not dilute the glue.
How to make Unicorn Poop Slime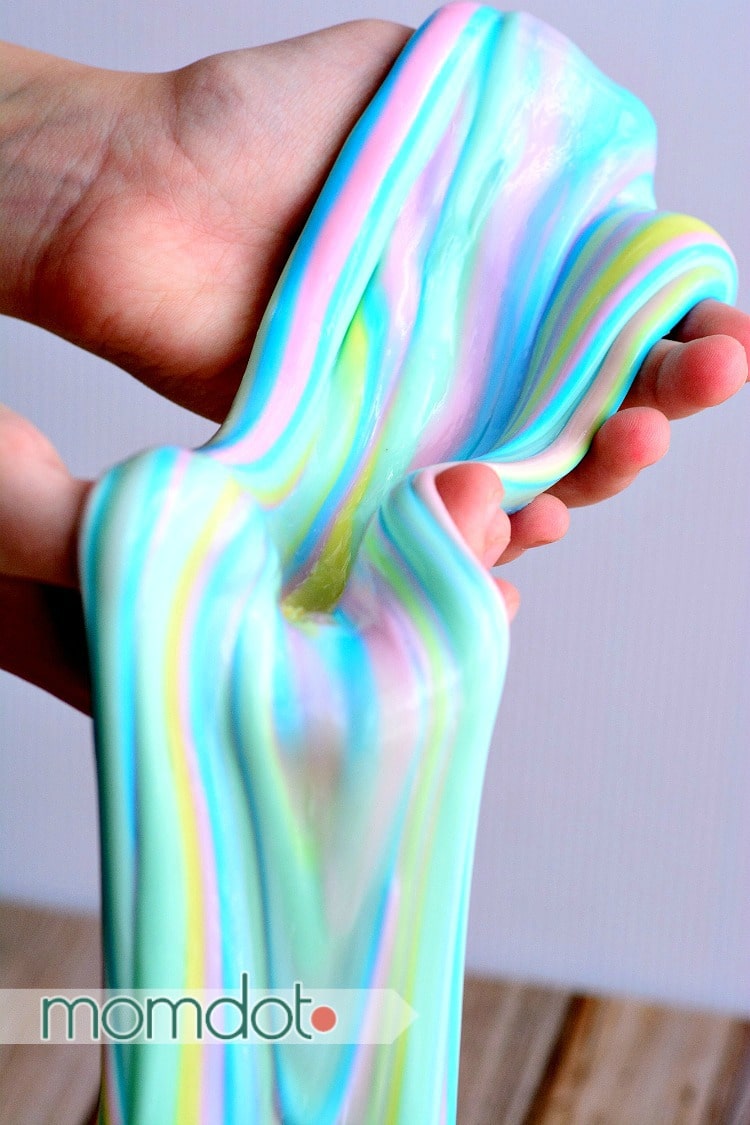 Making unicorn poop slime is more of an art than a science. There is so much that goes into the making of the slime, that merely measuring out is not going to solve all your slime issues, but its so easy if you follow this.
First, pour approximately 1 cup of white glue into a bowl. Add your Wilton's Food Colorant
and stir.
Now add about 1/3rd- 1/4th cup liquid starch to the bowl and stir.
You will immediately see the slime form up. Continue stirring a minute or so and then pick up and begin kneading your slime. I have added a video below on how to make slime and can help you if you have questions.
Once your slime is made, sit down and let it flatten out.
Combine your slimes for this pretty Unicorn Poop striped look. You will need 3-4 colors.
---
Unicorn Poop Slime without Borax
So why no borax in this poop slime?
Purex Sta-Flo Liquid Starch, 64 Ounce
PRO TIP: Many people do not like to deal with borax and water when making slime. You can also make slime by using LIQUID STARCH and glue.
It's a ton easier. Simply use about 1/3rd cup starch in 1/2 cup glue (do this per color) and add starch little by little until you get the slime consistency you want.
Once it's set, then separate the white slime and dye the colors you want in solo cups.
It can be pretty hard to find liquid starch, so pick this one up here (it's the one I use) as well as a huge thing of glue so you can make tons of slime for all occasions.
Buying this way is a lot more cost effective and once you start making slime, you will def want to have glue on hand!
&
Purex Sta-Flo Liquid Starch, 64 Ounce
Elmer's School Glue, Washable, 1 Gallon
---
See how multi-colored slime like this unicorn poop slime is made here! I made this super short video to show you how to make slime and see some of the stages! Check it out~
---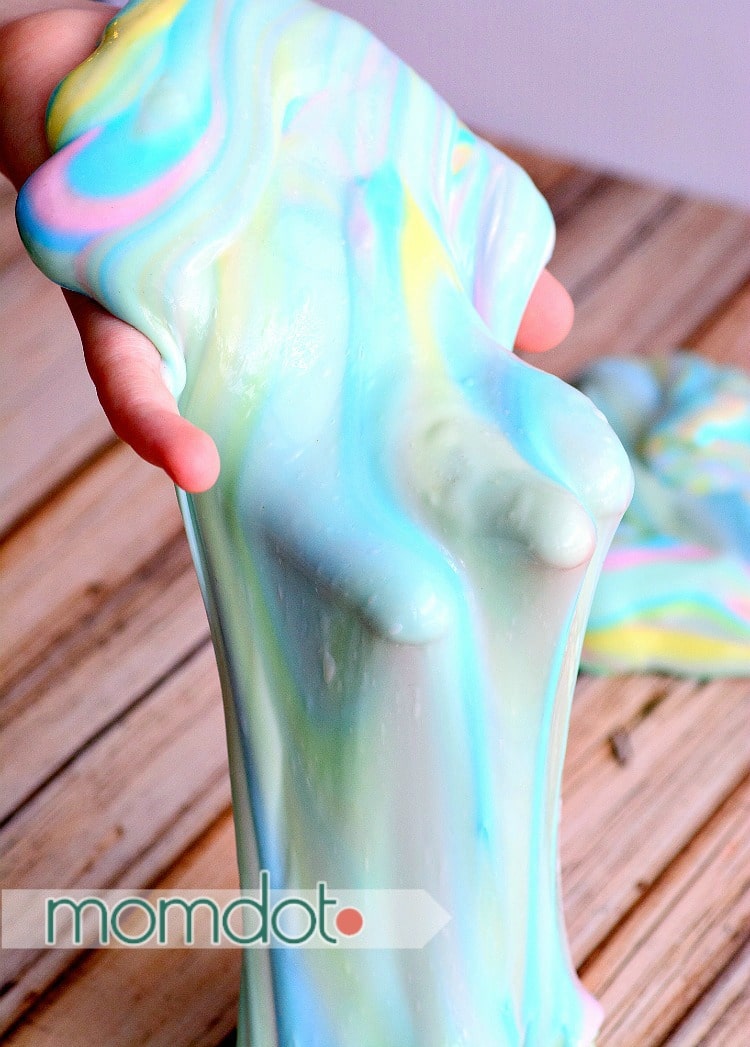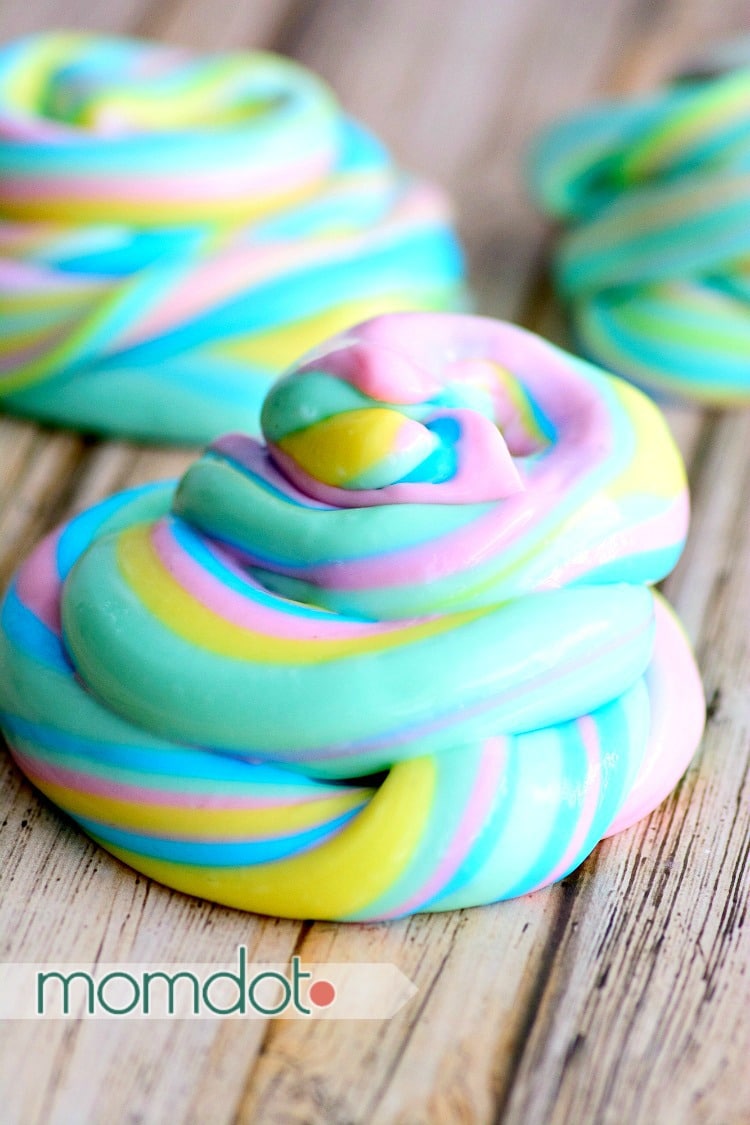 ---
How to Make Slime Video
I have a lot of people message me about this and other slime projects, wondering why their slime is so runny compared to mine. I did a live Facebook video that shows you the stages of slime from the goop to the solid mass above you see, so you can make sure you are on the right track. I also address some of the slime issues!
Or if you'd rather, you check out pre-made slime kits here.
Please watch because it will help you grow some confidence and make sure you get it right!
Do not forget to pin this recipe and see more of my Pinterest Slime Recipes by following me here! (but seriously, my Pinterest account is awesome, come over and lets be friends!)
Head here to How to make Multicolored Rainbow Slime.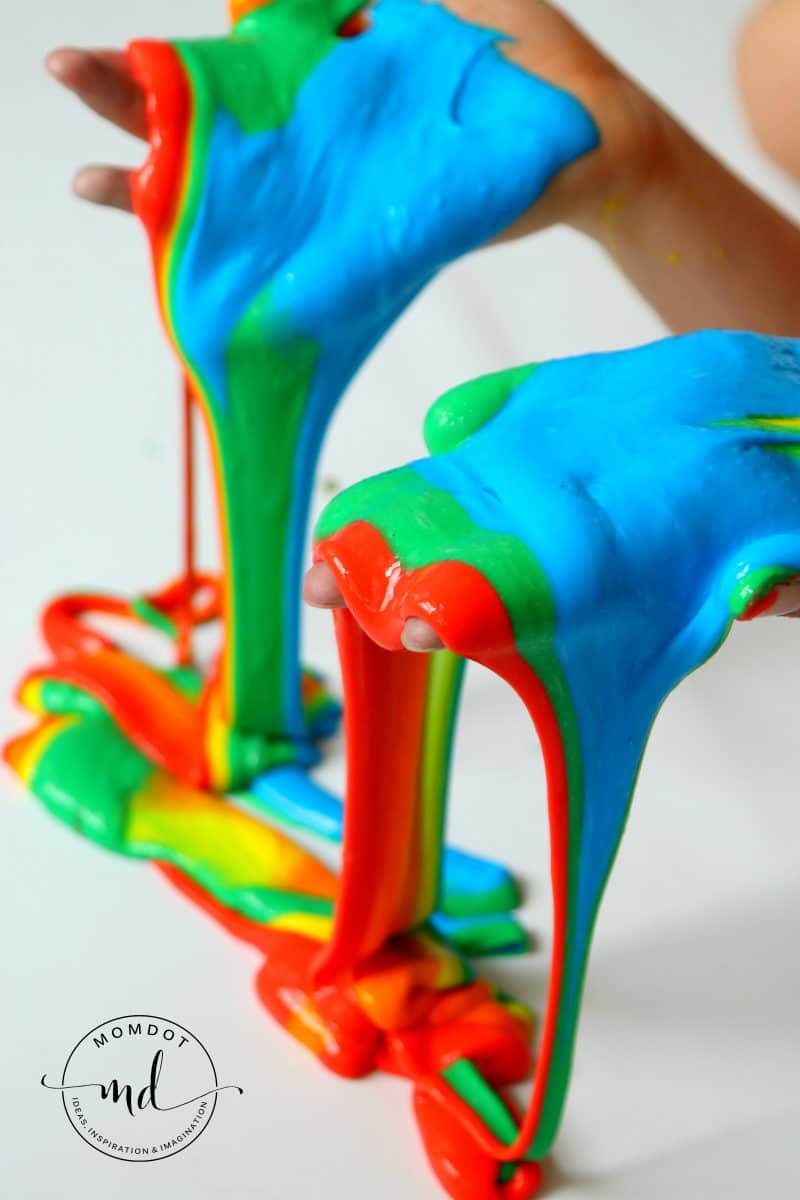 ---
SLIME BOOK AVAILABLE!!
Love the Slime Recipes on MomDot? Our first book has been published and you can pick up a copy right on Amazon for yourself or to gift to a slime fan in your house!
It features not only some fun basic slime recipes and how to get started on creating your own, but also some ways to use slime for holidays and gifts! Check out the book here! 
If your girl is a unicorn lover, checkout unicorn clothing.
Don't forget to check out some of our other guides that can help you in the kitchen while cooking, or around the house!
---