A few weeks ago I received a Zojirushi Rice Cooker to test out at home. Now we love rice and its something we eat at least 2 times a week, so I was pretty excited to see what this new cooker entailed. While I was totally prepped for it to be a steamer (and it was!) and had a variety of easy push button options like white rice, sushi, brown rice and more, I wasn't prepared for the adorable songs it played when warmed up and turning off.
Hey, it's the little things folks.
And with my new cooker since it had a focus on sushi rice, I wanted to create a fun dish that you can make in your house that will get your kids gobbling up that fruit tray.
Create Frushi!
In my head this idea was easier than it ended up being, but that is because I am a bit of a klutz when it comes to folding fruit roll-ups. It is still worth the effort because it's fun! This is an original recipe but feel free to add or take away for whatever works in your house. I encourage you to try adding raisins or cranberries to your rice or even substituting your crushed pineapple with other fruits.
You will need
your cooked sushi rice
can of crushed pineapple
marshmallow fluff
fruit roll-ups
variety of fruits for toppings

First cook your rice in your Zojirushi Rice Cooker using the sushi button. While that is cooking you can drain the smashed pineapple and prep small cuts of fruit for toppings.

Once the rice is done let it cool.
Then combine 1 cup of rice, 1/4th cup of crushed pineapple and 1 heaping spoonful of marshmallow fluff. If you add the fluff before your rice is cooled, it will melt your marshmallow. While that isn't bad, it will make it hard for the rice to stick so make sure the rice is cool. You can add to the fridge if you need to. Once the items are combined, I personally put in the fridge so all the items could gel together for about 10 minutes.

Remove your bowl from fridge and unwrap your fruit roll-ups. Add rice mixture to fruit roll up and roll-up.
Yes, the fruit roll-up is a bit sticky. The way I combated that was to roll it, then put it on a plate and stick in freezer for about 5 minutes. Once I removed I wrapped in a SECOND fruit roll-up and that made a strong outer base.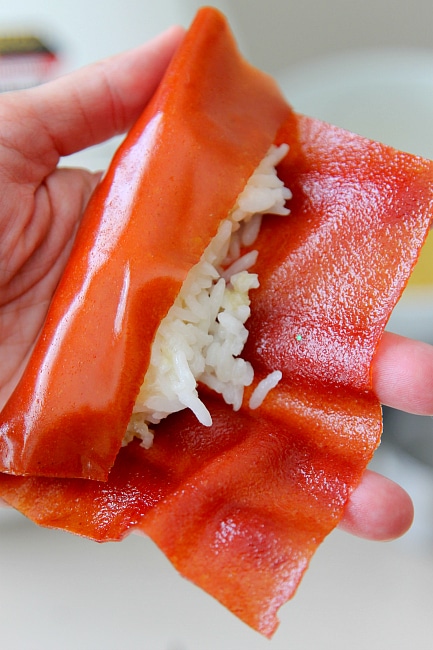 Cut, add your toppings and serve!