This is a sponsored conversation written by me on behalf of P&G at Sam's Club. The opinions and text are all mine.
The Olympic Winter Games are underway! How can you pump up your family for the occasion?
Now that the Opening Ceremony for the Olympic Winter Games has lit the cauldron and The Games are finally underway, you might be wondering how you can pump up your family for some amazing winter sport.
I'm a diehard for The Winter Olympics but my family isn't always so enthusiastic. To set the scene this year, I'm sharing my list of 7 ways to get your family into the Olympic Winter Games.
Host your own Family Olympics
Not all of us are world champion speed-skaters, but I can certainly throw a mean cotton ball into a saucepan on the floor. Make up your own silly (or serious) events and get your family competing for those elusive medals!
I love the cotton ball throw, the related who-can-pick-up cotton-balls-fastest, sock skating on hardwood/laminate floors, indoor/outdoor obstacle course, and for the artistic, snow sculpting competitions.
Our family calls it the "quiet game" as it makes no noise other than you laughing pretty hard!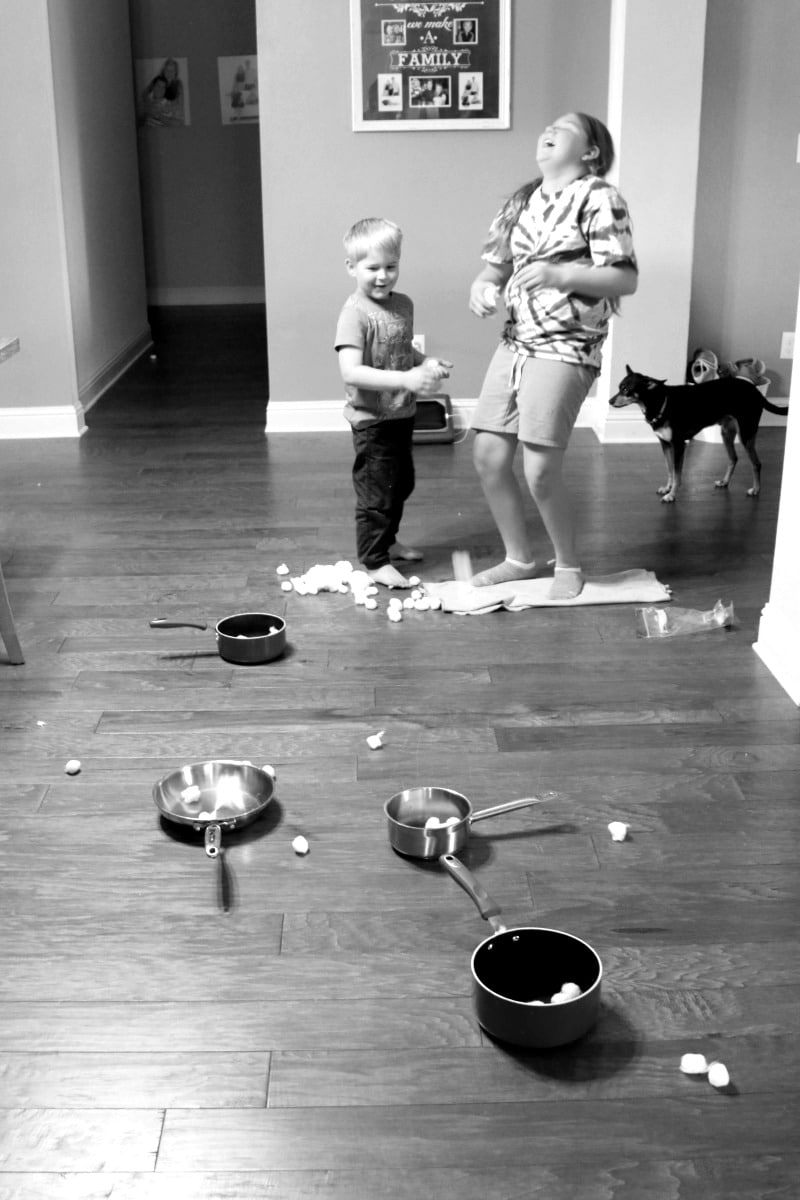 This game can also be played with Puffs Tissues and requires a lot more skill.
Always include a medal ceremony at the end and let the gold medalist choose their gold-medal music! Sometimes we make our own medals.
If you really want to spice up your ceremony, add paper flowers or create your own Soohorang dolls or drawings – at the Olympic Winter Games PyeongChang, medal winners receive a doll of The Games' mascot, rather than the traditional bundles of flowers.
I have also provided a very fun "Winners Circle" sheet where you can write the winners of each of your games and then pass out cupcakes to the winners!
Sounds like a super fun family night to me. DOWNLOAD FREE HERE or by clicking image below for an instant PDF file.
Pick your favorite Athletes
This game works great whether you're watching by yourself or with a crowd. At the beginning of the coverage of an event (this works whether you're streaming or watching the coverage live) pick your winners from the complete list of entrants.
The announcers always give you sort of an idea who is likely to come out on top (so try to make your picks before you listen), and entrants are usually ordered in reverse from their current world standings.
You can make up whatever rules or guidelines you like, but you can choose your winner from the top entrants, or each choose a competitor and see which comes out ahead. There are really infinite ways to set up the game and for players to earn "points."
You can choose winners for all sports covered in a given night's prime-time coverage and collect points for better predictions.
At the end of the coverage, the player with the most points wins! I love this game because it pushes me to consider all competitors.
Learn about a new sport
I like to challenge the kids to learn about a new or new-to-them sport; who developed it, what technical skills are required, where can you go to train to do this event and when the sport made its debut in The Games.
Researchers can present their findings in a mini-presentation, and then the entire family can watch coverage of that event streaming!
Ok, you might need to muster LOTS of enthusiasm to inspire kids to do what might feel like schoolwork, but if you set it up as the prerequisite to watching The Games, you might inspire some great work.
Personally, my kids are way more interested in coverage if they have some connection to an event or competitor and they take a lot of pride in sharing that information with the rest of the family and as schools love to discuss the events as well, it gives them an edge in the classroom.
Make flags
Flags of the nations of the world are one of those nerdy things I am a sucker for – and The Winter Olympics is a great way to focus learning about the really unique and visual flags of nations all over the world.
As one of those nerdy kids, one year I sat down and set out to make mini flags of the countries in The Games out of construction paper.
I only made it through four before I got tired, but it was a lot of fun to find examples of the flags (in the pre-Internet era even) and work with my construction paper and craft supplies.
If cutting up lots of colored paper doesn't sound inviting, kids can also draw and color flags on white paper or even print out images and make a flag garland.
There's no reason NOT to decorate for The Games, especially for your South Korean-themed party (see below)!
Throw a South Korean-themed Cultural party
One of the best parts of The Games is learning more about the host culture. While I thought I was pretty good on my various world histories, I realize how little I know about the sometimes obscure settings for the Olympic Winter Games.
One of my favorite ways to explore a new culture with my family is through the food.
Sam's Club is a great place to look for all sorts of food and there is no real reason not to bust out some South Korean dishes in your kitchen.
Kimchi, Bimimbap, Bulgogi, and Hoeddeok are relatively straight-forward and pretty approachable for even the most suspicious eaters.
Don't forget the chopsticks and decorative bowls!
You can also pick up Bounty paper towels to make sure you keep your hands and your house clean during all your delicious meals.
Plus right now you can get $2.50 off Bounty Olympic-themed products as well as Charmin, plus $2.00 off Puffs at Sam's Club, which is like a gold medal for mom and that budget!
In addition to your food, have kids make a South Korean flag for decoration, or better yet, buy an inexpensive white tablecloth and use permanent markers to draw a flag right on the tablecloth itself!
Paper lanterns are a popular Asian decoration that looks fantastic over the dining table and throughout the house.
Plus these are relatively inexpensive.
Last but not least, don't forget to create a playlist with some special Korean music and music by Korean artists in English.
The rendition of John Lennon's "Imagine" at The Opening Ceremony by four South Korean artists was truly memorable.
How will you cheer during The Games this year?
This is a sponsored conversation written by me on behalf of  Bounty, Charmin and Puffs at Sam's Club. The opinions and text are all mine.