With the onslaught of subscription boxes that have inundated our purchasing abilities the past few years, it's difficult to figure out which subscription box is a take it or leave it situation. And with all the seemingly similarly subscription boxes out there, I was pleased to be recently introduced to Bloomsy Box, a flower subscription service that sends the beautiful blooms every month all year long.
Personally, having fresh flowers in a home is not only fantastic for decor, but brings a sense of peace to the room. Even my kids love having fresh flowers in their rooms but with the occasional holiday, its not something I consider often.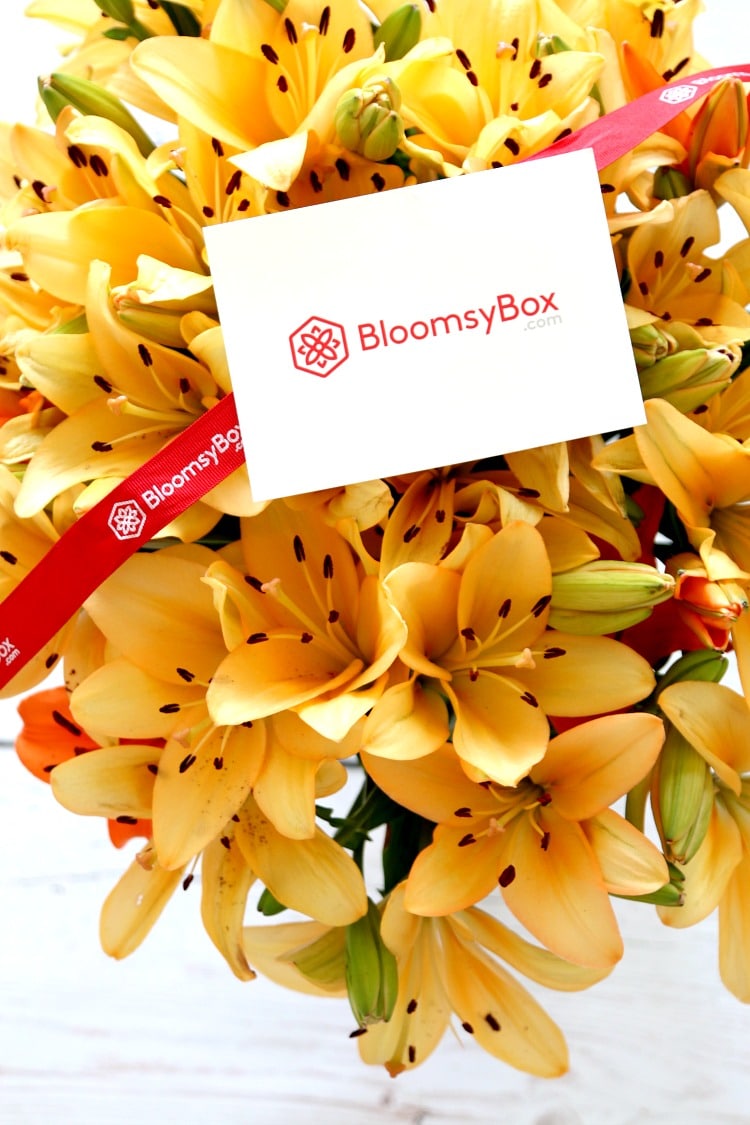 What flowers you can expect from Bloomsy Box: 
First there are three kinds of Bloomsy Bloom options. Bloomsy S, Bloomsy M and Bloomsy L (Small, Medium, Large Bouquets). In the small option, you can expect flowers like Roses, Hydrangeas, Alstromerias, and Gerber Daisies. In Bloomsy M boxes, all the above plus flowers like Orchids or Lilies. In the last box, the premium large bouquet, you or your loved one will be wowed each month with huge bouquets that include some of the most beautiful flower species like those above or even Mini Callas. The point here is that you will be surprised monthly with new colors, smells and types of flowers to enjoy!
Personally, I like having the Large bouquet because it was easy to break the flowers up into more than one vase and place all over the house!
Bloomsy Box Subscription Options
No questions, no hassles, Bloomsy Box offers a variety of free delivery subscription options.  You can subscribe for month to month, 3 month prepay, 6 month prepay, or 12 month prepay options. By picking long term options, you save more money year round on the flowers. Your subscription may be cancelled anytime!
Your subscription may be cancelled anytime!
Where do the blooms come from? 
The flowers from Bloomsy Box come from farms directly to you. Mine were packaged in beautiful brown package paper looking like they were rolled fresh for me. Tied with a red bow and delivered in 48 hours from places like South Africa, Holland and France, you will get some gorgeous blooms. My flowers also came almost entirely unbloomed and I got to enjoy the blooms over the past 5 days as they unfurled into a gorgeous bouquet.
Reasons for fresh flowers
Really, do you need reasons to want fresh flowers every month? I don't! Flowers are hands down one of my very favorite things! It's an instant mood upper and makes the house "look" come together. I thought the Bloomsy Box was fair on cost and delivered with flowers that I have been sincerely enjoying this week. Plus, with a set it and forget, you can tell mom, grandma or someone special in your life you love them EVERY month!  Flowers are also great for real estate agents showing homes and personal home decor.
Head over and get to know Bloomsy Box Today.