My copycat recipe for Asian Zing Boneless Chicken Wings is my husband's favorite. He says they're BETTER than the original! You have to make this recipe and let me know what you think. Get the printable here and prepare to impress your friends!
This post is sponsored by Mirum, but the opinions expressed are my own.
Copycat Asian Zing Boneless Chicken Wings
Fall is my husband's favorite time of year – the crisp morning, the changing leaves, the cooler weather, and especially the football.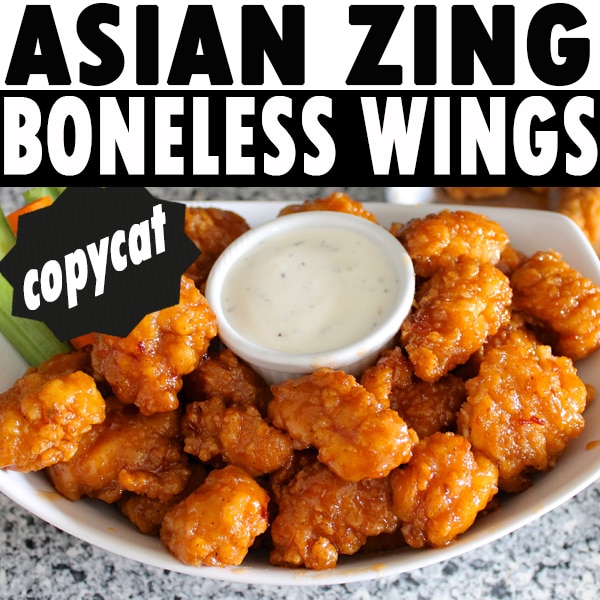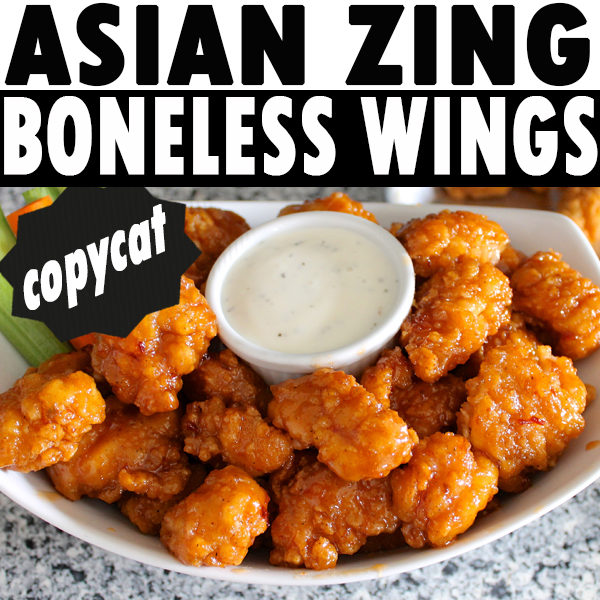 How the Asian Zing Wings Thing Started…
A few years back, my husband was out of town on a business trip. He and his work buddies went to a nearby restaurant to watch a game and grab some dinner. What happened on the field was quickly eclipsed by the Asian Zing chicken wings he was served.
He was hooked!
That night (and many days following his return home!), he raved on and on about how delicious those wings were.
Because he's my favorite and my best, I set out to recreate the flavors. That way, the next time his craving for it hit, he wouldn't feel compelled to take an extended road trip just to get his fix.
Plus, I would be hailed as the best wife ever because I could then make his favorite Game Day food! Score!
He was pleased with the results. Wait. No, not pleased. That's too light of a word. He loved the results! In fact, he loved my copycat version better than the original!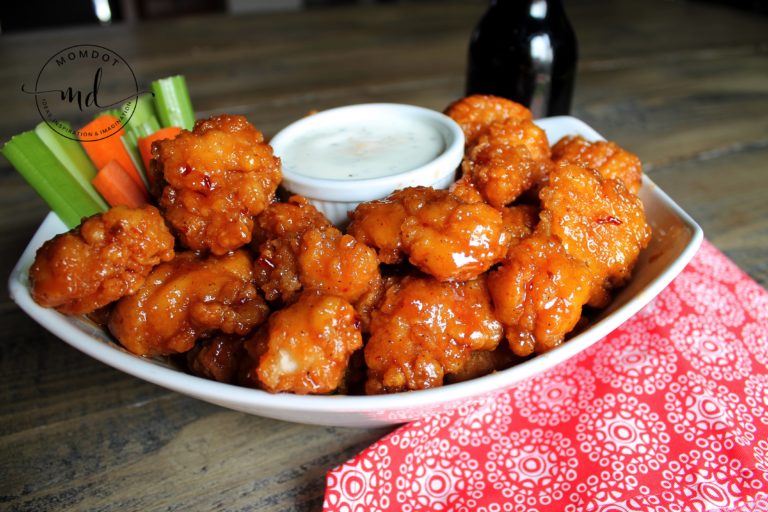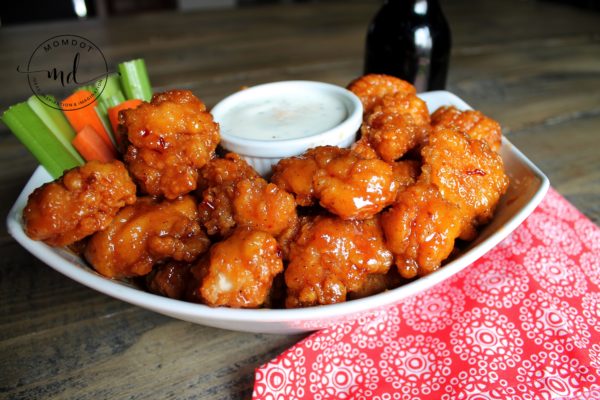 Omeprazole Orally Disintegrating Tablets Enter the Scene…
As much as my husband loves these wings, eating them comes at a price. The heat in them sometimes becomes a little much and it leaves him with a bout of heartburn. He's one of the lucky ones. Many others suffer with chronic heartburn.
We get Up & Up Omeprazole Orally Disintegrating Tablets (also referred to as ODT) from Target and take them before we even start eating Asian Zing Wings. They are the answer for relief!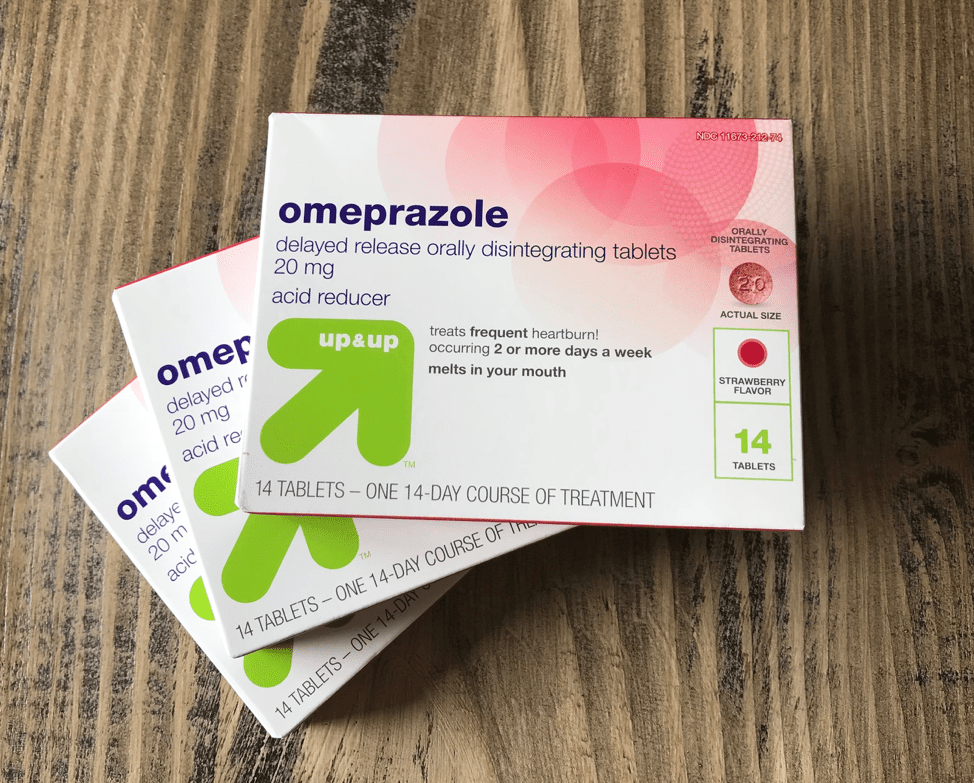 We love that the MELTech technology allows the tablet to dissolve on your tongue easily. That means it will literally melt in your mouth! It's not another pill to swallow.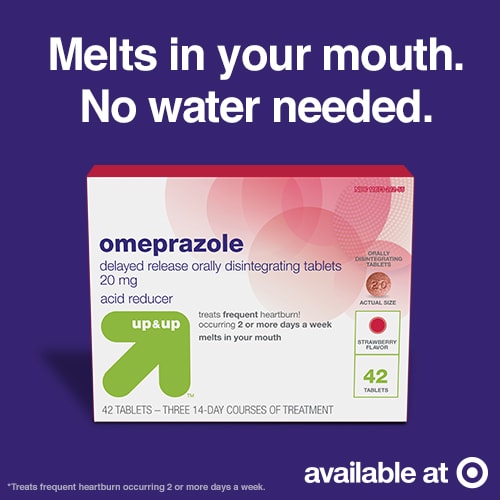 Asian Zing Wings: Boneless vs Bone-in
Since I'm here trying to make your life easier in multiple ways, I've also simplified this recipe by using boneless wings instead of the bone-in wings that Hubby prefers.
Bone-in wings never taste right to me unless they're deep fried, and I can't bring myself to fry them at home.
When I'm out at a restaurant, for some reason it doesn't bother me so much – out of sight, out of mind and ignorance is bliss, and all that.
But at my own house, the grease splatters get messy. Plus, it makes me nervous with a houseful of Littles running around.
I decided with this recipe to skip the frying and go with the baking route. Still delicious, and so, so simple!
But if you're like Hubby and would rather use bone-in, go for it! Chicken tenders would work too! Really, anything would work paired with this sauce. Use whatever you've got.
The Asian Zing Wing Copycat Recipe
Get a bag of your favorite plain boneless wings (or whatever protein you fancy). Lay them on a baking sheet and cook them according to the directions on the bag.
While those are baking, begin making the sauce.
Make Asian Zing Wing Sauce Recipe – Copycat Superstar!
Grab a small bowl or mug and dissolve the cornstarch in the rice wine vinegar. Set aside.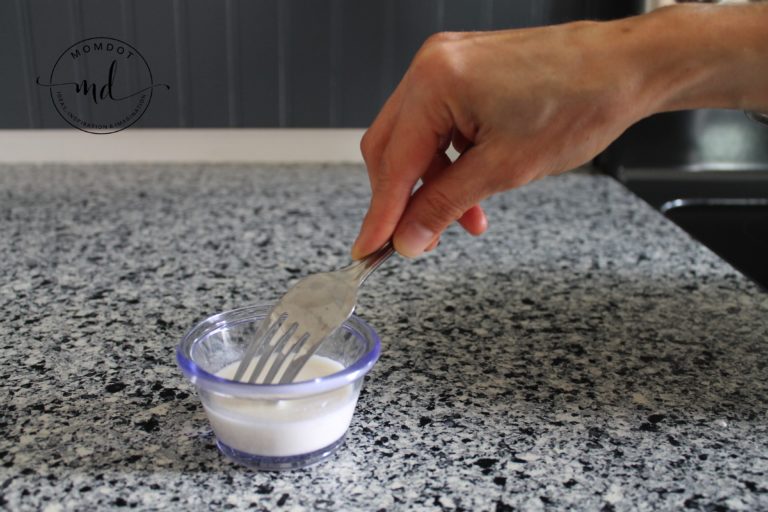 In a small sauce pan, combine the rest of your ingredients.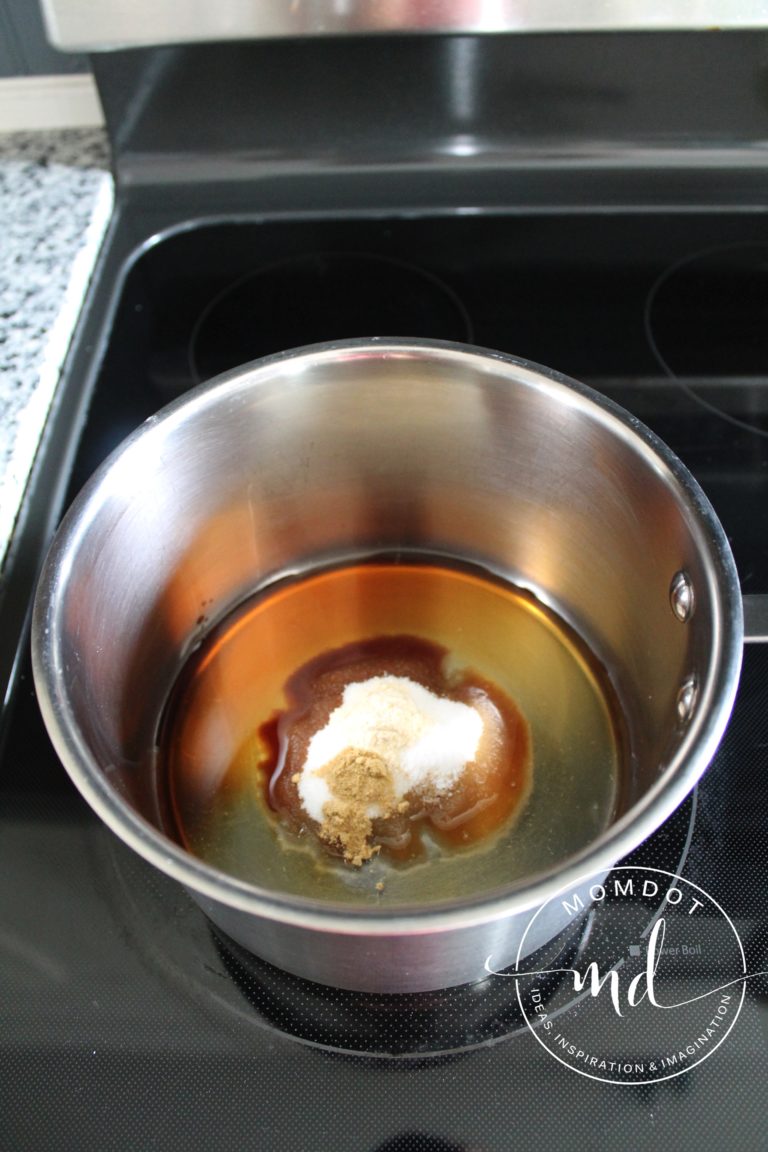 One note about the chili-garlic sauce: this stuff is HOT!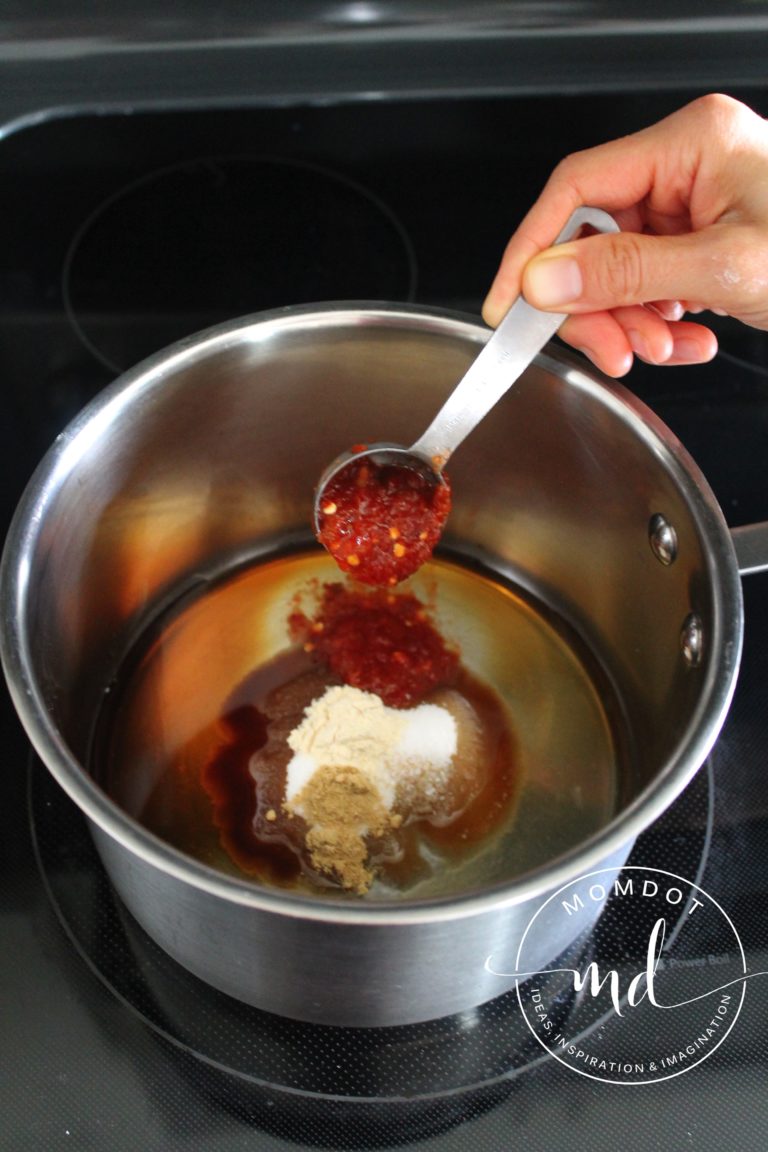 It packs quite a kick! This recipe is on a "mild/medium" setting. If you like it milder, halve the amount. You can always add more later, if you'd like. But if you like your wings reallyspicy, feel free to crank it up!
Once you've added as much (or as little) chili-garlic sauce as you want, give it another stir.
It should look something like this once it's all mixed together.
Whisk the corn starch and vinegar mixture into the sauce.
Heat the sauce over medium/medium-low heat, stirring often until it reaches a boil and thickens slightly.
Once it's at the consistency you like, take it off of the heat and let it cool slightly.
Asian Zing Sauce Options: Eat it now? Or Eat it later?
You have some options here. You can cool it completely, and store it covered in the fridge until you're ready to use it. It will really thicken up this way!
Or if you're like me, you won't want to wait, and instead will pour it all over the wings the second they get out of the oven!
Gently stir the sauce onto the wings and serve them up like the pros with ranch dressing and a side of celery and carrots sticks – the perfect snack for the next game!
Take a look at that gooey, spicy, sweet, mouthwatering sight!
Game Day Meal: Asian Zing wings, Omeprazole, and Beer
Watch the video below to see how Omeprazole ODT has helped others find relief from their frequent heartburn.
Omeprazole ODT Disclaimer:
Use as directed for 14 days to treat frequent heartburn (occurring 2 or more days a week). May take 1-4 days for full effect. Not intended for immediate relief. Don't take this medication for more than 14 days unless directed by your doctor. For the best consumption experience, allow the tablet to dissolve on your tongue. Do not chew Omeprazole ODT tablets or dissolve them in liquid.
Asian Zing Boneless Wings Copycat Recipe
What You Need
24

oz bag

boneless chicken wings (or chicken tenders, popcorn chicken, etc)

2

tbsp

cornstarch

2

tbsp

seasoned rice wine vinegar

1/2

cup

corn syrup

1/3

cup

sugar

2

tbsp

chili-garlic sauce

(add more or less to taste)

1

tbsp

soy sauce

1

tsp

lemon juice

1/4

tsp

ground ginger

1/4

tsp

salt

1/2

tsp

garlic powder
Instructions
1. Cook chicken according to package instructions.

2. Dissolve corn starch in rice wine vinegar in a small bowl and set aside.

3. In a small sauce pan, combine and stir the remaining ingredients.

4. Add the corn starch/vinegar mixture slowly, whisking the entire time.

5. Heat mixture on low/medium heat, stirring often until sauce reaches a boil and thickens.

6. Remove from heat and cool slightly. Pour over cooked chicken pieces, or refrigerate until ready to use. Serve with carrots and celery sticks, and ranch dressing.