In early December Diono Car Seats
heard about Phoenyx and thought he might benefit from the technology and safety of the Radian RXT car seat
. They asked us to give it a shot in our home and tell everyone what we thought. What was interesting is that just not a month prior I had been asking some friends on Facebook the best car seat around and the Diono line was repeatedly mentioned, so when given a chance to see if it was the right fit for our cars, I jumped at the chance.
Out of all the things I do on a daily basis, as you can imagine, safety for my son is my number one priority. I spend a lot of time keeping him from falling down the stairs, redirecting him from sharp corners, and removing items he found in drawers that he has found. But when it comes to leaving the house, there is very little that he or I can do to save him from an accident. And when it comes to an accident, while not any car seat is perfect, its great to learn more and be educated about the options you do have as a parent.
Meet Diono Car Seats
According to the company regarding the Radian RXT Car Seat:
The RadianRXT is a highly versatile car seat that could be the only seat you'll ever need. It comfortably seats rear-facing children from 5-45 lbs, forward-facing children from 20-80 lbs in 5-point harness, then converts to a booster for children up to 120 lbs. It's built for strength and safety with a steel alloy frame, reinforced sidewalls, adjustable head support and our patented SafeStop® energy absorbing harness. EPS foam surrounds the child's head and body to provide complete side impact protection. Our unique SuperLATCH system makes installation easy. The RadianRXT is NCAP crash tested, the industry benchmark for verifying child seat performance in severe accident conditions, and the only car seat rated for LATCH use with a child up to 80 lbs. The RadianRXT sits low on a vehicle seat for easy child boarding, features memory foam padding and infant support pillows. Expandable sides and a longer seat bottom provide extra room and comfort for your growing child. One cup holder is included, with the option to add up to 4 cup holders. In addition to all this versatility, it folds flat for travel and storage, has a 10 year life and offers amazing safety, comfort and convenience your child won't outgrow.
What Dad Says
First reaction: Around here, if it involves instructions or any amount of tools, I divert to dad. In this case, since it required the fancy word "installation" I left it for my husband to decipher. His initial reaction to me was that the seat was very heavy. Very. (You can see more on this below)
Getting it to the car: Chris said that all he had to do was attach to the base and then once in the car feed the latch system through it. He stated that both of these things were super easy and that the latch system was "one of the easiest latch systems" he has even installed in the car. He felt that the slim design made it slide perfect within the seats of our SUV and was instantly hooked.
What Mom Says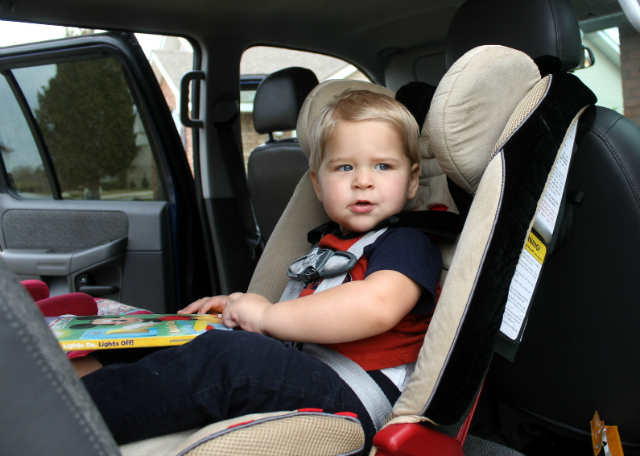 First Reaction: When Chris told me that the car seat was heavy, he wasn't kidding. He made me come over and lift it up and while one of the features of this seat is claimed to be easily used in an airport and for transport (comes with a should strap and can be worn like a backpack) do not take that lightly. At 5'1″, even as strong as I am carrying around a 30 pound child on my hip, he was right. Although its certainly convenient that its made with the travel thought in mind, the reality is that if I ever had to take this seat with me it would have to travel on a cart. I just could not carry it.
In the car: Because Chris has mentioned the latch system, which we use, I tested it out today myself. It was certainly so much easier than our last car seat and didn't require digging in order to get the system hooked up tightly. I was also pleased with how easily the straps adjusted and how heavy duty the buckle was on the front. It didn't feel flimsy and was very secure.  I will say that the car seat is large. I have noticed this is a standard when it comes to grow with me types of seats because it covers such a range of weights and ages. In this case, the seat came within 1/2 inch of touching the front seat (in a comfortable front rider position) when the seat is strapped rear facing on the far right of the vehicle.
What I like the most: Because of the high sides of the last one, getting him in and out of my SUV could be a real problem. I am just over 5 foot tall and I would literally have to make sure nothing was in my hand, gather him like I was rocking him, and try to maneuver him in and straight him out. 99% of the time I managed to hit his head on the roof of the inside of the car because of all the finagling. I am happy to say that is no longer a problem and I can lift him right inside.
What Phoenyx Says
Ok, Ok, Little P cannot talk.
BUT if he could he would say that he loves how the sides are open. On his last car seat the sides were really high and he was leaning way back. That meant he had to lean forward (hard to do when restrained) to see anyone. It also limited the interaction him and his sister could have on car rides (she is 8). With this more open side he has better visibility to the overall car around him, which is seems pleased about:
See.
(Look mom, I can see you!)
Overall I have to say I have been pleased with the initial features. Obviously I have no car crash to compare it to and I hope I never do. And if I do, or you do, they also have a Crash Exchange Program that you can read more about.
I encourage you you to click on some of the safety links above to read more while doing your research.
Do you own this car seat? Do you like it?
Tell us!
~Trisha
*car seat provided by Diono, opinions are only those of our family. Please research your options when you purchase a car seat to find the one that fits your child, car, and safety requirements the most.