Last week I shared with you my EOS Valentines Printable, which I spent like all day making for everyone, and I was so excited by it that I wanted to make more! Since I already had the perfect EOS hole, this went a ton quicker and you can expect more creative holiday and seasonal crafts like this coming up soon. One thing I love about incorporating things like this in Valentines is that its not only a no candy option, but it allows older girls, teachers and even moms to get into the game of passing on some love.
And what says love more than THESE??
In the beginning I made a sampling of the LOVE and Hearts and put the EOS on them, but then I realized if you LAYER the Valentines, they become must stronger and much cuter. So basically my recommendation is to print, cut and layer! Of course the more intricate ones below will need a Silhouette file unless you are super talented with a razor (it can be done, dont laugh) so I have included that as well. If you do need to cut manually I suggest checking out my other Valentines as its a much simpler print and cut.
DIY EOS Valentines: Free PDF and Silhouette Files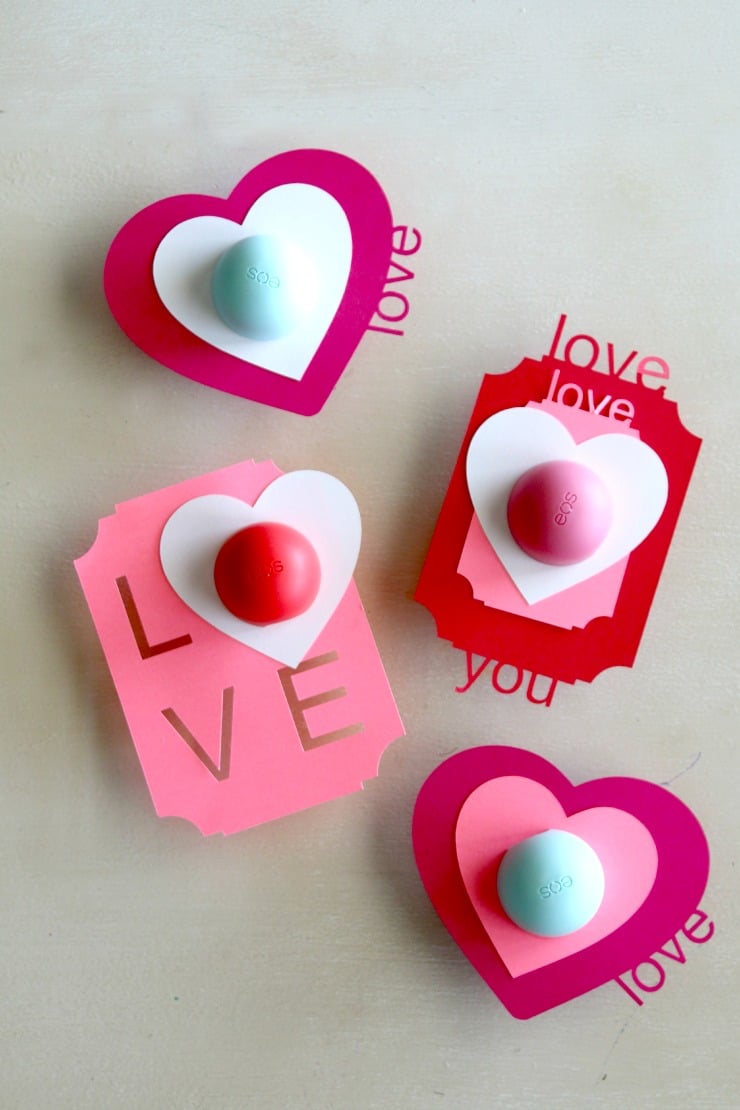 To create these EOS Valentines, you can use the following FREE files I have created just for you!
Click to get them!
Instructions are easy. To get the different colors you simply print the cuts on card stock paper and cut! Then you unscrew your EOS container, lay your middle into the hole and resew back on. No worries about the paper damaging the makeup, it goes below that line. You can see a sample on my other tutorial of that. Btw, I picked up my EOS lip balm at Dollar General for $3.
Do you like this tutorial? Make sure you pin it HERE!
Additionally check out more Valentines Day Crafts like this Homemade Glitter Playdough on MomDot before you go.