I was provided with a promotional item by Coupons.com
There are many things in life that one can consider true love – children, spouses, pets, even food or hobbies. For me? All of the above. I love my kids more than I could eloquently describe, I adore my spouse and everything about him, I could not live without my furry babies and day in and day out the comforts of home and work make me happy. So this Valentines Day I want to make sure I find a way to indulge in the tangible things I love – cookies, crafting and relaxing, while appreciating the intangible things like feelings and love.
And while I could sit here and show you cutesy pictures of my spouse and I when we were young or adorable pics of my kids, what I want to do is give you a little craft that you can use to show the special people in your life that you care!
Love notes with a little something extra 
First I should note that I have a brand new Sizzex Machine. I bought it from Zulily but you can buy one anywhere- Amazon, Hobby Lobby, or check these Valentines Day Deals (Its ok if you buy something for yourself this year, right??).  Charlotte and I have been having a blast randomly cutting things into shapes for no reason at all. But today I wanted to do something a little more useful  and perfect for Valentines Day. In fact, you can use this idea to customize love notes for your TRUE LOVE if you want…or send to grandma.
DIY Love Notes with Peekaboo Heart
Cardstock
Sizzex or any other die cut machine or hole punch
Envelopes
double sided tape

 If you have a Sizzex Machine, we used a circle die to cut out on an envelope. If you do not have a die cut machine, a hole punch in the shape you would want works just as well. I find that the Martha Stewart ones are pretty good quality. They vary in price (if you get a craft store you can use a coupon!) and the ones that punch more than one size are my favorite.

 Once you have your shape in your envelope simple slip in a piece of colored construction paper to layer some bright color. Because its Valentines day, I chose a bright red.

 Now you can write something in white or silver marker, put some lipstick kisses on it, or do something simple like I did, which was punch out a small heart and use double sided tape to stick it down.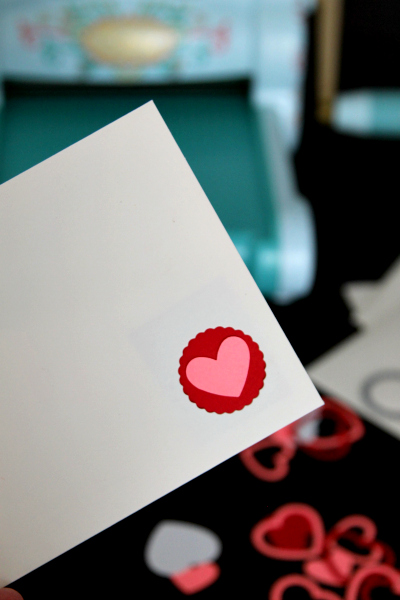 Look how cute and special it looks in the mail!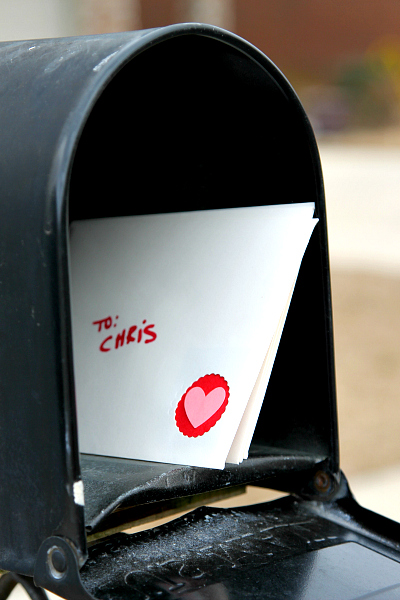 You can use this idea to dress up your love notes like I did here, but there are also a variety of ways to create cute cards like this – the possibilities are endless. I like to think getting a die or a hole punch with a birthday cake and doing this for birthday invites would be perfect. In a day and age where everything is tech, tech, and go go go, I can imagine how special someone would feel (I would feel!) to see the extra on the envelope!
I hope you enjoyed my Valentines Day craft and feel free to pin for later.
Do you love Valentines Day Crafting as much as we do?

We have great full picture and DIY tutorials (denoted with a

) or you can check out some of our amazing blog resources for tutorials from other talented bloggers!