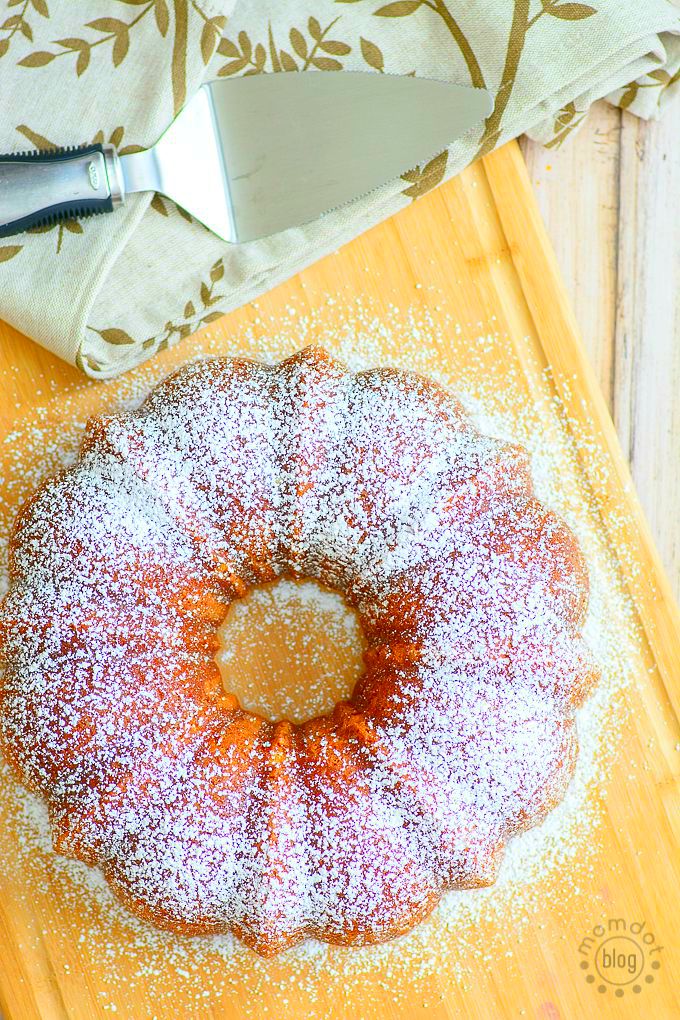 I always tell everyone I can't bake. The truth is I nearly burned my house to oblivion in a cooking accident, but thus far I have only just managed to burn bakery items. In all honesty, I can bake, I can cook, but I have a horrible time concentrating on the end result.
Translation: I walk out of the kitchen way too much.
I go to the Internet, I go to the TV, I talk with my family, I just get distracted in general. I can cook up a recipe to a "T", I can create, I can alter, but after something goes in the oven, my brain goes numb. It's like I need an assistant. So last night when I went to bake a pound cake, I was bound and determined NOT to ruin it via burned toppings and sides.
For the record, I almost always set my timer…I just don't always hear it….unless it's a fire alarm- which isn't good usage of letting you know something is "done".
However if you have no issues taking your baking items OUT of the oven, here is a lovely recipe I managed to make from beginning to end last night and still leave the kitchen standing.
Pound cake is obviously one of those things that can be made a million ways. You can really up the sugar in it, change out some ingredients to include cream cheese as a base, or add all sorts of extracts for flavors you love, but overall its a very rich, thick-tasting "cake" that is best served as an addition to something else (at least in my taste buds view).
Here is a good start:
Easy Butter Pound Cake Recipe
Ingredients Needed:
1 cup butter, cubed at room temperature
2 cups granulated sugar
4 eggs
1 tablespoon vanilla
3 cups all purpose flour
1 teaspoon kosher salt
1 teaspoon baking powder
½ teaspoon baking soda
1 cup buttermilk
Butter Glaze
⅓ cup butter
¾ cup granulated sugar
2 tablespoons water
2 teaspoons vanilla
Before you start the steps, this is for a PLAIN buttery pound cake. Some people like to bake in nuts, chocolate (cocoa), lemon or orange juice, berries, chocolate pieces, jelly beans, whatever. By all means, be creative. I wouldn't mind dropping a Snickers Bar inside the middle of this batter to see what happened one day myself.
That's not advice, btw.
But if you plan on doing something extra, might want to have those ingredients handy.
Step #1: Your eggs and butter need to be room temperature. Don't try to cheat around this process or it throws off your recipe mojo. Put your eggs in some hot water if you don't take them out in time (read: not boiling water…) and leave your butter out for at least 30 minutes or so. Preheat oven 325 and Grease a 10″ bundt pan or 9 inch loaf pan with butter or shortening very liberally and dust with flour.
Resist all temptations to put your finger in the butter.
Step #2: Mix all ingredients…..about medium to medium high for 3-4 minutes. Its very helpful if you have one of those Kitchen Aid Mixers, but for us amateurs, persistence will have to do. I was tapping my fingers by like minute 4…but as the butter and sugar get more and more mixed, it becomes lighter and fluffier.
I only taste-tested the sugar-butter out like 4 times. It's so good like this. I think a good recipe for a perfect waffle topping too!
Step #3: I like a little crunchy top, so I put a few tablespoons of granulated sugar on the top of the batter so when it comes out it has that nice film of sugar baked on the surface. Yum.
Step #4: Pour the batter into the greased and floured pan and bake for 65-75 minutes until a toothpick entered into the center comes out clean. Now that it's out, presumably it's not burned, and you have some choices after it cools down.You can glaze it , frost it, throw it in a bowl and douse with strawberries and whipped cream, or just slice off a piece and enjoy all 5000 calories of this dessert.
Step #5: Glaze it: When the cake is done you can make the glaze by combining all ingredients above into a small saucepan over medium-low heat. Stir continuously until the butter is melted and the sugar is dissolved. Do not bring to a boil. Poke holes all over the warm cake using a knife and pour the glaze evenly on the cake while still in the pan. Allow the cake to cool completely in the pan and then invert the cake onto a serving plate.
Disclaimer: I am not responsible for your weight gain.
Any experience with pound cake? Leave me your recipes below!
Plus, do not have a perfect Bundt cake pan? Try this one!
~Trisha
———–