Fall, in my opinion, is a season of cleanup.  It seems to me that even nature puts things away for the coming Winter.  Crops give their last harvest, plants give their last blooms, and trees shed their leaves in preparation for the season of sleep.
Spring is associated with indoor cleaning, in our home, while Fall is associated with all outdoor cleaning.  The cooler temperatures and changing colors tempt me just as much as the clean yard and garage do.  I just love Fall.
Back-to-school is usually the signal to begin Fall cleanup, but this year it came after the ring of our doorbell.  If my life were a cartoon, a bubble would have appeared over my head upon opening the door, "Ding! The fun has arrived.  Serious cleanup starts now!"  I may have squealed and jumped while clutching the box to my chest in giddy anticipation.  I love cleaning tools.  Especially battery powered ones.
The moment I opened the box, I knew I was going to enjoy this tool.
Not only was it packaged really well, but each interlocking component was made of sturdy material.  I couldn't wait to get started.
While the 20V Lithium battery was charging, I got all accessories out and read the directions for each.  I had had a few chores in mind when I ordered the HydroShot, but reading about each accessory had me thinking of more and more chores I could do.  
In no time at all, I was ready to actually begin.  I love feeling ready to tackle a project with a new tool, and this one made me feel confident I'd accomplish my to-do goals much faster than I would have without it.
Our back patio is covered by a vinyl pergola.  Winding their way up the sides and lattices of the pergola are three different species of grapes.  Not only do the grape leaves provide beautiful shade cover, but the grapes themselves smell and taste delicious come Fall.  However, directly under the lattices becomes very dirty, so that was my first chore.
Taking approximately 2-3 minutes per lattice, I moved quickly from one end of the large pergola to the other, effortlessly cleaning this hard-to-reach spot.  Since we've only lived in this home for 18 months, I'm not sure of the exact number of years since this has been cleaned, but I can tell you it's been many, many years, maybe never in the 15 years since our home was built.
Although the HydroShot is not heavy, my shoulders were in desperate need of a break, so I chose a chore that didn't use my shoulders as much.  I made sure I had a full charge on the battery and got to it.
We have the most beautiful, big, full Maple tree in our front yard. While I love the big branches that my children can climb and swing from, as well as the shade and ambience it provides, I do not love the mess it makes of my rain gutters.  Twice a year I get up on this ladder to actually vacuum out the gutters with our Shop Vac.  Yep, I lug that vacuum onto the roof to clean them out.  Until now!  Not only is the HydroShot lighter to carry up the ladder and less bulky to use than the ShopVac, it also cut down on the overall time it took to clean.  Because the water came out at such a fast stream (320 psi), not only did it take care of all of the leaves and pine needles blown into them, it actually pressure washed the dried dirt and gunk out, making them look brand new.  I was in heaven.
After another hour of continuous spraying, the battery once again needed to be charged.  It was a good thing, too, because I needed to refuel just as much.  Up and down the ladder, working my way around our two-story home, was exhausting.  I grabbed some lunch, mentally planning my next chore, while the battery charged.
Next up: Silly String Cleanup
Our amazing neighbors are always throwing stuff over the fence: candy, toys, and the occasional ball that was kicked/thrown over on accident.  Since we're transplants to the state, with all of our family living far away, we've adopted them and they've adopted us.  Before finishing lunch, the kids came in excited to tell me the latest over-the-fence gift: Silly string.  So we went out and had an epic war!  I couldn't have choreographed it better myself, having the HydroShot arrive on the day of our war.
  Do you see that strong stream?!  The sticky string didn't stand a chance!
As I moved along the length of the patio, I loved watching the track the water made in the dirt.  Where it used to take me 20 minutes to sweep down the patio, it now took less than 10 to get it much cleaner.
With the battery literally giving me the green light, I moved on immediately to another chore.
Even though the boat gets a good rinse every time we go out on the river, it tends to get pretty dusty and dirty by the time we get around to winterizing it.  While I worked on the other chores with the HydroShot, Randy winterized the boat.  It worked out perfectly for him to finish just minutes before I was ready to begin.  Goodbye dust and dirt, and with a mixed emotion sigh, hello cover!
Noticing I had a low battery, I quickly gave our car a rinse.  Nothing fancy, just took care of the dust and dried bugs on the grill cage.  I was impressed that no soaking was necessary, the stream was strong enough to take care of most of the bugs before the battery died.
After charging the battery again, I grabbed my ladder to tackle a chore that is my least favorite.  You'd think it would have been the rain gutters after hearing that I used to carry the Shop Vac up the ladder, but it's actually windows.
I don't mind cleaning windows inside, but I get a bit nervous cleaning them outside.  I feel less secure on a ladder, so I don't feel as if I get them as clean, since I don't scrub and shine as vigorously.  As soon as I started to squeegee top to bottom, top to bottom, I knew I would actually clean my windows more than once a year.  It was so. much. fun!  17 first level windows and 7 second-story windows went by in no time at all.  I was actually sad to realize I didn't have more!  My shoulders gave out much faster than the battery, actually.  I confess, I needed a nap after this one.
My last chore, which came mid-afternoon because I really did nap, was actually a chore I have never done before, but always thought would be really cool: Power Cleaning a fence.  With two full batteries (the Worx battery, and my own), I got to work.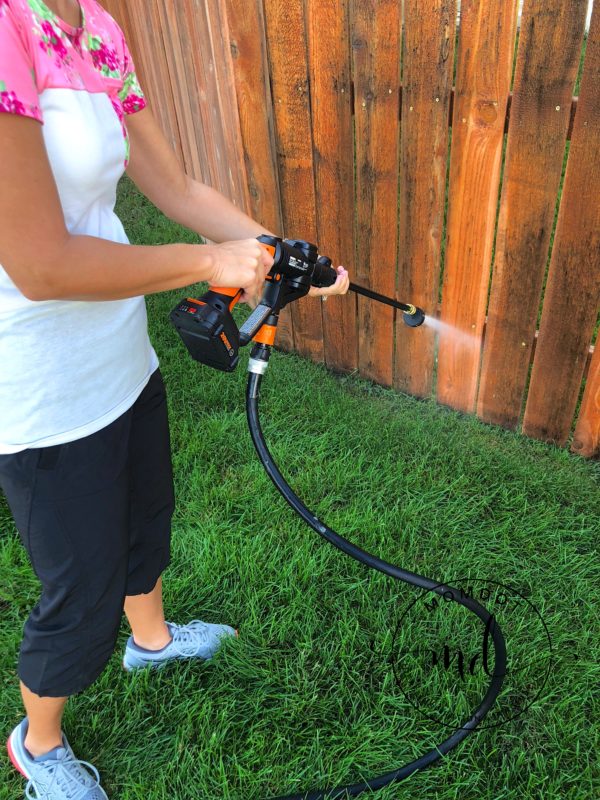 I was mesmerized by what I saw as I went from picket to picket– I very easily could have put myself into a trance.  It was so neat watching the dirt and grime melt away.  It was just as cool as I hope it would be, just as satisfying as I dreamed.  Have I mentioned that I love cleaning?
There are a few different attachments that I didn't get to, but I confess, I was totally beat.  I cannot wait to try the scrub brush and the bottle to hold a cleaning agent.  I cannot wait to spray down the pool chairs, the camp chairs, and the driveway after we have a chalk party, fireworks, or popsicles on the fourth of July.  Who knows, I may even beg our neighbors to let me clean for them!
With all attachments easily stored in the mesh bag, it now hangs on the same hooks as my mop, broom, and dust pan, easily accessible.  My mind is reaching out for more ways to use it, eager to have another Saturday clean fest.
If you're looking for a fun way to cleaning up around your house, I highly recommend the Worx HydroShot Power Cleaner.  It's light-weight, powerful, and oh, so fun to use!
Happy cleaning, friends!
~Steph